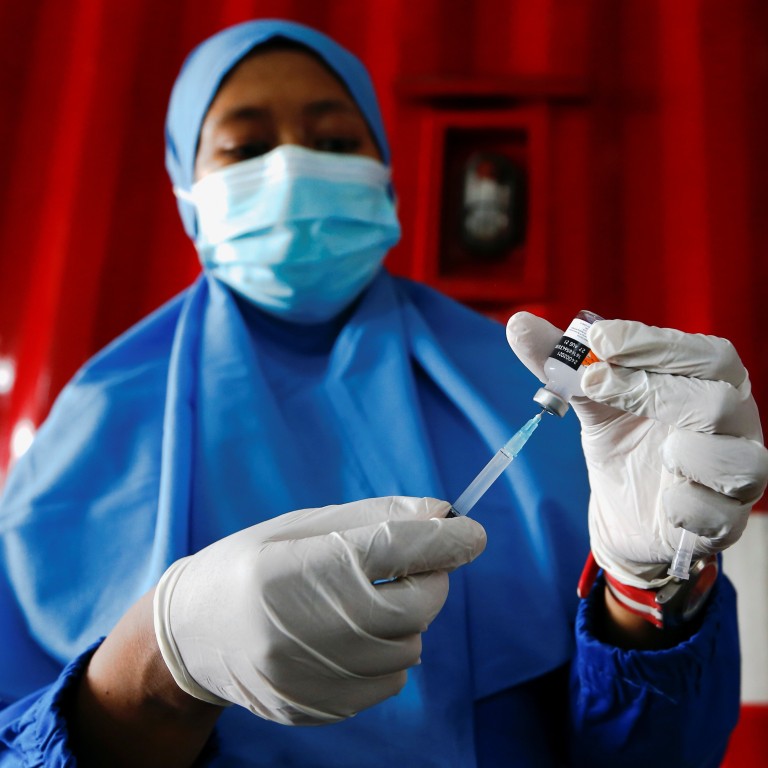 Opinion
Ardhitya Eduard Yeremia and Klaus Heinrich Raditio
Ardhitya Eduard Yeremia and Klaus Heinrich Raditio
Indonesia's vaccine cooperation with Beijing won't compromise Unclos commitment in South China Sea
China began offering vaccine assistance to Southeast Asian countries in October and its pandemic assistance in the region has been unparalleled
It has raised concerns that Jakarta could be persuaded to soften its position on the South China Sea territorial dispute
Last December, the first 1.2 million Sinovac shots arrived in Jakarta,
Indonesia
's capital city. The timing could not have been more perfect, as Indonesia was entering the ninth month of the pandemic, and its daily reported positive cases had soared beyond 4,000 since the end of September.
"Alhamdulillah, the vaccine is available, which means that we can immediately prevent the spread of the Covid-19 outbreak," President Joko Widodo said.
Kompas, a leading national newspaper, further praised cooperation as a "victory of [Indonesia's] diplomacy". Indonesia had started to receive the vaccines while "100 other countries have not yet secured access to vaccines".
In January, Widodo became the first Indonesian and the first non-Chinese leader to receive a dose of Sinovac Biotech's vaccine.
China began offering vaccine assistance to Southeast Asian countries in October 2020. Within the region, Beijing's pandemic assistance has been unparalleled. Indonesia currently plans to inoculate more than 180 million of its 260 million population to reach herd immunity.
In light of this, some scholars have suggested Sino-Indonesian vaccine cooperation could compromise Jakarta's position on the South China Sea territorial dispute. In reality, Indonesia has already taken steps to diversify its vaccine supplies and has reiterated its commitment to a peaceful, lawful approach to manage the South China Sea issue.
Sinovac's vaccines comprise about 38 per cent of the Indonesian government's total firm orders of 329.5 million doses of vaccines. Moreover, the sum of firm orders and optional supplies from all secured sources (excluding those of Sinovac) amounts to 438 million (66 per cent). It would appear Indonesia is still far from dependent on China.
Moreover, from the perspective of the Indonesian government, procuring vaccines from China and other external sources is merely a short-term strategy to curb the pandemic. "[Indonesia] still has to have the capability of developing a vaccine domestically," according to Minister of Research and Technology Bambang Brodjonegoro.
This strategy would help prevent Indonesia becoming completely reliant on imported vaccines, including those from Chinese manufacturers.
Besides avoiding dependency on China, another reason for diversification is the relatively low effectiveness of the Chinese vaccine (50.4 per cent for Sinovac, 79 per cent for Sinopharm and 66 per cent for CanSino). While rich countries hoarded more reliable vaccines from Pfizer-BioNTech, Moderna, Novavax and AstraZeneca, China's market has focused on developing countries.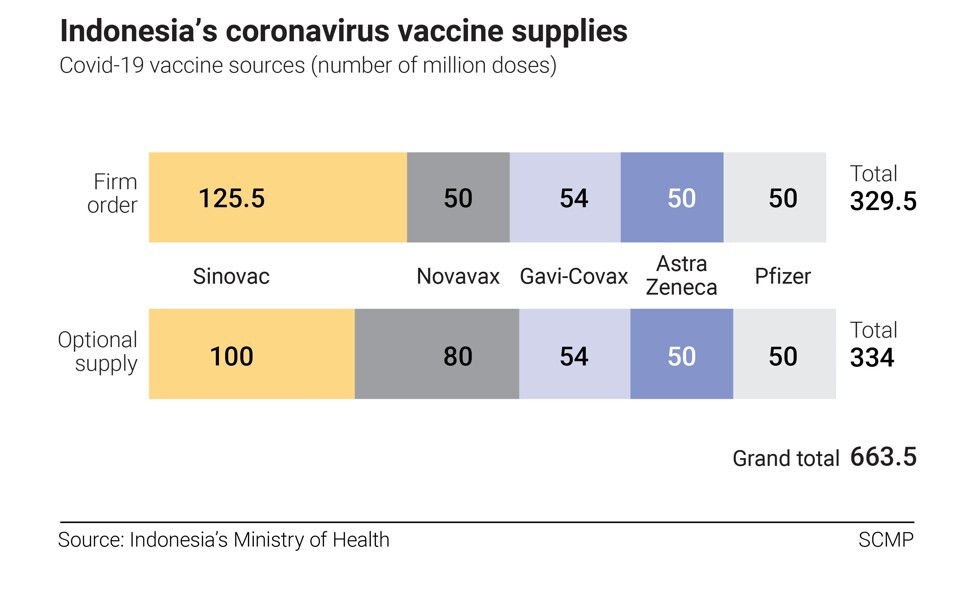 Indonesia is not the only
Asean
state seeking to avoid an overreliance on Chinese vaccines. It ensures that, from Indonesia's perspective at least, vaccine cooperation should not lead to diplomatic weakness or gridlock when it comes to the South China Sea.
The fact the Chinese vaccine does not dominate the supply in Southeast Asian countries to some extent reduces the danger of discord among Asean states and enables Indonesia to lead the bloc on the issue.
Obviously, there is a link between the vaccine and the South China Sea dispute. In the
Philippines
, President Rodrigo Duterte pleaded for the Chinese vaccines. He suggested not confronting Beijing in the South China Sea and decided to refuse a re-establishment of the US military base.
During Chinese Foreign Minister Wang Yi's visit to the Philippines in January 2021, China donated 600,000 vaccines and asked Manila to show "friendly exchanges in public, like control your megaphone diplomacy a little" on the South China Sea, according to a diplomatic source.
Vietnam
is also uncomfortable with the idea of becoming dependent on Chinese vaccines. Therefore, the country developed its home-grown Nano Covax Facility vaccine for "national security purposes", to shut China out.
On the South China Sea, Beijing is vulnerable both legally and diplomatically. The area has already become a field of great power rivalry.
In anticipation of the talks on the Code of Conduct (CoC) in the South China Sea, China will need cooperation from Asean states. On the other hand, Asean wants to maintain peace and stability in the South China Sea. Indonesia is a central figure for this purpose. The country has been hosting a workshop on Managing Potential Conflict in the South China Sea since the 1990s. In September 2012, Indonesia came up with Zero Draft to advance the CoC talk. Vaccine cooperation must not muzzle the country from urging China to behave lawfully in the South China Sea.
In 2020, when Indonesia was intensively discussing vaccine cooperation with China, Jakarta sent two diplomatic notes to the UN secretary general rejecting Beijing's South China Sea claim, quoting the 2016 verdict from the Permanent Court of Arbitration in The Hague, which invalidated China's so-called nine-dash line claim.
For Jakarta, that decision and the 1982 United Nations Convention on the Law of the Sea (Unclos) are inseparable and prerequisites for peace and stability in the South China Sea.
Following the incident with Chinese fishing vessels violating Indonesia's exclusive economic zone (EEZ) in the Natuna waters in January 2020, the Indonesian Foreign Ministry issued a statement against China's South China Sea claim by invoking the 2016 decision. This was the first time a third party had done so. By invalidating China's nine-dash line, the 2016 ruling also cast China's activities in the Natuna waters as unlawful.
As a result, Jakarta resolutely rejected Beijing's offer for a "negotiation" in June 2020 since there were no overlapping claims.
In early July 2020, China held a military drill near the Paracel Islands which are claimed by both Beijing and Hanoi, while Washington deployed two aircraft carriers, the USS Nimitz and USS Ronald Reagan, to "support a free and open Indo-Pacific".
Responding to the increasing tension in the South China Sea, Indonesian Foreign Minister Retno Marsudi held a virtual bilateral meeting with her Chinese counterpart Wang on July 30. At the event, Indonesia urged China to comply with the 1982 Unclos in settling disputes.
The following month, at the 53rd anniversary of the establishment of Asean, Indonesia initiated the Asean Foreign Ministers' Joint Statement to Maintain Peace that decried "the changing geopolitical dynamics" that may have "detrimental ramifications for the region". Furthermore, Asean foreign ministers urged all parties to "resolve differences and disputes by peaceful means in accordance with international law".
On January 13, the day Widodo received his first shot of the Sinovac vaccine, Marsudi met with Wang in Jakarta. She again urged China to respect the 1982 Unclos and maintain stability in the South China Sea. She conveyed her message on behalf of Asean and stressed Indonesia's commitment to Asean centrality in a stable, peaceful and prosperous Indo-Pacific. Indonesia has been marshalling its Asean counterparts in a low profile manner to advance the progress of CoC negotiations, expected to conclude this year.
Indonesia is best-placed to perform this role since it is the largest Southeast Asian country, a natural leader of Asean and a South China Sea littoral state rather than a claimant.
On the sidelines of the 13th National People's Congress on March 7, Wang expressed his commitment to a peaceful and stable South China Sea. He said China would cooperate in formulating the CoC to "build consensus, enhance mutual trust, advance cooperation and maintain overall stability in the South China Sea".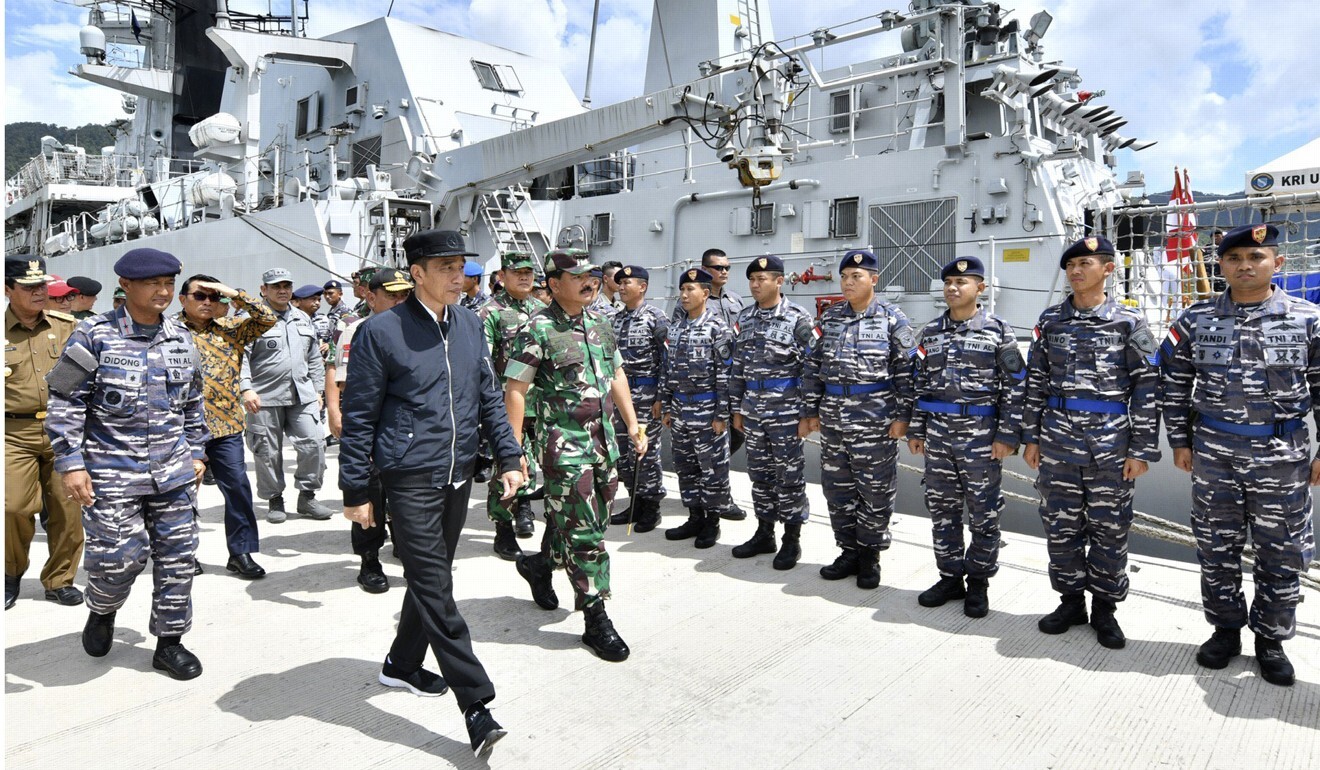 However, this commitment may not be sufficient for the region. Maintaining peace and stability in the South China Sea may require a concrete Unclos-based CoC. Whether Indonesia is bold enough to urge China to respect the 1982 Unclos in dealing with the South China Sea issue is a litmus test for both Jakarta and the region's independence. Friendly and mutually beneficial cooperation with China needs to be conducted without compromising regional peace and stability in accordance with the law.
Although there is a link between Beijing's vaccine diplomacy and the South China Sea issue, vaccine cooperation has not and should not lead Jakarta to soften its position.
Indonesia has benefited from the cooperation but Widodo's government has also sought to diversify sources for
Covid-19 vaccines
and remains committed to developing its own.
Indonesia has been attempting to manage the potential risks which have emerged from its asymmetrical vaccine cooperation with China. In preventing itself from being heavily reliant on Beijing, Indonesia has so far refrained from risking its independence in managing its overall bilateral relations while remaining a leading voice for peace and rule of law in the South China Sea.
This article first appeared in the publication ISEAS Perspective 2021/55, titled Indonesia-China Vaccine Cooperation and South China Sea Diplomacy