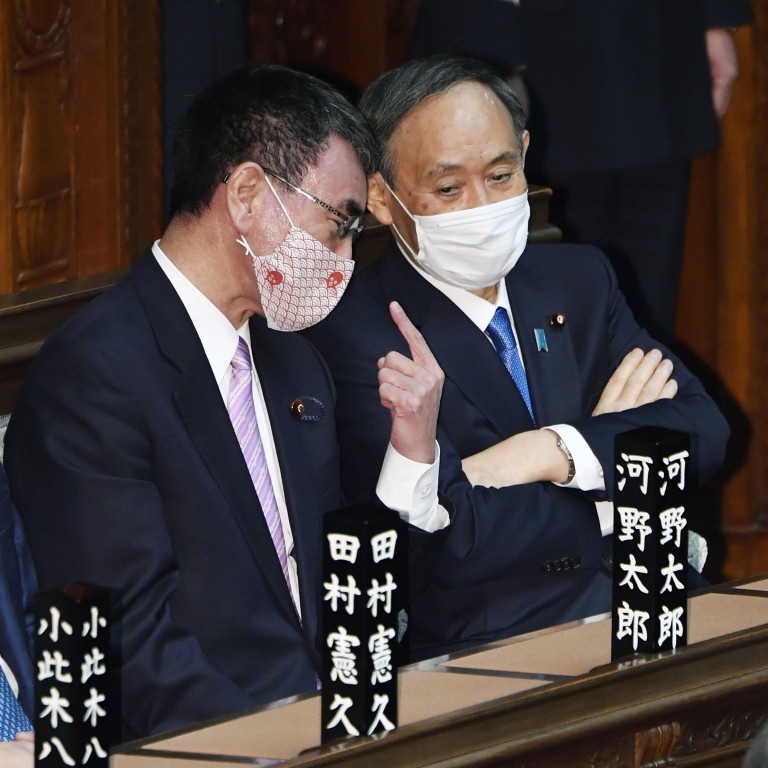 Japan's next prime minister? Vaccine tsar Taro Kono is in with a shot as Suga steps down
A battered health system, a tepid economy, a demoralised population and plummeting support. There's no Suga-coating the last days in office of Japan's outgoing prime minister
Now the race is on for his successor. Among the possibilities are ex-foreign minister Kishida and would-be first female PM Sanae Takaichi. But media-savvy Kono could be just the boost the LDP needs
The surprise decision by Japan's Prime Minister
Yoshihide Suga
not to recontest the presidency
of the ruling Liberal Democratic Party (LDP) has thrown this month's party leadership election wide open, with implications for the national lower house election due to follow soon after.
Suga made the sudden announcement this Friday amid wrangling among the various LDP factions, as the worsening unpopularity of his government ultimately undid his premiership.
Although last month's spectator-free
Tokyo Olympics
were relatively successful, the rate of Delta-variant Covid-19 infections has continued to reach record levels in Japan. This has been despite an extended state of emergency, which has left the population demoralised by the intensifying pressure on the public health system, and the ongoing tepid economy.
After winning the LDP leadership vote in August 2020 to replace
Shinzo Abe
, defeating minor faction leaders Fumio Kishida and Shigeru Ishiba, Suga's popularity soon steadily declined. His government failed to gain effective control over the
coronavirus pandemic
, and he was also buffeted by a series of political scandals. His cabinet approval ratings sunk below 30 per cent, and the LDP continued to lose local elections and by-elections during Suga's tenure.
The loss of the mayoral election for Yokohama City on August 22, in Suga's own constituency, confirmed fears among party bosses that the LDP faces dropping from its current comfortable two-thirds majority in the lower house of the Diet, to a potential loss of its simple majority. As a general election is due after the current four-year term of the House of Representatives expires on October 21, this would leave the LDP reliant on its coalition partner Komeito to form government.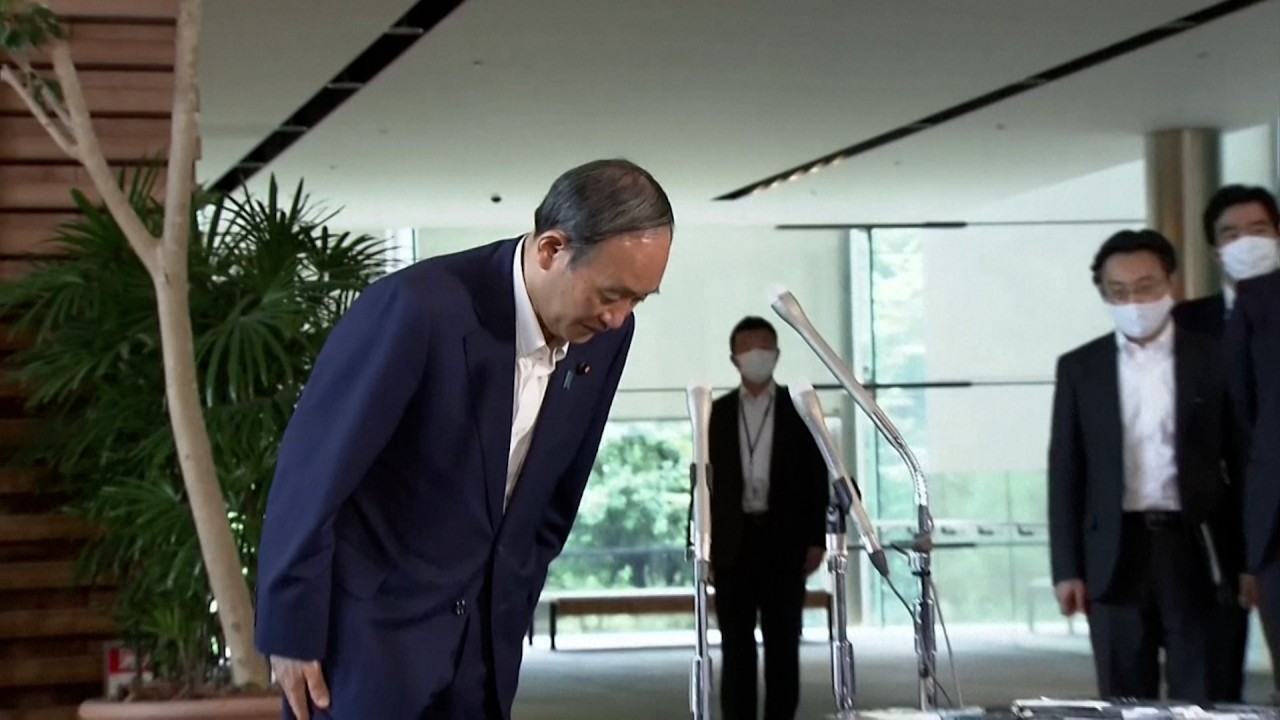 00:53
Japanese Prime Minister Yoshihide Suga will not seek re-election as party leader
Japanese Prime Minister Yoshihide Suga will not seek re-election as party leader
It had been widely expected that 72-year-old Suga would nevertheless contest the leadership election scheduled for September 29, when the LDP's 383 Diet members and an equal number of delegates from LDP branches will vote for the party president, requiring a simple majority of 766 votes.
The other declared candidates so far have been former foreign minister Kishida, who came second to Suga in last year's contest, and a former internal affairs and communications minister, Sanae Takaichi, who would become the first female prime minister of Japan, if elected.
However, the internal party dynamics among the seven factions of the LDP, which have become more unstable since Abe stepped down last year, appear to have brought Suga undone.
While he was a close ally to Abe, helping him return to the leadership in 2012 in a remarkable political comeback, Suga has since been formally unaligned to any faction.
This vulnerability became more exposed over the past week, in a dispute over the fate of the LDP's secretary general, Toshihiro Nikai. The 82-year-old leader of his own faction, Nikai has held this position since 2016, the longest stint of anyone to have held this powerful executive position. The backing of Nikai's faction, plus that of Deputy Prime Minister Taro Aso, and most importantly of the 'Hosoda' faction (the largest in the LDP, which Abe belongs to and retains considerable influence in), was key to Suga winning the leadership last year. But many Diet members have resented Nikai's intrusions into government policy over the past year, as concerns deepened that he and Suga were damaging the LDP's election prospects.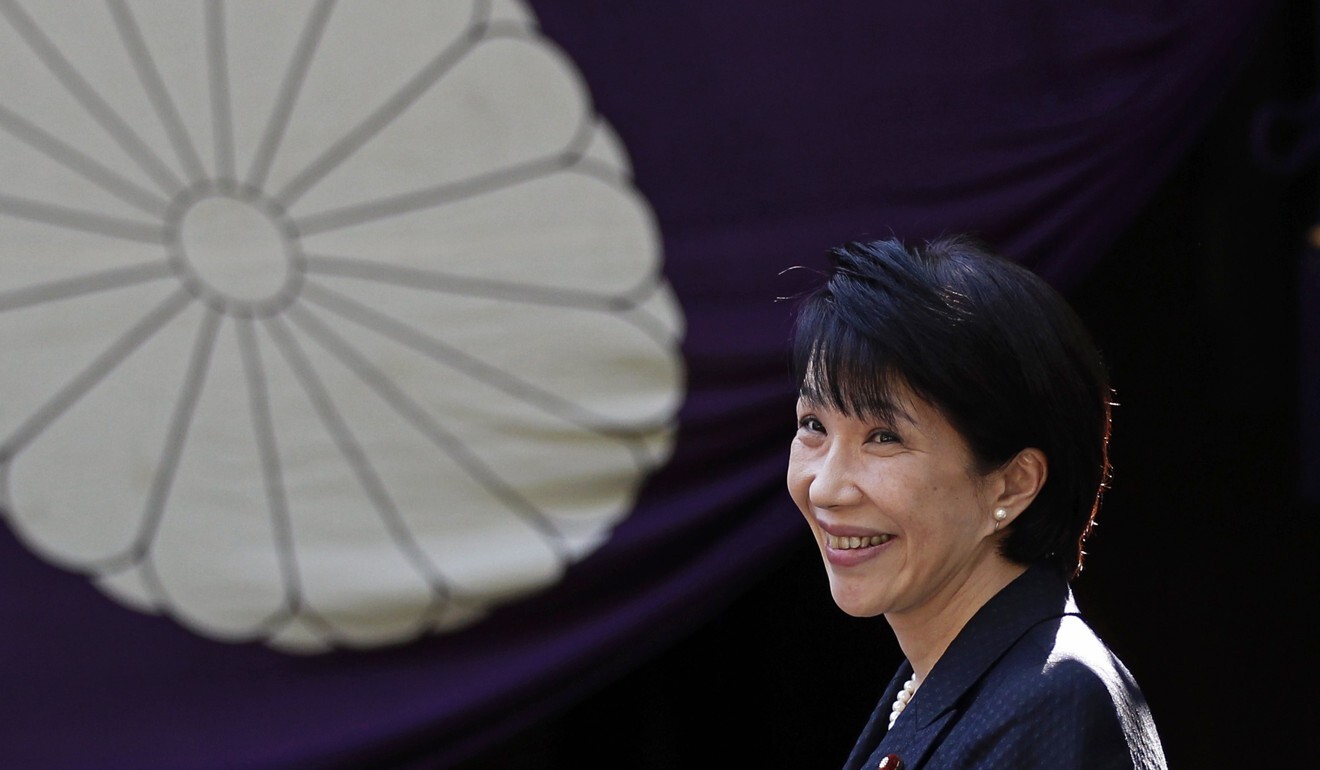 Replacing Nikai and other key party executives has been one of the main pledges for Kishida to claim the leadership, as well as outlining a plan to substantially increase the level of support to businesses affected by the pandemic. To try to outflank Kishida, Suga this week got a concession from Nikai that he would step down as secretary general, as part of a potential pre-election cabinet reshuffle. But after meetings with Abe, Aso, and other LDP executive committee members, it became clear this was still not enough to mollify them. Having lost the backing of the major factions and having become increasingly unpopular among rank-and-file LDP members, Suga therefore decided to withdraw, rather than risk a likely defeat.
Official campaigning for the LDP presidency begins on September 17, and there is already intense speculation over who else will formally declare by then. The hard-right ultranationalist Takaichi is unaligned to any faction, and she may not even secure the minimum 20 nominations required under party rules to run as a candidate. Executive Acting Secretary General Seiko Noda, also unaligned, is likely to present herself as a more moderate female candidate, but will also struggle to be nominated. Former education minister Hakubun Shimomura had already dropped out last week, having failed to gain the endorsement of his own Hosoda faction, but now hints he may rejoin the race. The relatively popular former defence minister and secretary general Ishiba may be tempted to avenge being overtaken by Kishida last year.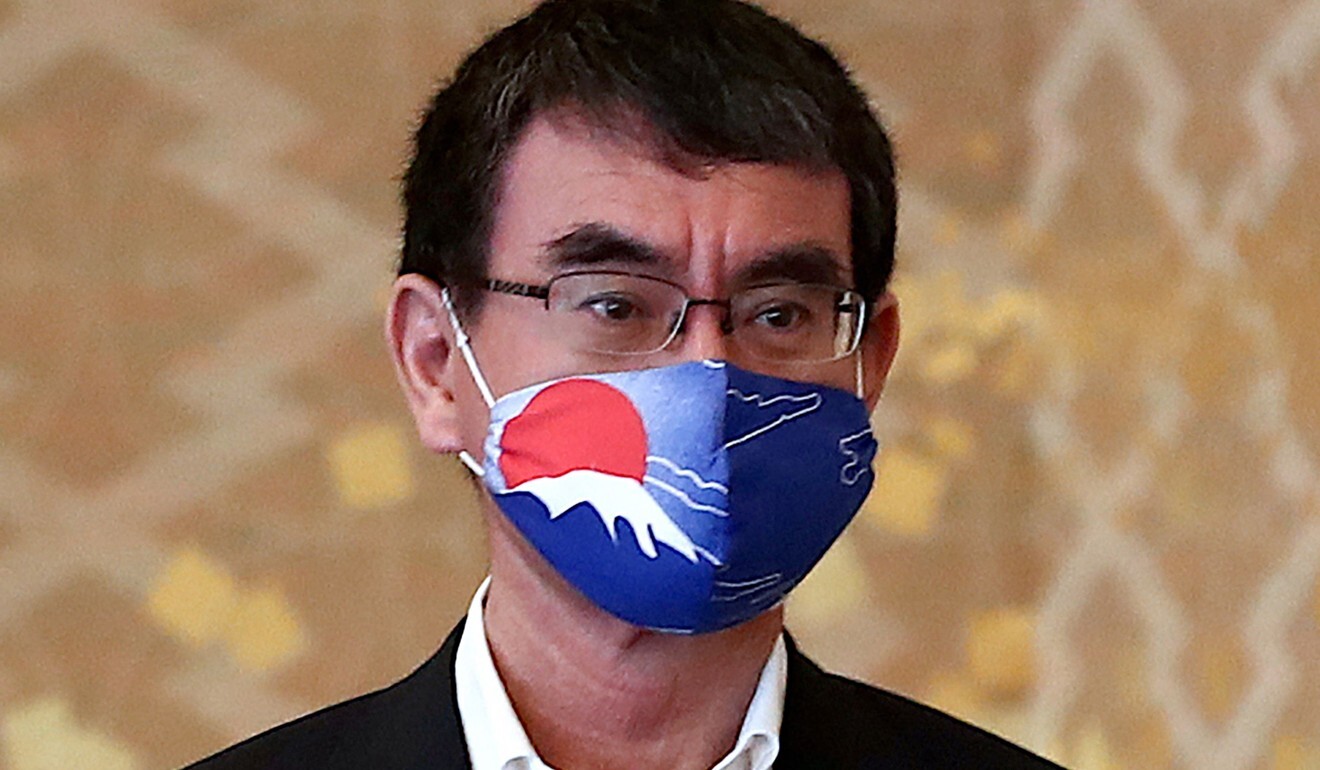 The greatest anticipation though will now be over Minister for Administrative Reform and Regulatory Reform, Taro Kono, who has expressed his intent to run for the leadership. The 58-year-old former foreign minister and defence minister has consistently featured in opinion polls as the most popular alternative prime minister. With his confident media presence, Kono has managed to maintain this popularity despite the challenges faced during his responsibility for managing Japan's vaccine roll-out. With the backing of his Aso faction, and depending on the outcome of factional meetings next week, Kono could emerge the favourite to defeat Kishida.
If he becomes LDP president and hence the next prime minister, Kono would then be expected to swiftly call an election, which must be held no later than November 28. The energetic Kono is certainly capable of out-campaigning the lacklustre leader of the main opposition Constitutional Democratic Party (CDP), Yukio Edano. The CDP will only run the bare minimum of 233 candidates required to win a majority in the 465-seat House of Representatives, and would therefore likely have to rely on support from the Japanese Communist Party to form a government. Such a dubious prospect would become even more unachievable when confronted with Taro Kono as LDP leader. A Prime Minister Kono would hopefully then prove more able than Suga to tackle Japan's public health, economic, constitutional and foreign policy challenges.
Craig Mark is a professor in the Faculty of International Studies, Kyoritsu Women's University, Tokyo