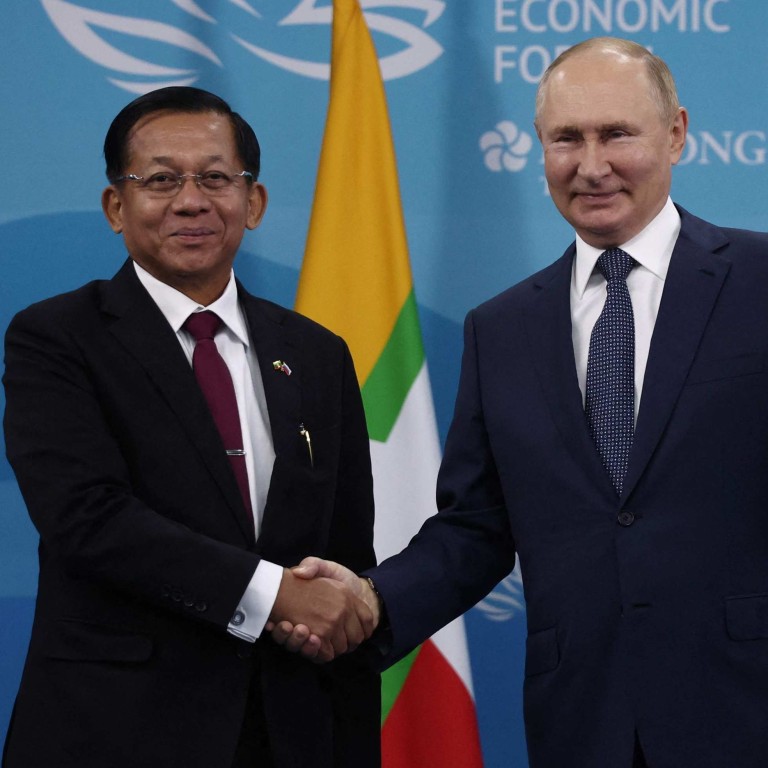 Opinion
Asian Angle
by Ian Storey
Asian Angle
by Ian Storey
Myanmar's arms trade, defence drills and energy deals with Russia show steady pace of ties
Recent high-level interactions signal strong commitment to deepen partnership in key areas in the face of international condemnation and Western sanctions
Junta chief Min Aung Hlaing meets Vladimir Putin for first time since coup, as countries sign nuclear road map for cooperation over 2022-23
Since the Myanmar armed forces ousted the country's democratically elected government in February 2021, and
Russia invaded Ukraine
in February this year, Naypyidaw and Moscow have drawn closer together in the face of international condemnation and Western economic sanctions.
In the last month alone, high-level interactions between senior officials from the two countries have demonstrated a strong commitment to deepen collaboration in three priority areas: political succour, defence ties and energy cooperation.
By far the most significant event was coup leader and State Administration Council (SAC) Chairman Senior-General Min Aung Hlaing's visit to Vladivostok last week.
Min Aung Hlaing attended the Eastern Economic Forum (EEF), an initiative launched by President
Vladimir Putin
in 2015 to promote foreign investment in the resource-rich but infrastructure-poor Russian Far East.
Although it was his third trip to
Russia
since he seized power (and his second in as many months and ninth since becoming head of the armed forces in 2013), it was the first time he was able to meet Putin in person.
To Min Aung Hlaing's delight, the Kremlin referred to him as "Prime Minister" (albeit of the "caretaker government") of
Myanmar
, a title few other countries have accorded him, including China which still refers to him as SAC chairman.
China was for decades Myanmar's closest economic and security partner. But Min Aung Hlaing appears to distrust Beijing, and he has yet to visit the country or meet a single senior Chinese leader since seizing power.
In return, the coup leader was gushing in his praise for Putin, congratulating him for elevating Russia to a position of global leadership and, despite triggering a major war in Europe by invading Ukraine, contributing to international stability.
Putin was less effusive, but called Myanmar "our long-standing and reliable partner in Southeast Asia". He expressed satisfaction that relations were "developing in a positive way".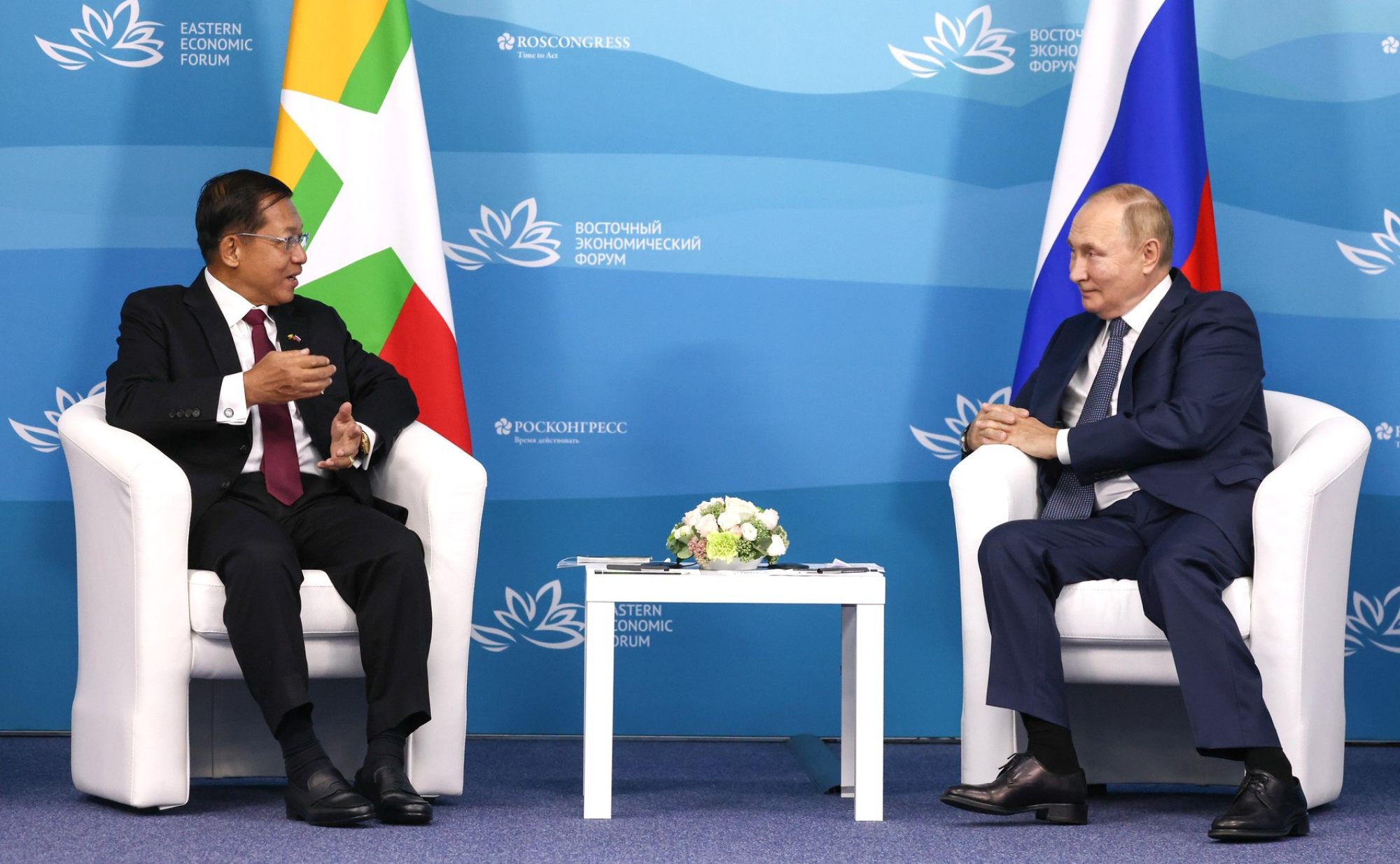 According to a presidential aide, Russia and Myanmar saw eye to eye on international and regional issues, that the SAC understood the reasons for Russia's "special military operation" in Ukraine and that it had rejected "the West's anti-Russian sanctions". Myanmar is the only country in Southeast Asia to have openly endorsed the invasion.
A month earlier, Russian Foreign Minister Sergey Lavrov had met the SAC's senior leadership in Naypyidaw. Ironically, he was en route to Phnom Penh to attend a series of
Asean
-led meetings which Myanmar's generals had been barred from attending.
In contrast to Asean's increasing disapproval of the SAC's draconian methods to consolidate power, Lavrov said Moscow supported the junta's efforts to "stabilise" the country and hold elections next year.
To strengthen diplomatic ties, Min Aung Hlaing asked Lavrov to move Russia's embassy from Yangon to Naypyidaw and establish a consulate in Mandalay. He also suggested Myanmar open consulates in St. Petersburg and Novosibirsk.
Myanmar may have been a convenient stopping-off point for Lavrov on his way to Cambodia. But his visit may also have been a sign that Russia's foreign ministry will henceforth play a more active role in promoting bilateral relations, which hitherto have been almost exclusively overseen by the two countries' armed forces.
But the strong ties between the Myanmar and Russia militaries remain critical to bilateral relations. To crackdown on anti-government forces in the country's post-coup civil war, the SAC wants to import more military hardware from Russia, especially fighter jets and helicopters so it can maintain control of the skies. Russia is eager to ramp up its arms trade with Myanmar to make up for falling sales elsewhere in the region, especially in Vietnam which had been its biggest customer.
Although no big contracts have been signed since the coup, the two sides have actively been discussing future arms sales, as well as how to circumvent sanctions and export controls imposed since Russia's invasion of Ukraine.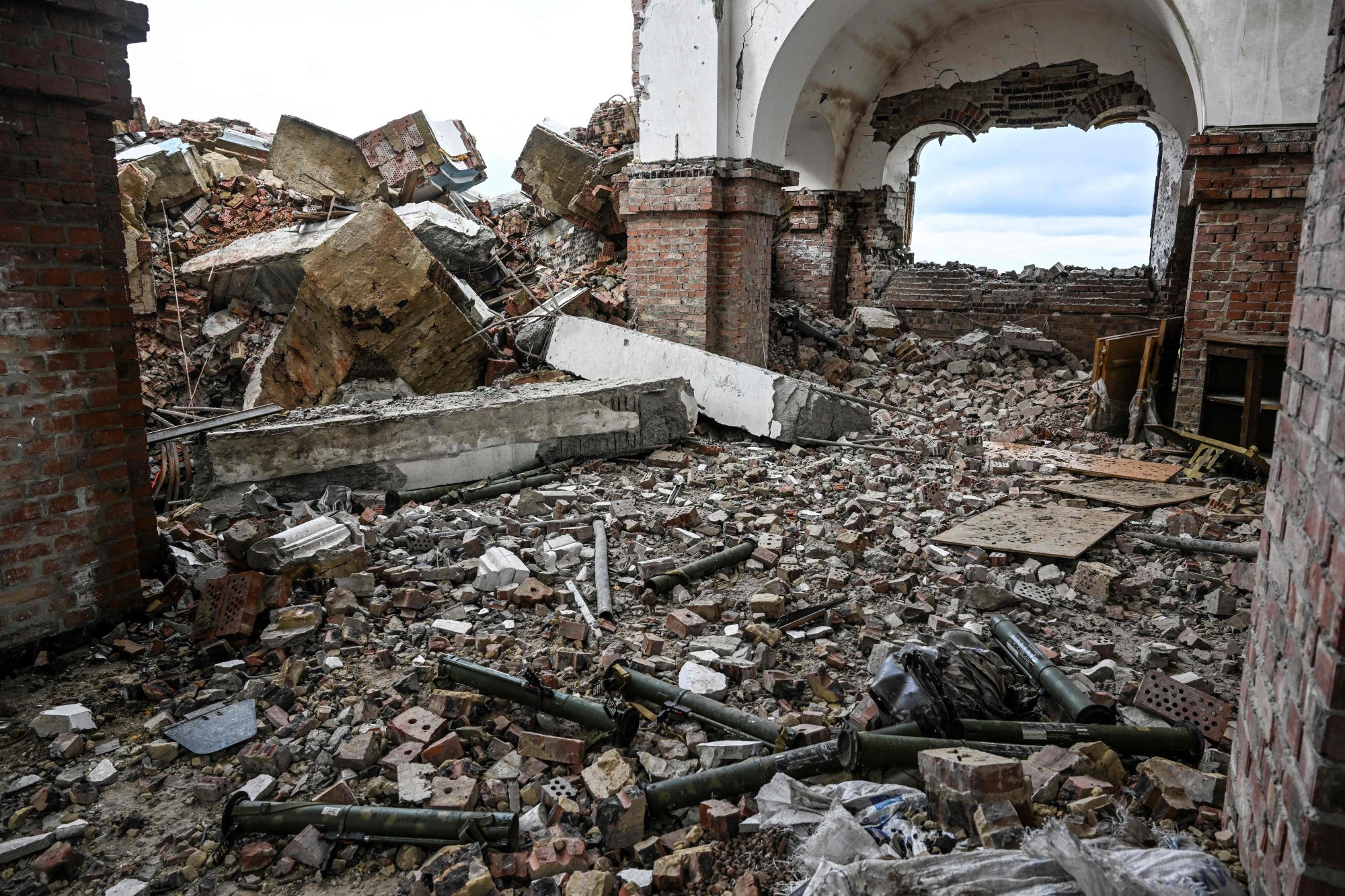 A major procurement decision cannot be far off. Min Aung Hlaing's suggestion to establish a consulate in Novosibirsk may be an indication of future plans: the Siberian city is home to a subsidiary of the aircraft company Sukhoi, the manufacturer of the SU-34 fighter-bomber which Russia has used to devastating effect against lightly armed anti-government forces in Syria since 2015 (though less so in Ukraine where they have faced a more formidable opponent).
Meanwhile, defence diplomacy activities between Myanmar and Russia have continued apace. In August, a Tatmadaw delegation led by SAC Vice-Chairman Vice-Senior General Soe Win took part in the International Army Games in Moscow. In early September, the Tatmadaw also participated in Vostok-22, Russia's large-scale military exercises in the Russian Far East.
The two countries have also made progress towards tackling Myanmar's energy crisis which was caused by the coup and exacerbated by the conflict in Ukraine. In August, the SAC established a committee to oversee imports of Russian fuel oil, which presumably Moscow has offered to Naypyidaw at reduced prices due to falling exports to Europe as a result of sanctions. The first deliveries are expected later this month.
More intriguingly, Myanmar signed an agreement with Russia's state-run atomic energy agency Rosatom on the sidelines of the EEF.
The agreement follows on from a memorandum of understanding signed by Myanmar and Rosatom during Min Aung Hlaing's visit to Moscow in July. It provides a road map for cooperation over 2022-23, and specifically mentions the development of small modular reactors (SMRs). SMRs are smaller, cheaper and (supposedly) safer than traditional nuclear power plants, and are relatively easy to plug into existing power grids. Since 2019, Russia has been using a floating SMR to power a small town in the Arctic and hopes to sell the technology to other countries.
As Southeast Asian countries struggle to meet rising energy demands, Russian SMRs in Myanmar might provide some fission – literal and metaphorical – for Russia's nuclear industry and bilateral ties in general.
Ian Storey is a senior fellow and editor of Contemporary Southeast Asia at the ISEAS-Yusof Ishak Institute in Singapore. This article was originally published as "Myanmar and Russia: Vladivostok Meeting Signals a Tighter Embrace", on ISEAS-Yusof Ishak Institute's commentary site
fulcrum.sg
.