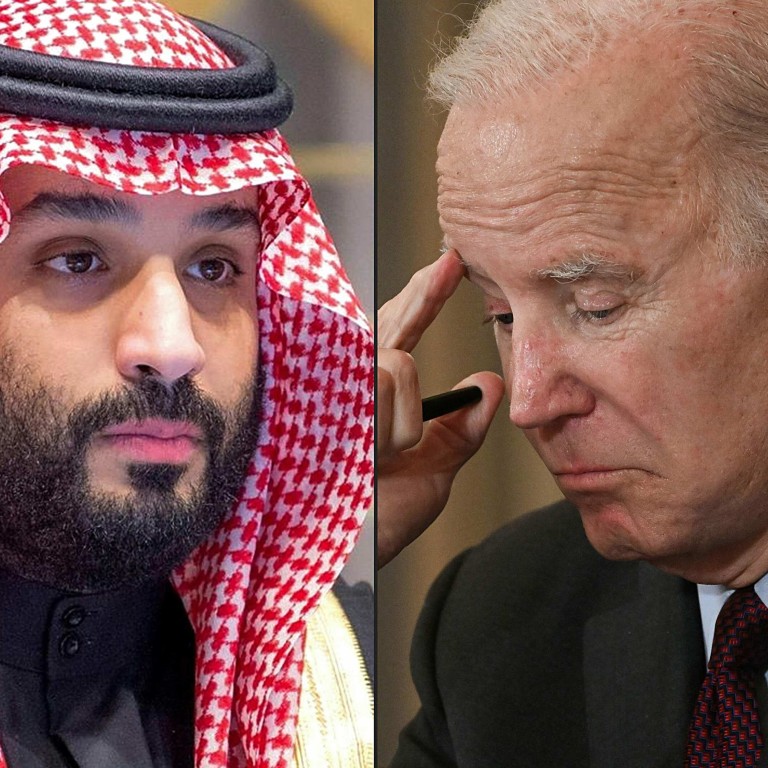 Opinion
As I see it
by Bhavan Jaipragas
As I see it
by Bhavan Jaipragas
Joe Biden's values-based foreign policy tanks when it comes to US-Saudi ties
Biden vowed to make Saudi Arabia a 'pariah' for Jamal Khashoggi's murder, but facing an oil crisis, the US president sought Riyadh to increase output
US president's promise to 'uphold universal rights', has been questioned as Washington has deepened ties with less-than-liberal Southeast Asian nations
For a taste of how flimsy the
US
Democratic Party's mantra of values-based diplomacy is, one needs to look no further than recent dealings between President
Joe Biden
's administration and
Saudi Arabia
.
Biden came to power promising to re-centre American foreign policy in the country's democratic values and heritage of "upholding universal rights, respecting the rule of law and treating every person with dignity".
This approach, administration officials had said, would be far removed from the transactionalist diplomacy practised by Biden's successor,
Donald Trump
.
In these engagements, while administration officials did raise rights issues, they did so hastily, as if it were a box-ticking exercise. The practice of values-based diplomacy was far from evident.
The hope was that Saudi Arabia, the linchpin of the Organization of the Petroleum Exporting Countries (Opec) would help to ease high fuel prices by nudging the group towards increasing production.
The two men bumped fists like old friends as the prince greeted Biden at the Al Salam Palace, and later Biden said he raised Khashoggi's killing "at the top of the meeting", offering few other details. Again, it seemed like a box-ticking exercise.
Fast forward to this month, and Saudi Arabia is again a talking point after Opec+, which includes the cartel and other producers, elected to cut output by two million barrels a day.
The move could spur a recovery in oil prices, and potentially give Russia a financial shot in the arm as it struggles to fund its Ukrainian invasion.
A US administration truly guided by principles -and not realpolitik – would have lambasted Saudi Arabia for the move. Instead, the Biden administration again showed its foreign policy is not quite what it claims to be.
The riposte to Riyadh was somewhat feeble, with the White House saying it was "disappointed" with "short-sighted" decision by Opec+ to cut output.
This just goes to show that Biden's claim of pursuing values-based diplomacy is mostly empty talk.
It is apparent to most of us outside Washington; as his administration nears its halfway mark, one hopes he and those around him also gain some self-awareness.