Earlier this year, at a march for women's equality in the Indonesian city of Bandung, university lecturer Saras Dewi and her fellow marchers were almost run over by a man on a bicycle. They escaped unscathed – as did the perpetrator.
At a similar event in Jakarta, male bystanders heckled them as they marched to the National Monument, a popular meeting spot in the capital. On social media, they were called horrible names. But the women ignored the abuse and focused instead on their goal of calling attention to gender discrimination in Indonesia.
Saras, 35, who teaches philosophy at the University of Indonesia, is among the growing number of young women stepping up and speaking out against gender-based violence in Indonesia, fuelled by the momentum of the #MeToo movement that has rapidly spread since last year.
"Women are realising that there is a huge issue," Saras says. "We are stubborn. With the issue of sexual violence, we have to be stubborn."
Women say violence is perpetrated by continued gender discrimination in the country of 260 million.
This is a society that has a deep-rooted culture of victim blaming and is quick to judge survivors of abuse and violence. Claims of domestic violence are also hastily dismissed.
This month, Gadjah Mada University responded to a female student's sexual assault by blaming her for the incident, asking her to "repent" and even discouraging the student press from calling her a victim, implying that she had consented to the assault.
Saras has helped rape and sexual abuse survivors, both male and female, by personally counselling them and then supporting them if they choose legal action. She helped one student by accompanying her to the police to testify after her rape.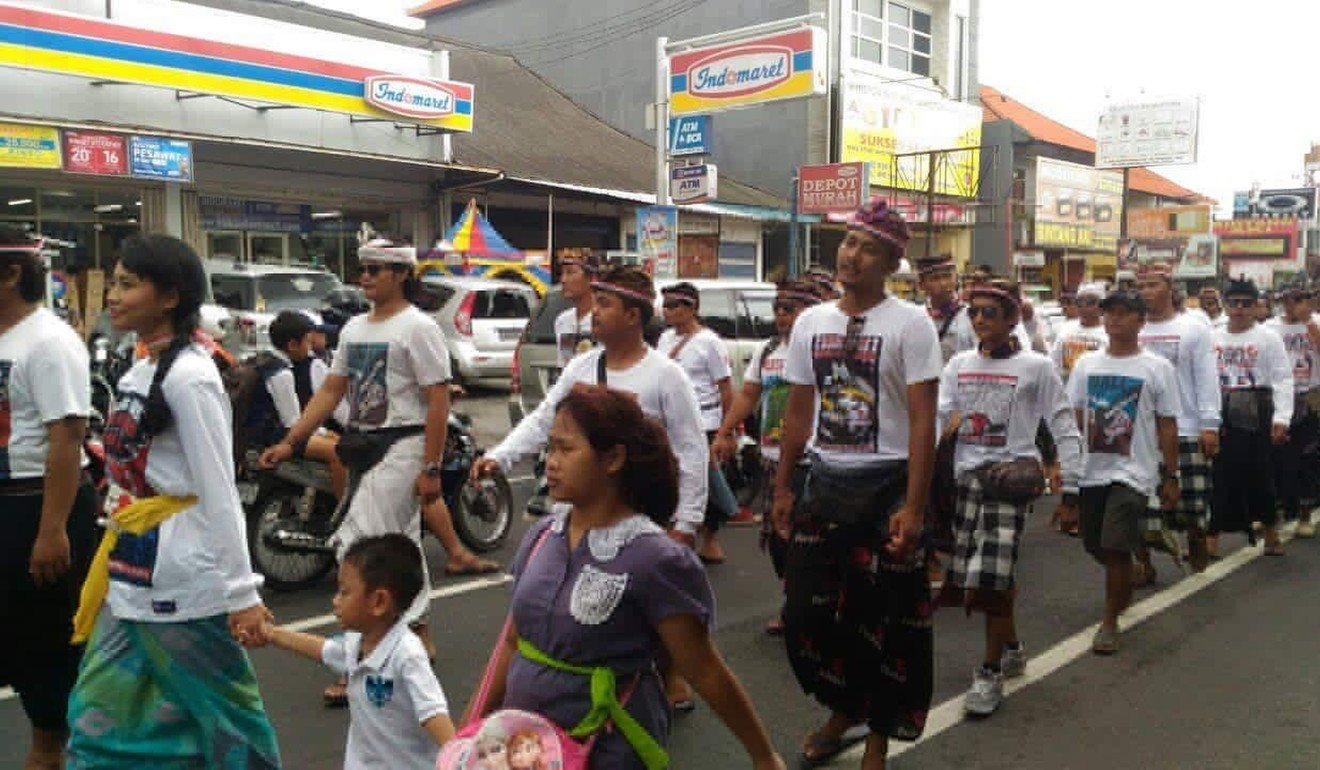 "Since Indonesians are still biased, they tend to blame the victims of sexual abuse, making it even harder for them to seek justice. Solidarity is the key to change the tide to a gender-sensitive society," Saras says.
Indonesia's National Commission on Violence Against Women cited 348,446 reported cases of gender-based violence in 2017. The commission reported a 25 per cent increase in violence from the year before.
An online survey from 2016 by a support group for victims of sexual violence and their partners in Indonesia found more than 90 per cent of respondents had kept silent about their rape because they feared repercussions.
One of the darkest stains on modern Indonesian history happened in May 1998, when the Indonesian economy collapsed, leading to anti-Chinese riots in several cities and the downfall of dictator Suharto. There were mass rapes and killings of Indonesian-Chinese women – an investigation by an Indonesian fact-finding commission found at least 52 women had been gang-raped.
Saras is among the activists who have advocated for a bill to protect victims of sexual violence and strengthen sentencing options for perpetrators.
"We need sexual offenders to be criminalised. We still live in a society where culture, customs and religion are very permissive towards predators," says Saras, who teaches philosophy of literature, ecological philosophy and eastern philosophy at the University of Indonesia.
Last month, she appeared at the annual Ubud Writers and Readers Festival to share her thoughts about violence in the private sphere, courtship and marriage.
"In Bali, divorce is considered very shameful for women. A lot of this is from a religious perspective, so if you get divorced, you won't get to heaven. As a result, the numbers for divorce are very low," she says.
"There was a recent case of domestic violence in Bali that was very shocking. A woman's feet were cut off by her husband who accused her of cheating. That happens a lot," she says of violence against women accused of infidelity.
The bill for the Elimination of Domestic Violence has been stuck in Indonesia's national legislature, the House of Representatives, for 14 years. This bill to promote human rights, achieve gender equality, protect survivors of violence and punish offenders has clearly not been a top priority for the government.
Researchers say families and communities privately tackle domestic violence complaints. Cases that progress to the courts result in divorce rather than the treatment of the perpetrator as a criminal offender.
Saras, whose activism extends to local environmental causes such as protesting against reclamation in South Bali, believes Indonesia's academics and scientists, armed full of facts and research, must do more to highlight the voices of people ignored or silenced.
"We have to try to, at least, voice the injustice. I think the academic and scientific communities have a social responsibility to the public," she says.
It will be an uphill battle to reduce sexual violence cases in Indonesian society, Saras says, and the government's role is key. "We need the government to side with the fight on sexual violence by listening to survivors and listening to cases."