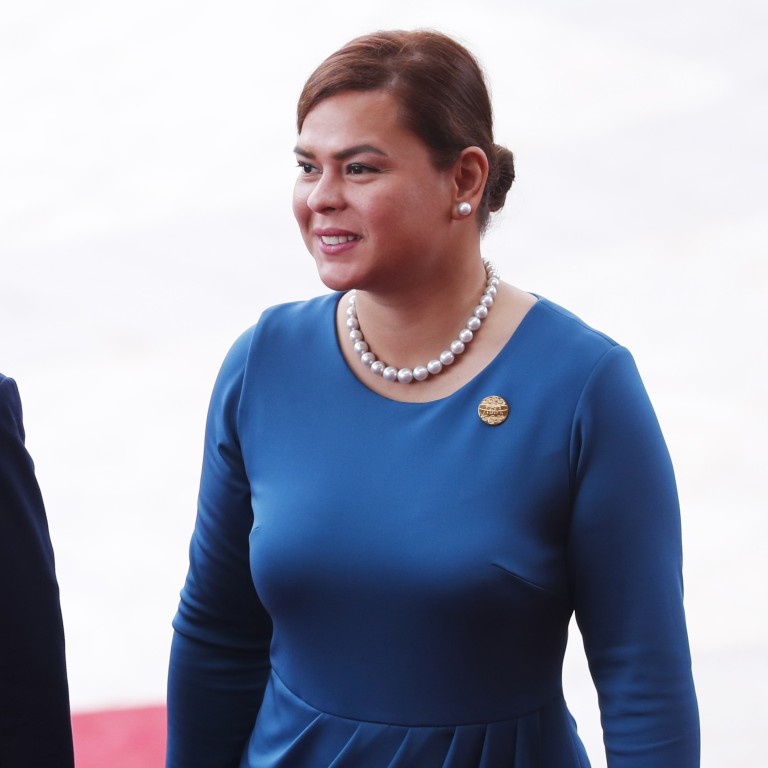 Sara Duterte: First Daughter, Davao city mayor – and Philippine president in waiting?
The middle child of President Rodrigo Duterte is as controversial as her father, whom she may succeed in 2022 if rumours in the country ring true
But, even before she has signalled her intention to run, the Davao City Mayor's candidacy is already being intensely scrutinised
Long before Sara Duterte became First Daughter, she made headlines as the feisty mayor of Davao City who punched a sheriff – thrice in quick succession.
In an incident that prompted a TV station to nickname her "the slugger", Sara had become enraged after her request to delay a demolition of illegal shanties was ignored, sparking a riot that she had been trying to prevent.
When the sheriff of the court tried to flee, her bodyguards dragged him and held him as Sara yanked his hair in front of TV cameras.
Sara, then 33, took her brief suspension as a mayor in silence after that incident in July 2011, but her father Rodrigo Duterte, who was then her vice-mayor, made his opinions known by cussing and flashing a finger at media critics.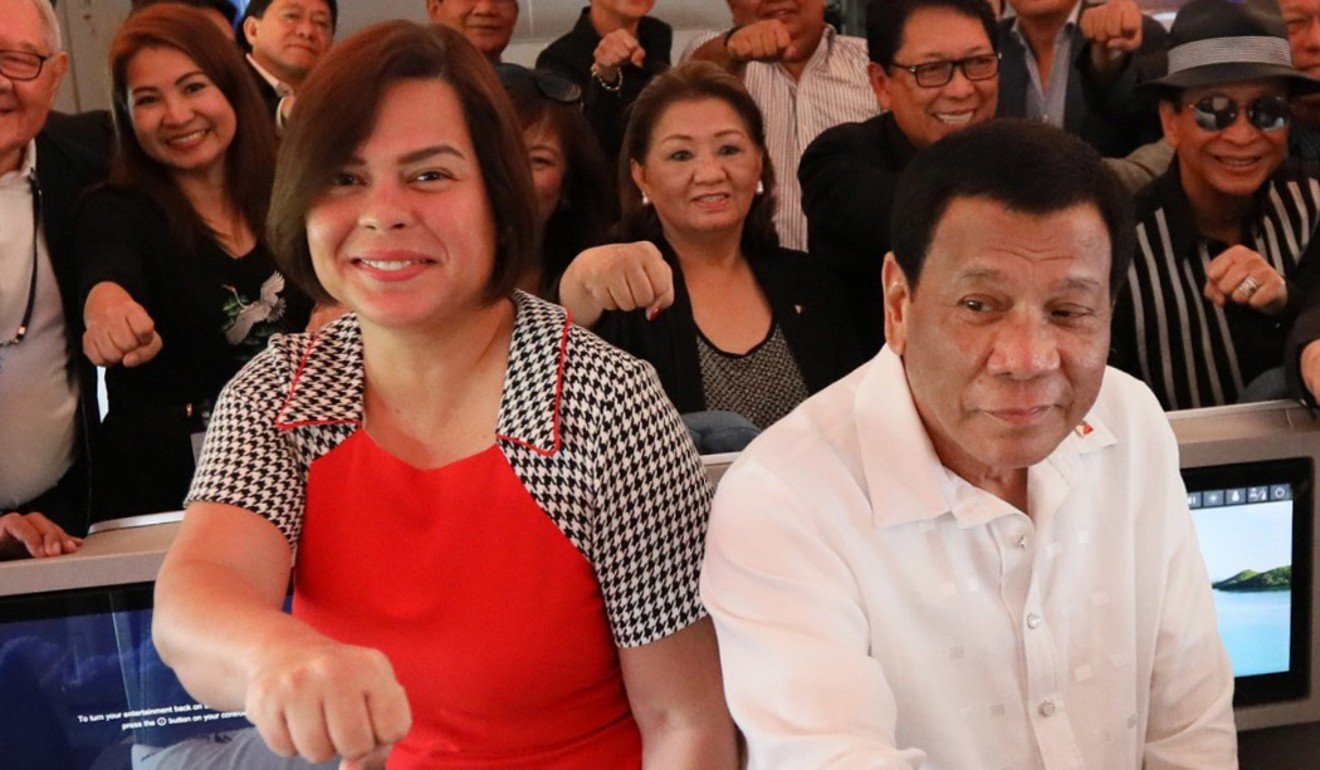 He advised his middle child not to apologise but to "celebrate, be happy ... with the thought that you protected the people".
Duterte's praise for his daughter's leadership went up a notch when in 2017, in his second year as Philippine president, he told reporters: "I couldn't find any other better candidate than Sara to become the next president."
The statement prompted speculation Sara would succeed him as president, although Duterte later rubbished those suggestions.
A remark by presidential spokesman Salvador Panelo last February kept the rumours alive. "I will not be surprised if she becomes president of this country after her father," he said, adding that her admirers saw in her "the character of the father. She's very competent, smart and fierce".
WHO IS SARA DUTERTE?
Sara first joined politics in 2007 as her mayor-dad's running mate. When Duterte hit his term limit in 2010, they switched seats.
The 40-year-old Davao mayor has the Caucasian features of her half-German mother, Elizabeth, but the tough language of her father, minus the cursing and the lewd jokes.
Among Duterte's three children, Sara is "the closest one and very supportive of the father", political analyst Ramon Casiple told This Week in Asia .
But Casiple pointed out both came from different backgrounds.
"Sara has a different history from her father. She came from NGO [work]. The local Davao NGO community supports her," said Casiple, who heads the Institute of Political and Electoral Reforms. "Many of the progressive laws, like the ordinance on women's rights, are Sara Duterte's."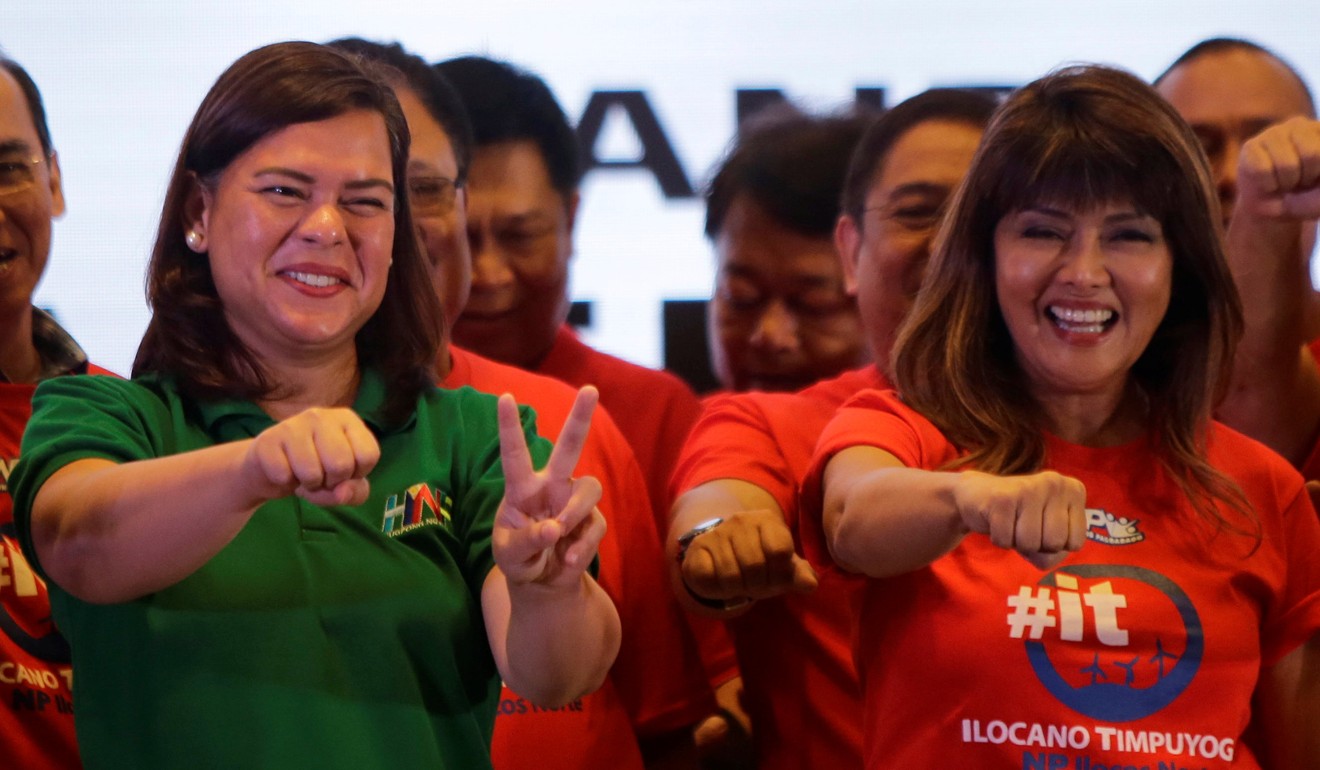 Sara made her political mark as a power broker when she succeeded in replacing the Speaker of the House with an ally, former president-turned-congresswoman Gloria Arroyo, last year.
She has tried to dampen any succession talk, even as her formation of the Hugpong ng Pagbabago [Faction for Change] political party, for the mid-term election next month, continues driving speculation of her presidential ambitions.
"I wish they would not talk about me like that because those who want to be president as early as now, they will put me as number one on their hate list," she said recently. "Ask me again in 2021."
Sara's HNP is endorsing 13 guest candidates to fill 12 seats in the Senate. The upper legislative chamber has 24 members, of which 12 are elected every three years. Sara said she was leaving it up to voters to vote 12 out of the 13 endorsed candidates.
The party name hardly reflects the reality. Seven of its senatorial candidates belong to political dynasties. Senator Bong Revilla was acquitted of plunder but told to return the stolen millions while Senator Jinggoy Estrada is still on trial for the same crime. HNP is also fielding Imee Marcos, who along with her siblings and mother, have stopped the government from retrieving most of the loot stolen by their father Ferdinand Marcos.
WILL SHE BE PRESIDENT?
According to Malcolm Cook, a senior fellow at the Singapore-based ISEAS-Yusof Ishak Institute, the path for Sara to become president in 2022 will become a reality if three conditions are met.
If HNP "is able to maintain the expanding coalition of local political dynasties that are supporting the coalition's mid-term election rallies, maintain its super-majority in the House of Representatives and establish one in the Senate, then the path to the 2022 presidency will be quite straight for Sara Duterte, if she chooses to run," Cook wrote in a paper released in early April.
Election outcomes in the Philippines are never predictable, however. Anything could happen in three years. "It's too far away [to tell]," Casiple said. It also depends on who she is running against, he added.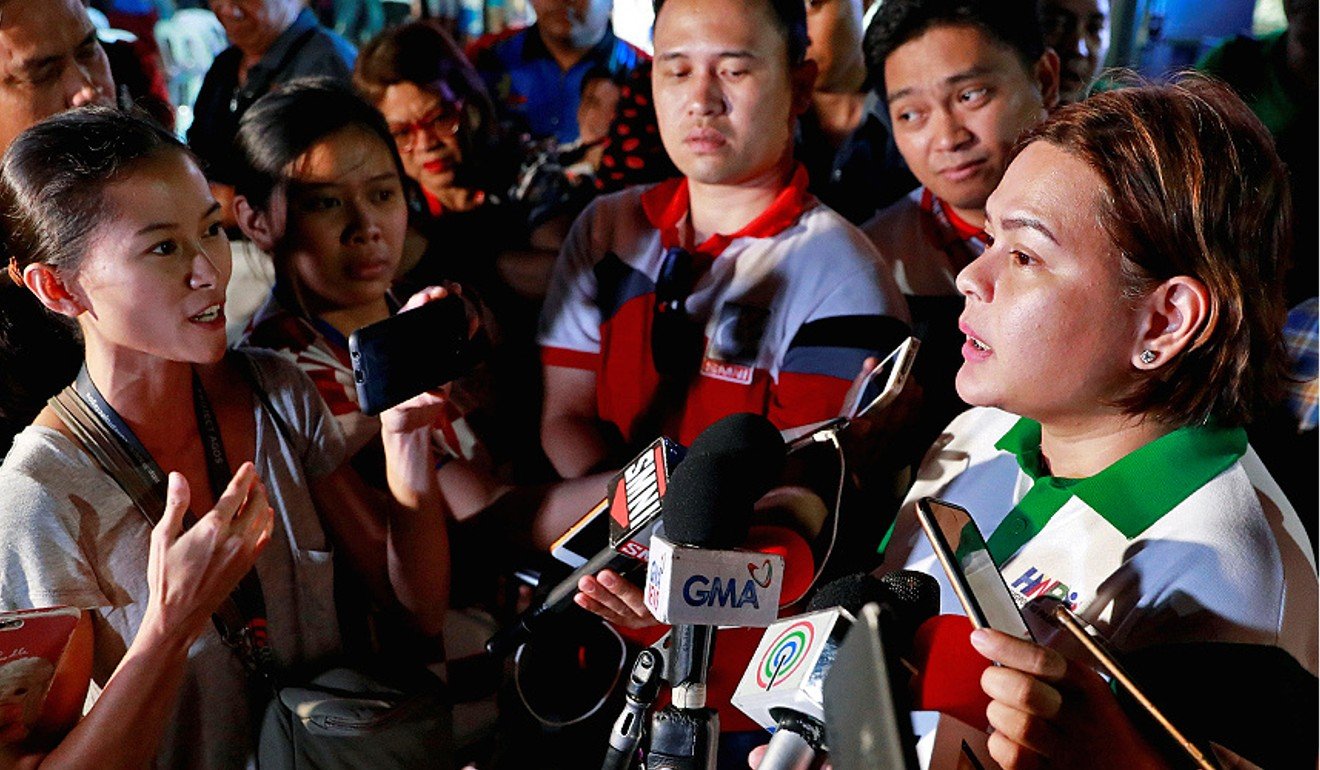 QUESTIONS RAISED
Being the first to announce a candidacy also invites more scrutiny. Being the last to join – like Duterte did in 2016 – shortens the time for dirt-digging by the media. It was only during the campaign period when opposition Senator Antonio Trillanes alleged that inter-bank transactions amounting to two billion pesos involved the president's private bank accounts and those of his children Sara, Paulo and Sebastian and his partner Cielito "Honeylet" Salvador Avanceña.
At the beginning of April, the Philippine Centre for Investigative Journalism (PCIJ) released a three-part wealth report on Duterte, Sara and her brother Paolo, who is running for Congress. The investigative report is based on their separate submissions of statements of assets, liabilities and net worth (SALN), which is required by the Constitution.
The PCIJ has previously made extensive reports on the wealth of former Presidents Gloria Arroyo and Joseph Estrada – whose reports were used in his impeachment trial.
The report noted the Dutertes "have all consistently grown richer over the years, even on the modest salaries they have received for various public posts, and despite the negligible retained earnings reflected in the financial statements of the companies they own or co-own".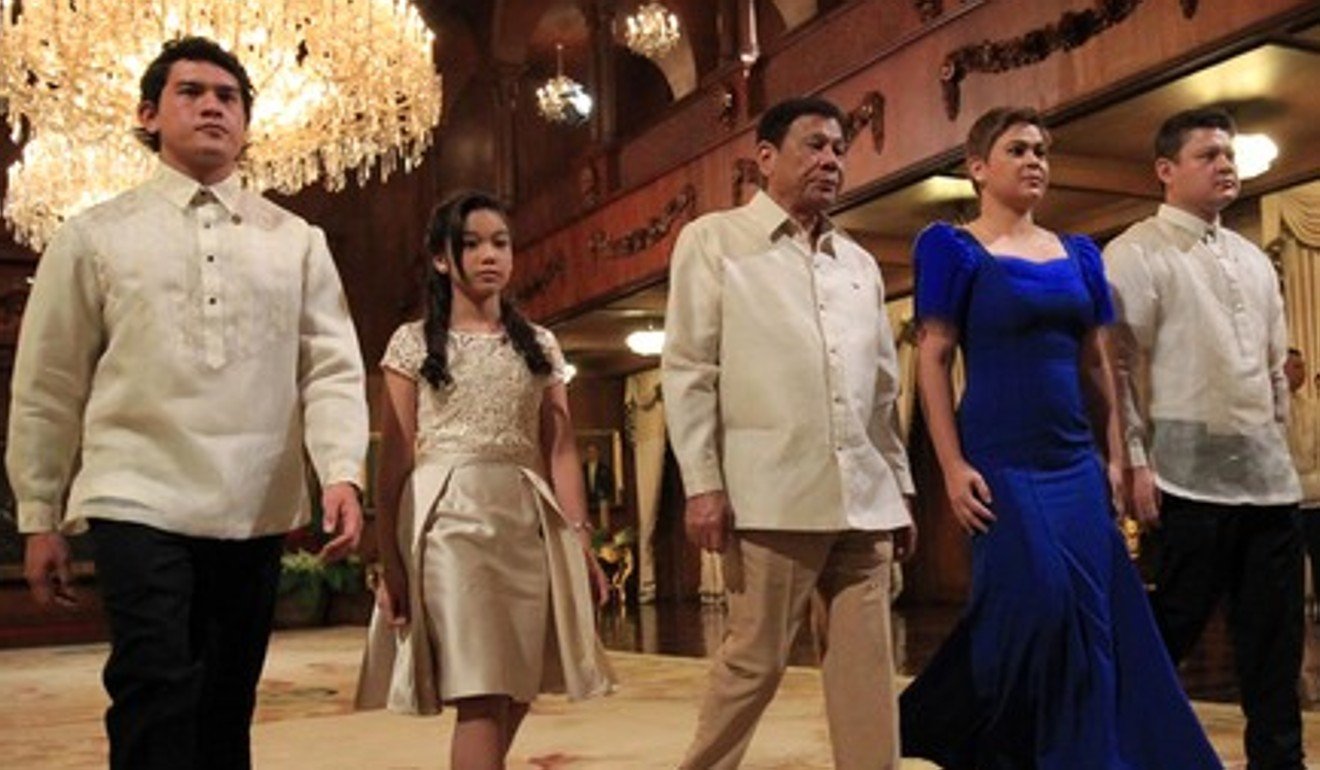 Sara's SALN in 2007 – the year she first ran and won as Davao vice-mayor – showed she had a net worth of 13.88 million pesos (US$268,600) and was a shareholder in three companies.
This figure was higher than Duterte's, whose SALN that year was 9.7 million pesos (US$187,700), after he transferred real estate assets to his wife and children.
The refusal of the president, his daughter Sara and son Paolo to explain discrepancies in their SALNs and give a complete breakdown of their wealth has raised questions in the country.
For instance, in the case of Sara, the earnings of the three companies in which she has vested interests were not able to fully constitute the 3.48-million value of her personal assets in 2007.
This Week in Asia found that City Hall King Chow Foods Corporation, a fresh start-up that year, had a net income of 436,915 pesos. Davao Bounty Times Foods Corporation, also incorporated in 2007, has never submitted any financial statements. Davao Emerging Taipans Corporation was registered with the SEC in 2004. Its net income in 2007 was 529,424 pesos.
Based on 22 SALNs of President Duterte, eight SALNs of Sara, and 11 SALNs of Paolo, all obtained by PCIJ, Sara was the richest Duterte since 2007. By 2017, she had a declared net worth of 44.8 million pesos, compared with her president-dad's wealth of 28.5 million pesos, and her older brother Paolo's net worth of 27.7 million pesos.
She was an incorporator and shareholder in five companies, compared with her brother's eight firms.
The report showed that the law firm Sara started with her husband Manases Carpio – Carpio & Duterte Lawyers, later renamed to Carpio Duterte Lawyers – has no record of registration as a law partnership with the Securities and Exchange Commission (SEC) or as a single proprietorship with the Department of Trade and Industry (DTI).
Under Philippine laws, registration with the SEC or DTI is needed before an entity can obtain a mayor's permit to operate and a certificate of registration from the Bureau of Internal Revenue in order to do business legally.
This Week in Asia also found no records of the law firm in the DTI and SEC. Sara's communication officer did not respond to efforts by This Week in Asia to clarify the matter.
The Davao mayor has been quoted by local media as saying the PCIJ's report was "baseless", which was why "we are not answering them".
The presidential palace has dismissed the wealth report as an election-related smear job, with Duterte calling the PCIJ "paid hacks".
Amid the controversy, Duterte's popularity and trust ratings remain high with three weeks to go before the mid-term elections. The latest poll survey showed eight of HNP's senatorial candidates expected to head for victory.
While any party would be pleased with such results, it would not provide sufficient support for Duterte, who wants to win all 12 Senate seats to reach the two-thirds majority vote needed to change the Constitution.
And although he is popular, the road for his daughter is anything but smooth. In the 2010 elections, Senator Manuel Villar was leading in all polls, but ultimately lost when the death of popular former president Corazon Aquino catapulted her son Benigno III to victory.
Would Sara make a viable presidential candidate in 2022?
"I would have to use Sara's answer," Casiple said. "Ask me in 2021. It's too far away." ■