Myanmar
Get more with myNEWS
A personalised news feed of stories that matter to you
Learn more
Amid Myanmar's #CivilDisobedience movement, the thunder of pots and pans fill the night
Days after a military coup, all seems normal in Yangon during the day, but residents are making their resistance against the military heard at dinnertime
Meanwhile, restaurants are boycotting military-backed businesses, doctors have stopped working and some drivers are honking their cars to express support for ousted leader Aung San Suu Kyi
Days after
Myanmar
's military seized power in a coup, it appears all has returned to normal in Yangon, where offices remain open, the roads are bursting with traffic, and nearby bazaars are packed with customers shopping for groceries.
A fruit seller in downtown Yangon says business has not been affected, and he has continued to open his shop at the market, earning some 30,000 kyat (US$21) from 6am to 7pm.
While there were long queues at banks earlier in the week, a 22-year-old accountant says the initial chaos has melted away and financial services are now operating as usual.
But come nightfall, anger against the powerful Tatmadaw rears its head, as people wage a mass civil disobedience campaign against the military government by banging on pots and pans at 8pm to voice their rejection of the takeover.
Amid the clanging, which is a traditional way of driving away evil or bad luck in Myanmar, some shout from their balconies: "May the dictatorship fall."
The resistance movement started soon after the coup on Monday among medical workers, who have been on the front lines of the coronavirus response but have since stepped down from non-essential duties to oppose the military. It soon spread to include students, youth groups, and employees from the state and private sectors.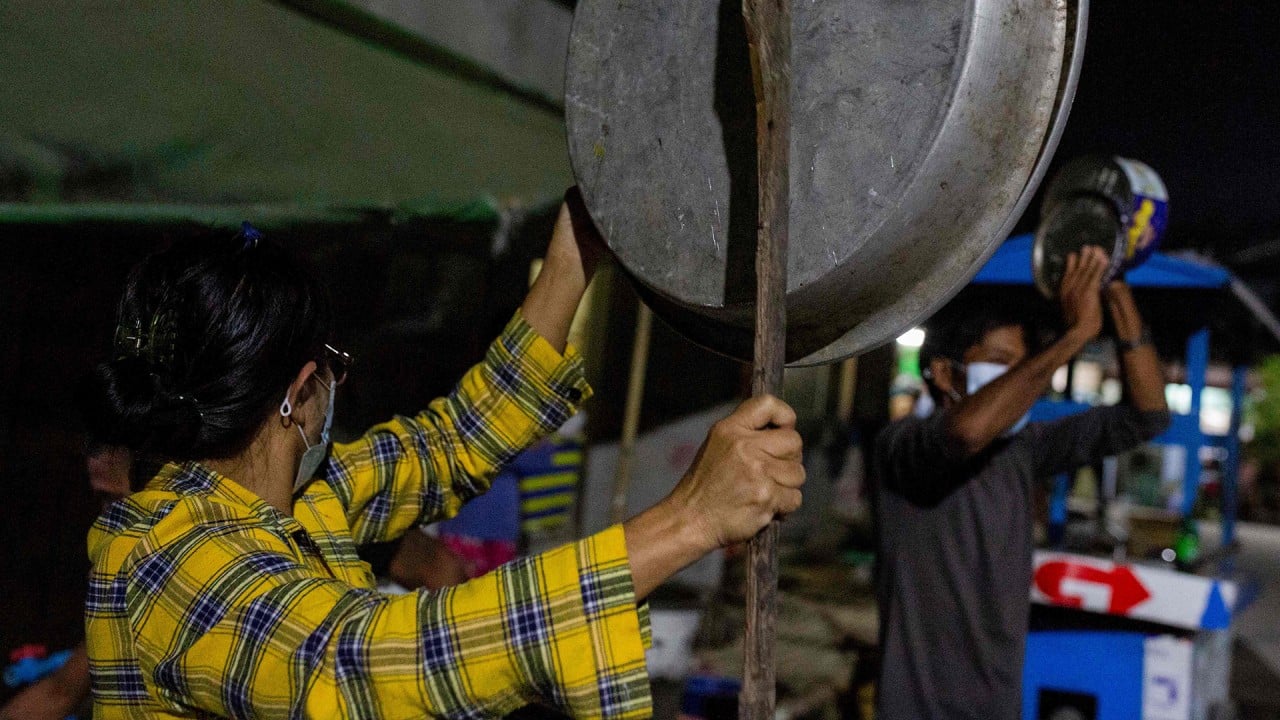 01:24
Myanmar military coup: Yangon residents make noise to protest against army takeover
Myanmar military coup: Yangon residents make noise to protest against army takeover
The protesters have taken various approaches to make their opposition heard.
Thousands of people took to the streets of Yangon on Saturday to denounce the country's new military regime.
"Down with the military dictatorship!" the crowd yelled, many donning red headbands – the colour associated with ousted civilian leader
Aung San Suu Kyi
's NLD party.
On Thursday, cars in the streets of Yangon stopped and began honking at 5pm to express support for the government led by Suu Kyi, who is now detained on charges of importing telecommunications equipment without permission and remanded till February 15.
Yangon restaurants and mobile shops have boycotted military-backed businesses, such as MyTel and Myanmar Beer – which are believed to be the most valuable sources of domestic income for the junta.
MyTel, one of the country's largest telecoms firms, posted a profit of US$25 million last year, while Myanmar Beer – whose alcohol is available in almost every restaurant and beer station in the nation – made a profit of US$155.9 million last year along with its joint venture Kirin, which has terminated its partnership with Myanmar Economic Holdings Public Co Ltd over its concerns about the military coup.
Teachers in Myanmar on Friday became the latest group to join the civil disobedience campaign. Wearing red ribbons and holding up protest signs, scores of educators gathered in front of campus buildings at the Yangon University of Education on Friday.
"We, as citizens of Myanmar, support the doctors, engineers and other civil employees in the Civil Disobedience Movement. And again, we condemn the coup," a group chanted.
"We don't want this military coup which unlawfully seized power from our elected government," said lecturer Nwe Thazin Hlaing.
"We are no longer going to work with them. We want the military coup to fail," she added, surrounded by other staff members who held up three-finger salutes, now used by many protesters in Myanmar.
The salute stems from the blockbuster
Hunger Games
films, but in recent years, it has been adopted by protesters against authoritarian rule in Asia, including in
Thailand
.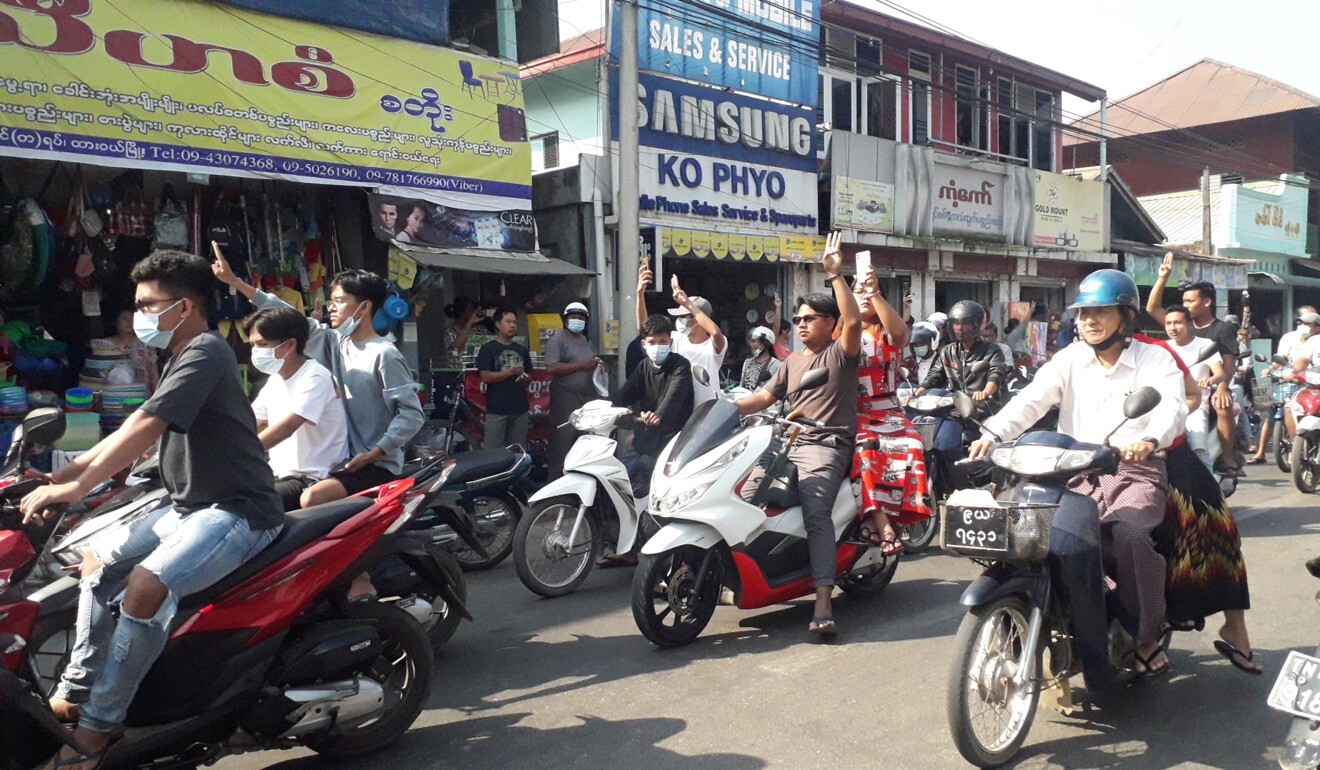 Several dozen anti-coup protesters also marched on Friday in the southeast city of Dawei, followed by supporters on motorbikes, video footage showed.
"We declare that we start our fight for democracy today in Dawei. We urge the people to join and stand with us," said one protester.
Ethnic armed groups in the country, which has historically been divided along religious and ethnic lines, have also condemned the coup and signalled a halt to their long-running peace process with the military, saying the Tatmadaw can no longer be trusted.
"How can we trust them when they staged a coup? This is not the norm of democracy," said Major Kharm Sarm, a spokesperson for the Restoration Council of Shan State (RCSS) in Myanmar's north, on Wednesday.
Earlier Friday, nearly 300 elected lawmakers from Suu Kyi's party declared themselves as the sole legitimate representatives of the people and asked for international recognition as the country's government.
Amid the civil protests, the threat of reprisal lurks. The Mandalay Region Police Force on Thursday said it had arrested more than 30 people for banging on pots and other kitchenware.
"We are taking action against them in seven districts including Mandalay under section 47 for causing noise in public," Maung Maung Aye, deputy chief of the force, told reporters.
A small group of protesters in Yangon and Mandalay was also arrested on Thursday and remanded the next day, according to a police report.
On social media, the hashtags #CivilDisobedience and #SayNototheCoup have been trending, while Facebook groups such as "Civil Disobedience Movement" have been established for protesters to communicate and coordinate efforts.
While the military on Thursday said it had banned Facebook, people can still log on if they have access to VPN services.
"I am really concerned now what will happen to our leader, Mother Su. I am really mad at them and this is so disappointing," wrote one Facebook user on her account, before the website was blocked.
The Facebook blackout has left some believing it is the beginning of a new normal.
"Everything's gone now," said a 30-year-old taxi driver in Yangon. "I don't know what we will do now. The dark age is here again. It's our strength against their guns. Something big will happen soon."
This article appeared in the South China Morning Post print edition as: Come nightfall, the sounds of pots and pans fill the air