Myanmar
Get more with myNEWS
A personalised news feed of stories that matter to you
Learn more
Myanmar's first LGBT minister Aung Myo Min continues lifelong fight against human rights abuses
Aung Myo Min has spent three decades defending human rights after the 1988 uprising led him to dedicate his life to activism
As the country's first openly gay member of cabinet, he hopes to be able to shift mindsets on LGBTQ folk and Rohingya, and other rights issues
Human rights activist Aung Myo Min, 53, has many firsts under his belt.
Three decades ago, he became the first openly gay person to become involved in
Myanmar
's pro-democracy movement, when the bloody 1988 students' uprising led him to dedicate his life to activism.
His work defending human rights and protecting
LGBTQ
communities from prejudice has won him several international awards, including the Felipa de Souza Award in 1999 and the Schuman Award in 2017.
On May 4, Aung Myo Min broke another barrier as the first LGBTQ person to become sworn in as a member of cabinet, after being appointed by the National Unity Government (NUG) as its Union Minister for Human Rights.
The NUG is made up of opponents of the Myanmar military. Many are lawmakers from the National League for Democracy (NLD), which had won the November 2020 election by a landslide, but was overthrown and accused of voter fraud by the military, known as the Tatmadaw. Some members have been in exile since the February 1 coup.
"When NUG recruited me, I did not know I would be working as a minister," said Aung Myo Min. "It's always been my conviction as an activist to promote human rights for our citizens."
During the country's long military dictatorship under the authoritarian State Peace and Development Council, it was difficult to obtain accurate information about the legal or social status of LGBTQ citizens.
Following some political reforms from 2011 to 2015, there were improvements in media and civil freedoms that allowed LGBTQ people to gain more visibility and support.
While NLD leader Aung San Suu Kyi once called for homosexuality to be decriminalised, the party's electoral victory in 2015 did not lead to any changes in the anti-LGBTQ laws.
In Myanmar, discrimination against the community is widespread, with many people believing that being born as LGBTQ is punishment for sins committed in a past life. Gay men are stigmatised, especially if they have HIV/Aids.
In popular culture, gay characters in mainstream films are ridiculed and stereotyped; many of them decide to become straight at the end of the movie, feeding the notion that being LGBTQ is a choice.
In 2019, a Myanmar librarian died by suicide after being subjected to homophobic bullying at his workplace.
Kyaw Zin Win, 26, who had been working at Yangon's Myanmar Imperial University for almost two years, shared a final post on Facebook before he took his own life.
More than 600 people attended his funeral, and a rainbow flag was wrapped around his coffin. The university launched an investigation and suspended three staff members.
The incident prompted a national conversation on LGBTQ issues.
While the population is still extremely conservative, activists say they have noted a growing climate of societal acceptance and tolerance towards the rainbow community.
Some examples of famous LGBTQ personalities include Myo Ko Ko San, first transgender model and beauty pageant queen, make-up artist and actor Khin San Win, and model agency founder John Lwin.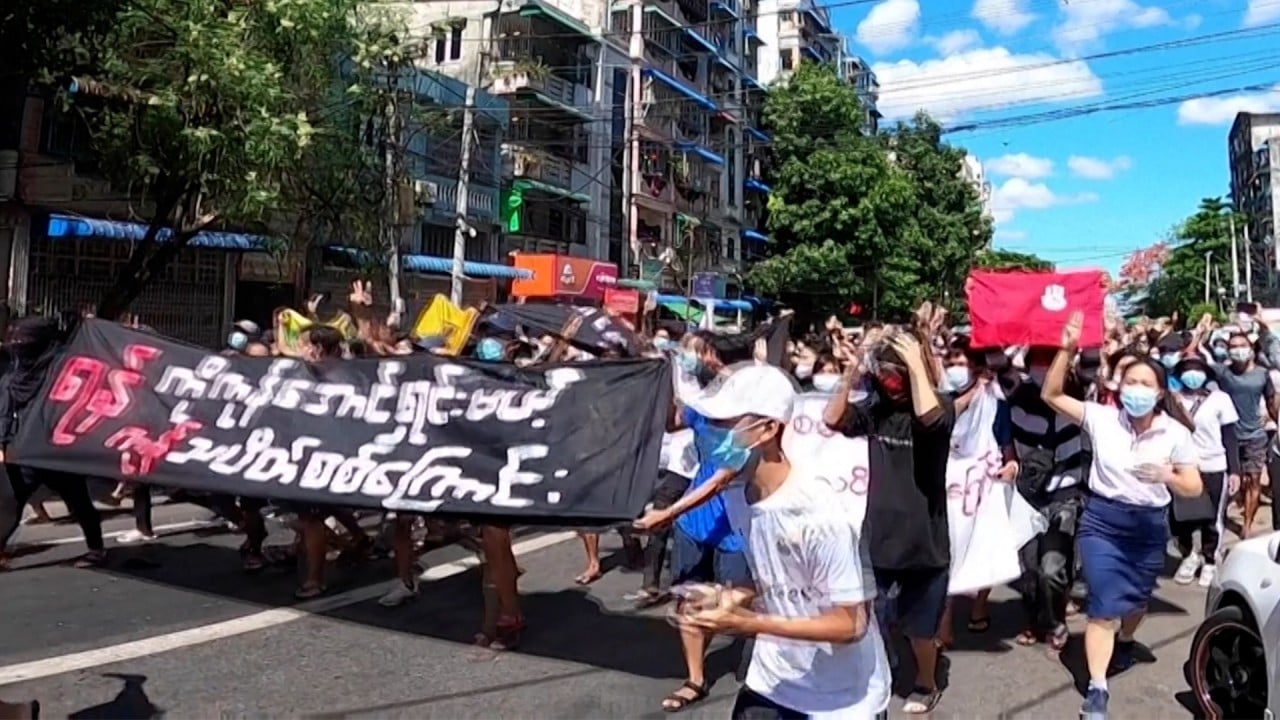 01:45
Myanmar marks 100 days since military coup with pop-up protests across major cities
Myanmar marks 100 days since military coup with pop-up protests across major cities
Equality Myanmar is among the organisations that has been trying to change perceptions of LGBTQ folk in the country.
The group was co-founded by Aung Myo Min in the 1990s after he graduated from Columbia University in New York City, where he read human rights.
"We have two Commissions now: anti-discrimination and human rights, to work with the government," said Aung Myo Min, who is Equality Myanmar's executive director. "We will document all human rights abuses and crimes committed by the military and perpetrators will be accountable."
"We will also work with the international justice systems and criminal procedures to put an end to the culture of impunity in Myanmar so that these crimes are not forgotten," he added. "Otherwise, we won't be able to stop something like this if it happens again."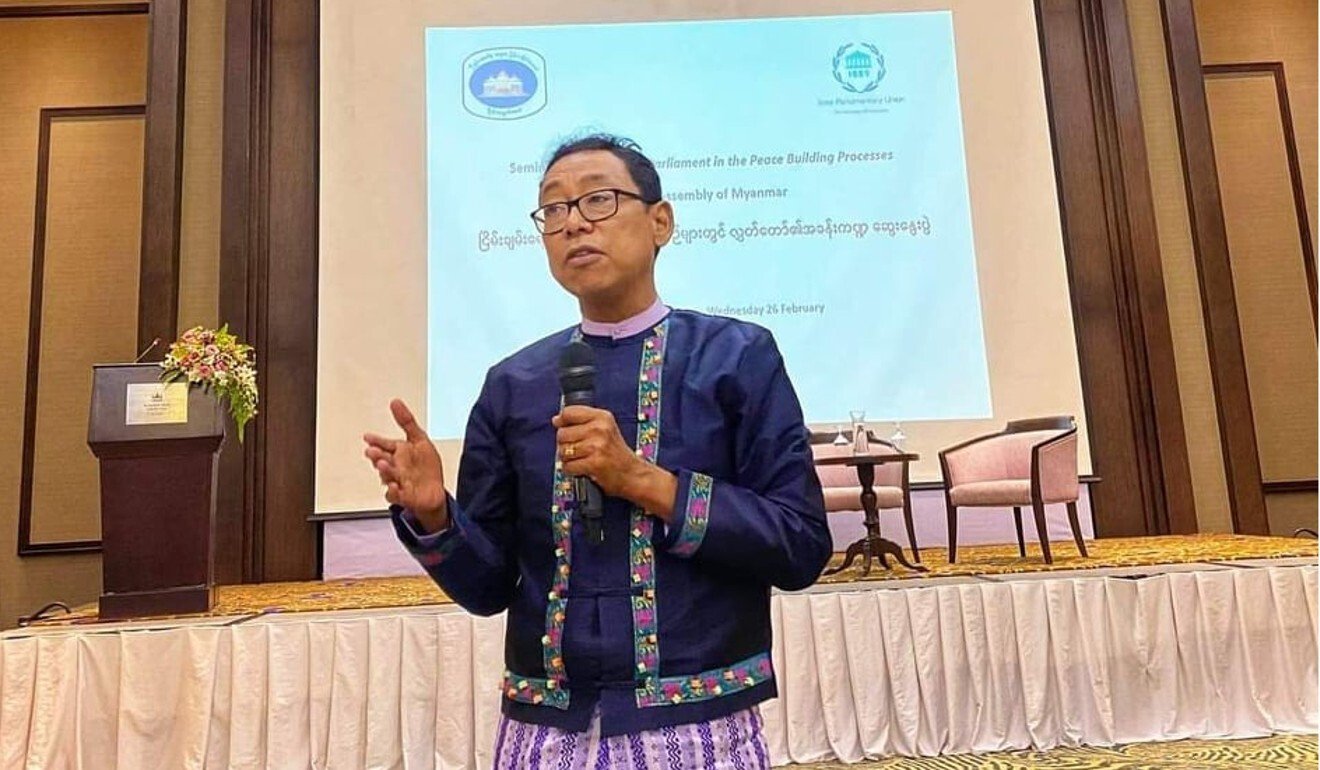 For Aung Myo Min, LGBTQ rights are no different from human rights.
"I've never hidden my sexuality. Being an LGBT person is about having a different sexual orientation but also about being a human being," he said. "The NUG has offered me this role to indicate that there is no discrimination on the basis of sex."
"My perception of human rights is simple. No human being should be discriminated against and treated differently based on their colour, sex, religion, or disability," Aung Myo Min said. "I will serve to protect everyone – LGBT, Burmese or Rohingya."
But he noted that change also had to come from within.
"At the same time, the mindsets of our people need to change," he said. "No matter what the government does, if the people still have discrimination in their hearts, we will not be able to address these human rights issues."
This article appeared in the South China Morning Post print edition as: First gay cabinet minister to maintain fight for rights