Britain
Get more with myNEWS
A personalised news feed of stories that matter to you
Learn more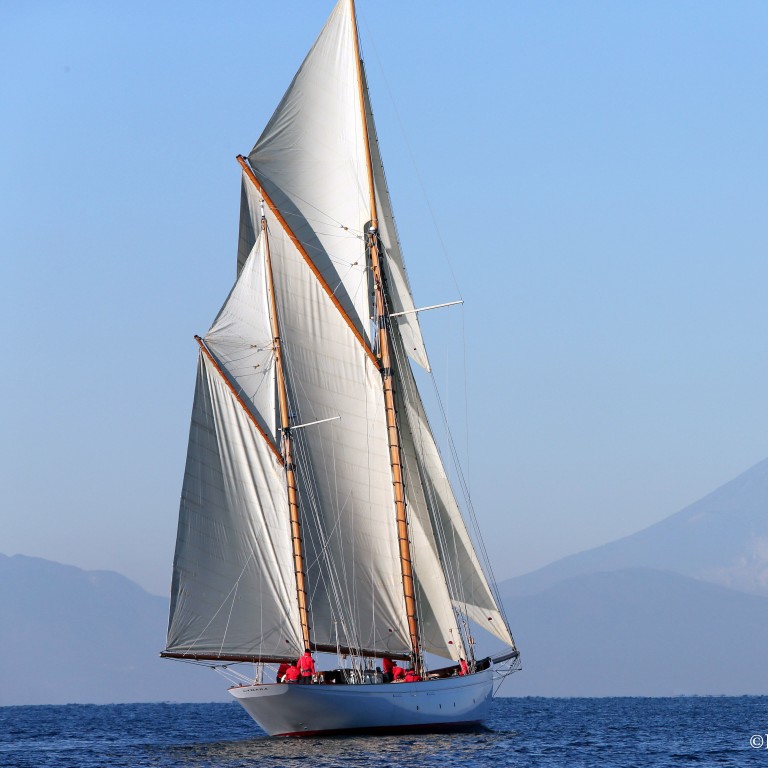 Zsa Zsa Gabor, Jackie Stewart, Winston Churchill: pre-war British yacht's storied past comes back to life in Japan, cigar burn included
Cynara, one of only a few great pre-war classic yachts that survive to this day, once played host to movie stars and moguls, racing drivers and world leaders
After falling into disrepair and obscurity an award-winning restoration project in Japan has got her shipshape once more and she has been invited to grace events at the Tokyo Olympics
A storied
British
-built sailing boat that fell into neglect and disrepair in a
Japanese
backwater has recently won an award for a multi-year restoration project that has seen her returned to her element as a work of grace and sleek beauty.
In its annual awards, Classic Boat magazine named Cynara as the best restored sailing vessel over 40ft in the world and she is already turning heads as she cuts through the waters off her home port on the Miura Peninsula, some 60km south of Tokyo.
That return to the ocean is a remarkable recovery for the 109 feet gaff ketch, built by the now-closed Camper & Nicholson shipyard in Gosport and launched in 1927, whose looks and fame faded after she was bought by a Japanese businessman in 1973.
Time and tides had taken a toll on Cynara, one of only a handful of the great pre-war classic yachts that survive to this day, and it took six years to complete a renovation that took her back to her wooden ribs and individual brass nails – and commenced with a Shinto priest giving the vessel and the repair team a ritual blessing.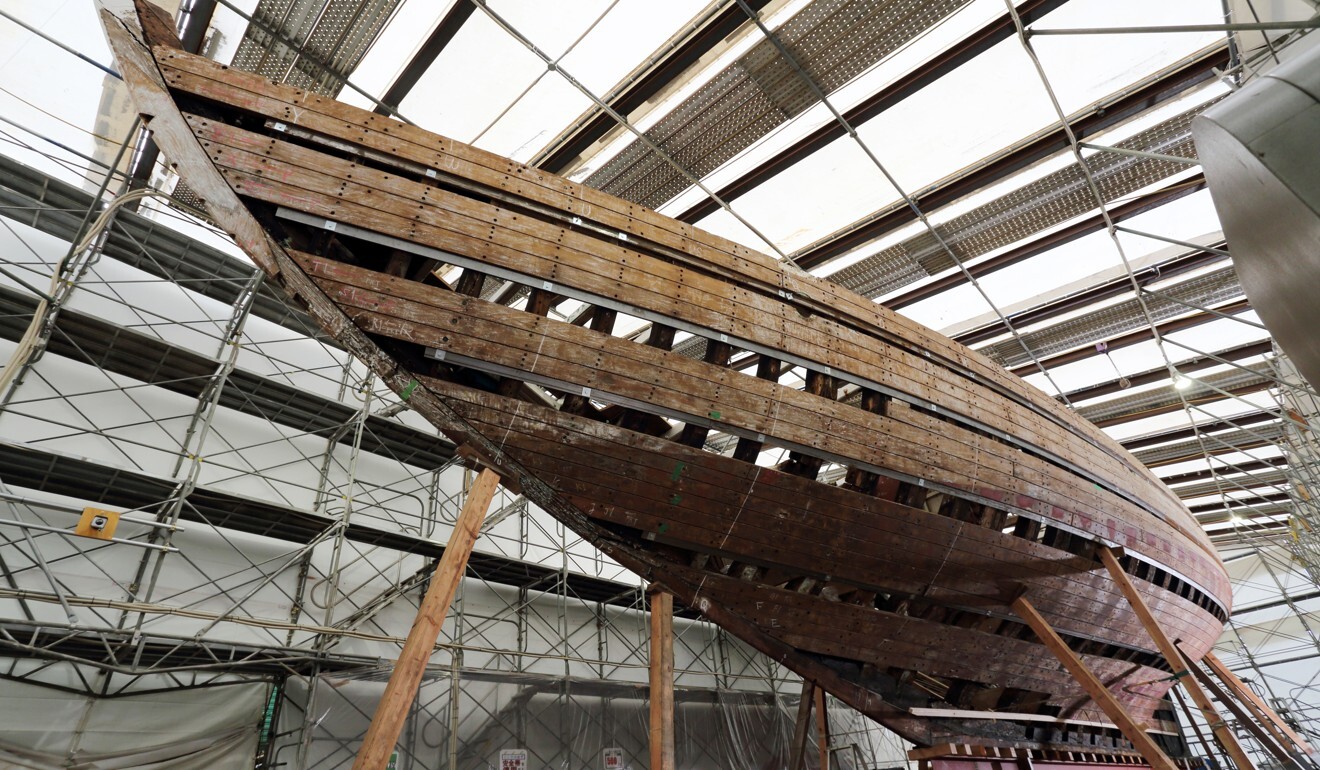 The work was carried out by a 50-strong team of specialist craftsmen from 12 countries overseen by a master shipwright from London who is now based in Majorca.
"When I was first asked to look at Cynara by the Riviera Group in May 2017 she was definitely looking a bit sorry for herself and needed some surgery, but there was a boat there and she had potential," said Paul Harvey. "That was enough for me."
As a veteran of countless rebuilds, Harvey said he had "to be slightly romantic to take these jobs on", but the full scale of the project was never completely clear until a ship had been comprehensively pulled apart. And so it was with Cynara.
Craftsmen worked on Cynara beneath a huge tent designed to withstand typhoons on the docks at the Riviera Seabornia Marina. She had been included in the deal when Noboru Watanabe, chairman and CEO of The Riviera Holdings Company, bought the marina in 2001.
"It was clear that Cynara was 90 years old and needed a lot more than just a polish to bring her back," Watanabe said. "I wanted to resurrect a treasure that dates back almost 100 years because I feared that she was just going to decay away if nothing was done, and then to pass her on to the next generation."
Watanabe declined to reveal just how much has been spent on the project, but said he had no hesitation in turning to Cynara's homeland for the experts tasked with returning the yacht to her former glory.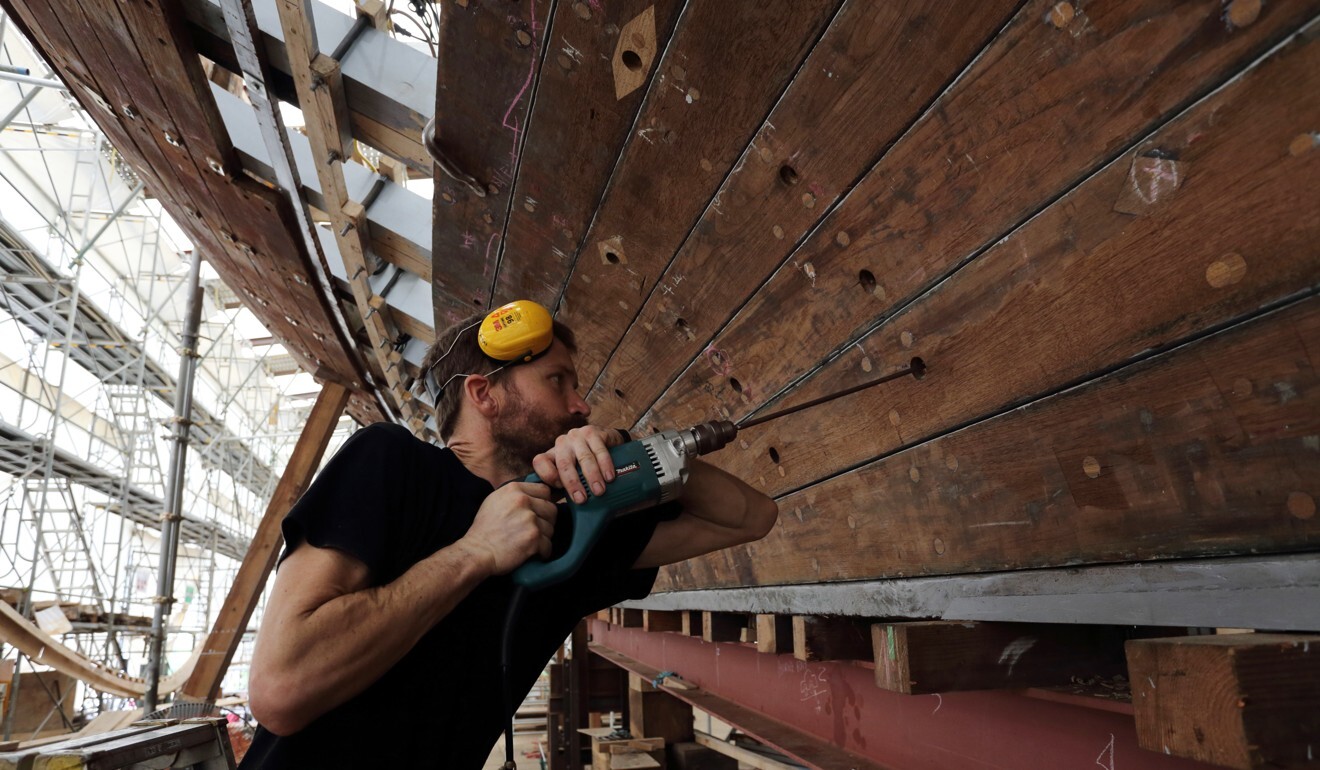 "Few shipwrights in Japan have the skill to repair European-style sailing boats from the 1920s, so we turned to European – and particularly British – craftsmen," Watanabe said. "And by carrying out the restoration work here in Japan, I believed that their technical skills and boatbuilding culture could be passed on to a generation of our young Japanese ships' carpenters."
And at several turns in the project, Harvey and his team have come across the reminders of her storied past – including a scorch mark on a wooden surface believed to have been caused by a cigar carelessly left smouldering by Winston Churchill.
Commissioned by H.G. Nutman, a member of the Royal Thames Yacht Club, the vessel was sold even before her launch to V.G. Graae, a Danish businessman living in London who made his fortune in margarine.
Launched on March 7, 1927, she was originally named
Gwendolyn
before being sold three years later to Herbert Warden, an American member of the New York Yacht Club, who renamed her
Easy Going
and registered the vessel in
Philadelphia
. The yacht recrossed the Atlantic in 1932 and was sold to British property magnate Sir Howard Frank, who gave her the name she has held ever since.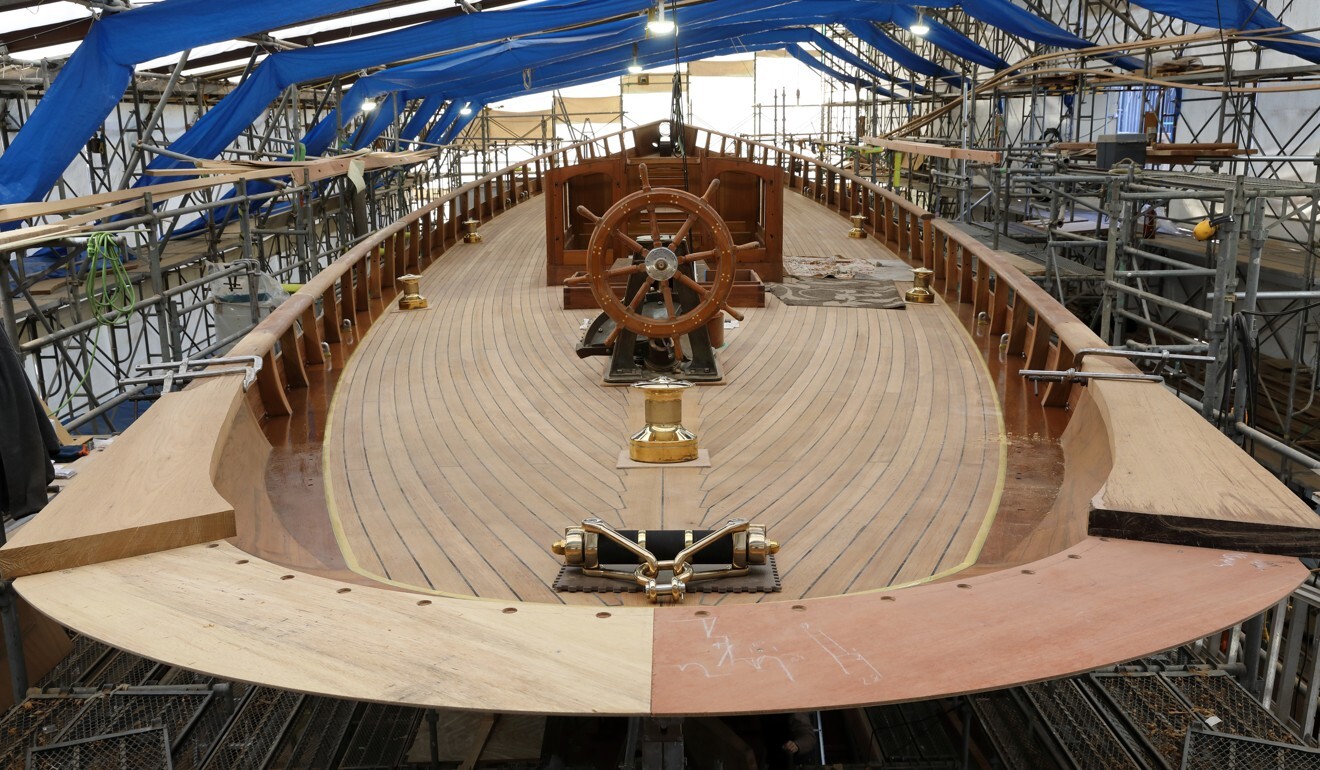 Shortly after Sir Howard's death, Cynara was bought by the Marquess of Northampton, a member of the Royal Yacht Squadron, who owned her the longest, for 25 years, and used her primarily to promote his businesses.
Sold again in 1958, this time to a law firm, Cynara was then bought by racing car driver Duncan Hamilton for 8,000 pounds in 1965. The originally black hull was repainted white and the vessel was moored in Monaco for some years. Hamilton's son, Adrian, was a teenager at the time and recalls parties aboard the ship, including one memorable occasion during the 1965 Monaco Grand Prix when Graham Hill and Jackie Stewart were aboard.
The following year, she was one of the settings for the film Arriverderci Baby, with Zsa Zsa Gabor and Tony Curtis.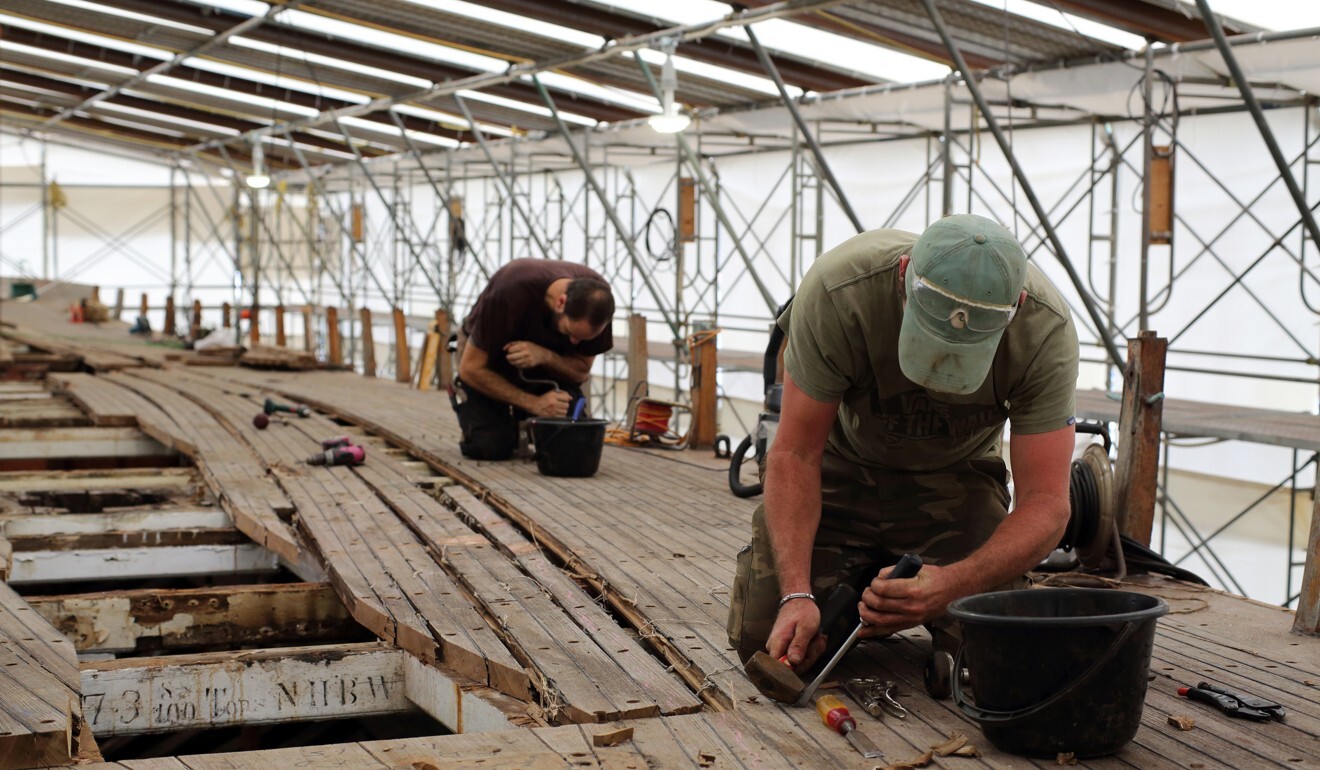 In 1968,
Cynara
was sold to Warren Eve of Bermuda and was a regular visitor to ports on the US east coast, the Caribbean and
Europe
, where she was on hand for the sailing events for the 1972 Munich Olympics. A few months later, she was sold to Seiji Tsutsumi, who had made a fortune from a chain of high-end department stores as Japan's economy boomed.
On January 27, 1973, Cynara put to sea from Lymington Yacht Harbour, crossed the Atlantic, traversed the Panama Canal and the Pacific Ocean and, after a voyage of 195 days, arrived in Japan – effectively disappearing from the minds of the European and American yachting community.
In her new home, however, she was busy. Her owner took Cynara on voyages to Hokkaido in the far north of Japan and as far south as tropical Okinawa. She was used for parties and gatherings for the well-heeled and was featured in magazine shoots.
By 2015, however, she was looking her age and was left without rigging and masts on the dock at Misaki, so Watanabe decided to restore Cynara to her former glory.
"Cynara is packed with the history of numerous owners and guests and while I happened to obtain Cynara in the marina deal I am really happy to have the opportunity to restore her now," he said.
She is, he insists, a yacht that "you feel in your soul".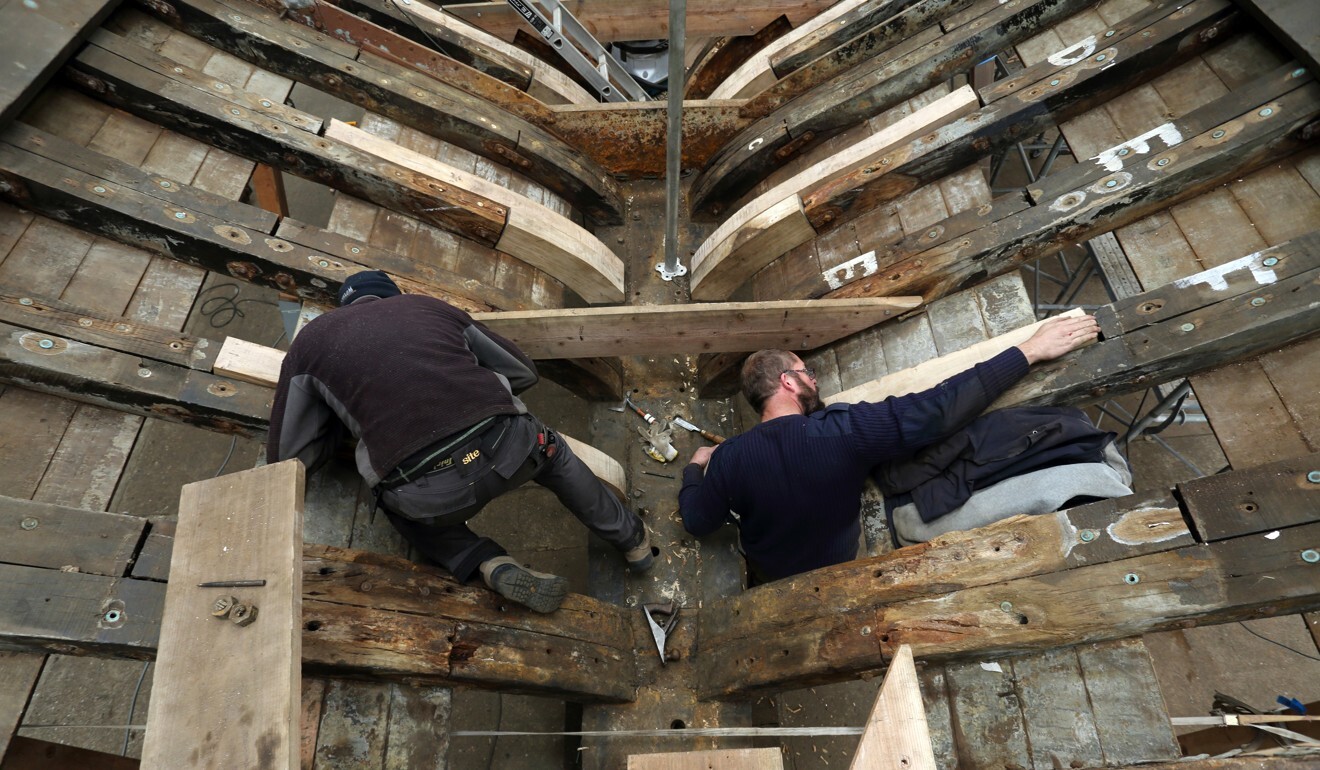 Remarkably, for a boat of this age, about 80 per cent of the original wood and components could be restored and retained.
She now has a complete set of immensely strong laminated ribs, new deck beams, a replacement deck and parts of the rudder have been replaced. But the keel, more than 90 per cent of the hull planking, most of the deck houses, skylights and hatches are original. Teak imported from
Myanmar
well before the wood became difficult to source has been used extensively throughout the project, with the elegant "flame" mahogany interior panels and handrails carefully restored.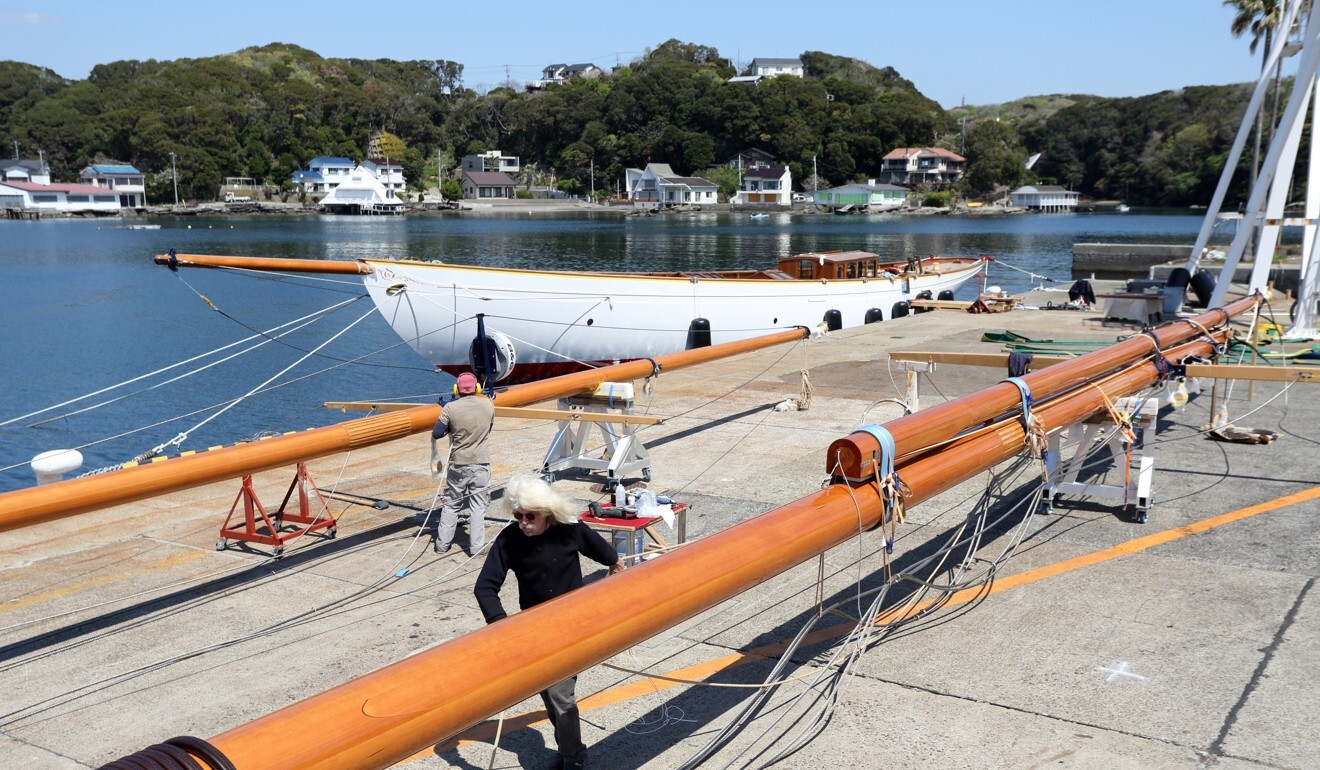 The main mast now towers 33 metres above the deck and was given no fewer than 12 coats of varnish.
The restoration or replication of the original wrought iron throughout the vessel has been carried out by Topp & Co., the company which fabricated the gates of Buckingham Palace. And, along with the steering mechanism and the windlass, the original portholes were shipped off to England, given a new shine as well as replacement seals and glass.
The intricate design carved into the bow has been given a coating of gold leaf and three layers of protective lacquer.
Now safely back in the water in a ceremony that was once again presided over by a Shinto priest giving the vessel a ritual blessing,
Cynara
has been on a series of shake-down cruises off Miura. She has been invited to grace sailing events for the
Tokyo Olympics
and will be taking part in this year's Riviera Swan Asian Regatta.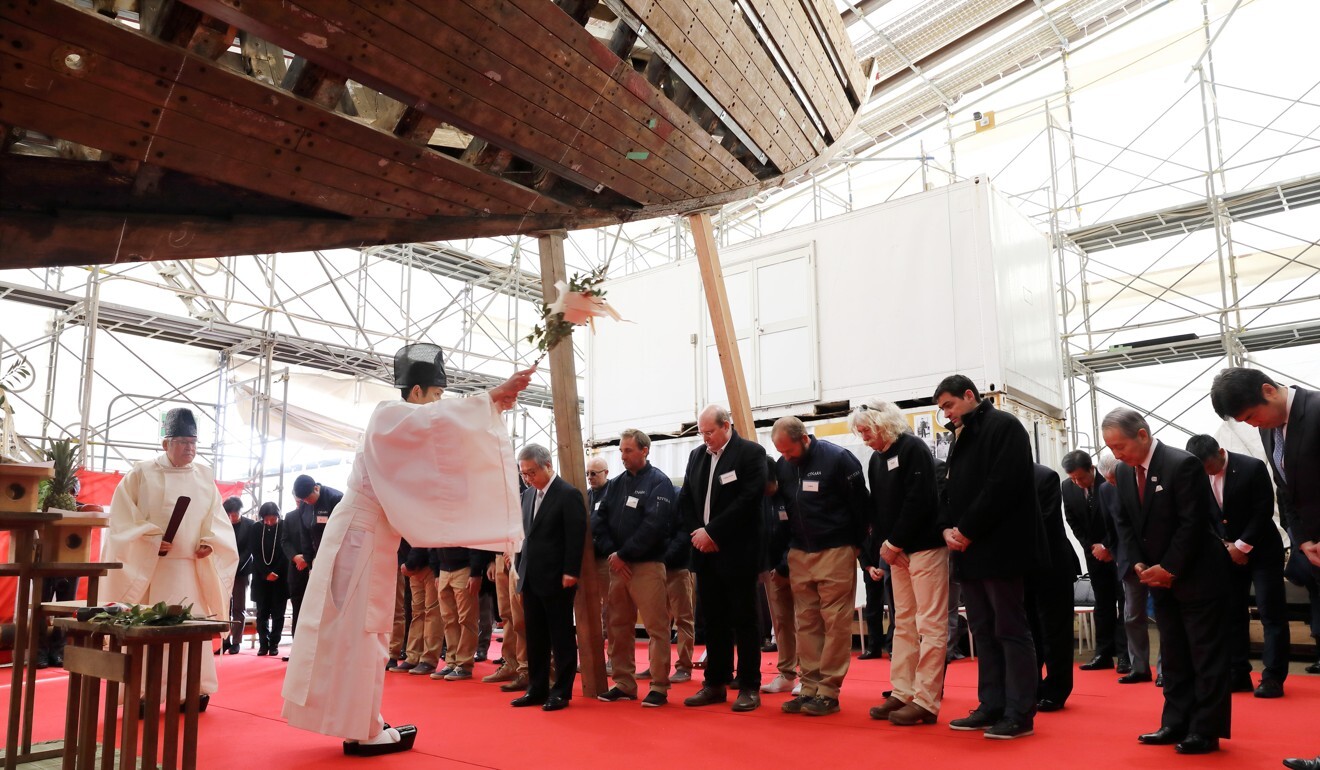 Her owner intends to once again traverse the Pacific to mark the 2026 centenary of the opening of the Riviera Country Club, in Pacific Palisades, California, a property that Watanabe also owns. Cynara will be back in California again in 2028 for the Los Angeles Olympic Games, when the club will host the golf competitions.
Even Harvey, a veteran of countless rebuilds, said Cynara had been a memorable project.
"A part of me is sorry this job is over," Harvey added. "There are not many like this one left any more. This one has been special."
Photos by Yoichi Yabi
This article appeared in the South China Morning Post print edition as: Classic pre-war British yacht restored to glory