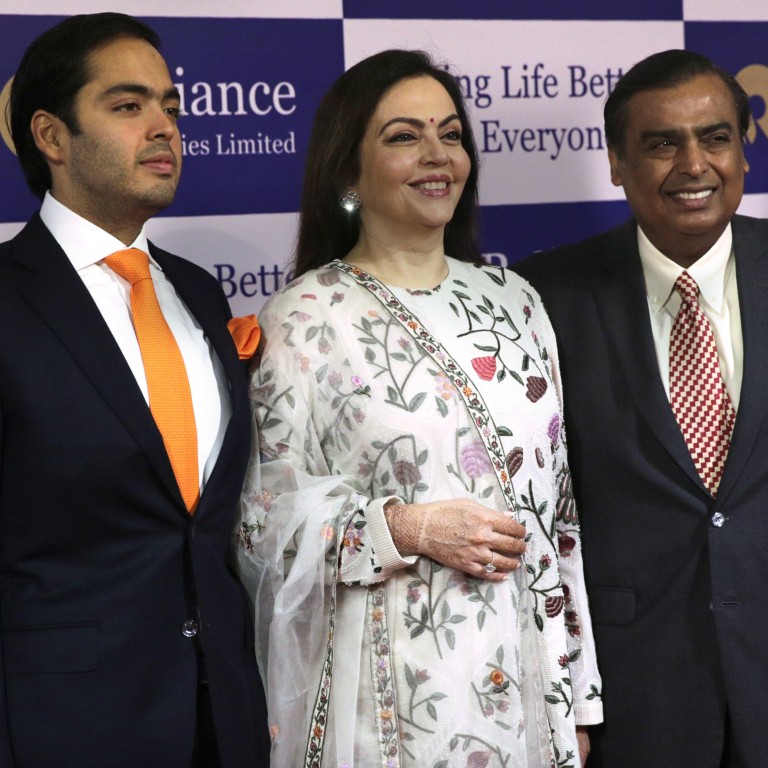 Mukesh Ambani's third child joins Reliance, sparking buzz on succession plans of India's rich
Anant Ambani is the director of Reliance's new clean energy arm in what observers say is Mukesh's bid to carve out the family business based on his children's interests
Tycoons in India are increasingly planning to avoid power battles at a time the younger generation is more litigious than before, a lawyer says
News that the youngest child of Asia's richest man,
Mukesh Ambani
, is taking a bigger role in the family business has fuelled discussions of how the 64-year-old tycoon will eventually carve up his petrochemicals-to-telecoms conglomerate among his three Ivy League-educated children.
Anant Ambani, 26, was last week appointed as the director of two companies, Reliance New Energy Solar and Reliance New Solar Energy, that mark Reliance Industries' US$10 billion foray into the clean energy business.
Reliance Industries, which garnered almost US$90 billion in annual revenue last year, has further plans to build solar manufacturing units and a unit to produce green hydrogen, among others.
Mukesh is not the only one moving into the renewables sector, with fellow billionaire Gautam Adani also pumping funds into a series of ventures as part of Prime Minister Narendra Modi's vision for
India
to ramp up its green capacity.
With Anant's appointment on the board of the new entities, all of Mukesh's children now helm core business arms of Reliance Industries, which is worth some US$200 billion and employs some 195,000 workers.
The billionaire's two elder children, 29-year-old twins Isha and Akash, have since 2014 been on the boards of Reliance Retail Ventures and Reliance Jio, which have received billions worth of investments from global giants including Facebook, Google and Saudi Arabia's Public Investment Fund.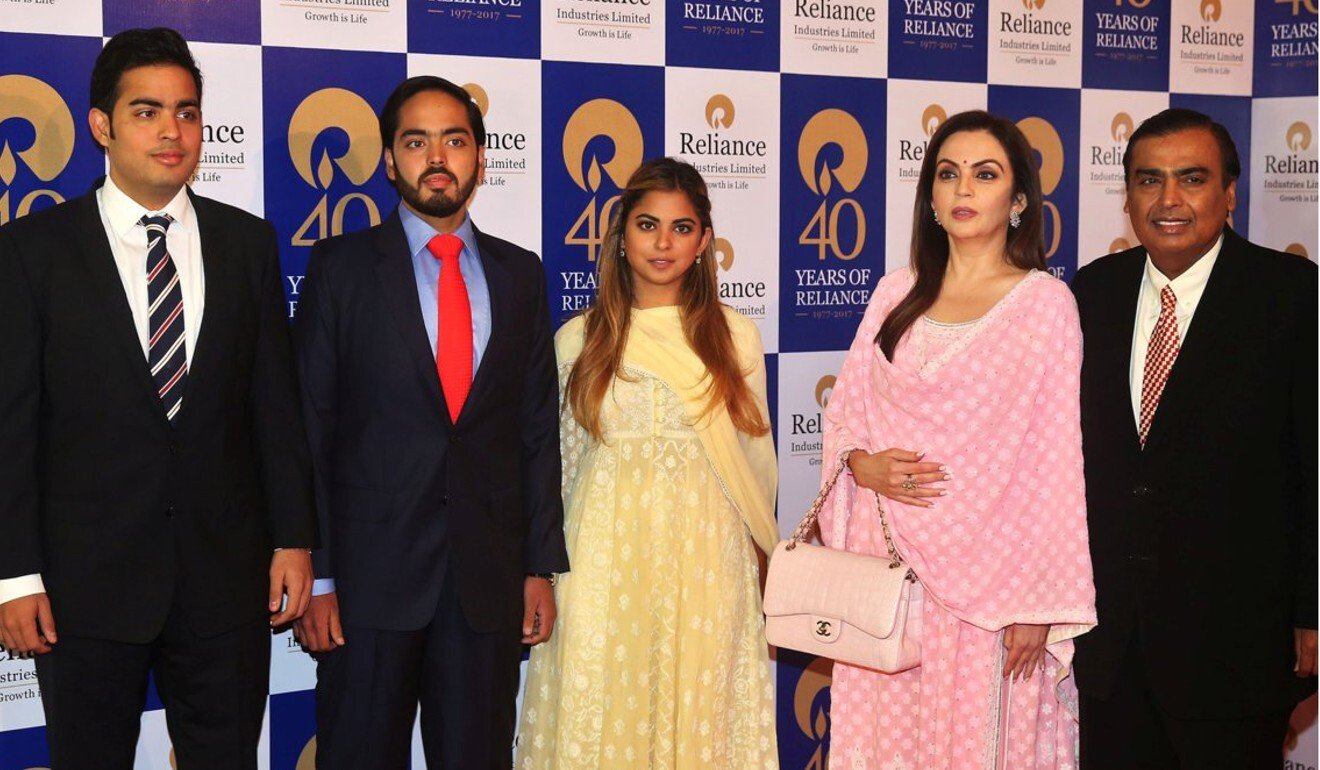 Although Mukesh is yet to publicly disclose his family succession plan, insiders said Anant's growing role in the business indicated there was a blueprint for his progression.
"Mukesh's other two children have already been well established and involved in the Reliance businesses for years," said an industry expert, who earlier worked as a director at the Reliance group for 15 years.
"So Anant's appointment at these two important new verticals is indicative of how the father is paving the way for all his children to be in control of different divisions of the empire, based on their talent and interests," said the insider, who declined to be named.
While the issue of succession is critical to multigenerational Indian business families, it has particular significance for the Ambani clan, which was roiled by conflict for years after patriarch Dhirubhai Ambani died of a stroke in 2002 without leaving a will.
What followed was perhaps one of the most rancorous power struggles in Indian corporate history that sullied the Ambani family legacy and required the matriarch of the family, Kokilaben Ambani, to step in and broker peace.
"The inheritance plan will ensure that there's a clear demarcation of the businesses between the heirs, and that they have a shared vision of [Reliance Industries'] future," said Nikhil Desai, a corporate lawyer based in Delhi. "It will also help resolve conflicts arising out of transfer of power to the next generation."
Desai pointed to the Tata Group, which has been described as a US$113 billion coffee-to-cars conglomerate by Bloomberg, and the bitter infighting that took place several years ago.
Former chairman Cyrus Mistry was removed from Tata in a boardroom coup in 2016 over differences in managing the business after he took over from the conglomerate's patriarch Ratan Tata.
Given such episodes, Desai said Indian business families were increasingly considering creating family constitutions to ensure hassle-free business continuity through generations.
In 2002, the scion of 123-year-old Godrej Group, Adi Godrej, had also instituted a family council to streamline its many business verticals and ensure a seamless transfer of power among his successors.
"Bitter battles have been fought among family members of large Indian conglomerates, like the Ambanis and the Tatas, which weren't expected mainly due to the lack of clarity on continuity," said Meghna Mishra, a partner at law firm Karanjiwala & Co. "Such wrangling is usually triggered when the family patriarch dies without leaving a will or nominating a clear successor."
A legal framework with clearly defined roles and responsibilities for each family member would be effective, Mishra added.
"Also, as such a document is discussed with all family members before being implemented, chances of later litigation are minimised," Mishra said. "Just knowing that there's a future plan for leadership transition augments the confidence of all stakeholders. It also helps preserve the parent company's ethos and the patriarch's vision."
Increasingly, litigation cases over family assets are happening not only among big industrial houses, but even among small Indian enterprises because the younger generation is more assertive of its rights, she said.
"Since I started practising 25 years ago, business family litigations have spiked 60 to 70 per cent. Unlike earlier generations, today's youngsters do not hesitate to drag family to court if they feel their rights have been violated," Mishra said.
Pinky Anand, a senior lawyer and India's former Additional Solicitor General said, the younger generation of Indian scions who had studied abroad were also returning with different ideas on how to professionalise the family business.
"This is a drastic change from the past when businesses were helmed by patriarchs with limited education and global exposure. Differing perspectives can thus be a fertile ground for friction which makes succession planning vital," she said.
Another reason why succession plans are crucial in India is because of gender issues, Anand added.
"Women have traditionally always been given short shrift in business inheritances simply because of their gender. This custom is entrenched not only among smaller business families but also among large industrial houses," she said.
"A watertight inheritance plan which divides the business and assets equally among sons and daughters ensures equitable and fair distribution of assets among all successors."
This article appeared in the South China Morning Post print edition as: Son of tycoon joins family firm, sparking conversation on succession