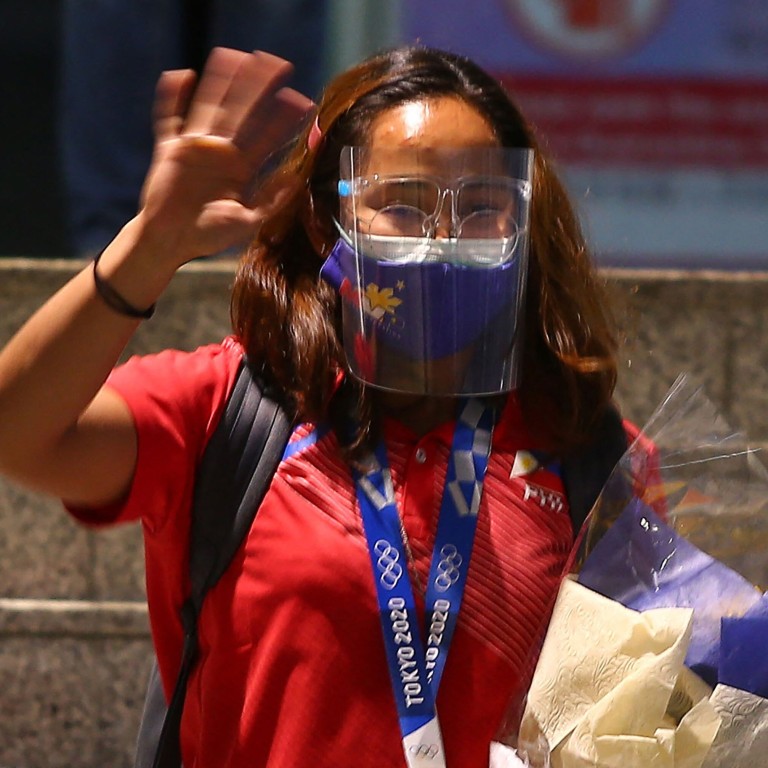 China theme runs through Philippine weightlifter Hidilyn Diaz's Olympic gold medal
Diaz has made her stance on the South China Sea clear, saying 'what's ours is ours', and defended wearing a T-shirt stating 'West Philippine Sea'
She thanked her Chinese coach, Gao Kaiwen, while the Chinese embassy in Manila praised her victory
Olympic gold medallist
Hidilyn Diaz
once wore a T-shirt saying "West Philippine Sea" in both Chinese and English "because I wanted to say that what's ours is ours".
Speaking a day after her triumphant return home from the
Tokyo Olympics
, Diaz, 30, told
This Week in Asia
that somebody had given her the shirt and she had put it on as a way of sending a message to Filipinos.
"Ordinary people who don't know much about [maritime] lines and international disputes and political things – I just wanted to say to them, this is what I know. The West Philippine Sea is ours," the weightlifter and air force staff sergeant said during an online media conference hosted by the Foreign Correspondents Association of the Philippines on Thursday.
The
Philippine
government under former president Benigno Aquino III coined the term "West Philippine Sea" to better define the country's exclusive economic zones and maritime waters in the
South China Sea
following incursions from China.
A picture of Diaz wearing the T-shirt resurfaced and was shared on social media, but was apparently taken well before the Tokyo Olympic Games, where she won the country's first gold medal on Monday.
China
was a theme that seemed to run strongly through Diaz's Olympic victory. She lifted 127kg to defeat Chinese world champion Liao Quiyun.
"I couldn't believe I did it … at last I beat China," Diaz recalled in an interview with ABS-CBN news.
Her coach Gao Kaiwen, 64, is the retired coach of the Chinese Bayi weightlifting team and a former head coach of the Chinese army team for women. He helped train two of China's Olympic Gold medallists – Zhou Lulu in 2012 for the 75kg category and Chen Xiexia in 2008 for the 48kg category.
He was hired by a group of local Filipino-Chinese to take Diaz under his wing in 2018. Diaz gave credit to Gao for her victory, saying that under his supervision, "my training changed, my technique [became] different from before, when it wasn't Chinese in style".
To avoid distractions, Diaz first trained in Taiwan, and when the Covid-19 pandemic made travel there impossible, she moved to Malaysia.
"We didn't know anybody [in Malaysia], we didn't know where we would stay, where we would train," she told reporters. At one point they had to improvise weights out of water bottles and bamboo poles.
Talking to Xinhua on July 27, Gao said "it was not an easy job for a girl coming from a poor family of Zamboanga City, the Philippines, to keep up intense training at the age of 30".
It was the fourth Olympic Games for Diaz, who won a silver medal in Rio de Janeiro in 2016.
China's ambassador to the Philippines, Huang Xilian, congratulated Diaz in two separate Facebook posts on July 26 and 27.
"Glad to learn that Hidilyn's team is composed of Chinese head coach Gao Kaiwen, strength and conditioning coach Julius Naranjo, psychologist Dr Karen Trinindad, and sports nutritionist Jeaneth Aro," he said in his second post.
"Truly humbled to see that a Chinese coach has helped in making this historic win happen for the Philippines!"
He added that "apart from trade and investment, China and the Philippines have had numerous cooperations in many fields and athletics is just one of them! Hope to see more fruitful outcomes in our future cooperation".
According to reports, the Chinese Olympic weightlifting team was less enthused. "I know that the coaches [of the Chinese team] got angry at Gao because he didn't tell them how strong I was," Diaz said.
She said Gao's attitude was: "Why should I tell them when they didn't ask me?"
Gao told Xinhua that while he was happy for Diaz, "it was a great pity to watch the athlete from my country take a silver".
Diaz said the Chinese coach is currently in Manila. "What I know is he plans to go back to China to be with his family," she said.
Asked if she was worried about Gao, Diaz said: "No, I know he's OK, his future will be brighter even if he's in China because he was able to produce a gold medal."