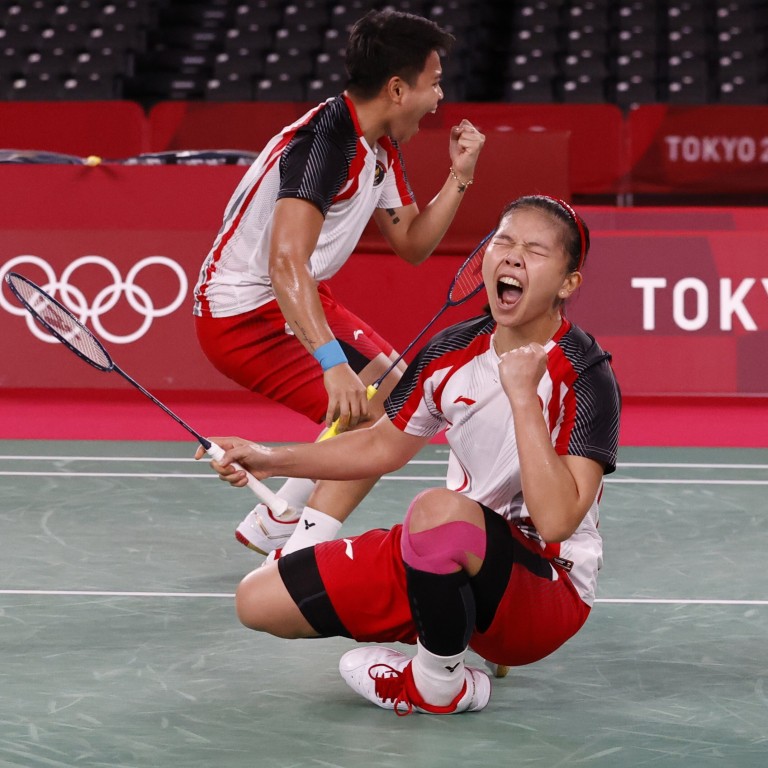 Tokyo Olympics: Indonesia's badminton gold medallists Greysia Polii and Apriyani Rahayu, who beat China, to be rewarded with billions of rupiah, land and ... meatball kiosks
The pair's victory in the women's doubles, along with the bronze of Anthony Sinisuka Ginting, has delighted a nation otherwise mired in coronavirus gloom
Government is expected to give each gold medallist five billion rupiah alongside other prizes while prominent businessmen have also promised gifts
Indonesia's
first gold medallists
at the
Tokyo Olympics
, badminton champions Greysia Polii and Apriyani Rahayu, can expect to be handsomely rewarded for uplifting a nation battered by the Covid-19 pandemic.
Greysia and Apriyani won their women's doubles match on Tuesday in straight sets, defeating the second-seeded Chinese pair of Chen Qingchen and Jia Yifan. The nation's joy was compounded when just a few hours later another Indonesian shuttler, Anthony Sinisuka Ginting, won bronze in the men's singles.
The
Indonesian
government is expected to pay each of the gold medallists five billion rupiah (US$345,000) and hand them a number of other prizes that in the past have included houses, cars and motorcycles.
The pair are also likely to receive gifts from various prominent businessmen.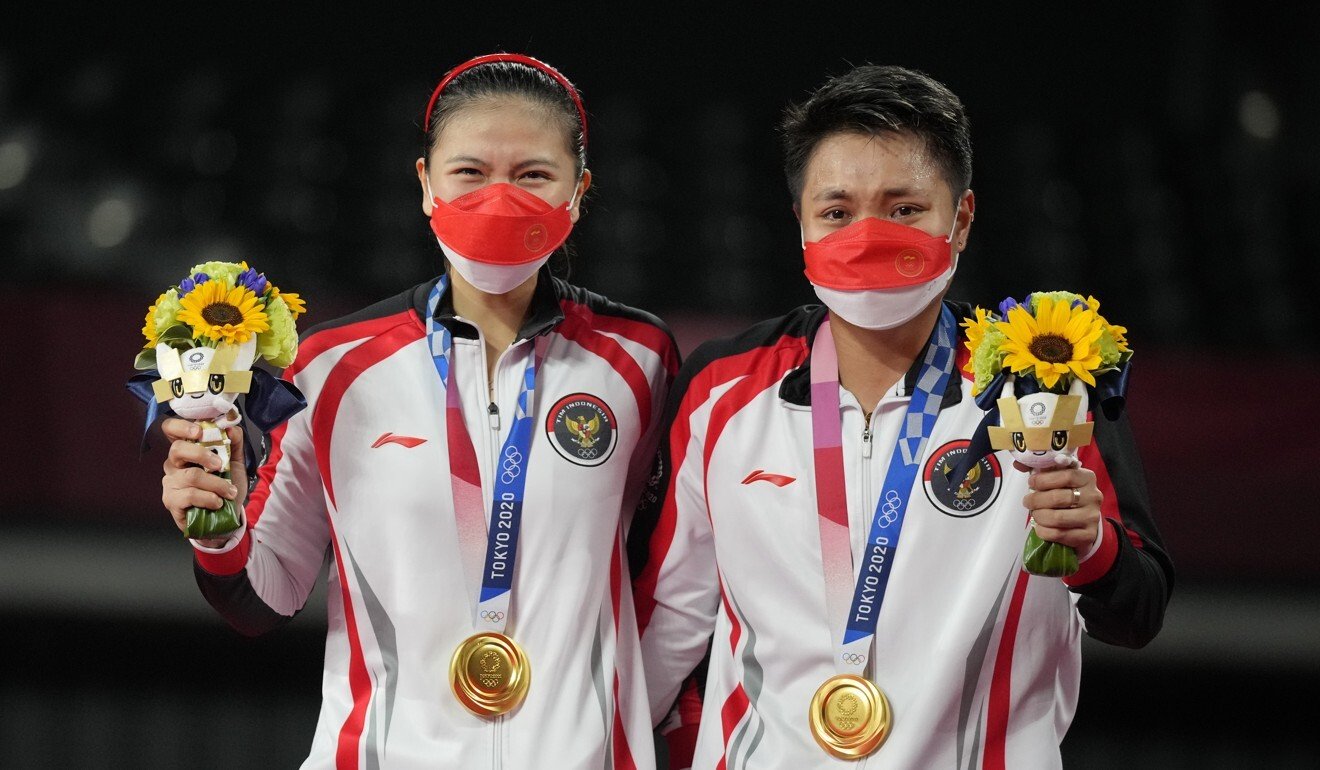 The Vice Mayor of Tomohon, a city in North Sulawesi, has promised to give a piece of land to Greysia (whose family has roots in the area); YouTube influencer Arief Muhammad has said he will gift meatball kiosks to both athletes; and Malang-based transport entrepreneur Gilang Widya Pramana has vowed to pay each 500 million rupiah.
Meanwhile, tourism and creative economy minister Sandi Uno said on Monday the pair would be granted free travel to six of Indonesia's biggest tourism destinations, including the scenic Lake Toba in North Sumatra, Buddhist temple Borobudur, and the scuba-diving haven of Wakatobi in Sulawesi, "because Apriyani is from Southeast Sulawesi".
The thrilling victory has become the talk of the badminton-obsessed nation. All of the country's eight Olympic gold medals have come from the sport, which became an Olympic event in 1992, and the only Games at which Indonesia did not win gold was London 2012.
Soon after the match three badminton-related hashtags became the top trending topics worldwide on Twitter: #badminton, #GreyApFinalTokyo2020 (which refers to the pair's nickname, GreyAp), and #IndonesiaRaya (which refers to the country's national anthem that was played during the medal ceremony).
President
Joko Widodo
also took to Twitter to convey his congratulations to Greysia and Apriyani, describing their victory as "a birthday gift [ahead of] Indonesia's anniversary". The country's independence day is on August 17.
The pair's victory has provided a welcome boost for a nation that recently became the global epicentre for Covid-19 deaths. Infections and deaths have rocketed over the past two months and on Monday the Southeast Asian nation recorded 22,404 cases and 1,568 deaths, the world's highest death toll.
The country's most populous island Java has been under the highest-tier mobility restrictions since July 3 and the government on Monday extended the measures until August 9. Local media have also reported that the highest-tier restrictions will be enforced on some islands other than Java and Bali until August 9.
The restrictions, which require malls and shopping centres to close and limit restaurants to takeaway services only, have put a dent in the incomes of an estimated 78 million people in Indonesia's informal workforce. Widodo has previously acknowledged that many of these workers have been "screaming" for the partial lockdown to end.
But Greysia and Apriyani's uplifting triumph has given the nation the opportunity to forget its woes, if just for a while.
"Thank God Indonesia Raya reverberated in Tokyo. Thanks GreyAp, sporting heroes. You give us joy amid the pandemic," tweeted a user under the name of 'YogaPras'.
The feelings of national pride extended to the Indonesian diaspora.
"OMG the national anthem and [Rahayu and] Polii saluting, I … am now a slobbering mess in the office," tweeted Singapore-based Charlotte Setijadi.
Nearly quitting
For Greysia, the victory was the prized outcome of a decades-long career riddled with challenges and injuries that as recently as 2017 had forced her to consider retirement.
"I'm speechless right now. This is how it feels to get the gold medal. You cannot describe it in words. I know that I was born to be a badminton player, and I have that fate. I was 13 years old, and I really wanted to make history for Indonesia in women's doubles," the 33-year-old said after the victory.
At the London Games in 2012, Greysia and her then-partner Meiliana Jauhari were disqualified after being accused of "not using their best efforts to win a match" to avoid meeting the world's number one seeds Wang Xiaoli and Yu Yang in the quarter final. The Chinese pair and two Korean pairs were also subsequently disqualified, leaving another Chinese pair – Tian Qing and Zhao Yunlei – to take gold on that occasion.
In London, Greysia was also injured, which made her think about retirement for the first time.
"The Olympics in London broke my heart. So many people in Indonesia and my family said, 'don't give up'," she said.
At the Rio Olympics in 2016, she and her then-partner Nitya Krishinda Maheswari advanced to the quarter finals before being defeated by a Chinese pair. With Nitya suffering injuries after the Rio Games, Greysia again pondered retirement.
Then came Apriyani, who is 10 years younger than Greysia. The two have been partners since May 2017 and reached a career high world ranking of six in women's doubles in June.
"Apriyani really forced herself to make it here. Because I told her that I wasn't young any more, I wasn't 20, so you really need to start running with me. No walking, just run with me because I'm not getting any younger," Greysia said.
Apriyani has proven a solid partner to Greysia beyond the badminton court, comforting her after she lost her older brother in December to Covid-19, just a day after Greysia's wedding. The pair won a title at the Thailand Open a month later, and when Greysia cried during the celebration Apriyani hugged her tightly.
Greysia and Apriyani join a long list of Indonesian badminton Olympic champions that includes legends Susi Susanti and Alan Budikusuma, who won the 1992 men's and women's singles events; Rexy Mainaky and Ricky Subagja, the men's doubles champions in 1996; Tony Gunawan and Candra Wijaya, the men's doubles winners in 2000; Taufik Hidayat, the men's singles winner in 2004; Hendra Setiawan and the late Markis Kido, the men's doubles gold medallists in 2008; and Tontowi Ahmad and Liliyana Natsir, who won the mixed doubles in 2016.
Additional reporting by Agence France-Presse