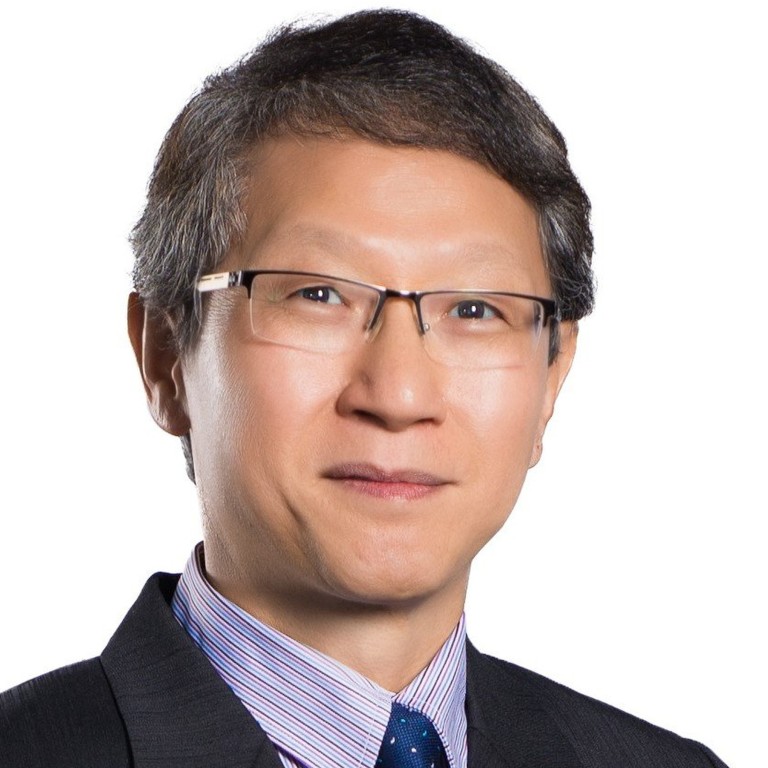 Hong Kong-born Singaporean doctor who died from Covid-19 remembered for going beyond call of duty
Raymond Yuen, who moved to Singapore three decades ago, charged low fees to elderly and low-income residents, and held Christian fellowship meetings to support cancer patients
The 65-year-old GP's death came as a shock as he had no known medical conditions and there was no evidence he had been infected by a patient at his clinic
An outpouring of tributes have flowed from former patients of a Hong Kong-born Singaporean doctor who died this month from Covid-19, with many recalling his altruism and readiness to go beyond the call of duty.
Raymond Yuen, a family physician and an occupational medicine specialist, would charge patients only what they could afford or allow them to defer payment until their financial situation improved, according to stories shared with the TodayOnline news website.
A devout Christian, Yuen also held fellowship meetings at his clinic for cancer patients, providing a supportive and positive environment for them.
TodayOnline said he could be the first local doctor to have died of Covid-19. As of October 12,
Singapore
's total death toll from the pandemic stood at 183.
Yuen, 65, was the owner of the Hosanna Medical Centre and the sole doctor in the central neighbourhood of MacPherson, which houses one of Singapore's oldest public housing estates.
He had been practising medicine for more than three decades. Shortly after graduating from the University of Hong Kong in 1987 with a Bachelor of Medicine and a Bachelor of Surgery, he enrolled in the National University of Singapore and earned his Master of Medicine. He was the honorary assistant secretary of the 365 Cancer Prevention Education Association in the city state.
Yuen died in Tan Tock Seng Hospital two days after being admitted to an intensive care unit.
An online memorial on October 10 was attended by Yuen's family, friends and MacPherson's local community, followed by a cremation ceremony.
That same day, David Lam, Yuen's childhood friend and a doctor in Hong Kong, expressed his grief in a public post on Facebook.
"I was in tears hearing yesterday's news," wrote Lam, who said they had grown up attending church together.
Yuen was a health-conscious individual who had not experienced any illnesses prior to contracting Covid-19, Lam said in the post.
Singapore's Ministry of Health on Monday released a statement saying there was no evidence Yuen had been infected by a patient. The clinic was "neither a public health preparedness clinic nor a swab-and-send-home clinic for Covid-19", it said.
"We also have no records that his clinic saw any Covid-19 patients recently," the ministry said, adding that the doctor was partially vaccinated against Covid-19 with a non-mRNA vaccine and had no known medical conditions.
Singapore offers the Pfizer and Moderna vaccines, which are based on the mRNA technology, for free as part of its national immunisation programme. Sinovac and Sinopharm vaccines, which are based on older technology, are also available through private medical facilities at residents' own cost.
Tin Pei Ling, the MP for Macpherson, on Monday acknowledged Yuen's contributions to the neighbourhood.
"I am deeply saddened to learn of the passing of a caring GP in MacPherson. I learnt about the great things he had done for our community in Macpherson from residents who used to see him at his clinic," she wrote on Facebook.
Seeing how MacPherson had "a significant community of elderly and less privileged residents", he deliberately kept fees low to encourage residents to seek medical care.
Many patients became friends with Yuen, who engaged in casual conversations with them and gave tips on leading a healthy lifestyle, Tin wrote.
"Many of us are moved by his benevolence to the community. Our thoughts are with his family. I sincerely hope that the family will find the strength to overcome the grief," she said.
Christian blog Salt&Light also ran an article on Yuen's death, quoting his pastor from the Grace Singapore Chinese Christian Church Reverend Dr Alby Yip.
Yip said Yuen had earned a reputation as a doctor with a big heart.
"Dr Yuen was not only mission minded, he was also missional in his life and medical practice. It was widely known that he made charges affordable and also had no qualms about waiving charges altogether, including even the medicines for those he knew were financially strained.
"I once brought a visiting missionary to consult him. Not only did he not charge a single cent, he even called me a few days later to check if the missionary was well and if he needed further consultations and medicine," Yip told Salt&Light.
In 2005, Yuen was in the news for his generosity to his Sri Lankan domestic worker at the time. After the Boxing Day Tsunami destroyed her house and her daughter's school in 2004, Yuen paid for one year's rent for her family, flew her daughter to Singapore and enrolled her in school there.
Speaking to The Straits Times newspaper at the time, Yuen said: "I think I did very little … Maids have needs and emotions too, and they need privacy like any other human being."
Singapore is grappling with a spike in virus cases due to the Delta variant, and has reported a rise in senior citizen deaths due to the virus. Most were unvaccinated or partially vaccinated.
About 83 per cent of the adult population has received two doses of a
Covid-19 vaccine
and 98.5 per cent of infected patients experience mild or no symptoms, authorities have said.
The country is forging ahead with easing restrictions to "live with Covid-19" and reopen the economy.
Read the Today Online story here.
This article appeared in the South China Morning Post print edition as: Tributes paid to generous GP who died from Covid-19