Japan
Get more with myNEWS
A personalised news feed of stories that matter to you
Learn more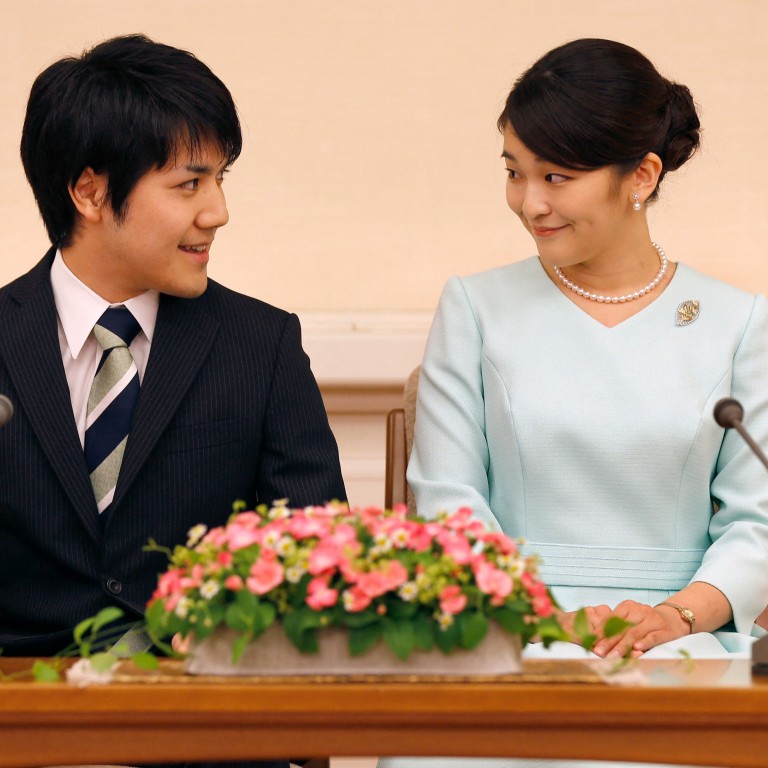 Japan's Princess Mako finally marries university sweetheart Kei Komuro, leaves world's oldest monarchy
The low-key affair involved no elaborate ceremony, reception banquet or other rituals, with the nuptials only being officiated on paper
Marrying a commoner means Mako must now leave the imperial family and she has turned down a conventional US$1.35 million gift for doing so
Japan
's Princess Mako finally married her university sweetheart Kei Komuro on Tuesday – but it was not a lavish affair, with the couple forgoing traditional rites after years of controversy.
Since announcing their engagement in 2017, the pair have faced
tabloid scandals
over reports that Komuro's family had run into financial difficulties. But on Tuesday morning "the marriage papers were filed and accepted" said an official from the Imperial Household Agency.
Women in Japan's imperial family cannot ascend the Chrysanthemum Throne, and lose their title when they marry a commoner. That includes 30-year-old Mako, the niece of Emperor Naruhito. Her spouse is also 30 and works for a US law firm.
For the first time in Japan's post-war history, the marriage was registered without traditional rites, and Mako turned down a large payment usually offered to royal women who marry commoners and become ordinary citizens, in line with Japanese law.
"It's a radical departure from what is expected from women of the imperial family," said Shihoko Goto, deputy director for geoeconomics at the Wilson Centre, a Washington-based think tank, and an Asian affairs specialist. "She is prepared to make financial sacrifices and uproot herself from the comfort, safety, and privileges of her life to pursue her own path."
In the afternoon, the couple will hold a news conference, which will also depart from custom. While royals typically answer pre-submitted questions at such events, Mako and her new husband will make a brief statement and hand out written replies to the questions instead. "Some of the questions took mistaken information as fact and upset the princess," said Imperial Household Agency officials, according to NHK public television.
Television footage showed Mako leaving the Akasaka Imperial Residence in Tokyo on Tuesday morning and saying farewell to her family, bowing to her parents and the media and hugging her sister. Komuro, dressed in a crisp dark suit and tie, bowed briefly to camera crews gathered outside his home as he left in the morning but said nothing.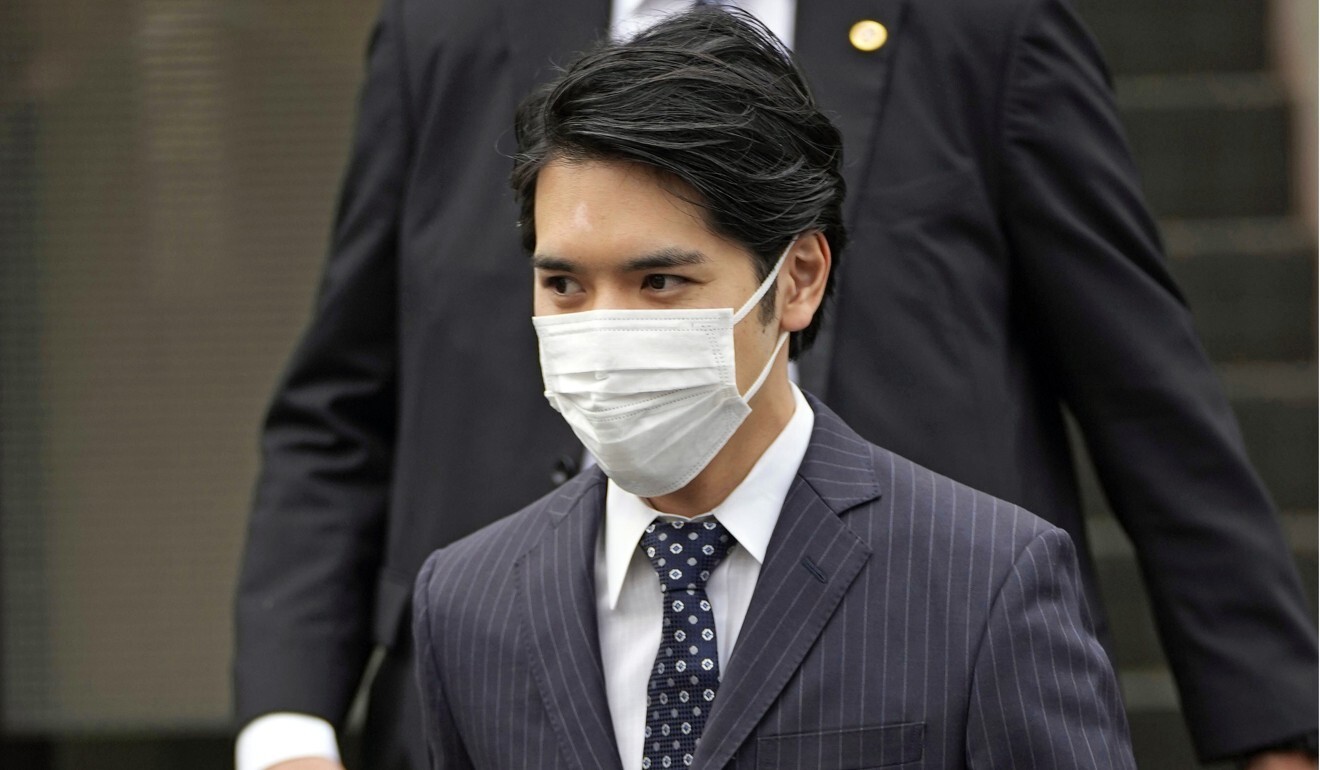 Much is being made in Japan of the couple's decision to only give a statement to the media at the news conference – a format the Imperial Household Agency insisted on in the wake of unflattering media coverage of their relationship.
The agency has stated that Mako wanted to set the record straight on the marriage and correct some of the distortions that have been reported in the media, but "feels a strong sense of anxiety" about answering questions in the full glare of the media spotlight.
When the pair got engaged four years ago, they were all bashful smiles as Komuro called Mako "the moon" quietly watching over him, and she compared his smile to the sun.
But while the press initially fawned over Komuro, reports soon emerged that his mother had failed to repay a 4 million yen (US$35,000) loan from a former fiancé.
The couple postponed their marriage and Komuro moved to New York for law school in 2018, a move seen as a bid to defuse negative attention. The recent graduate only returned to Japan last month, sporting
a headline-grabbing ponytail
.
Comments on social media reveal the depth of the split in public opinion on the marriage, with messages on the Weekly Spa! news magazine's website accusing the couple and the palace of "ignoring the doubts and feelings of the general public", and others suggesting that declining to answer the media's questions is "irresponsible" because questions will always surround the marriage.
On the Japan Today site, however, there was more sympathy for the couple, with one message declaring simply, "Leave them alone".
"I bet they can't wait to escape the toxic environment they are currently in and live a more normal and hopefully happy life," added another poster, with a further message applauding the couple's decision to leave Japan, stating, "They need to just go on their way and get off this island of gossipy people."
No crimson kimono
Tuesday's low-key proceedings stood in contrast to those of another royal to marry out of the family: Ayako, the youngest daughter of former Emperor Akihito's late cousin.
At
her wedding in 2018
, she wore a crimson-coloured kimono for female aristocrats, with her hair swept back in a ponytail in a traditional style.
But for Mako, a wedding ceremony, reception banquet and other rituals were not held, and the Imperial Household Agency said this month that a lump-sum payment would not be provided, referring to a conventional gift reportedly worth up to 153 million yen (US$1.35 million).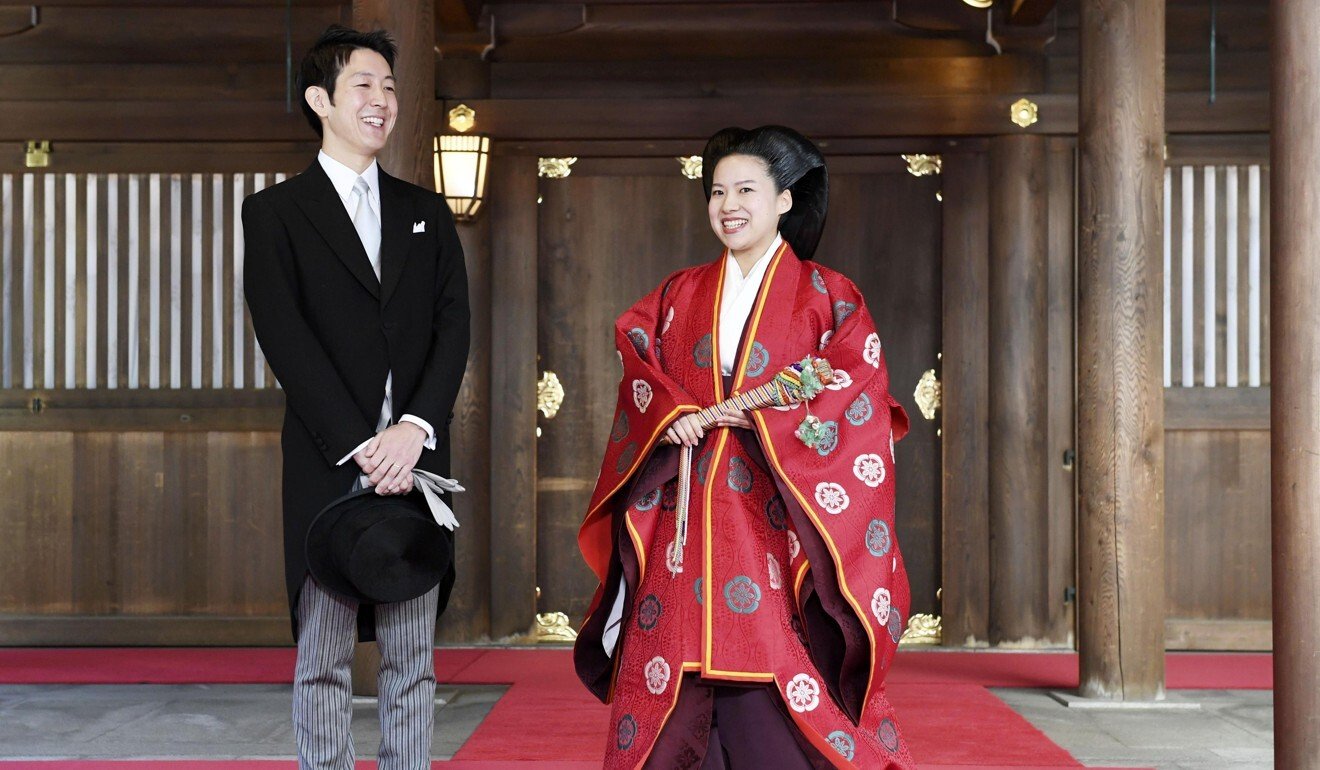 It is not clear whether Mako will work after the move, but she is well qualified. She studied art and cultural heritage at Tokyo's International Christian University, where she met Komuro, and spent a year at Edinburgh University.
She also holds a Master's degree in Museum Studies from Britain's University of Leicester.
The throne can pass only to male members of the family, and the children of female royals who marry commoners are not included.
There has been
some debate over changing the rules
, and a government panel in July compiled notes on the issue including a proposal that royal women stay in the family, even after marriage.
However, any change to the system is likely to be a long time coming, with hardliners and traditionalists vehemently opposed to any steps towards letting women rule.
There were 67 members of Japan's royal family after the second world war. As of Tuesday, there will be just 17, and only three heirs to the throne among them: the emperor's 85-year-old uncle, Prince Masahito; his brother, Crown Prince Fumihito, age 55; and his nephew and Princess Mako's brother Hisahito, age 15.
While the number of royals has declined, the imperial family still cost Japanese taxpayers 25 billion yen (US$219 million) this year in food, education, personal expenses and the salaries of 1,080 staff including chauffeurs, gardeners and archivists of imperial records. They also send funds to disaster relief efforts. The British Royal Family, in comparison, incurred about £50 million (US$69 million) in expenses in 2019-20, plus an additional £30 million for renovations to Buckingham Palace.
Royal marriages in Japan rarely capture attention overseas, but have been linked to an uptick in marriages and births, a long-sought goal in a country with an ageing population. After the 1990 marriage of Crown Prince Fumihito, the number of marriages rose 3.7 per cent from five years earlier, compared to a 0.4 per cent drop the year earlier, according to an analysis by Bloomberg Economics. It peaked at 9.8 per cent in 1993 when the current emperor had a wedding. The number of births follow a similar trend.
Reporting by Agence France-Presse, Reuters, Bloomberg