Japan
Get more with myNEWS
A personalised news feed of stories that matter to you
Learn more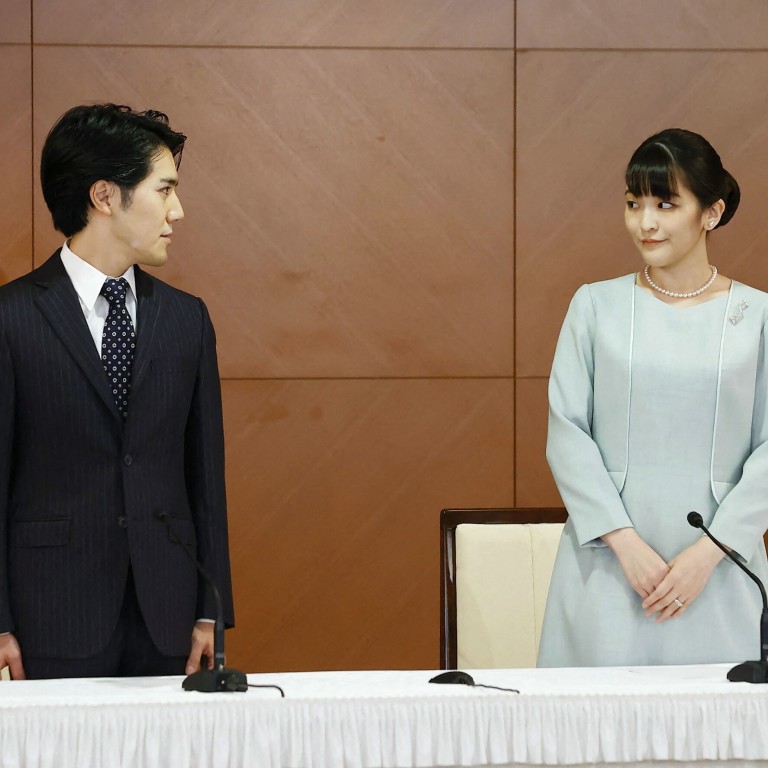 After low-key royal wedding, Japan's ex-princess Mako and husband Kei Komuro pledge to overcome challenges together
In a 10-minute news conference at a Tokyo hotel on Tuesday, the former princess defended her decision to go ahead with the controversial marriage
Kei Komuro said he loved Mako and would 'do whatever possible' to conclude the financial dispute involving his mother that had delayed the couple's union
Nine years after she first met commoner Kei Komuro at university,
Japan
's former princess Mako was finally able to formalise her union to him in a marriage on Tuesday that was marked by zero pomp, much public criticism and a press conference.
In a 10-minute session with the media at a Tokyo hotel, Mako, 30, defended going ahead with the marriage.
She said her new husband was "irreplaceable" and that together they intended to overcome the long-running controversy surrounding their union that can be traced back to frenzied tabloid coverage and social media speculation surrounding a financial dispute involving Komuro's mother.
"For me, Kei-san is a priceless person. For us, our marriage was a necessary choice to live while cherishing our hearts," Mako told a televised news conference, using an honorific in speaking of her husband.
Komuro responded: "I love Mako. I live only once and I want to spend it with someone I love." He said he hoped to be with Mako to share feelings and encourage each other at happy times and difficult times.
"I hope to have a warm family with Mako-san, and I will continue to do everything to support her," he said.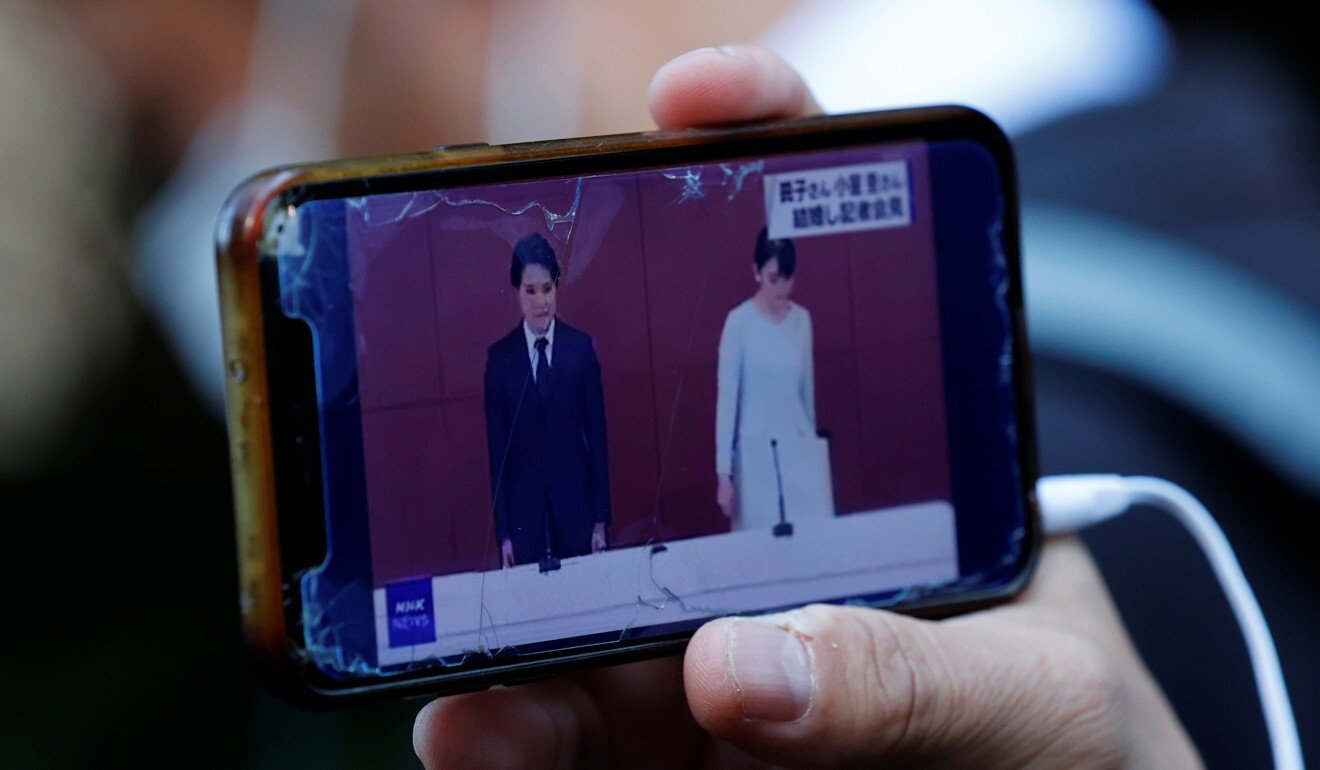 Komuro added that he would "do whatever possible" to conclude the financial dispute between his mother and a former boyfriend, who allegedly loaned her 4 million yen (US$35,000) that was in part spent on his university education.
The couple were officially married earlier in the day with the completion of paperwork that sealed the marriage and simultaneously ended Mako's imperial family status.
Mako said that inaccurate reports throughout their engagement, which was initially announced in September 2017, had caused her stress and sadness. Earlier this month, the imperial family's medical team said Mako
had been diagnosed with post-traumatic stress disorder
brought on by the intense speculation surrounding the marriage.
The former princess apologised to the public for any problems her actions had caused and said she "understood" that people had different opinions about her relationship.
Amid accusations on social media that the couple were wasting taxpayers' money, the couple paid the rent of a hotel room themselves for the press event.
"If I have to pick the biggest concern, it would be continued libel" against the couple and their families, the princess said in a statement in answering one of the questions about possible worries for the future.
Mako declined to elaborate on her new life with Komuro in New York, where she is expected to relocate. "What I would like is just to lead a peaceful life in my new environment," she said in the statement. Komuro works at a law firm in the city.
"There will be different kinds of difficulties as we start our new life, but we'll walk together as we have done so in the past," Mako said, thanking everyone who supported the couple.
Mako, apparently referring to mental health issues, noted "many people have difficulty and hurt feelings while trying to protect their hearts." She said, "I sincerely hope that our society will be a place where more people can live and protect their hearts with the help and support of others."
Following the couple' marriage, Mako's parents – Crown Prince Fumihito and Crown Princess Kiko – said in a statement that their eldest daughter's marriage was "unprecedented for the imperial family," adding they hoped she would cherish the feelings she had built up over time and make a happy family.
Protesters have in recent weeks marched through central Tokyo carrying placards demanding "Stop the Cursed Marriage" – a sign of the widespread opposition among Japanese to the couple's union.
There is anticipation, however, that the wedding may lead to an economic windfall, with bridal-related stocks, such as marriage consultation providers, faring well on the Tokyo Stock Exchange on Tuesday. Baby goods firms also fared well, perhaps anticipating another announcement in the coming months.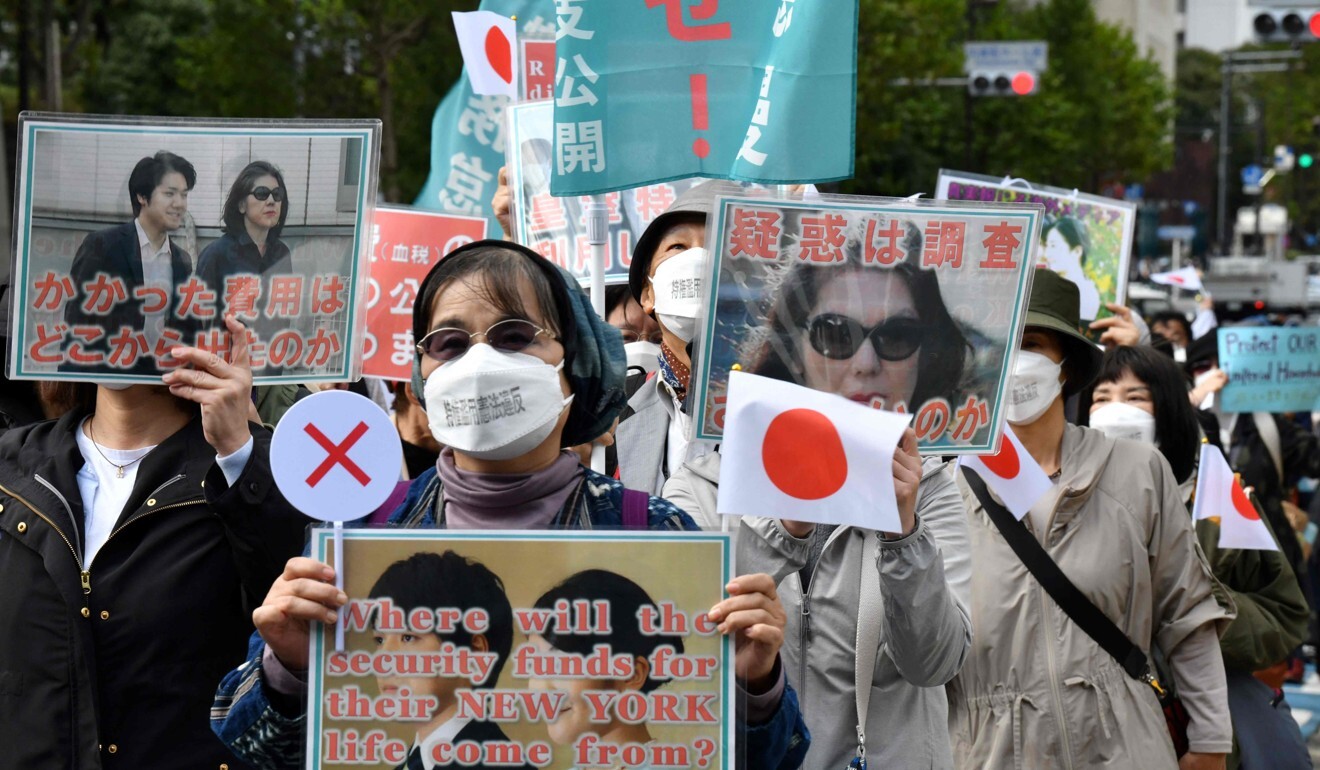 About 100 members of the media as well as a group of well-wishers gathered in front of the imperial residence in Tokyo's Akasaka Estate on Tuesday hoping to catch a glimpse of the princess leaving after the couple's marriage was registered.
"Now that she can finally live together with the person she loves, I want her to enjoy her own life without any restrictions," said Maki Sato, a 50-year-old nurse who came from Kisarazu, Chiba Prefecture, to see the princess at the residence. "I want the couple to overcome any hardships together."
Yoko Endo, a 50-year-old from Yokohama, said she is "happy for Princess Mako even though I couldn't see her with a beautiful ancient hairstyle", referring to the lack of pomp usually seen in traditional ceremonies associated with a royal marriage.
Under normal circumstances, royal brides wear a kimono and tie their hair in an ancient style reserved for noblewomen, but such rites were skipped in light of public outcry surrounding the financial dispute between Komuro's mother and her former fiancé. "I want Mr. Komuro to really protect her," Endo said.
Chief Cabinet Secretary Hirokazu Matsuno also congratulated the newlyweds at a press conference on Tuesday.
"I would like to extend my very best wishes for many more years of happiness and greater prosperity to the imperial family," he said.
Hiromi Murakami, a political-science professor at Temple University's Tokyo campus, said she felt sorry for the former princess.
"I felt sorry that she was having to go through this ordeal with such little apparent support from the Imperial Household Agency, and for something that is not her fault," Murakami said.
High-profile weddings and the births of royal babies have had a knock-on effect on Japanese society in recent years. In 1993, when Crown Prince Naruhito married Masako Owada, also a commoner, marriages jumped 9.8 per cent.
Mako's marriage has also once again shone a spotlight on the future of the Imperial Family, the longest-lived monarchy in the world that is at risk of extinction as women are not permitted by law to assume the Chrysanthemum Throne. With Mako's departure, there are just 17 members of the country's monarchy and only three potential heirs to the throne after Emperor Naruhito, although only 15-year-old Prince Hisahito – Mako's brother – is likely to be around when the present emperor dies.
Murakami said she was not optimistic that the succession problem would be fixed any time soon.
"My sense is that the ruling Liberal Democratic Party has become even more conservative under its recent leaders," she said. "They might set up panels to consider the empress question or other ways to secure the long-term future of the Imperial Family, but this government places more priority on keeping a man on the throne than solving the problem of the falling number of people in the monarchy, and I find that rather sad."
Additional reporting by Kyodo, Associated Press
This article appeared in the South China Morning Post print edition as: Mako loses royal status after 'necessary choice' to marry