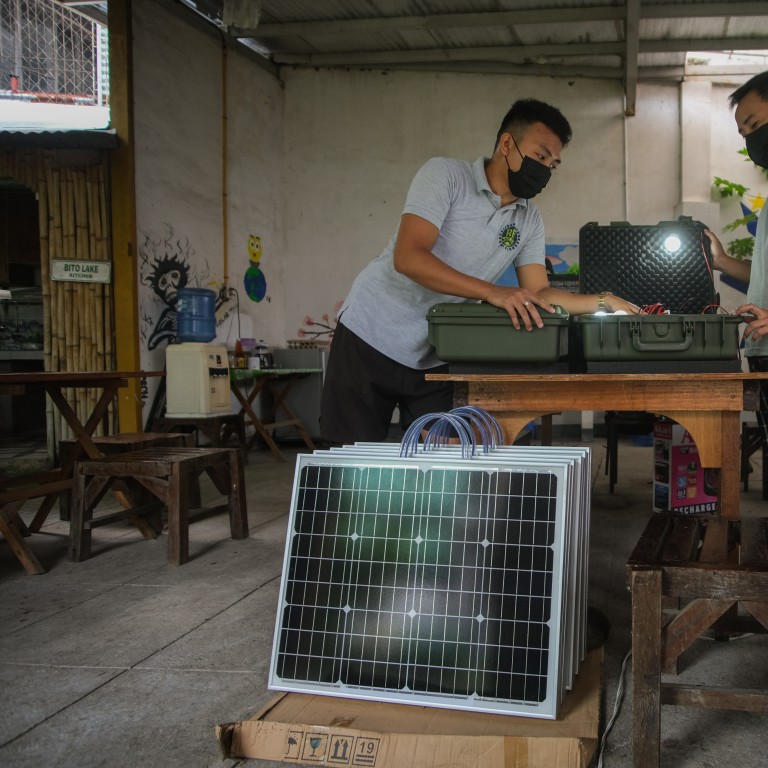 Eight years on, Typhoon Haiyan's young Philippine survivors have grown up and joined the climate change battle
Thousands were killed and millions displaced when the storm, one of the most powerful in recorded history, hit the Philippines in 2013
Today, some of the young survivors have become 'Solar Scholars', assembling and installing portable generators in remote communities to give disaster-prone areas a source of backup power – and promote the renewable energy cause
Cyrel Bajen was 16 years old when Typhoon Haiyan, one of the most powerful tropical cyclones ever recorded, put parts of his hometown in the
Philippines
under six metres (20 feet) of water.
But he can remember that tragic day in 2013 well. The storm had cut visibility to near zero, so he was unable to see even as far as his neighbours' home. Yet he could hear them drowning.
"I heard them screaming and crying as they held on to posts [to avoid being swept away], they were fighting for their lives. It was like a film, I only survived by swimming through barbed wire to get to my neighbour's third floor. Our own bungalow was washed out, and everyone thought my family was dead," he recalled.
In his struggle to survive, Bajen managed to save a pet chicken that had been swept under water. He was unable to save his neighbours, or his grandfather.
Bajen said his family had underestimated the typhoon as there had been no history of storm surges hitting their hometown of Basey, Samar. It was the first typhoon of its kind they had ever encountered and it wiped out their whole neighbourhood.
Known locally as Typhoon Yolanda, that storm was one of history's fiercest, with sustained winds of over 150mph. It affected an estimated 14 million people, killing more than 6,000, leaving 1,800 missing and displacing 4.1 million. It is etched on the nation's memory, its victims remembered every November 8.
But the storm is more than a memory for Bajen. It was his motivation for seeking a role in the battle against
climate change
.
Today, Bajen – now a 24-year-old engineering graduate – and his fellow student Jeric Sembrero volunteer as "Solar Scholars", assembling and installing portable solar generators known as TekPaks in energy poor communities across the country. They also volunteer as "RE-Serve Humanitarian Corps", a student and community group that provides solar power to emergency first-responders.
The motivation is twofold. Not only do the solar packs promote the use of renewable energy – which climate experts say is vital to preventing the sort of temperature rises that would make
super typhoons like Haiyan more frequent
– they also ensure that when communities are hit by storms, they have a handy source of backup power.
"It makes me happy that by assembling TekPaks, I'm able to help fellow victims from vulnerable communities," said Bajen, who can remember local schools closing for a semester after Haiyan.
"We speak about rising temperatures because of
climate change
. So instead of using gasoline to fuel generators for disasters, why don't we build a cooler home, by harnessing renewable energy?"
The Solar Scholars programme was launched in 2015 by the Institute for Climate and Sustainable Cities (ICSC), an international non-government group advocating low-carbon, climate-friendly development.
Currently, there are 326 Solar Scholars around the Philippines, trained by the ICSC to perform energy assessments in their communities as well as operate and maintain portable solar-powered devices which can provide light, basic charging, and energy for medical equipment.
"A lesson we learned from Typhoon Yolanda is that integrating renewable energy, particularly solar technology in disaster risk humanitarian response, is an idea whose time has come," said Arturo Tahup, associate for community resilience at ICSC.
Tahup said local disaster risk strategies were too often reliant on oil-powered generators. Not only were these not environmentally friendly, but they were also vulnerable to being taken out of action when big storms hit.
"You need energy to charge your communication equipment, to light up evacuation centres, and perform life-saving services," Tahup said.
Not only that, but harnessing solar energy on a wider scale could help avoid repeating the same mistakes that brought destructive typhoons in the first place.
Seeing the light
Randy Zosa, now 32, joined the first batch of Solar Scholars six years ago to help bring power back to his community, which was still struggling to recover from Haiyan.
Zosa has himself been relocated to Pope Francis Village, a nearby community where there is still limited electricity. His solar panels light his home and charge his mobile phone.
One of Zosa's most unforgettable experiences was setting up a solar power generator following another storm, Typhoon Phanfone, known locally as Ursula. Zosa helped evacuate his neighbours, then led them to the nearest emergency shelter.
"The power was out at that time [so the TekPak] served as our light and power source under the heavy rains while we were travelling to the evacuation centre, which was 4km away," Zosa recalled.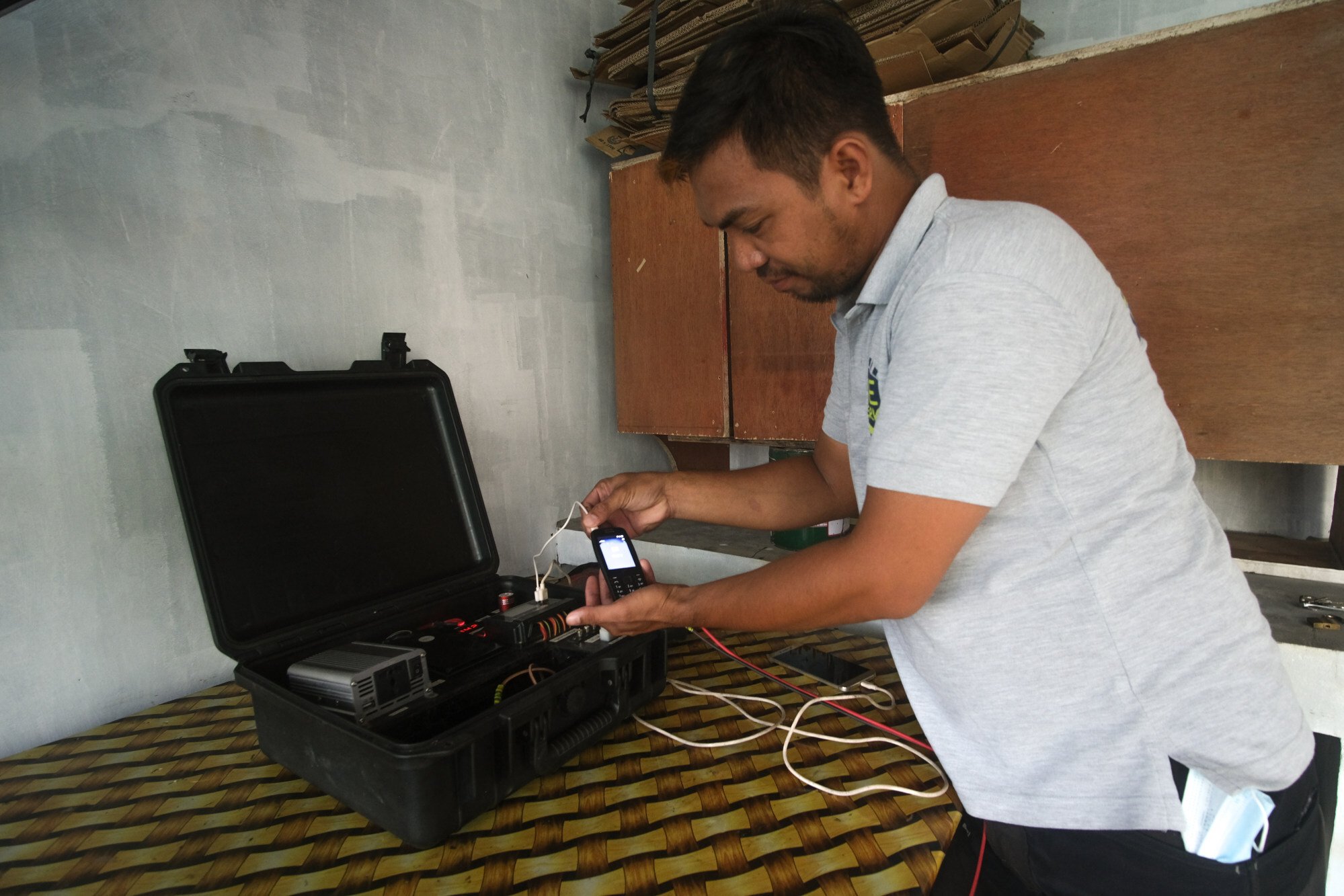 When Zosa reached the centre, he found it too was without power.
Still drenched from his efforts in evacuating his neighbours, he offered to set up a solar generator.
"Everyone clapped when it lit up. That's when I realised that even if I'm only an ordinary citizen, I can actually help," Zosa said.
Chuck Baclagon, a regional campaigner for the climate NGO 350.org, praised the ICSC's efforts to introduce solar power in remote communities.
"The TekPaks are ideal in emergency situations especially in archipelagic countries like the Philippines where power during disasters can be very limited," Baclagon said.
"Solar energy empowers the community to have their own source of electricity, which is cleaner and readily available as long as they have the knowledge of how to operate and maintain the technology."
However, Baclagon said communities' access to solar technology was being limited by the country's wider reliance on, and preference for, coal and fossil fuels, which meant renewable energy could be more expensive.
According to the Department of Energy, in 2020, 59.9 per cent of the Philippines' energy mix came from coal and oil, and 34.3 per cent from renewable energy sources.
"I think the reason we seem to think that fossil fuels are cheaper is because there are government subsidies invested in them. But what this doesn't account for is the impact on pollution and the damage on ecosystems, which directly affect the livelihood of farmer and fishing communities," Baclagon said.
Tahup at ICSC added that solar energy gave more to the community than simply the ability to light a bulb.
"Solar energy empowers the community by letting the people participate in decision making, by decentralising energy systems and manoeuvring to energy that is community owned," Tahup said.
Meanwhile, back in Pope Francis Village, Zosa's street remains in the dark. There are no street lamps here, but Zosa is beaming with hope that the Solar Scholars can bring light to the community.
Said Zosa: "I told my neighbours that I would develop five solar-powered street lamps for us. Right now, our problem is we don't have the resources to purchase a battery, but I am proposing that each of the houses along our street contribute any amount, so that we can collectively put light in our community by December."