Vietnam
Get more with myNEWS
A personalised news feed of stories that matter to you
Learn more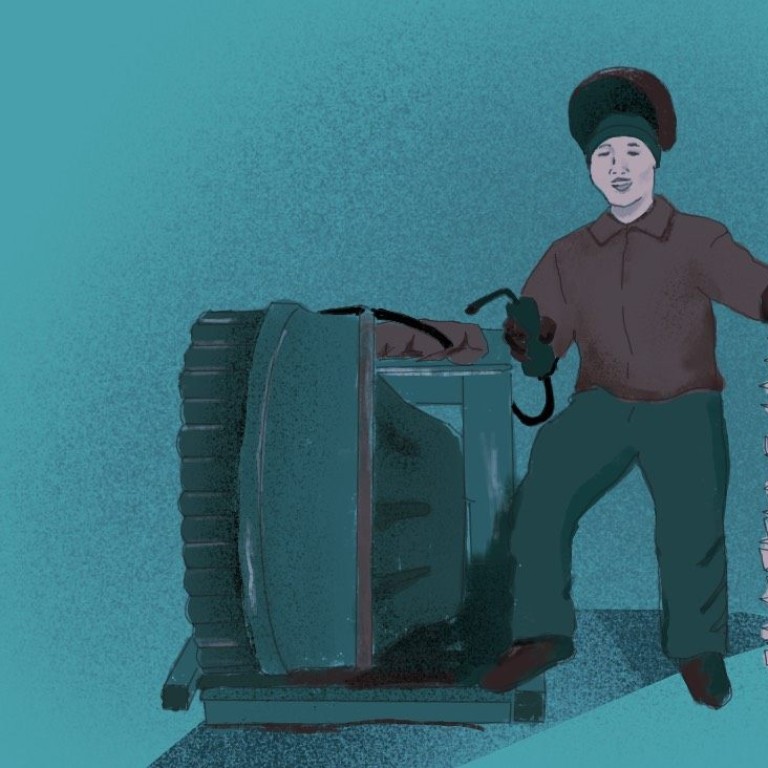 Vietnamese migrants fill Romania's worker crunch but face risk of exploitation
Romania's labour shortage offers jobs for Vietnamese in welding, meatpacking and house painting but they are exposed to harsh conditions and even human smuggling
Advocates say Bucharest authorities have to fix its labour rights laws, especially if it now wants to take in Ukrainian refugees as workers
Van* had never seen snow or left her home country of
Vietnam
until she arrived in
Romania
. She is among hundreds of employees at a turkey meat producing plant in the small town of Codlea, about three hours from the capital Bucharest.
"I went far away to work so that my son can have a better life and his life will not be as hard as his mother's,'' Van told This Week in Asia, adding that she sends money home from the Eastern European state every month.
In 2019, Van, who is from a town in northern Vietnam followed in the footsteps of her sister-in-law – a former labour migrant in Romania- and paid a recruitment agency US$2,800 to bring her to the
European Union
(EU) member state. Romania is one of the poorest in the bloc, but Van said it was "cheaper" to head there to find work than elsewhere.
As Western European countries solved their labour shortage by recruiting millions of Romanians and other Eastern European citizens, Romania is now finding itself in a similar situation and importing thousands of Vietnamese,
Indian
and
Nepalese
to fill the void. Its tight labour situation is compounded by a population decline fuelled by low birth rates and an ageing population. Since 2010, one-tenth of the population or more than 2.4 million people have left Romania, according to data from its National Institute of Statistics.
Yet Romania's limited legal and labour rights infrastructure – plus a lack of support from migrants' home countries – means migrant workers are vulnerable to risks of exploitation there.
More Vietnamese have gone to Romania to work in recent years, even though the country has received migrants from Vietnam since both countries established diplomatic relations in 1950.
Data on work permits issued to non-EU and Romanian citizens through the Freedom of Information Act shows for the three years between 2017 and 2019, Vietnamese were the largest group of newly-admitted foreign workers in Romania.
The number increased significantly in 2019, a year after Vietnam and Romania signed a five-year bilateral visa agreement to fulfil the latter's demand for foreign workers, but there was a significant drop in 2020.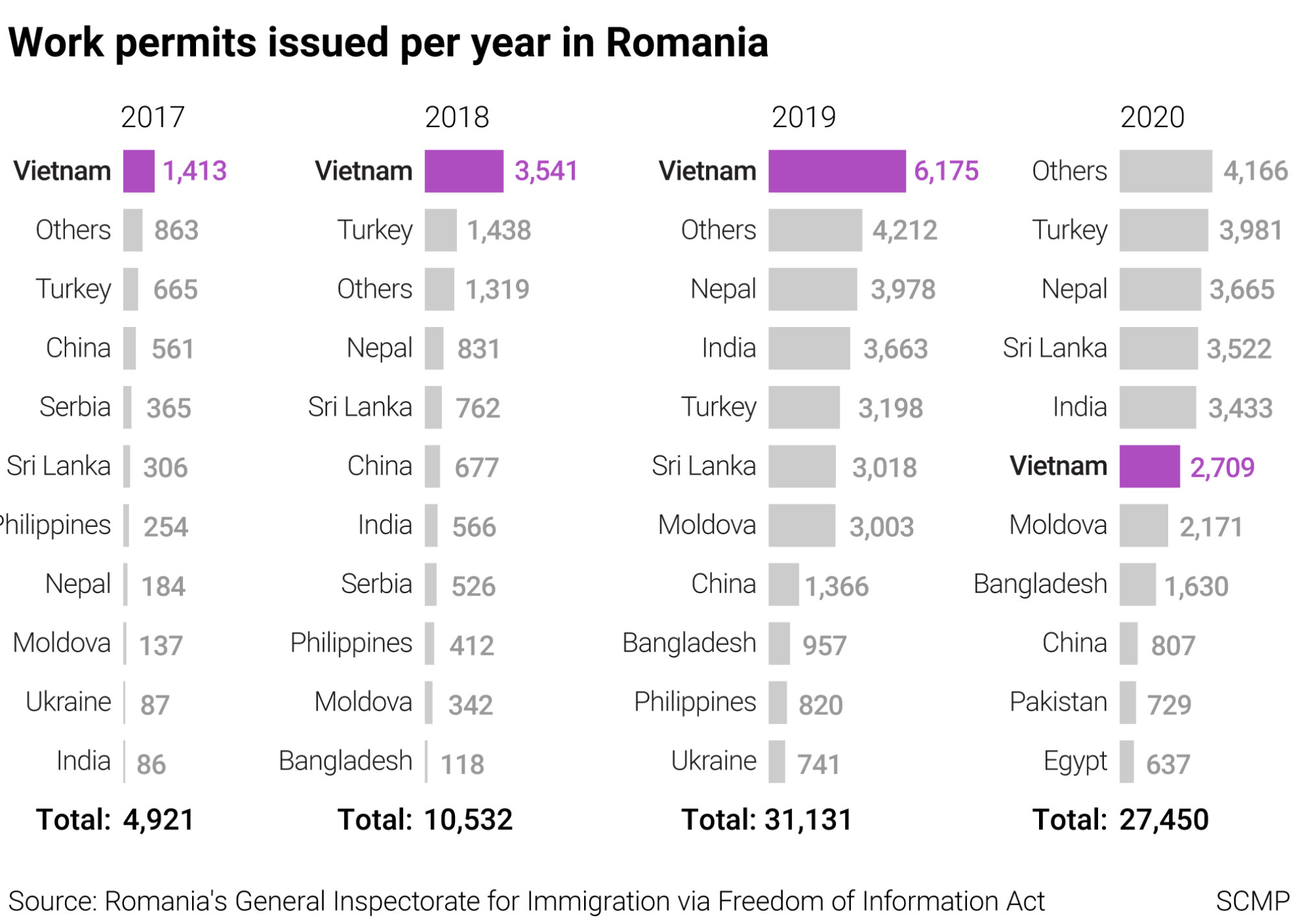 Most Vietnamese in Romania do construction work like welding, cement mixing and house painting, while a few work in the meatpacking industry like Van, data from 2019-2021 shows. Van is part of a group of workers who slaughter as much as 90 tons of turkey a day, sometimes until 11pm at night.
She earns about US$750 a month, a little above the local minimum monthly wage but around three times the average salary back in Vietnam. Van said Vietnamese workers were not treated in the same way as others.
For example, they face questions from managers when they requested to use their 21 days of annual leave, while Romanian workers do not. She claimed Vietnamese workers were penalised for taking time off by being reassigned to different duties or given a heavier workload.
"It is very frustrating. There were times they knew it was hard for Vietnamese to go home because of the pandemic so they became even more excessive," she said, adding that if there were flights available, Vietnamese workers in her factory would have left their jobs to return home for good.
Risks of exploitation
Like Van, Huy* is also deeply embedded in the global supply chain in Romania, as a welder at one of Romania's largest shipbuilders, in the southern coastal city Constanta.
He first migrated from his rural hometown in northern Vietnam to the capital Hanoi and worked as a mechanic. He then paid around the same amount as Van to state-owned labour agency Tri Duc, which was recruiting workers for the Romanian market in 2018.
"The salary is low and the job is hard,'' he said, adding that he earned around US$591 a month, 14 per cent less than promised. The labour agency also kept 1,200 euros (US$1,317) as a security deposit, locally known as an "anti-escape'' fee which would only be returned upon completion of his contract, while the company held on to his passport.
Huy shares a room with five other Vietnamese workers. Space is tight and the group often eats their dinner next to containers of food on the floor beside their bunk beds. The workers typically work eight hours a day outdoors in the cold. During the coldest months, the temperature can range between 0 and -14 degrees Celsius.
When the pandemic broke out in 2020 and Vietnam's border closure sent the price of airfares shooting upwards, Huy found himself limited to three options – either pay an exorbitant price to return home, extend his contract and visa to remain in Romania, or leave his company and find employment elsewhere.
But with the company holding on to his passport, he was worried that he would not get it back and would fail to find another job without it, resulting in him staying on illegally.
Applying for a work permit can take up to two months. International advocate organisation Jesuit Refugee Service's legal counsellor Stefan Leonescu said migrants who do not have enough savings and need to work are considered illegal workers during this period of legal limbo.
Meanwhile, the Romanian government is planning to recruit more foreign workers – it has expressed interest in hiring those
fleeing the Russian invasion of Ukraine
. Leonescu says the infrastructure is not in place to cope with the situation.
"A lot of
Sri Lankans
, Indian, Vietnamese,
Bangladeshi
, Nepalese were taken to Romania through various contracts. And they were simply left here without having any kind of help," he said, adding that the most basic form of help would be to ensure the government has interpreters to communicate with these migrants.
Support from home?
In 2019, Construcții Erbașu, one of Romania's largest construction companies, was fined
45,000 lei
(US$10,300) for placing around 200 Vietnamese employees in poor living conditions. It recorded around 148 million
euros
in turnover in the same year, but housed the workers in containers with insufficient running water and basic sanitation facilities where six toilets were available for 200 people, according to an investigation by Vice Media.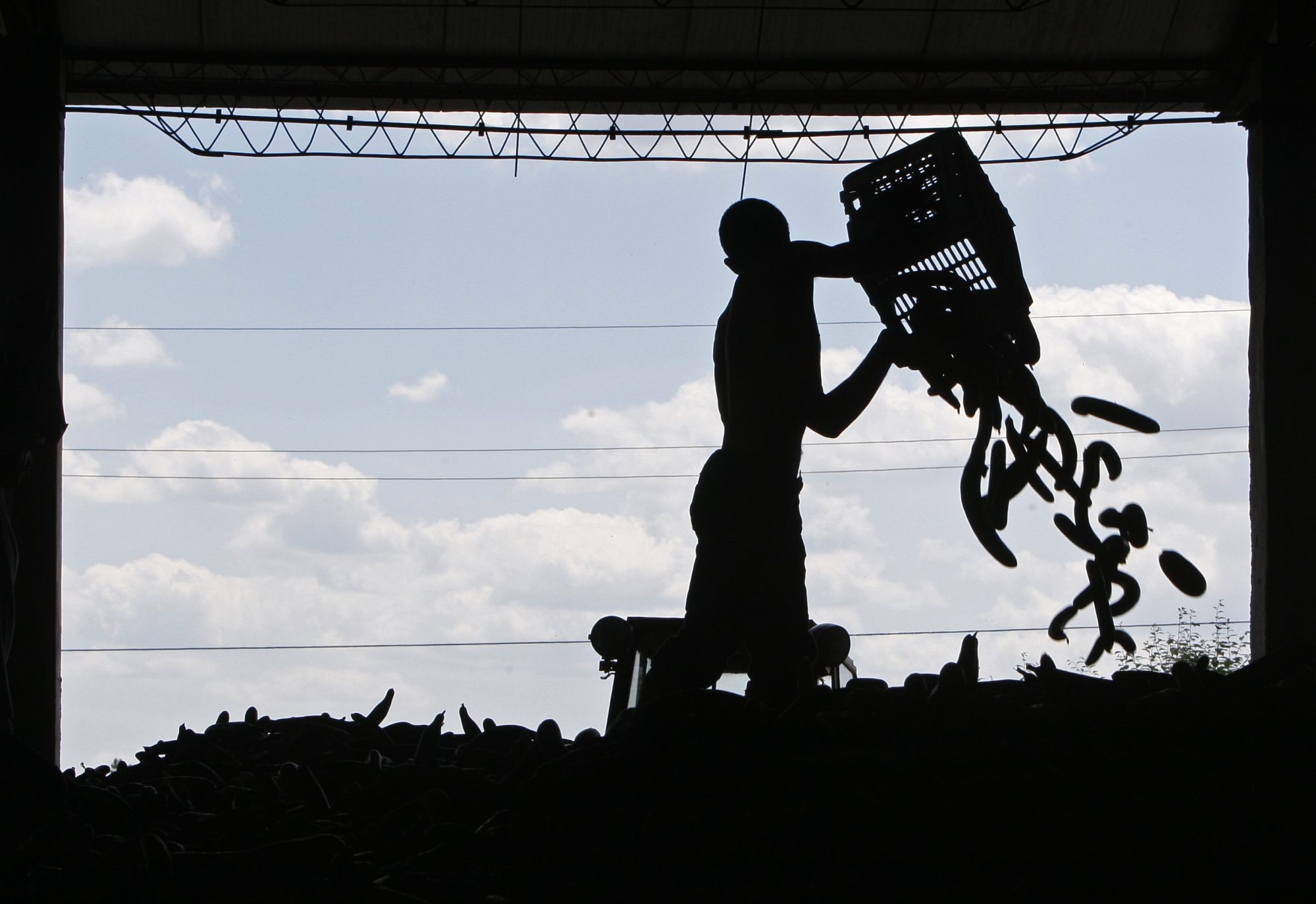 Following the report, 29 of them were fired by Erbașu and deported for allegedly breaking Romanian laws. The controversy resulted in TAMAX, the Vietnamese recruitment agency which brought the workers to Romania, being put under scrutiny by Vietnamese authorities and media.
In January, state media reported the agency was under fire again for providing no help to dozens of Vietnamese workers in Romania who said their employer, hydropower construction company Hidroconstructia S.A., withheld their pay for months.
Nguyen Phuong Ha, a senior manager at Cong Chien Thang Group, which recruits Vietnamese workers and students for overseas jobs, said those seeking employment abroad got "cheated a lot".
"I really feel pity for them," he said.
"The reason is the paperwork is too complicated, making people so confused that they have to find agencies [to help them] yet many of them are con artists.''
Vietnam is one of the world's top markets for inward remittances, which totalled around US$18 billion last year or about 5 per cent of GDP. But unethical recruitment of Vietnamese for overseas jobs – with gaps in regulatory and legal oversight by Vietnam – puts migrants at risk of forced labour and human trafficking, said a 2020 study published by the United Nations' International Organization for Migration, which interviewed Vietnamese returnees from Asian countries.
Abuse of Vietnamese migrant workers has been reported in places such as South Korea, Taiwan, the UK and less popular destinations like Serbia.
The Vietnamese government recently outlawed the practice of agencies forcing workers to pay a commission for overseas job placement. The law also allows workers to unilaterally end contracts without fines in case they are subject to or threatened with maltreatment, sexual harassment or forced labour. The law came into effect this year.
For many who are already abroad, continued migration to other countries allows them to find better opportunities.
Van, the poultry worker, said many of her former Vietnamese coworkers dissatisfied with the working and living conditions at the plant have left for Germany,
Poland
and the UK to work as housekeepers, retail workers or in nail salons.
Romanian Border Police data shows some Vietnamese have attempted to cross the border illegally to wealthier European countries with the help of Romanian, Turkish and Polish smugglers. In September 2021, seven men were caught trying to cross into neighbouring Hungary on foot without legal documents.
In December 2020, three people were found hiding in a truck heading to Germany through Hungary at the border. Several similar cases also happened in 2019, which involved Vietnamese with legal working papers in Romania.
Huy, the ship welder, said some of his coworkers had done the same thing but declined to reveal more details.
"They do many jobs and the salary is much higher than [in Romania], but it is illegal, and I'm afraid of bad luck," he said, adding that the smuggling fees are around US$4,385 depending on the destination.
"At some point I was disappointed at my company and I considered this option.''
"But it has been four years. Now, I just want to go home to my wife and take it from there.''
*Names have been changed to protect identities.