Ukraine
Get more with myNEWS
A personalised news feed of stories that matter to you
Learn more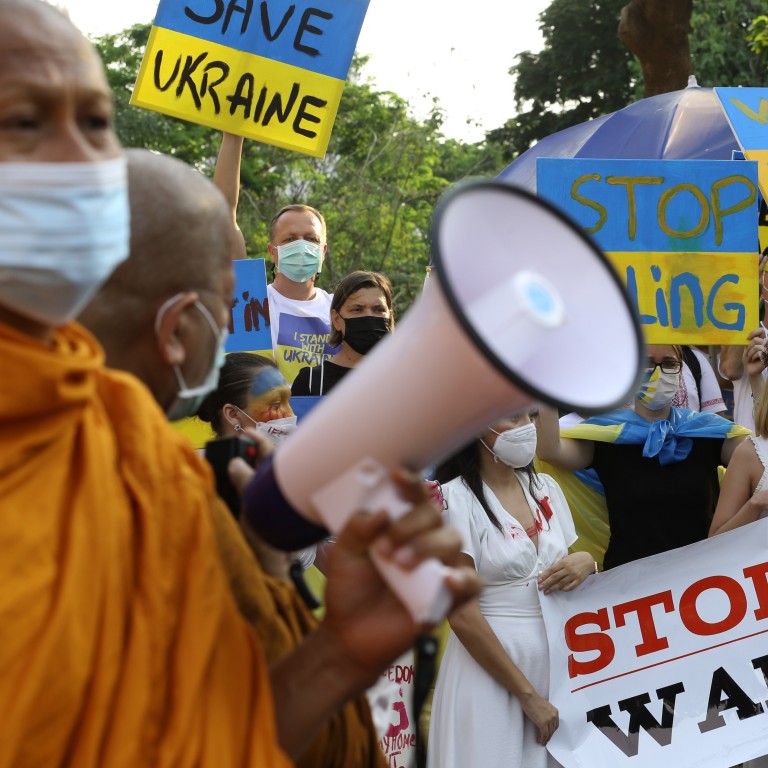 Ukrainians trapped in Thailand fight despair with protests, fundraising as war ravages homeland
Expatriate Ukrainians have joined together with sympathetic Thais to protest Russia's invasion of their homeland, and raise money for vital supplies
Hundreds of their compatriots remained stranded as tourists in Thailand – not knowing how, or when, they'll be able to return to home
When Iliana Martseniak's family in Kharkiv first messaged her a month ago to tell her about
Russia
's invasion of their homeland, she said she was "incredibly scared and completely devastated".
The 37-year-old has been in Bangkok for the past four years and is part of a small community of Ukrainians living thousands of miles away in
Thailand
whose lives have nevertheless been upended by
the war
back home.
"I was not able to believe that this had become a reality. I thought it was some misunderstanding or a joke," she said. "It's impossible to imagine something like this could happen in the 21st century."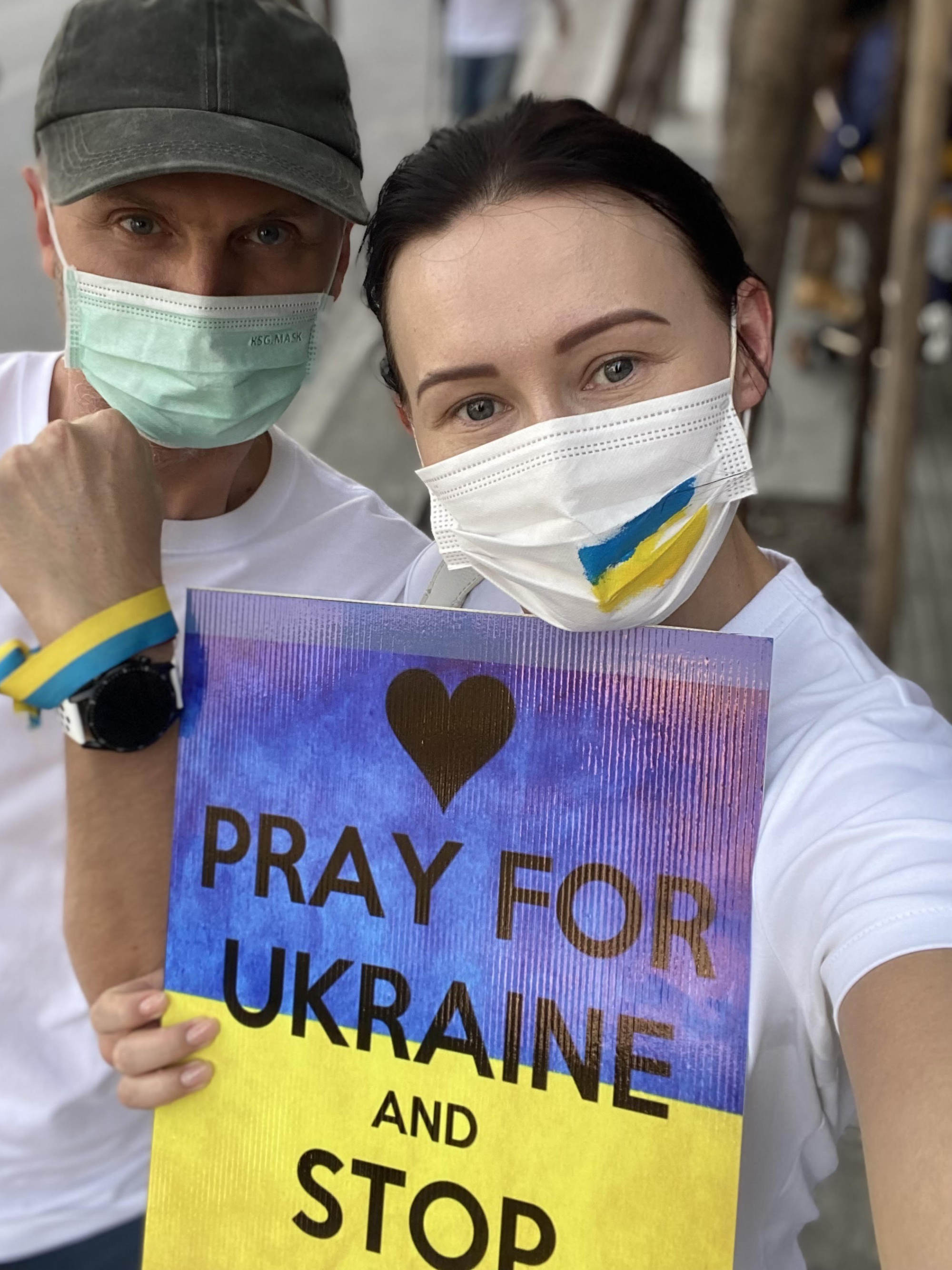 Even after weeks of a brutal Russian military assault on
Ukraine
that has claimed hundreds of lives, Martseniak said she was still struggling to come to terms with the reality of war in her home country.
When she spoke to This Week In Asia, her parents and younger sister had fled the besieged Kharkiv for Lviv on the Polish border, where the women were waiting to be evacuated as her father – barred, like all men aged 18 to 60 from legally leaving the country – had to find his own way across.
"I call my family every hour and I am very worried if they do not reply because when you're here and they're there it's very stressful when you don't know what is happening," she said.
For weeks now, Martseniak has joined protests against the war in front of the Russian embassy in Bangkok. Here she has not only been able to voice her opposition, but find support and a sense of unity among her fellow Ukrainians – and sympathetic Thais.
Driven closer, apart
Andrey, a Ukrainian software engineer living in Thailand who asked for his surname to be withheld, said the Russian invasion had left him struggling to work and sleep as he found himself unable to stop reading the news about his homeland.
"I'm from Melitopol, my parents live there and I call them daily," he said. "The city is occupied by Russian troops, there are armed people and military machinery in the streets."
Daily life had mostly ground to a halt in the occupied city, Andrey said. Food and basic supplies were available, but medicine was starting to become scarce – and Russian troops were preventing provisions from the rest of Ukraine from getting in.
"There are occasional explosions around town, often at night and usually of unknown nature, as nobody is keeping the population informed," he said.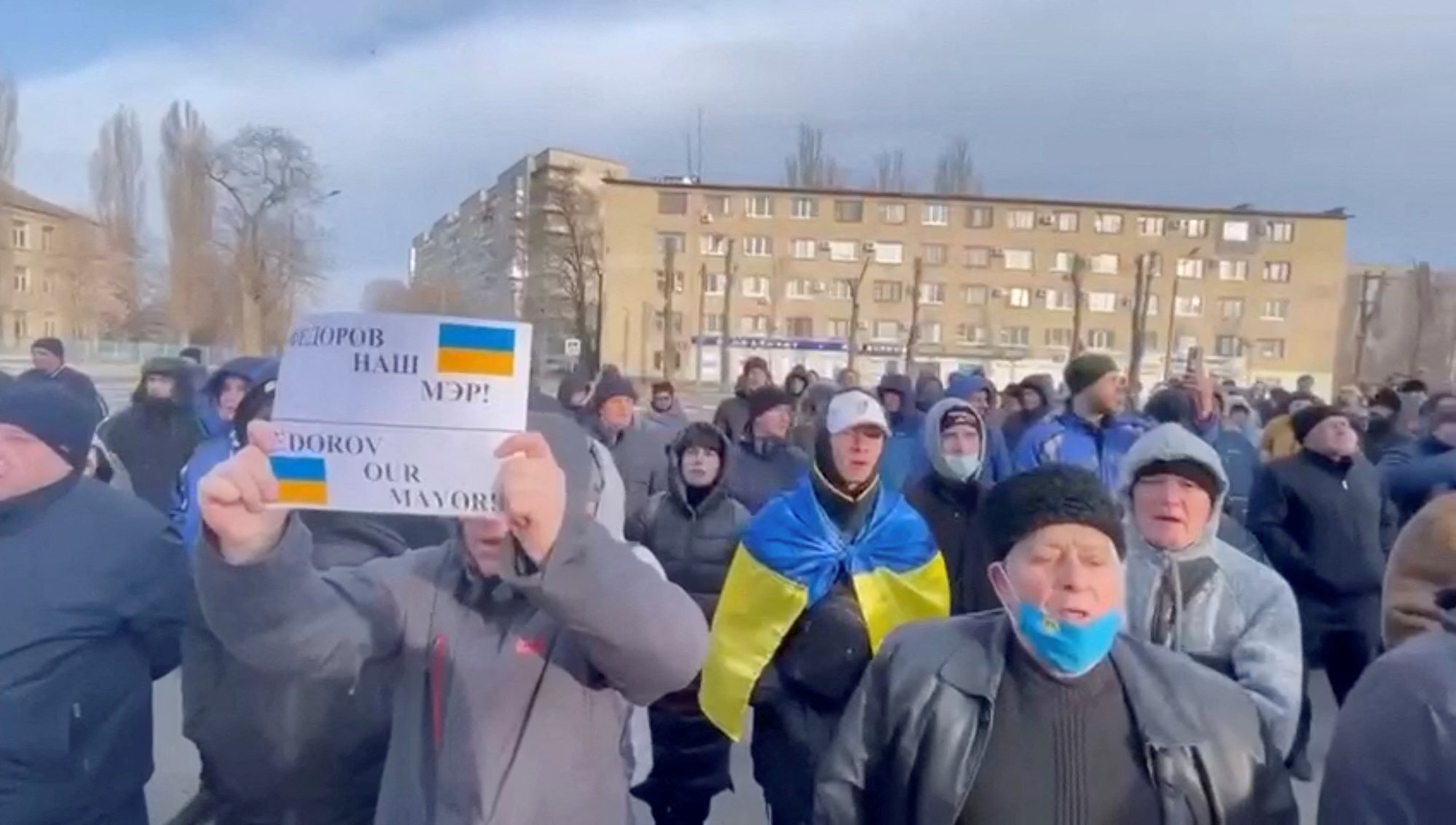 The 38-year-old, who has lived in Thailand for six years, has printed posters calling for the release of Melitopol's mayor – who was abducted by Russian troops for five days before being released in a prisoner swap – and has joined the protests in front of the embassy. Sometimes, he said, there are Russians protesting there too.
"I have many friends in Russia as I lived in Moscow for over 10 years," Andrey said. "The absolute majority of them are simply horrified by the atrocities and feel powerless to stop it."
Martseniak, who like many Kharkiv natives also speaks Russian, said she knew several Russian expats in Bangkok but had unfriended about one-third of them on Facebook because of their support for the war. Andrey, meanwhile, said he did not think his relations with his Russian friends had changed much "but there's naturally fewer topics to talk about right now".
At a protest in front of the Russian embassy on Saturday, Martseniak said she and her fellow Ukrainians were joined by a number of Thais, many of them young pro-democracy activists, also calling for an end to the war.
"That was amazing. We are so grateful to Thai people that support us and express their opinion that this is not right. I'm thankful for them," she said.
Stranded
Since the war began the 1,500 or so Ukrainian expatriates living in Thailand – by Martseniak's estimate – have been collecting donations and sending money back home to support those forced to flee the Russian assault with little more than the clothes on their backs
Help has poured in from the Thai public too. Last week, Ukrainian chargé d'affaires Oleksandr Lysak highlighted the 7 million baht (US$208,700) that had been donated to the country's embassy in Bangkok. He thanked Thai people for their generosity, and for the offers of free lodgings for the more than 3,000 Ukrainian tourists that were then stranded in Thailand.
About 1,000 Ukrainians are still stuck, according to Thai government estimates, alongside
thousands of Russian tourists
who similarly had their holidays – and finances – ruined by a conflict half a world away.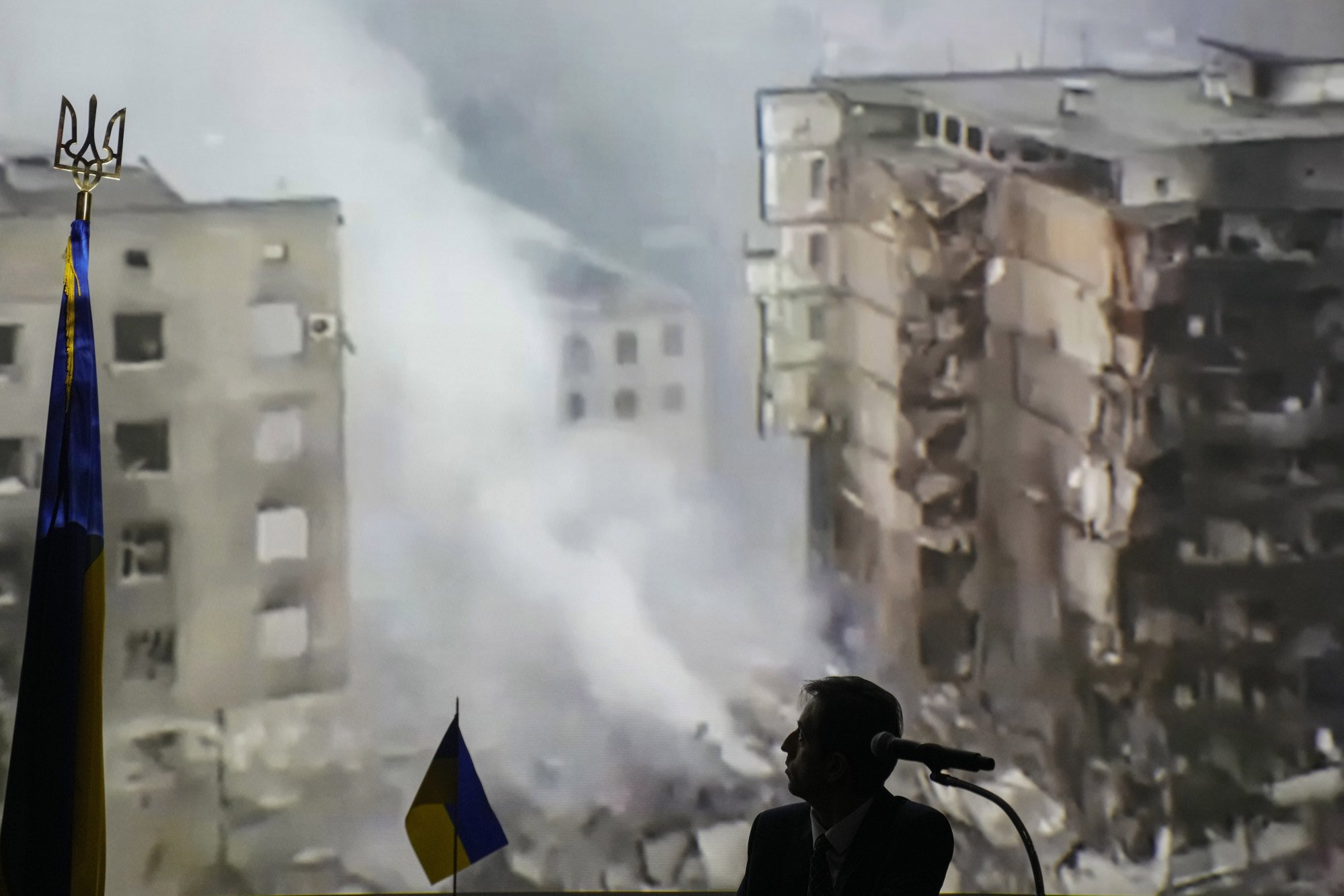 University students Yana Mokhonchuk and Olena-Kvitoslava Yatskiv were among the Ukrainian tourists left stranded, after they travelled to Thailand in January for some winter sun and sightseeing.
The women, who are both in their early 20s, only learned of the Russian invasion three days after it had happened, as they had been taking a meditation course at a Thai temple in Samui where the use of internet-enabled devices was not allowed.
"A foreign traveller told us the news. At first we thought it was a dream or maybe I was sleeping," Mokhonchuk said. "We spent the next whole day crying. We wanted to come back to Ukraine and tried to book flights. Then my mum told me not to return and to stay where I am."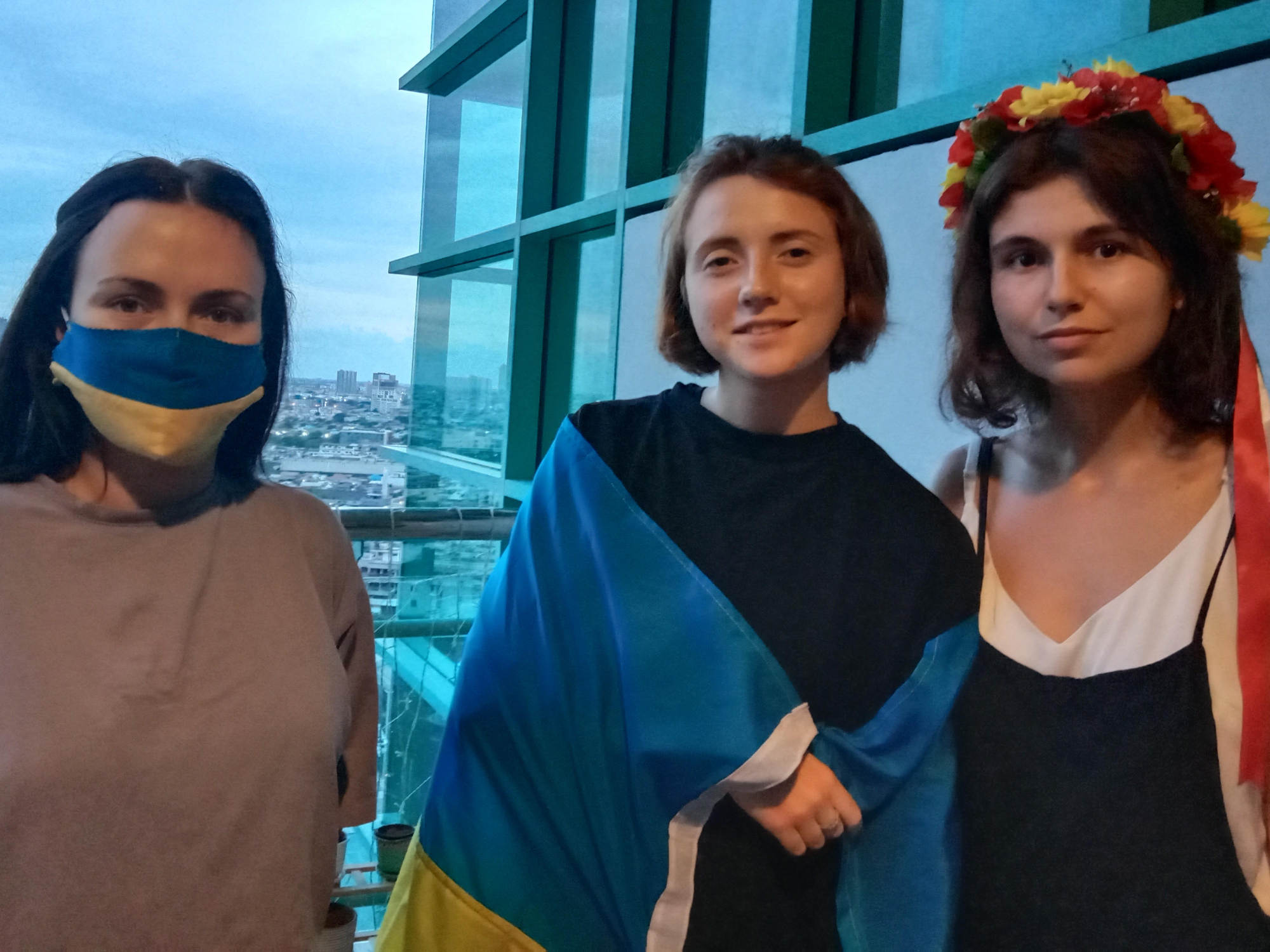 The two arrived in the Thai capital on March 13 and rented a flat for five days before getting in touch with Yuliia Yesik on a Facebook page for the Ukrainian diaspora in Thailand, who offered them a place to stay. They have not decided what to do once their tourist visas expire next month.
"Everyone is lost and shocked at the moment," said Bangkok resident Yesik, 31. "Some guys went back to fight. Two days ago one went to Portugal. Many [Ukrainian tourists] can't afford that so they are looking for rooms or jobs. They are looking to extend visas, which can be expensive."
Bangkok has so far maintained a neutral stance on the war – despite
voting in favour of a UN resolution
condemning the Russian invasion of Ukraine following an appeal made by the ambassadors of 25 nations in Thailand.
Russian ambassador to the country Evgeny Tomikhin on March 15 thanked the Thai government for its "balanced position" and for staying neutral "despite huge pressure" from the West.
Yesik said the Ukrainian community in Thailand had been raising funds to send medicines and communications equipment back to Ukraine, as concerts and similar fundraising events were being organised with the support of other European embassies in Bangkok.
"I spoke Russian all my life but I don't do that any more," she said. "[Most] Russians support Ukrainians being bombed and killed. Some are trying to do something but the percentage is so small. Still, [stranded] Russians can go home – Ukrainians cannot."