Vietnam
Get more with myNEWS
A personalised news feed of stories that matter to you
Learn more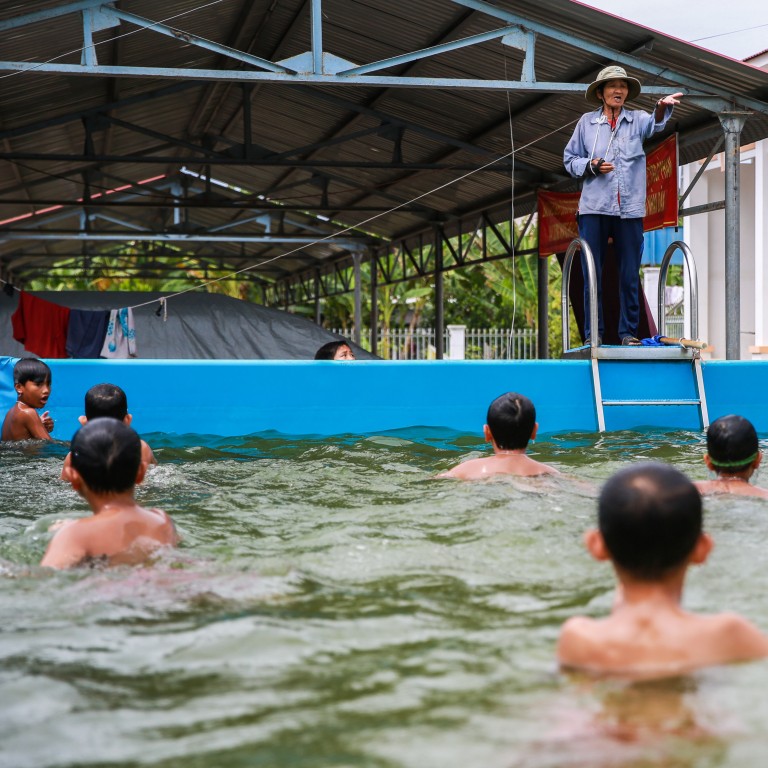 Vietnam's child drowning plague, and the community swimming trainers doing all they can to end it
Drowning is a leading cause of death among Vietnamese children, with more than 2,000 kids under 16 losing their lives this way each year
Community-led initiatives are making a difference but a lack of swimming facilities and poor water safety literacy hinders progress
Community swimming instructor Tran Thi Kim Thia is on a mission to help stop children in
Vietnam
from drowning.
Since 2002, Sau Thia, as she is colloquially known, has given free swimming lessons to around 4,500 children as part of a social programme – known as Sau Thia's swimming class – in rural Hung Thanh commune, southern Dong Thap province.
Sau Thia said when the authorities launched the initiative, the local women's group nominated her as she was a strong swimmer and a single, childfree woman "not busy with family affairs".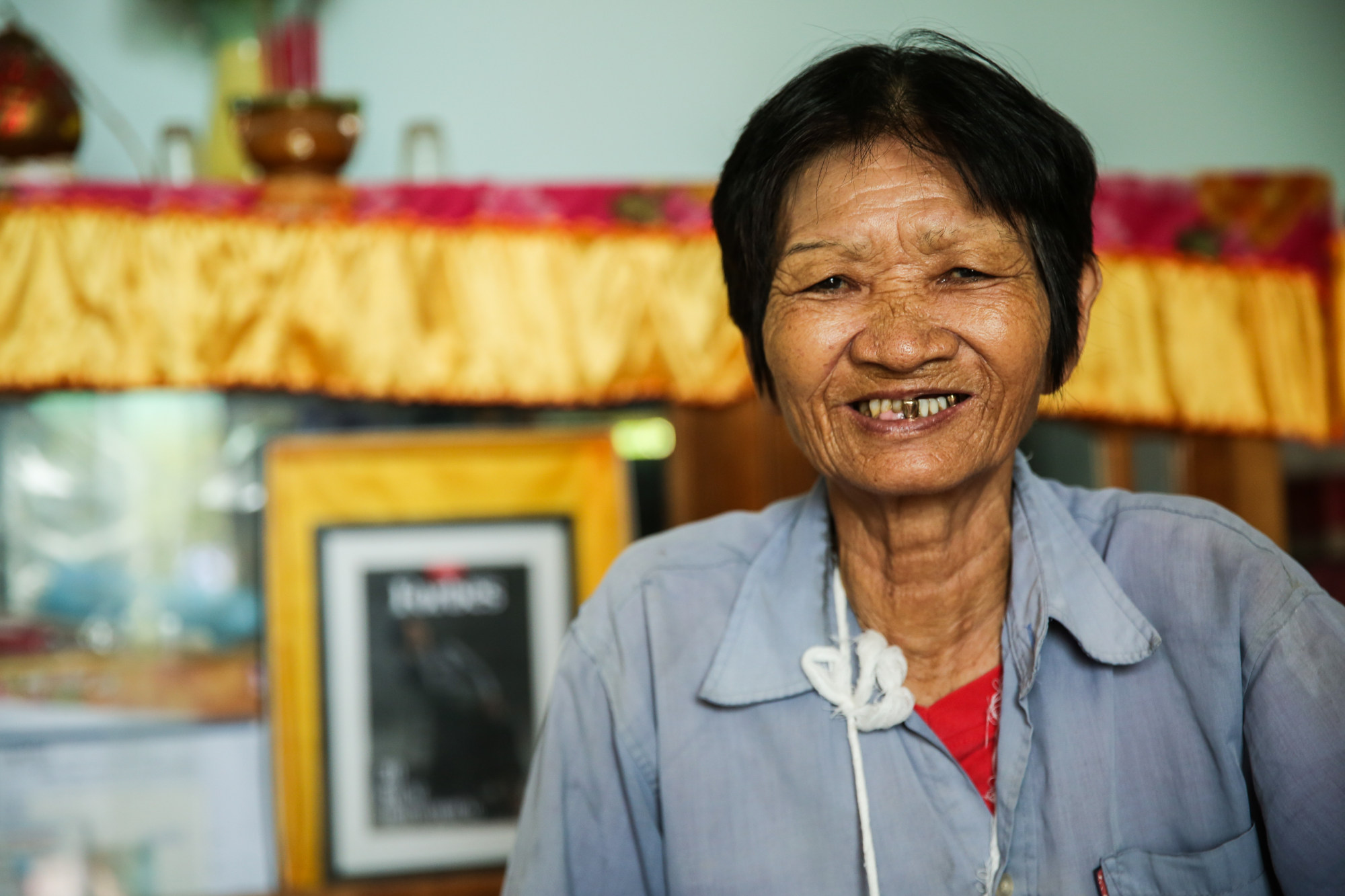 Still, she looks nothing like a typical coach. Usually dressed in a worn-out shirt, tracksuit bottoms and flip-flops, the 64-year-old is nonetheless devoted.
In her community, she is a familiar champion of water safety, standing at the edge of her swimming pool, and directing students to keep their heads above the water.
Despite her right arm being in a cast after a recent bike accident, she persists, using her left to gesture at the 11 girls and boys aged six to 14 in the pool on this particular Saturday.
"My students have gone off to get married, or moved on for studies. If I don't teach any more, kids [here] wouldn't want to learn," she said. "For some kids, it takes three days of teaching before they master swimming. Others take seven to 10 days."
Many locals regard swimming as an everyday survival skill for those who grew up in the rivers and swamps of the Mekong Delta area, like Sau Thia did.
But while she could swim, she did not know how to teach. She taught herself by watching a daily 5.30am exercise programme on television, including its warm-up drills. Around the same time, she began knocking on doors urging parents to send their children to swimming classes with her.
As mums and dads became aware of what she was doing and her commitment to safety, attendance began to increase.
Numbers were also helped through a local women's group and the commune's resident meetings promoting Sau Thia's classes and approaching parents on her behalf.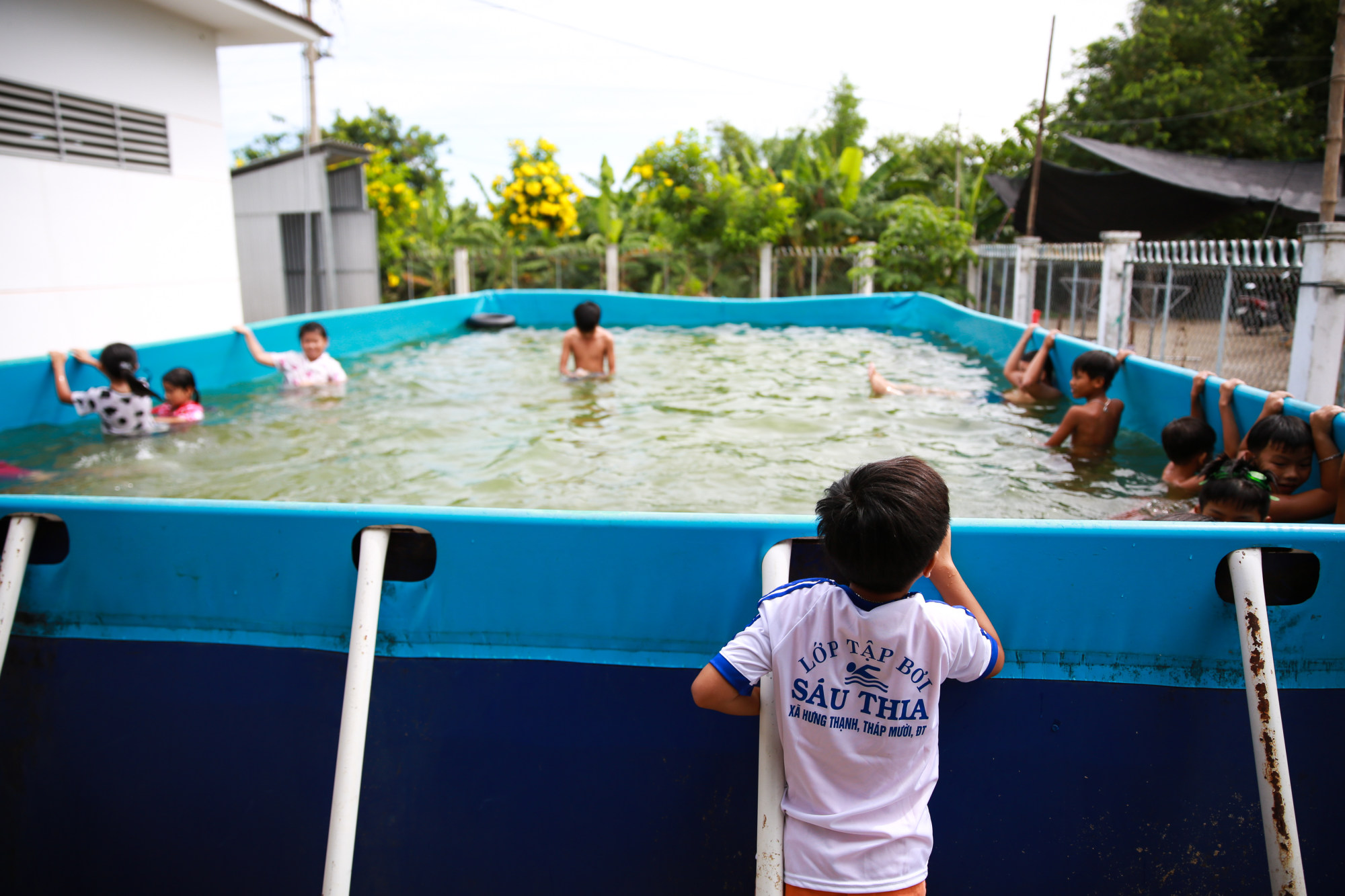 Swimming skills save lives
Sadly, there are too many examples of people not knowing how to swim in Vietnam. On June 1 – International Children's Day – five children drowned in two separate incidents. In April, five drowned after playing in a river near their school.
In 2020, five youngsters aged two to 13 drowned, and the year before that, five 14-year-olds perished after taking an unsupervised dip in a reservoir during a school picnic.
Child drownings have declined by an average of 100 each year in Vietnam. But the World Health Organization cites a 2020 estimate which says more than 2,000 children under the age of 16 drown each year in the country, making drowning one of the leading causes of death for this age group.
Calls to address the issue resurface each time local media reports the number of children drowning.
Last month, Prime Minister Pham Minh Chinh requested ministries and local officials step up prevention protocols around child drowning, including organising swimming lessons.
But some local education specialists have noted that this could be difficult to implement given a lack of facilities and staff, and also pointed out that swimming might be seen as an unimportant subject in school.
This is why, in areas particularly vulnerable to the effects of
climate change
, such as rising sea levels and flooding, community-driven efforts like Sau Thia's can go a long way towards reducing child fatalities from drowning.
Globally, drowning is the third-leading cause of death by unintentional injury with children among the most at risk. But it did not receive high-level international attention until 2014, when the WHO published its first global report on drowning.
The United Nations only adopted a resolution on global drowning prevention in 2021, encouraging all member states to develop a national plan to avert drowning.
Vietnamese Prime Minister Pham Minh Chinh in 2021 approved a national programme on preventing child injury and death, aiming to reduce child drowning fatalities by 20 per cent in eight years.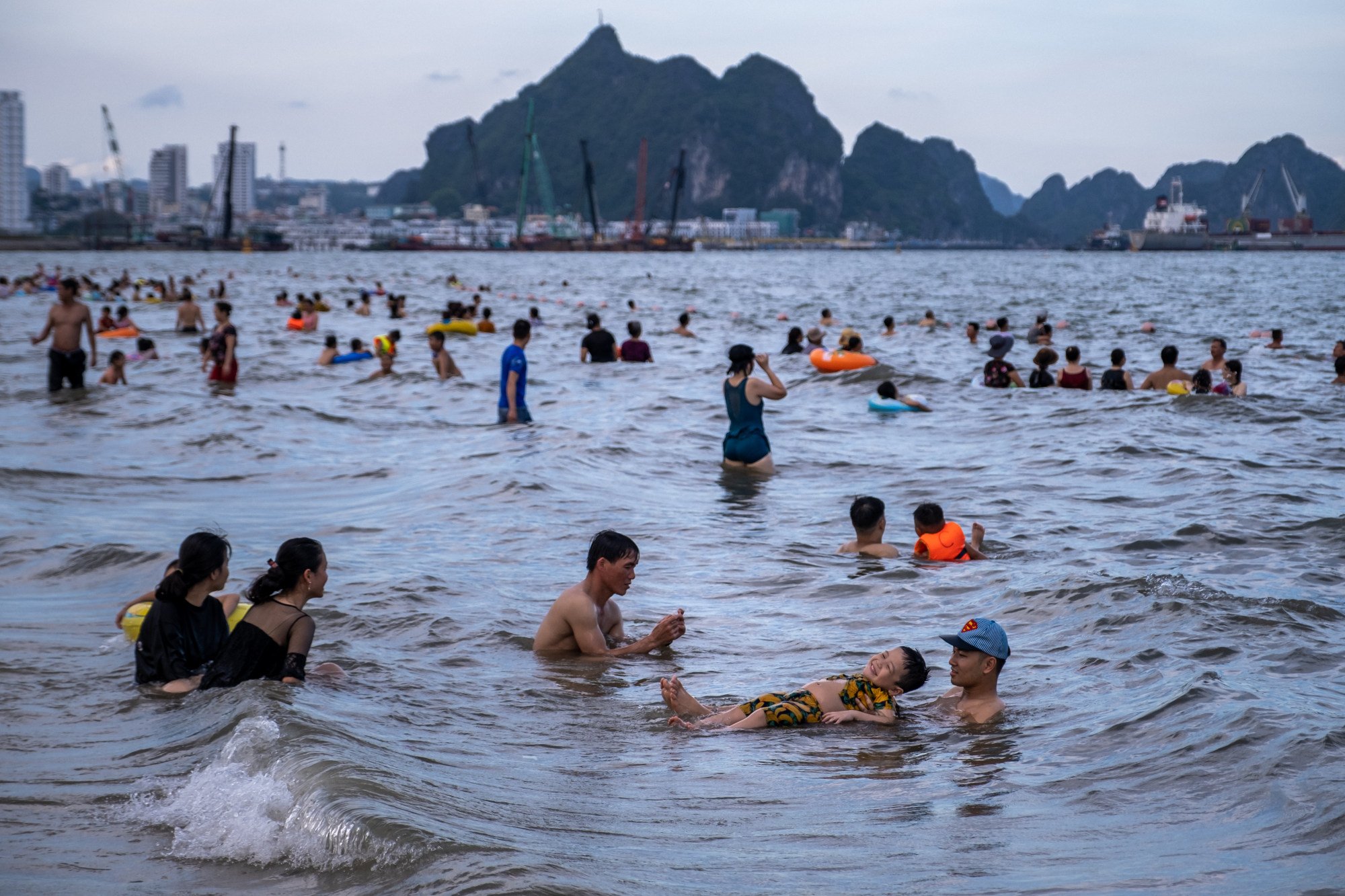 Extending help to more children
In central Vietnam's Thua Thien Hue province, British charity Hue Help has partnered with local authorities to improve water safety literacy among children.
Since 2011, Hue Help has trained hundreds of state teachers, mostly physical education instructors, to conduct swimming lessons and has taught land-based rescue skills to thousands of primary students in six cities and provinces.
A lack of swimming facilities is one of the main reasons for the low rates of children's water safety literacy in Vietnam, said Hue Help director Graham Buckley. The organisation uses streams, lakes and the open sea to teach – after checking the water is not deeper than chest height on the shortest child.
"A small stipend of around 40,000-50,000 dong (around US$2) per lesson is given to each teacher, depending on location and funding," said Buckley, adding it was a "humble" amount given "limited resources".
"Our main area of operation has always been Thua Thien Hue [in central Vietnam]. We would like every school-aged child in the province to have access to swimming and water safety lessons," he said. "We also hope this can be a safe and cost-effective model for other areas or provinces in the future."
Ho Thai Binh, director of Survival Skills Vietnam, also emphasised land-based interventions and first aid skills.
The boss of the Ho Chi Minh City-based social enterprise, which provides first-aid education such as sea rescue, said that "drowning in groups is common in Vietnam" because people often jump in the water to save someone even if it "is the last thing you should do". The situation can escalate and endanger both parties.
"You also have to think about what you do when you have rescued them," he said, adding that Vietnam has no formal education for cardiopulmonary resuscitation (CPR).
People often learn CPR from TV, he said. He has also observed low levels of life-saving skills and first-aid knowledge among the people his organisation has taught.
Back in the Mekong Delta, Sau Thia would like to find a teaching partner but her search has been unsuccessful so far due to a shortage of skilled women and residents in the area leaving to find work.
"I want kids to know how to swim so they won't drown any more. They are vital parts of our society, our country," she said. "I try to get them to learn to swim so no child will drown, and that makes me happy."