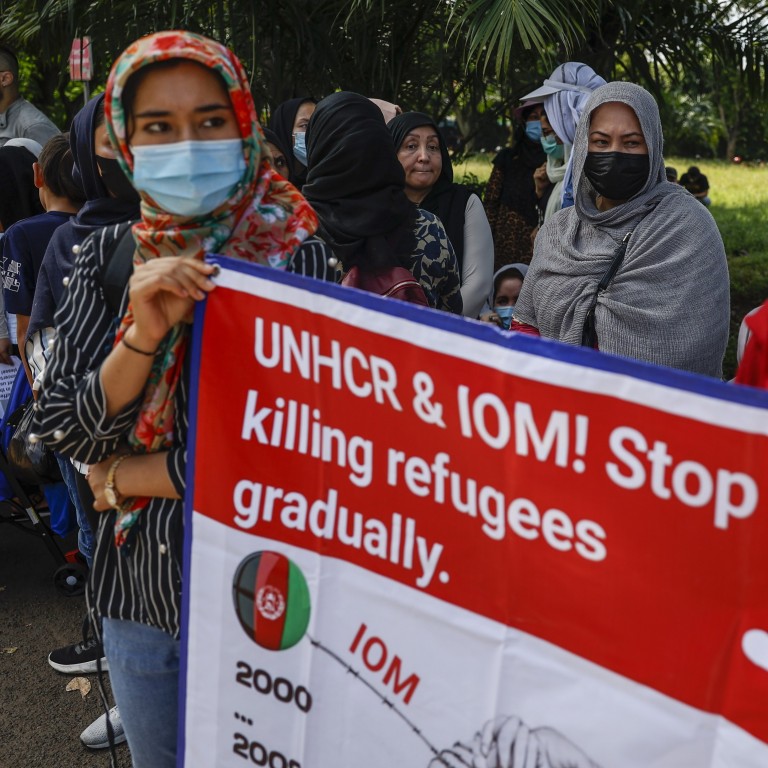 As Australia eyes closer ties with Indonesia, Hazara refugees hope for immigration change
Waiting to be resettled to a third country after fleeing persecution in Afghanistan, they hope PM Albanese's new government may ease Australia's strict refugee policies
Global refugee numbers increase yearly and the resettlement process is so long, some have taken their own lives because of the stress, refugees say
In
Indonesia
, thousands of Afghan Hazara refugees are dreaming of the day they can finally be resettled in a third country.
Persecuted for being ethnic and religious minorities, they had to leave everything behind to escape being killed by the Taliban. Some have been waiting for decades to have a normal life in places like neighbouring
Australia
, whose new Prime Minister Anthony Albanese last month
visited Indonesia
in one of his first state trips.
The change in government has given some refugees a glimmer of hope of a shift in Australia's famously strict refugee policies.
"
Afghan Hazara refugees
are hoping the new Australian prime minister will help us with this long-term process and uncertainty," Mohammad Reza told
This Week in Asia
from Medan. "We did not come here to go to Australia, we were just trying to save our lives because of persecution and genocide. But the new Australian prime minister has talked about refugees and that he supports humanitarian issues."
Before the election, Albanese had said that his Labor Party supported offshore processing and resettlement in third countries, but not the temporary protection visa (TPV) scheme by the previous Coalition government.
TPVs are given to asylum seekers found to be in need of protection and who would usually qualify for refugee status and resettlement. They are controversial because they are issued instead of a Permanent Protection Visa and only last for three years.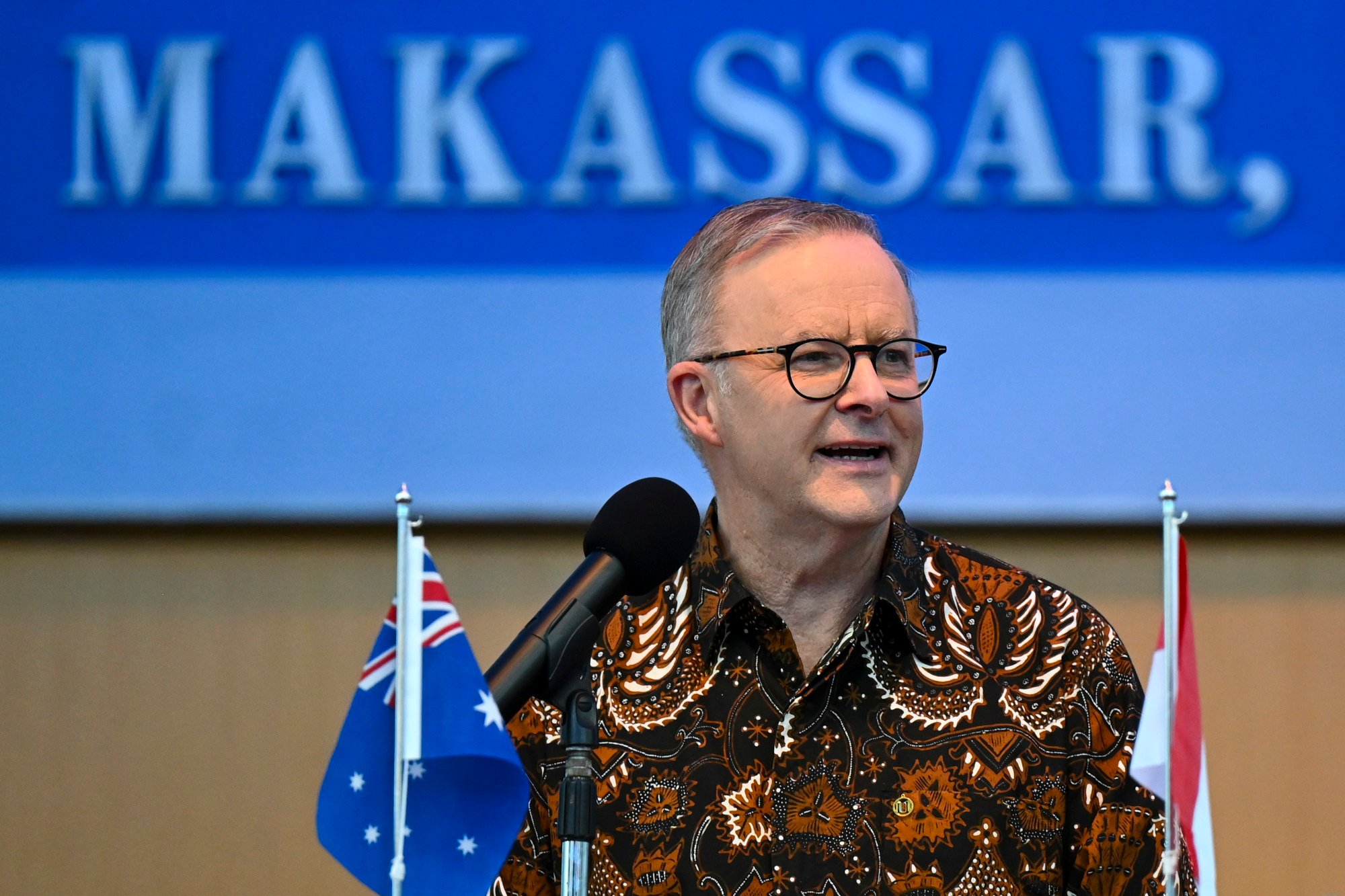 During Albanese's trip, Hazara refugees marched in the streets to draw attention to their status and call for resettlement efforts in third countries to be ramped up.
While he visited Bogor and Makassar – both cities where sizeable Hazara refugee populations are based – Albanese did not directly discuss the issue of their possible resettlement to Australia.
"We hope the new government will bring some changes and make some new rules," said Bibi Rahima, a Hazara refugee in Bogor. "It is time for them to take action, they signed the 1951 Refugee Convention."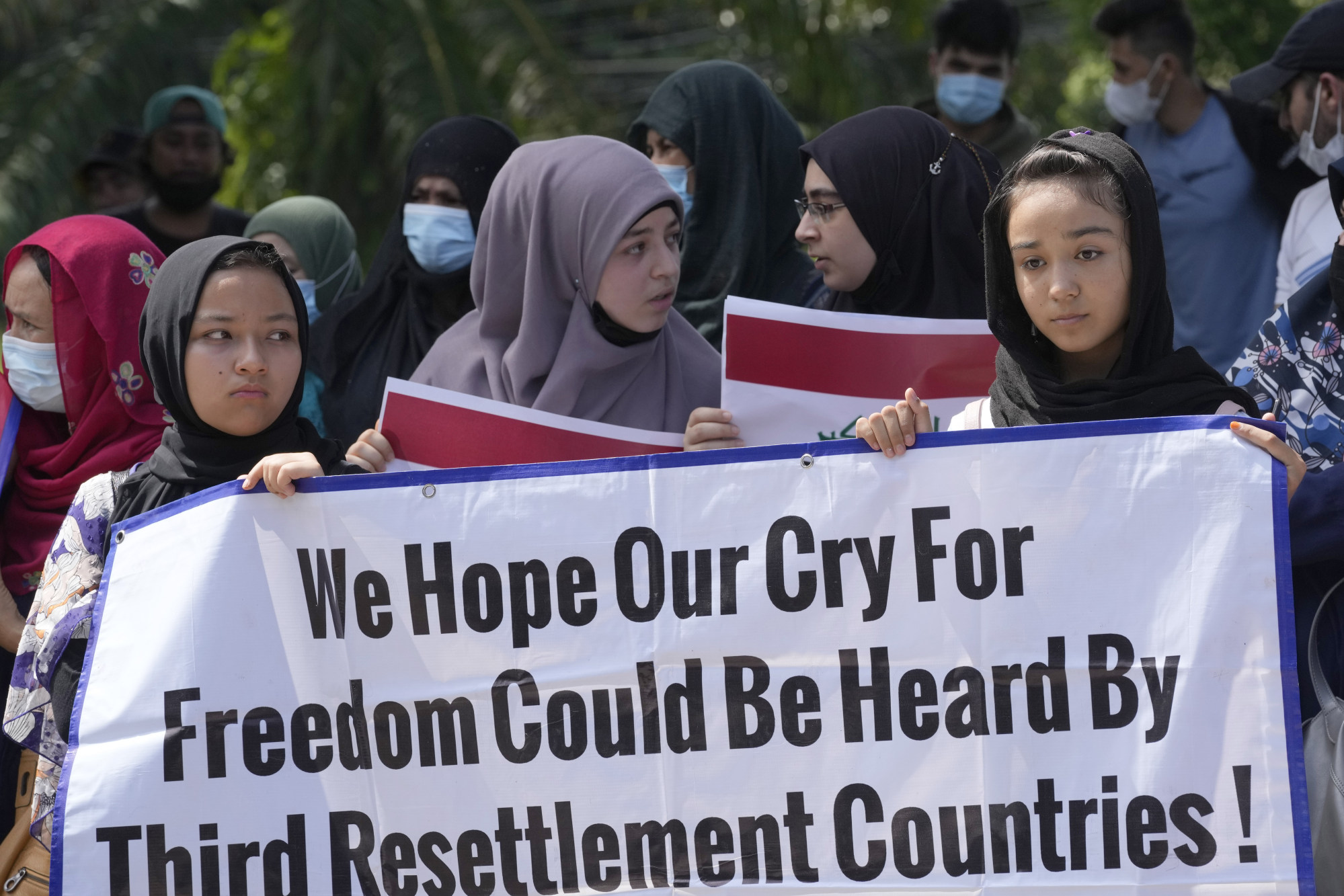 Australia is a signatory to the 1951 Refugee Convention and the subsequent 1967 Protocol which means it is legally obliged to develop policies that support the convention and provide protections for refugees.
Yet at the end of May, and just a day after Albanese took office, Acting Prime Minister Richard Marles said a Sri Lankan asylum seeker vessel had been turned back after it entered Australian waters.
Albanese was in Japan at the time, attending a Quad meeting.
"People smugglers out there should know that very clearly, there will be no change under this government, and Australia retains its strong border stance," Marles said.
On Monday, refugees staged further demonstrations across seven Indonesian cities to mark World Refugee Day, waving the flags of Australia, Canada and the United States, as well as signs calling on world governments to speed up and expand resettlement schemes.
Indonesia is home to more than 13,000 refugees from countries including Afghanistan, Iraq, Iran, Myanmar and Somalia. Over 7,000 refugees in Indonesia are Hazara – a Persian-speaking ethnic group who are predominantly Shia Muslims and have been targeted for decades in Sunni-majority Afghanistan.
Since 2016, at least 16 Afghan refugees have died by suicide in Indonesia, some of whom had been waiting for resettlement for more than a decade.
Indonesia is not a signatory to the 1951 Refugee Convention or the 1967 Protocol, but it does allow refugees temporary status while awaiting resettlement in a third country, meaning that many refugees who make their way here are kept in limbo as they wait for the sluggish process to work.
According to data from the UN High Commissioner for Refugees, global refugee numbers increase yearly, numbering more than 20.7 million in 2020. Permanent resettlement has also become increasingly difficult as countries around the world reduce their quotas.
While refugees wait out resettlement applications in Indonesia, the International Organization for Migration (IOM) provides accommodation and an allowance for food and essentials as part of a partnership with the Australian government.
Each adult refugee receives 1.25 million Indonesian rupiah (US$86) a month, and each child receives 500,000 Indonesian rupiah (US$34) – sums that refugees said were not enough for their basic needs.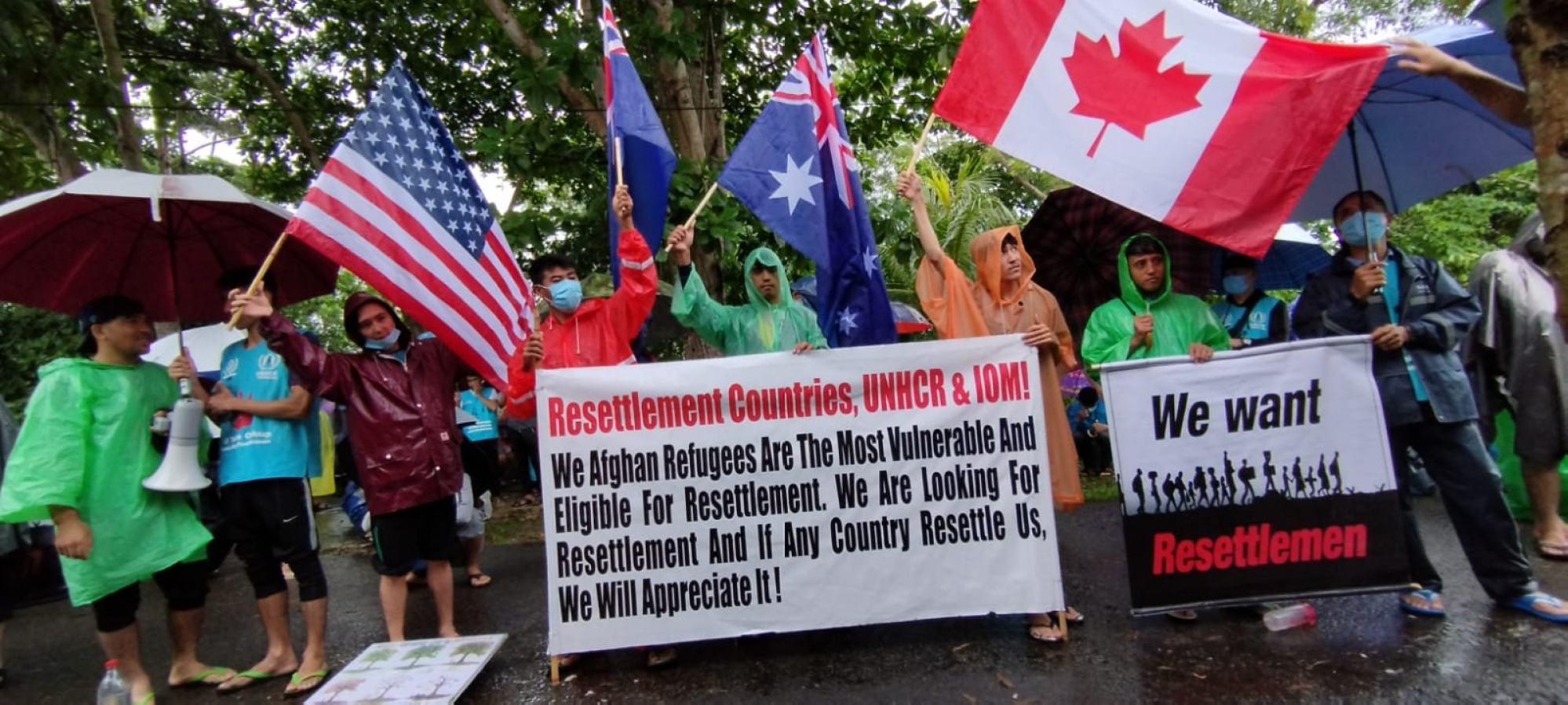 Hussain Azizi, a Hazara refugee in Tanjung Pinang, a city about a 90-minute drive outside the capital Jakarta, said the wait for a safe home had driven some past the brink.
"As refugees in Indonesia, we believe we are like hostages. So many have died by suicide and there have been many deaths because of a lack of medical attention," he said. "More than a hundred refugees have tried to take their lives, but fortunately have been saved by their friends or roommates."
Hussain added that all the Hazara refugees he knew had been struggling with mental health issues since fleeing Afghanistan, and felt hopeless while waiting to be accepted for resettlement by a third country.
This sentiment was echoed by Rahima, who has asthma and is worried about her declining health, having been in Indonesia since 2014.
"When I was in Afghanistan my life was in danger, but here my life is also in danger. I worry that the stress will kill me," she said.
Last year, three Hazara refugees in Indonesia
sewed their mouths shut
to protest the situation, saying the act was excruciating "but staying in Indonesia every day with no news is even more painful".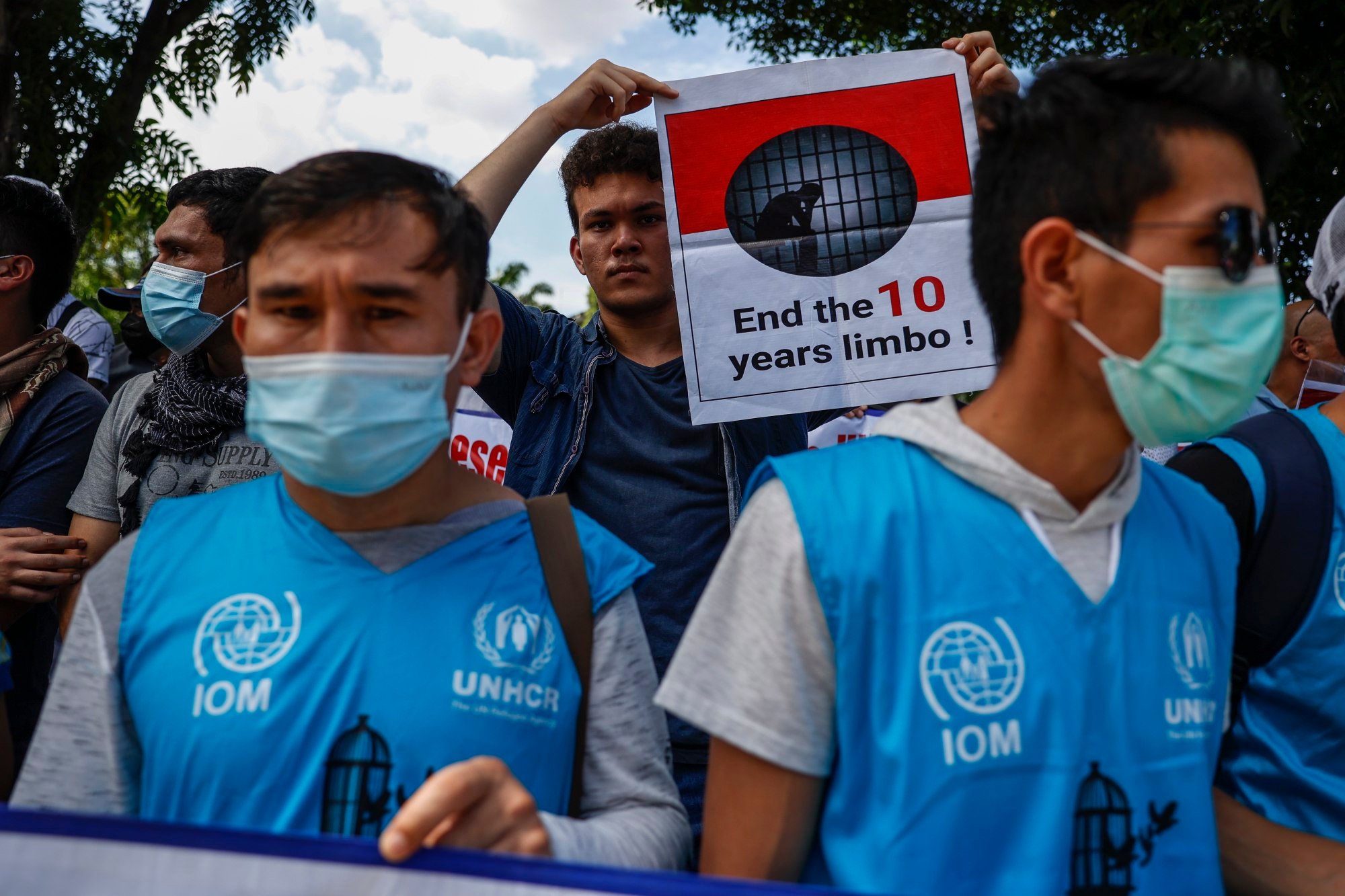 When contacted, the Australian government this week said it had "long-standing arrangements to support Indonesia to manage its population of asylum seekers and refugees".
"This includes the 'Regional Cooperation Arrangement' (RCA) whereby funding is provided to the International Organisation for Migration (IOM) to provide basic accommodation, food, medical and counselling services," said the Department of Home Affairs in a statement.
"Australia's borders are closed to illegal immigration. The tough border protection policies that have secured Australia's borders against the threat of people smuggling and prevented people from dying at sea remain in place."