India
Get more with myNEWS
A personalised news feed of stories that matter to you
Learn more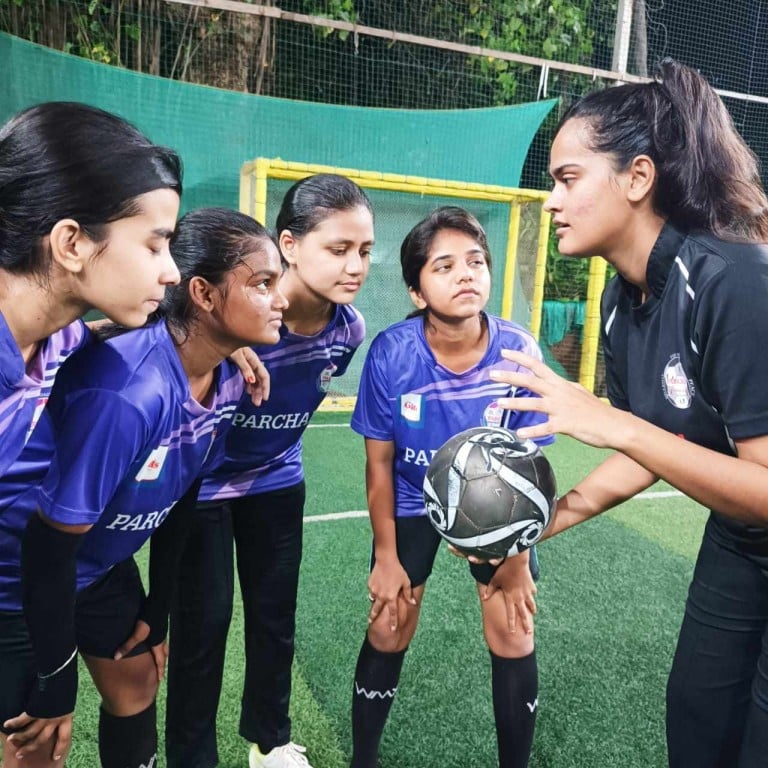 For the love of the game: Indian women defy sexism, abuse to chase football dream
Three young women from a Muslim community outside Mumbai have had to dribble past societal barriers to earn their football coaching credentials
The trio sneaked out of their homes and faced numerous physical beatings as they tried to earn a place in the male-dominated world of football
Because of their love for the beautiful game, Fatima Shaikh, 18, and Kulsum Shaikh, 19, (no relation) have had to endure the ugly side of humanity.
The pair from Mumbra, a Muslim community outside India's Mumbai city, have encountered all manners of sexism and misogyny, including being told by male football coaches to "not play like girls", or being assaulted and threatened by their families if they stepped on the pitch.
One time, Fatima's brother repeatedly struck her with a frying pan. Kulsum woke up one morning to find that her brother had torn her leggings in an attempt to prevent her from playing again.
Despite those moments, their passion for
football
has endured, and inspired them to overcome the obstacles.
Their persistence and fortitude paid off in October, as they realised their dreams of becoming football coaches. Fatima, Kulsum, as well as 21-year-old Madina bi Maqbool earned their first major coaching licence, helping them take a giant step towards becoming professional football coaches.
While the world was glued to the football pitches in Qatar, these three young women in Mumbra scored the goals of their lifetimes.
In October, all three women, belonging to the "Parcham" collective that promotes football among girls, bagged their "D" certificate, the second of a six-certificate course to become professional coaches.
With the licence, they are now equipped to understand player psychology, develop game techniques, analyse player performances as well as design training sessions curated for game situations, according to the All-India Football Federation (AIFF), the country's top football body.
While they have another four steps to reach their professional coaching credentials, the journey for the three residents of Mumbra – where they have had to to dribble past societal barriers that restrict women's mobility and tackle those who police their clothing and discourage any cross-gender interactions – has been nothing short of astonishing.
Parcham co-founder Sabah Khan said the organisation faced stiff opposition from locals when they first started coaching girls in 2012.
"We started with 40 girls and were down to 15 in a month, after families started pulling out their girls thanks to taunts by their relatives and friends about girls playing in public," she said.
Much of it, she said, was because the town was not used to seeing women enjoy a public space.
"Women are visible in public spaces here only for domestic chores, like shopping for essentials or accompanying children to school," she said. "Mumbra does not allow for a space where women can enjoy a public space in the absence of a man."
This needs to change, said Madina. "Our aim is to not just get girls to play football," she said. "The problem is our women are just not visible in our public spaces. We want to make them visible."
Kulsum, one of the first girls to receive football training from Parcham, who now handles the collective's coaching sessions in Mumbra, agreed.
"The first time I came to play, I saw how men would gather around the ground and stare at us playing like they were at a mela, a fair. It was unnerving," she said. "But slowly, we got used to it, and started telling the girls that men will stare, no matter what we do."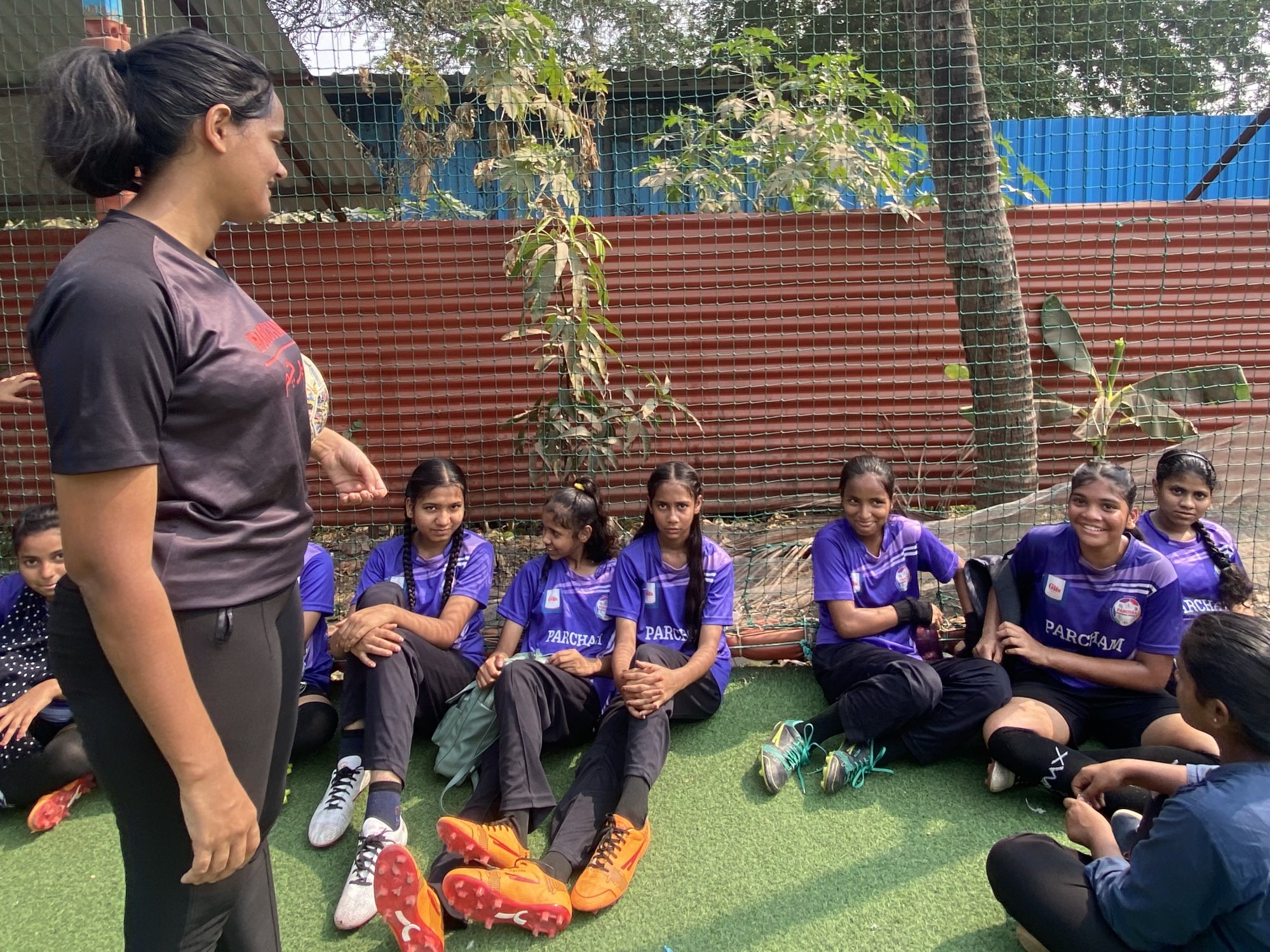 The path from athletic novices to prospective coaches has not been easy, as the trio experienced years of hardships, from having to sneak out of their homes to being insulted by people around them, and even worse – facing numerous physical beatings.
Fatima used to tell her family she was in her girls-only school preparing for a race, while she trained for football. She even hid her Parcham jersey until one day, exhilarated by the joy of winning a tournament, she confessed to her mum.
But instead of hurling praise at Fatima, only outbursts of anger, threats and beatings were directed towards the young girl. When her brother's friend told him he saw her playing with boys, that is when he grabbed a frying pan and hit her repeatedly, till she promised she wouldn't play any more.
She caved, and told them she would become a coach instead.
Back then, it felt like a compromise. But now, Fatima feels it is an accomplishment.
"There are so many girls who can break out of their circumstances like I have, if they get the right platform and the support," she said.
Until three years ago, she would not have been allowed to leave home unaccompanied, nor attend school picnics because there would be boys around, and her rare visits outside would be timed by her parents.
Kulsum, who wants to continue rising up the coaching ranks, echoed Fatima's sentiments.
Like Fatima, Kulsum had to lie to her family for years, telling them she had after-school English classes. She was berated by her mother when she found out Kulsum played in public. Kulsum's brother even tore her leggings – preventing her from playing – claiming the clothing was too tight.
And yet, Kulsum said she would not have had it any other way.
For all three, their growth and trial by fire has made them stronger, more resilient and more confident.
Before football, Kulsum's idea of a role model was her mother.
"I thought this is what women had to do – manage the home well, keep the family happy," she said. "I had never thought that women could have a life outside the house, and that even men could take care of the house, not just women."
Parcham co-founder Khan said the three young women are inspiring many others.
"This has changed the aspirations for many girls – it has shown them new possibilities," she said. "Earlier, they only wanted to get married, have children. Now, they are realising that even football can be a career."
But realising this career path will take time – especially in India.
Women's representation in coaching and administration has been abysmally low – a 2014
Fifa
report revealed that of all the registered football coaches across the world, only 7 per cent were women, of which the number of active female coaches was unclear. This isn't limited to football – Indian news publication The Bridge in 2021 found that of the 27 major sports played in the country, only 4 had female coaches.
On Mumbra's football fields, this underrepresentation hurt Parcham each time she looked around for coaches to train young girls.
A direct consequence was the flurry of misogyny and casual sexism that male coaches would unleash – from chiding young girls for being slow and "weak" to asking them to play like men.
"We wanted the girls to grow up to become confident of themselves, not to be pushed down further with these biases," said Kulsum. "The girls did not just need lessons in skills alone but also in personality and men, who didn't understand where these girls came from, could not have done it."
Even as Kulsum, Fatima and Madina get ready to appear for the next C-license certificate course, the next crop of aspiring coaches is already bubbling to the fore.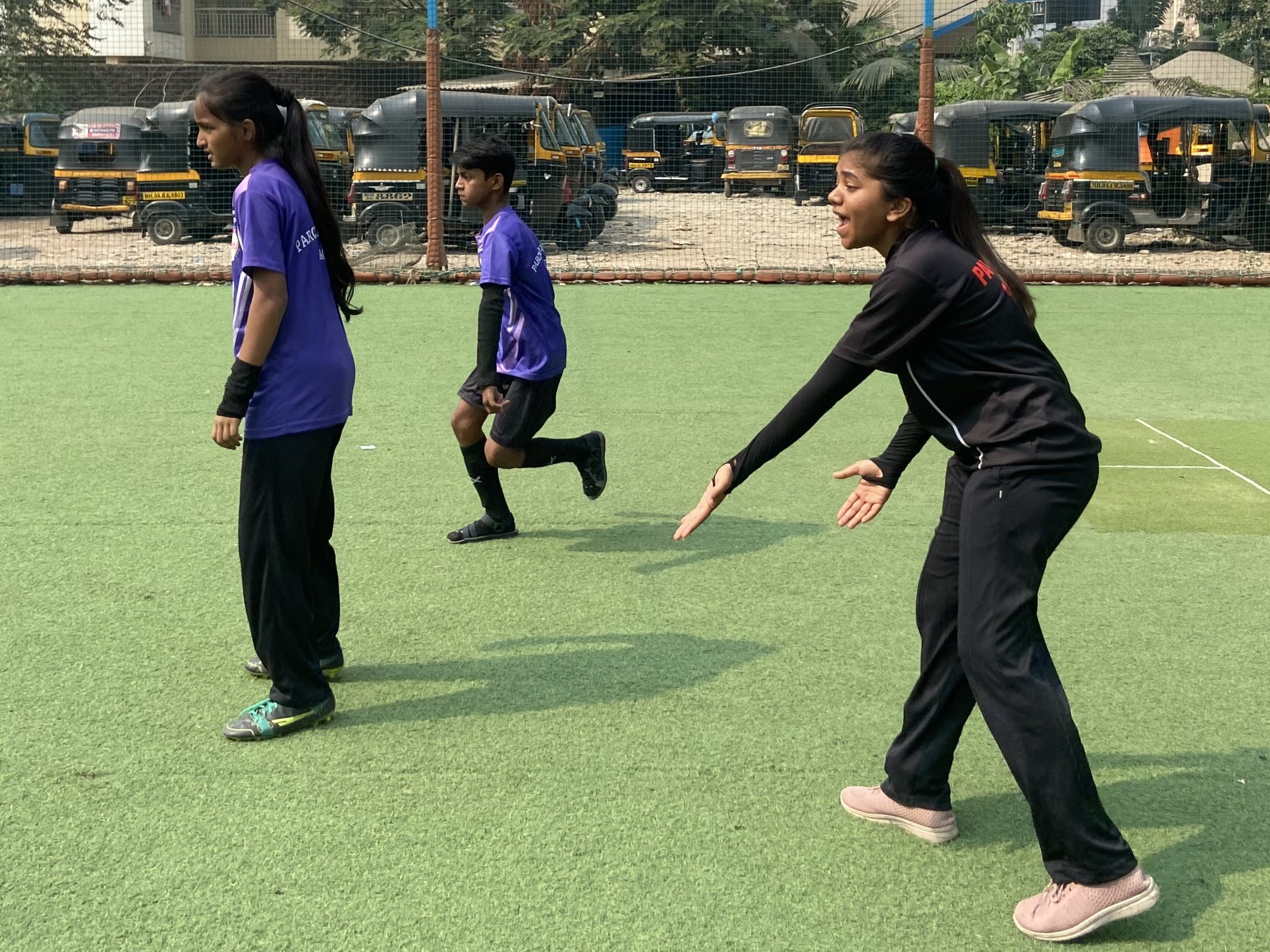 Leading the list is 18-year-old Mantasha Ansari, who ran away from her home in Mumbra after her parents battered her one night for wanting to play. She went to a government centre for juveniles and refused to return, unless her parents allowed her to play.
That courage to leave her family is part of her own transformation that Mantasha attributed to football – from a girl who wouldn't let out a single squeak to the loudest voice on the pitch when the girls train.
"I had nearly given up on my dreams when I faced all those struggles," she said, pointing to her own journey in training to be a coach. "Now, if I don't talk to the girls and draw them out of the struggles, they might give up on their dreams forever."