Malaysia
Get more with myNEWS
A personalised news feed of stories that matter to you
Learn more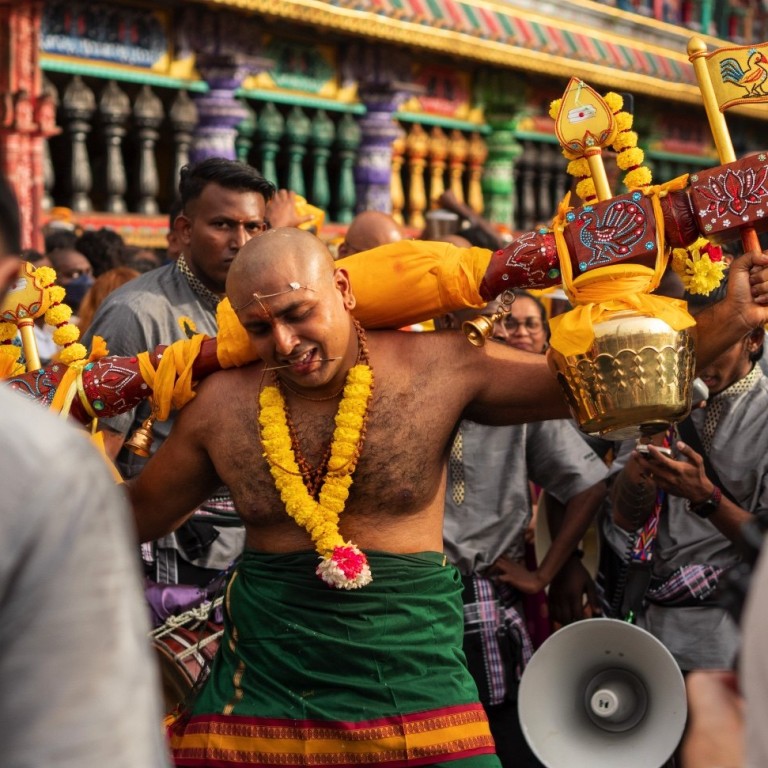 Malaysia, Singapore Hindus celebrate first post-pandemic Thaipusam with fanfare
Seeking spiritual aid from the god of war and fertility, devotees balance brass pots on their heads, pierce their bodies, and carry decorated wooden 'kavadis'
The festival is not a major event in Tamil Nadu but remains a highlight of Singapore's and Malaysia's cultural calendar and is appreciated by non-Hindus
The annual Hindu festival of Thaipusam, traditionally celebrated with great fanfare by the minority Tamil communities of Malaysia and Singapore, returned in full form on Sunday after two years of pandemic restrictions.
Seeking spiritual aid from Lord Murugan, the god of war and fertility, the displays of piety by devotees taking part in the festival range from balancing brass pots of milk or 'paal kudam' on their heads, piercing their bodies with hooks and skewers and carrying wooden structures called 'kavadis' decorated with peacock feather and spears.
In Malaysia, authorities said they expected 1.6 million people to visit Lord Murugan's limestone cave temple in Batu Caves, outside Kuala Lumpur. Apart from Batu Caves, Thaipusam is commemorated across the country with major processions held in temples in Johor and Penang as well.
In Singapore, thousands of people gathered to witness the devotees walking a 3.2km route between two major Lord Murugan temples.
The festival, introduced to the Southeast Asian neighbours during the colonial era by Tamil migrants working on rubber estates, is not a major event in Tamil Nadu but remains a highlight of Singapore and Malaysia's cultural calendar.
Carrying a 'paal kudam' at Batu Caves, Malaysian devotee Prabha Thangam said he was happy to see Thaipusam return to pre-pandemic normalcy.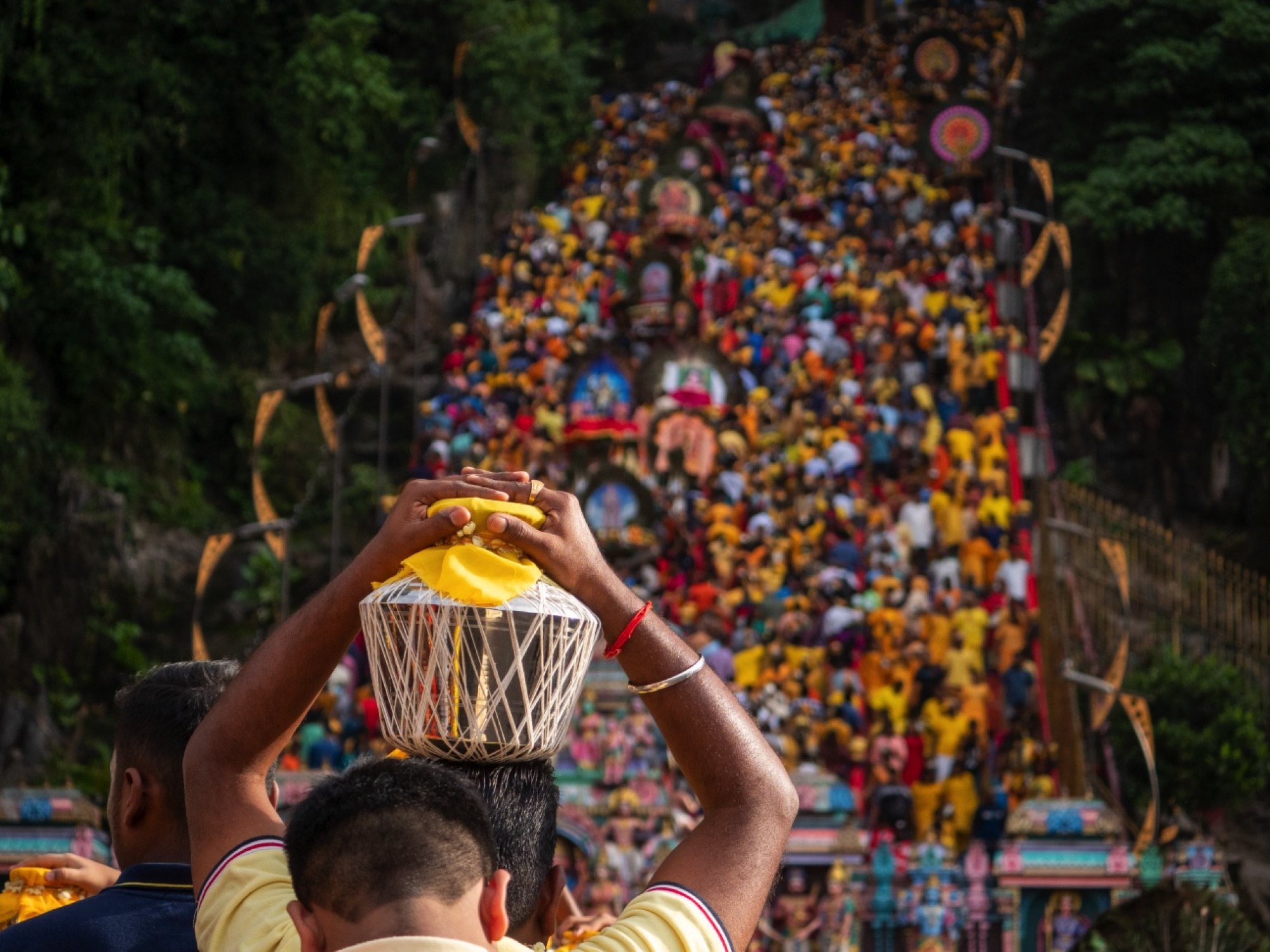 "In fact, there are more people this time, everyone waited for two years to pray here," said the father of two, flanked by his wife and daughters. Prabha and others taking part in the festival at Batu Caves will walk barefoot up the temple's 272 steps.
In Muslim-majority Malaysia, there was some social media rancour after Islamic authorities issued a fatwa – a religious edict – stating that Muslims were barred from participating in the rituals of other faiths.
In the lead up to this year's Thaipusam festival, the Malaysian state of Johor, which borders Singapore, issued a fatwa telling the majority Muslim population that it is haram – forbidden – for adherers of Islam to be present at religious celebratory rituals of other religions.
Many questioned the relevance and timing of the edict, given that Malay-Muslims in the country had long attended Thaipusam and other religious festivals without participating in rituals.
The hereditary monarch of Johor, Sultan Ibrahim Ismail, attended a lunch banquet on Sunday in the state in conjunction with the festival. Earlier the influential sultan said the religious edict did not bar Muslims from attending festivals such as Thaipusam.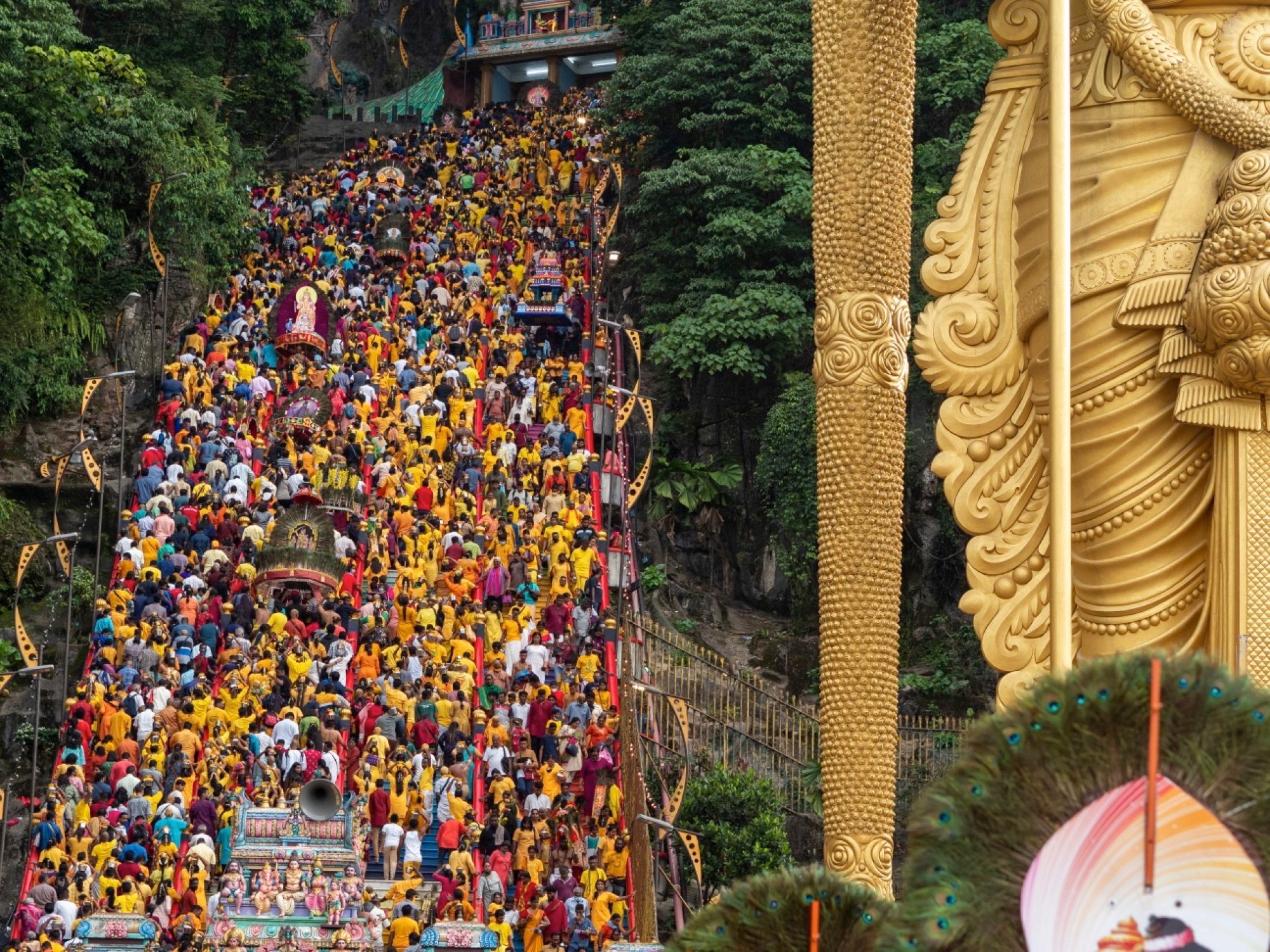 In Batu Caves, Akma, who gave only one name, said she could not resist seeing the festival in person.
"When it comes to Hindu festivals, I knew that the celebration would be grandiose and colourful, so as a first timer, I definitely feel welcomed and amazed with how beautiful the ceremony was," she said, accompanied by foreign national friends at the base of Batu Caves.
Others, including hijab-clad Wan Syahirah and Faidatul Shima, said they understood the line between attending other religion's festivals and partaking in its rituals.
"We are just here to see, we are not carrying offerings to the temple or chanting along," said Syahirah.
Syed Saddiq Syed Abdul Rahman, an MP and leader of the youth-centric Muda party, said he attended the festival "not to celebrate other's Lord or Gods but to celebrate the diversity of the good people of Malaysia", adding that it does not make him any less Muslim.
Writing on Facebook, Singapore's Prime Minister Lee Hsien Loong noted that Thaipusam this year fell on the same date as Chap Goh Mei, the 15th and final day of the Lunar New Year. This year's Thaipusam was "special" as "we see the resumption of customary foot procession, the carrying of kavadis, and music", Lee said.