Japan
Get more with myNEWS
A personalised news feed of stories that matter to you
Learn more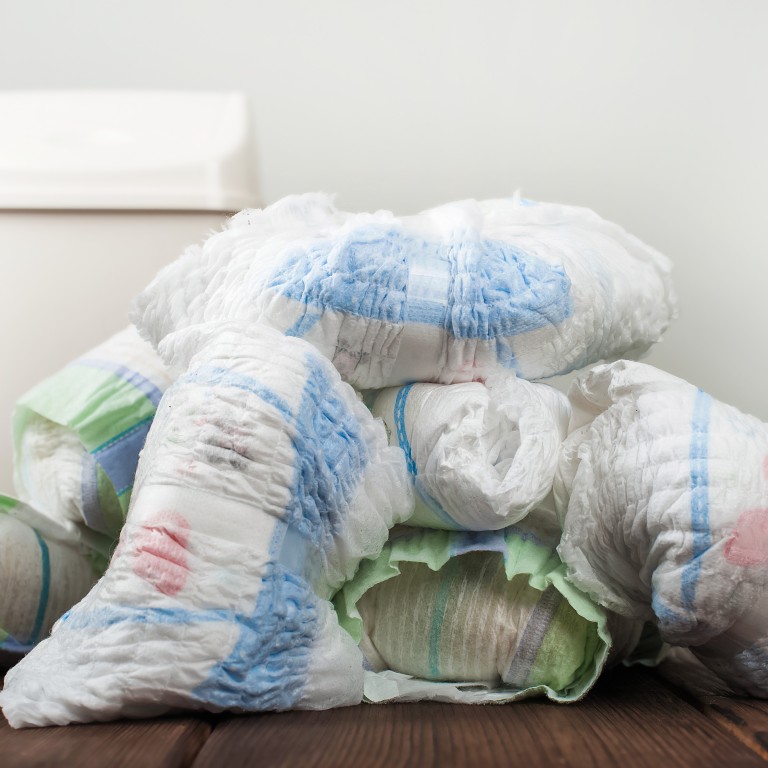 Japan tells day nurseries to stop handing parents their children's soiled nappies
A study determined that around 40 per cent of preschool facilities insisted parents take home their toddlers' soiled diapers at the end of the day
When asked why, 43 per cent of Japanese nurseries surveyed said it would enable parents to verify their child's health by examining their waste
Japan
's health and welfare ministry is calling on nurseries across the country to stop the practice of handing parents used nappies when they arrive to collect their children and instead dispose of them on site.
A study carried out last year determined that around 40 per cent of more than 1,400 municipalities operating preschool day cares insisted that parents take home their toddlers' soiled nappies at the end of the day.
The study, conducted by Osaka-based childcare company Baby Job Inc, identified a wide discrepancy in areas where parents were expected to take their children's dirty diapers away, ranging from 89 per cent of day care centres in Shiga Prefecture but down to just 5 per cent in Okinawa. In Tokyo, the figure came to 17 per cent.
When asked for the reason for the rule, 43 per cent of nurseries said it would enable parents to verify their child's health by examining their waste, 14 per cent said it was troublesome to store and dispose of used nappies, and 9 per cent said they did not have the funds to cover the costs associated with getting rid of a specific type of industrial waste.
But 30 per cent said they either did not know why parents were handed the used nappies or that it was simply accepted practice.
The Baby Job study triggered an outpouring of discontent from unhappy parents, with many saying they did not understand why it was not easier for the day cares to bin the used nappies. The company submitted a petition with 16,000 signatures to the health ministry last year, apparently triggering bureaucrats' decision on the change.
"I can see both sides of the argument, but as a parent picking up a child after a long day in the office, the last thing I would want to have to deal with would be a bag of used nappies," said Kanako Hosomura, who says she was relieved to discover her son's preschool in Yokohama did not operate a take-home policy.
"I'm sure that changing other people's babies is not much fun and that day care staff have a lot of responsibilities, but city-run facilities operate on taxpayers' money and I don't think it's too much to ask," she said.
Katsunobu Kato, the health and welfare minister, has asked local authorities to scrap the policy of handing used nappies to parents and said earlier this month that the government intended to provide financial support to assist in the hygienic disposal of nappies, including the cost of purchasing specially designed waste bins.