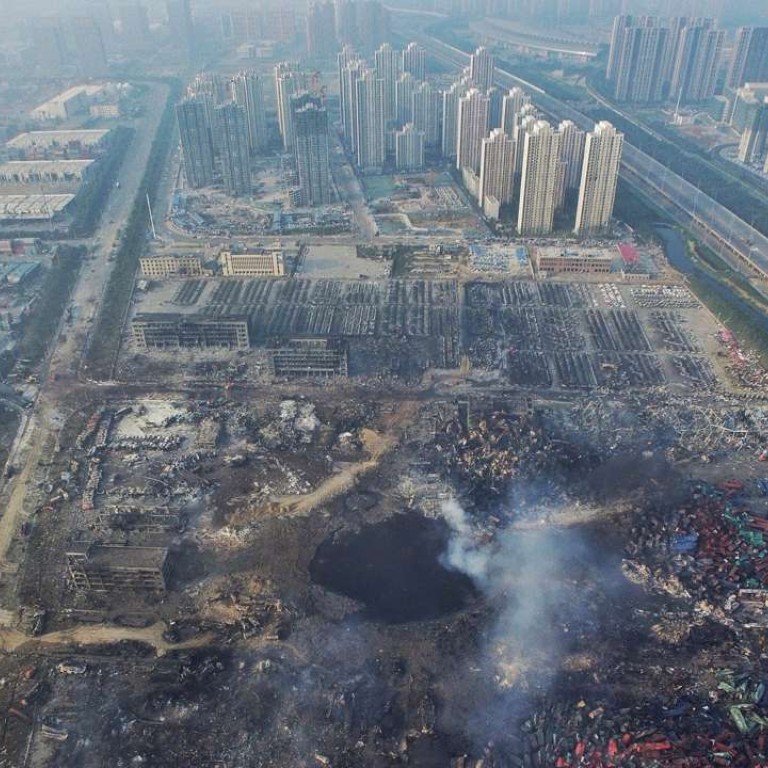 Has China failed to learn the lessons of deadly Tianjin explosions?
One year since disaster that claimed 173 lives, restoration work is stalling, government transparency is lacking and a regulation on dangerous chemicals has been abandoned to cut red tape
Seen from afar, the excavators filling two huge pits in an empty swathe of land in the Binhai New Area of Tianjin ( 天津 ) look like toys. It's easy to imagine they are being driven by surgeons, trying to close a gaping wound on the surface of the earth.
It was here that around midnight on August 12, 2015, a series of blasts at the Ruihai International Logistics chemical warehouse sparked an inferno that claimed 173 lives and injured nearly 800.
Among the dead were 115 firemen and police officers, called to fight one of the worst industrial accidents in China's history.
Hundreds of tonnes of dangerous chemicals had been illegally stored at the warehouse, helping to create a toxic cocktail that burnt through buildings with ease, leaving deformed shipping containers and melting hundreds of cars as it went.
By the time the last flames were extinguished, thousands of homes had been ruined, many stained with blood.
The nightmare in Tianjin exposed a catalogue of errors in chemical management – from corruption, negligence and regulatory loopholes to poor emergency response practices – and raised particular concerns given China's rise to overtake the United States as the world's largest producer and consumer of chemicals.
Yet one year later, environmental groups say the country has made little improvement, even backtracking in some areas.
In July, a regulation that kept a tight rein on chemical producers, users and transporters was scrapped as part of a nationwide campaign to cut bureaucratic red tape.
And, while relocating and compensating the thousands who lost homes has progressed speedily, complaints have been rife and aspects of the clean-up are stalling.
Tianjin municipal government failed to meet a deadline it set itself last year – to turn the site into an ecological park by the end of July – as treating the contamination proved more difficult than expected.
Warehouses at the blast site had been storing more than 700 tonnes of highly toxic sodium cyanide – a fact authorities did not acknowledge until two days after the blasts – and the chemical contaminated soil and groundwater beyond the area of the explosion.
Today, two pools built near the blast site hold cyanide-contaminated water, surrounded by boards warning the public not to get close.
In August last year, Tianjin promised all the contaminated soil would all be dug up and sent for treatment, but there has been no official update since.
A Southern Weekly report in July said a subsidiary of Tianjin Eco-City Investment & Development would remove more than 470,000 cubic metres of contaminated soil, but did not outline how it would be treated. Calls to the company went unanswered.
Residents who lived through the disaster are worried.
"I never cared much about the chemicals before, after all, who could imagine there was such huge danger lurking near my home?" said a biology teacher at a nearby middle school who lives 800 metres from the blast site.
Glass smashed by the shockwave of the blast had injured her, but only slightly so she feels lucky. After
renovating her home in February, she decided to move back.
"Now I am more alert to the chemicals," she said.
She is not alone. An elderly man at a residential compound damaged in the blasts said he worries about what the trucks are carrying as they pass his building.
"There is no way to find out, as always," he said. "The government never tells the truth."
He fears the environment is not safe for his newborn granddaughter.
They have reason to be concerned. Critical loopholes remain in China's management of the 3,000-odd chemicals officially classified as dangerous, according to Feng Qian, a Greenpeace campaigner.
"The Tianjin blasts were a wake-up call that the country desperately needs to build a holistic approach to supervision that covers every link – from how chemicals are produced to their transportation, storage and use – and takes into account their impact on the environment and public health," she said.
"But one year on, there are signs the governments is back-pedalling on managing dangerous chemicals, especially with the recent scrapping of a crucial environmental regulation that requires [companies to register] any chemicals they might deal with," said Feng.
Under the regulation, companies had to detail to environmental authorities the types, quantities, and toxicities of dangerous chemicals they were producing, using or transporting, as well as their emergency response measures. The regulation took effect in 2012, but the environment ministry scrapped it in July to cut red tape.
Without a new policy in its place, the loophole was getting bigger, Feng said.
She said the efforts of safety supervision authorities to introduce legislation had been too fixed on the manufacturing process rather than the overall picture.
Meanwhile, a study by a Shanghai-based environmental group that surveyed government transparency regarding dangerous chemicals in 31 provinces, found only Zhejiang ( 浙江 ) was fully sharing information with the public.
Twenty-five provinces and municipalities – including Beijing, Shanghai and Tianjin – refused to do so citing security concerns.
Such poor transparency can exacerbate problems when accidents occur, as seen in Tianjin.
The central government launched nationwide safety checks on companies dealing with dangerous chemicals following the Tianjin blasts, yet since then there have been at least ten fires or explosions in chemical-related accidents, killing at least 12 and injuring more than 40.
These all took place in economically well-off industrial cities, such as Tianjin, Nanjing (南京), Wuhan ( 武漢 ) and Hangzhou ( 杭州 ), and occurred both in warehouses and during transportation – two explosions on a highway and one on a boat near port.
Earlier this year, 500 teenagers reported health problems in a soil pollution scandal in Jiangsu ( 江蘇 ) province's Changzhou (常州) city. Their problems are thought to be caused by the contaminated soil at the former site of three chemical plants.
Such incidents have added to calls for greater government transparency on chemicals, so that public groups can help supervise the industry.
Whether those calls are being heard is unclear. Feng said Tianjin authorities had failed to release a mid-term environment monitoring report regarding the blast site, despite being required to do so following a State Council investigation report published in February.
"This is especially important given local authorities are building new kindergartens and schools to lure residents back," she said.
"Beyond Tianjin, too much needs to be done for a sound and safe management system for chemicals, especially as China is such an active user and producer," said Feng. "It is too early to close the case."