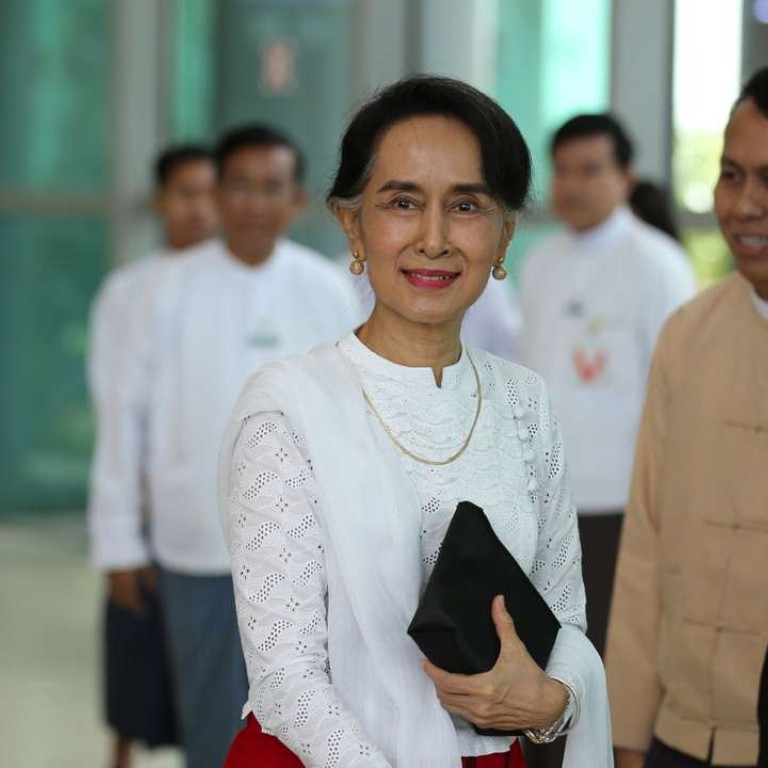 Why it's Suu Kyi's turn to mend fences with China
As Myanmar's military distances itself from patronage of its giant neighbour, Beijing hopes democracy icon will repay its subtle courting by mending fences on her current China visit
While diplomats from the West, Japan and India paid regular visits to Aung San Suu Kyi's compound in Yangon during the August-September 1988 uprising for democracy, their Chinese counterparts stayed away. But one day, a car from the Chinese embassy came, and an official handed over a box full of books about Tibetan Buddhism – "to Doctor Aris", her British husband and a renowned Tibetologist. It was a subtle way of telling her and her supporters that China was not an enemy. Long before he died in 1999, Aris told me that Suu Kyi was pleased with the gesture.
Although China maintained cordial relations with the junta that ruled the country with an iron fist until a general election in 2010, more such gestures from Beijing followed over the years.
When Suu Kyi visited Beijing in June last year, she was only the leader of Myanmar's main opposition party, the National League for Democracy (NLD), but Chinese President Xi Jinping ( 習近平 ) received her at the Great Hall of the People in Beijing as if she were a head of state. China's leaders were aware of her popularity at home, and probably also predicted that the NLD would win the second general election in November 2015.
In March this year, the NLD was able to form a new government. But Suu Kyi did not become head of state.
A constitution promulgated under military rule in 2008 prevents her from assuming that post because her two sons are not Myanmar citizens. Instead, an entirely new post, State Counsellor, was created which made her the de facto head of the new government.
Suu Kyi, born in the old capital of Yangon in 1945, has until now been seen by many as pro-Western, and much closer to India than China. Her father, Burma's independence hero Aung San, was assassinated in July 1947, so she grew up with her mother Khin Kyi and received a Western-style education in Yangon. She left her home country at the age of 15 in 1960 when Khin Kyi was appointed Myanmar's ambassador to India. Suu Kyi spent some of her formative years there, studying at the Lady Shri Ram College in New Delhi, and it was during that time she acquired her lasting admiration for the principles of non-violence embodied in the life and philosophy of Mahatma Gandhi.
Later, she studied at St Hugh's College at Oxford in Britain and worked for the UN in New York, before spending time in the Himalayan kingdom of Bhutan – coincidentally the only of China's neighbours that does not have diplomatic relations with Beijing. In the 1970s, her husband-to-be Michael Aris worked as a private tutor to the Bhutanese royal family. She then married Aris and lived with him in Oxford.
Suu Kyi furthered her studies at Kyoto University in Japan and the Indian Institute of Advanced Study in Shimla, India, before returning to Myanmar in April 1988 when her mother suffered a stroke.
As Aung San's daughter, she felt compelled to take part in the pro-democracy uprising that swept across Myanmar that year. The rest is history: she became the leader of Myanmar's pro-democracy movement and endured many years and several stints under house arrest until she was finally released just before a general election in November 2010. Despite her many years in isolation in her home in Yangon, her popularity remained, as the 2015 election result proved.
The military brutally put down the 1988 uprising. Thousands of people were gunned down in the streets of Yangon and elsewhere as the soldiers re-asserted power.
The West condemned the massacres, and imposed sanctions, and Myanmar had to rely on China for trade, political support and arms deliveries. But the heavy dependence on China became a problem for the fiercely nationalistic generals.
A classified, 364-page dossier written by a Myanmar army researcher as early as 2004 and seen by This Week in Asia stated that the country's reliance on China as a diplomatic ally and economic patron had created a "national emergency" which "threatened the country's independence".
According to the dossier, Myanmar should normalise relations with the West by allowing more freedoms and implementing a semblance of civilian rule.
The November 2010 elections, which the NLD boycotted, led to a new, quasi-civilian government led by Thein Sein, a former general. In September 2011, he decided to suspend a massive, US$3.6 billion hydroelectric power project at Myitsone in northern Myanmar, a joint venture with China.
The Myitsone dam suspension, and other signs of Myanmar's distancing itself from China, were enough for the West to lift sanctions. Myanmar was able to improve relations with the United States, Japan, and the European Union.
As Myanmar and China seek to mend fences with Suu Kyi's ongoing China trip, Beijing seems to believe that she is more flexible than the still-powerful military. But it's now her turn to show some grand gestures towards the giant neighbour to prove that despite her world view, which would be closer to Western values than those of the Chinese leadership, she wants good relations with Beijing.
Bertil Lintner is the author of Burma in Revolt: Opium and Insurgency since 1948 and Aung San Suu Kyi and Burma's Unfinished Renaissance