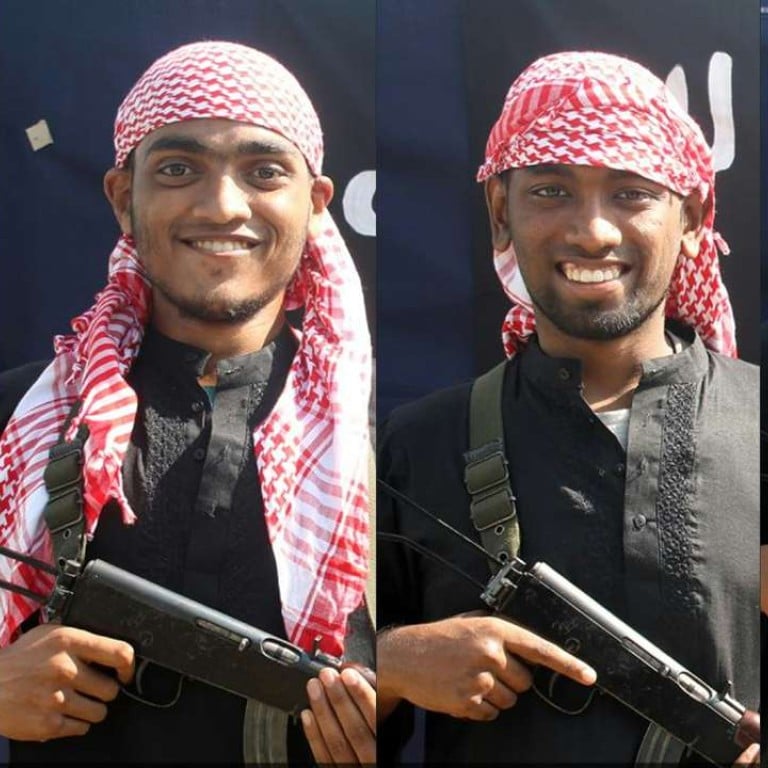 Militant Islam and the missing boys of Bangladesh
As intelligence agencies search for 'missing boys', fractured identities and unchecked Islamist propaganda fuel a creeping radicalisation
Why would a young Hindu man working in Japan turn to militant Islam and plan a terror attack in Bangladesh? Nearly two months after a bloody hostage drama at an upmarket Dhaka cafe and a bomb attack on an Eid congregation, police in Bangladesh are still grappling with questions like this as they unearth fresh proof daily of a silent radicalisation that has in sucked hundreds of young men and women across the nation.
On Monday, three women students of a private university and a woman intern at the Dhaka Medical College Hospital were arrested in a midnight raid for alleged links to outlawed Jamatul Mujahideen Bangladesh (JMB), which was blamed for the cafe attack on July 1 that killed 22 people. That was shortly after the related arrests of a British national and a University of Toronto student.
Officials made a list of "missing boys" who haven't been seen in months. "We are checking their whereabouts and trying to find out how many of them have joined any jihadist groups," said counterterror chief Monirul Islam.
Outfits like JMB, Ansarullah Bangla Team, Hizb ut-Tahrir and Ansar al Islam, he said, had recruited dozens of young boys in the last three years. And many of the "missing boys" had evidently joined them.
"My son converted to Islam in Japan but now I hear he has gone missing," said Janardhan Debnath, a Hindu man from Karaibari village in Brahmanbaria district. "I have no idea what's going on," he told This Week in Asia.
Debnath's son Sajit, who now goes by the name of Saifullah Ozaki, topped the nationwide school-leaving exam and went to Japan on a scholarship. There he completed his doctorate in 2011 and had been teaching business administration at Ritsumeikan University in Kyoto, until he was sacked in March following his unexplained absence since January. It was in Japan that Sajit converted to Islam and changed his name. He also married a Japanese national and is understood to have gone missing ever since he left for Europe with his wife and their two children.
Bangladeshi intelligence sources said Saifullah, who is suspected of involvement in the terror attack, had joined the dreaded JMB, which is said to have sworn allegiance to Islamic State.
Saifullah's father said his son was upset with upper caste Hindus when he was in school. "We come from a lower caste of weavers, and the Brahmins in our village would look down upon us. My son wouldn't take it lying down. He would say Islam has no castes. But I still don't understand why he turned into a jihadi."
Sociologist Shahnaz Islam offers one explanation, saying: "Guys like Saifullah may be trying to prove their Islamic credentials. Bengali Muslims have always oscillated between two poles of identity.
"In 1947, they asserted their Muslim identity and joined Pakistan. Twenty-five years later, they fiercely asserted their Bengali identity and broke away from Pakistan. Now they are reasserting their Muslim identity."
Mujibur Rahman, the founder of the Awami League political party and late father of the current prime minister, Sheikh Hasina Wajed, spearheaded the independence movement against Pakistan that led to the birth of Bangladesh in 1971. Bangladesh was the name given to East Pakistan.
East and West Pakistan were carved out of undivided India in 1947 when the country won its independence from British rule but was partitioned into separate countries on religious lines. The Muslim-majority areas were clustered as Pakistan – East and West.
Despite a common religion, the cultural differences between East and West Pakistan led to political unrest, with political rulers in the West refusing to share power with ethnic Bengalis, culminating in an eruption of Bengali nationalism and the birth of Bangladesh.
Anti-fundamentalist activist Shahriar Kabir, whose organisation, the Nirmul Committee, pushed for the war crimes trials that led to the execution of several top Islamist leaders who had colluded with the regime in West Pakistan to suppress Bengali nationalism in the war of independence, said the Awami League government overlooked the "Islamist propaganda" coming out of so-called Peace Schools. Peace Schools, according to the Bangladesh government, were set up by hardline Islamists who follow the teachings of controversial Indian tele-evangelist Zakir Naik.
"They needed to hit at these radicalising institutions immediately after they came to power. These are the jihadi factories in Bangladesh," he said.
The result of this failure is young boys from rich and upper middle-class families going missing by the dozen, only to end up in jihadist groups bent on bringing down Sheikh Hasina's murtad (apostate) government.
Sajit's case is similar to those of Nibras Islam and Shezad Rauf Arka, two terrorists who studied at the Kuala Lumpur campus of Australia's Monash University before going off the radar. Islam was one of the militants behind the cafe attack and was gunned down by commandos who broke the siege at Holey Artisan Bakery. Rauf, a US national, was one of the eight radicals killed in a police raid on a JMB hideout in Dhaka after the cafe attack.
Bangladesh's current phase of Islamist radicalism started in February 2013 when a secular blogger, Rajiv Haider, was hacked to death. Haider had led a huge demonstration in Dhaka where thousands demanded the death penalty for Islamist Jamaat-e-Islami leaders responsible for the atrocities on Bengali freedom fighters during the war against Pakistan.
"The Shahbag movement was a wake-up call for Bangladesh's leading Islamist groups," said ruling Awami League leader and former minister Suranjit Sengupta. "Faced with a crisis of existence, the pro-Pakistan Jamaat decided to ramp up their support of jihadist groups to destabilise the government."
As a result, 84 people, including secular bloggers, publishers, writers, artists, Hindus, Buddhists, Christian priests and foreigners, have been killed by the radicals in the last three years. Islamic State and al-Qaeda have claimed responsibility for many of the killings but the Bangladesh government maintains these were the handiwork of home-grown radicals.
"Bangladesh's moderate Islam and its secular polity is a threat to these global jihadis because it is a model that strikes at the heart of their Wahhabi-Salafist vision of radical Islam," said Sabyasachi Basu Roy Choudhuri, an Indian political sociologist working on Bangladesh.
A former BBC correspondent, Subir Bhaumik is a writer and columnist