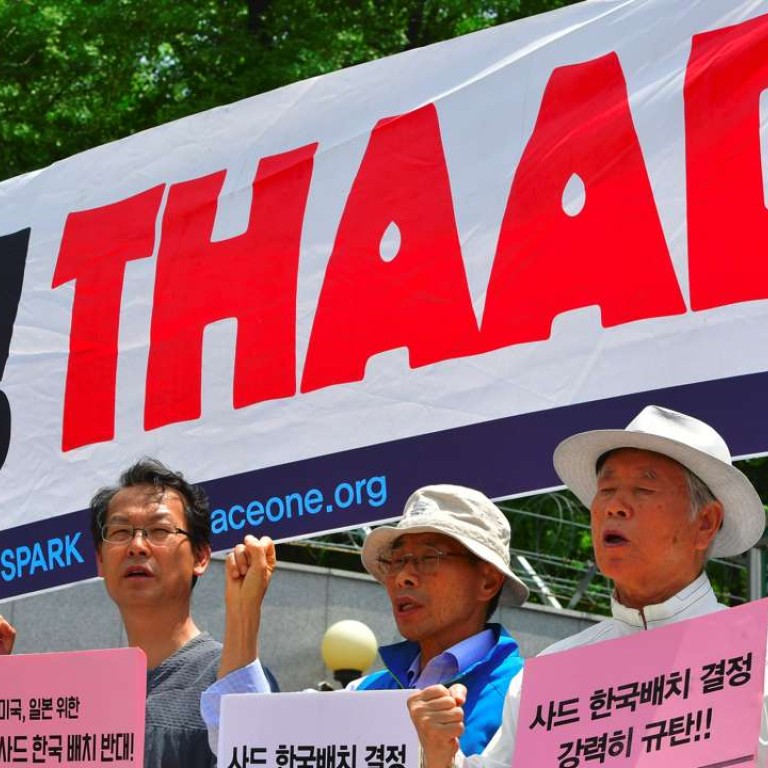 Seoul wants THAAD, but do Koreans?
A prime minister pelted with eggs, letters written in blood and fears over irradiated melons: why not everyone's welcoming the US missile defence system
The plush green hills and winding streams of Seongju present visitors with a tranquil beauty that betrays the intensity of recent events.
A small agrarian town, Seongju is known for its yellow melons, natural scenery – and for being the place Seoul has chosen to install a US-built antiballistic defence system.
The system, known as the Terminal High Altitude Area Defence, or THAAD, has triggered a massive dispute and pushed the region to the brink of war. After Seoul announced its installation, Pyongyang fired a missile in order to demonstrate that its weapons could comfortably reach the town of Seongju.
Moscow and Beijing have strongly protested against THAAD, saying the system's powerful radar could be used to spy on them. China is considering slapping South Korea with sanctions. Various China-South Korea business deals have been put on hold without any official explanation and Beijing has hinted even K-pop is not off limits if Seoul decides to go down the THAAD road.
Korea's decision to share information on THAAD with Japan – a fellow US ally with which it has had strained relations – has further raised China's hackles.
But it is not just China. There is significant resistance to THAAD within South Korea.
In Seoul, opponents of President Park Geun-hye say the country bows too readily to America's requests. But it is in Seongju where the protests have been most intense.
When Prime Minister Hwang Kyo-ahn visited Seongju to allay concerns among locals that the THAAD radar would irradiate their melons – ruining their cash crop and giving them all cancer – they showed up with tractors, blocked the prime minister's buses and pelted him with eggs and water bottles when he tried to address the crowd. And when he fled back into his bus, they crowded it and kept him there for seven hours. In the end, they let him go and handed him a letter detailing their grievances. The letter had been written in human blood. Many protesters also shaved their heads as a sign of their grief.
One of the complaints many Seongju locals expressed, in addition to health concerns, is that their town was chosen without prior notification or consultation. In fact, the mayor was notified only 30 minutes before the public announcement was made. Before then, he had no idea the government had chosen his town for the instalment, which is to be completed by the end of the year.
"President Park is the worst president in the history of our country," says a local farmer named Seok Ho-pan. "First, she doesn't communicate with the people. Second, she's self-righteous. Third, she's unwilling to listen to the voice of the little guy."
But not all Seongju residents are so opposed to the system. Asked if he worries about the health effects of the THAAD radar, Bae Sung-soo, a 41-year-old former construction worker simply shrugs and says, "of course."
"Many people in Seongju oppose THAAD," he says. "They're concerned about the fall in the price of melons. But I think I'm fine. I think it's safe. North Korea is an actual threat. So we need THAAD."
The THAAD system was first conceived in 1987 and designed to knock Scud missiles out of the sky. Rather than using explosives, THAAD missiles take down their targets by the sheer force of impact. This reduces the likelihood of shrapnel being rained across civilian regions. There are THAAD systems in Hawaii and Guam, both of which defend against North Korean attacks. In addition, Israel, the UAE and Oman have purchased the system. South Korea is the newest customer.
"Of course, China and Russia are opposed but we're an old nation that has had many foreign invasions," says Bae. "Force is sometimes required, and that makes THAAD a requirement, too."
But according to Seok, Thaad will do nothing to counterbalance the power of China and Russia. China clearly isn't on South Korea's side, he says, but he's never thought deeply about the United States.
Far away in Seoul, the political elite is just as divided. The conservative Saenuri Party, led by President Park, is backing THAAD, but only due to the party's pro-Park faction. Lawmakers from Daegu and North Gyeongseong province, where Seongju is located, are opposed.
The progressive People's Party also opposes the deployment. Park Jie-won, the leader of the party, visited Seongju along with 15 other lawmakers this month and spoke out against the decision. About a week later, six first-term lawmakers of the Minjoo Party visited Beijing and met officials there. The trip was a flop, and not attended by Chinese reporters, but it caused heated debate back home – even in their own party.
Meanwhile, as the issue continues to divide the country, President Park has remained unbending, going so far as to call THAAD opponents "pro-North Korea". ■■
David Volodzko is the national editor at the Korea JoongAng Daily