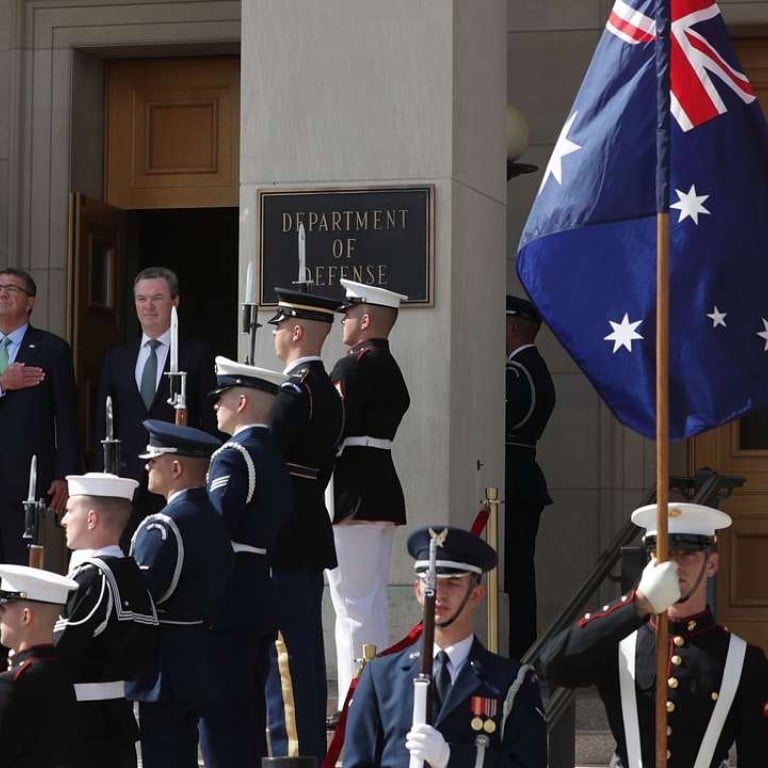 Caught between China and US, what Australia has to fear from a Trump presidency
When Australian Defence Minister Marise Payne said her country would share the US$1.52 billion costs of stationing American troops in Darwin, the justification she gave in many ways summed up Australian policy.
Speaking in Washington on Thursday, Payne said the deal over the troops – deployed since November 2011 under an agreement between Australia's then Prime Minister Julia Gillard and US President Barack Obama – was "consistent with Australia's long-standing strategic interests in supporting US engagement in our region in a manner that promotes regional security and stability".
Regional security, stability and a rules-based order: these are the priorities laid out in a recent
Defence White Paper
and Australia is perhaps one of the biggest cheerleader of the American enforcer of this rules-based order.
As Prime Minister Malcolm Turnbull said during a
speech in June
: "It is clearer now than it has been for decades that the United States is absolutely central to [the] rules-based order upon which our regional peace and prosperity depends ... The prosperity of our region is the consequence of 40 years of a pax Americana. Every single country in our region has benefited from that, from the security the United States has delivered, the stability it has delivered."
The admiration is mutual. Barack Obama has met all four of Australia's most recent prime ministers and an
article by
The Atlantic
put Malcolm Turnbull at number three on a list of the US President's favourite world leaders – behind only the Pope and German Chancellor Angela Merkel.
The magazine wrote in March that "American presidents tend to like Australian prime ministers" and quoted a US administration official as saying "Our allies all give us headaches, except for Australia. You can always count on Australia."
Then pity the ever-faithful ally, even picking up the tab for US marines, should Donald Trump become president. Not because Trump has threatened either Australia or the ANZUS (Australia-New Zealand-US) alliance, but because an isolationist US would essentially throw the biggest cheerleader for its rules-based order under a bus.
A scaled back US presence in Asia and an end to the "pivot to Asia" that Australia and its regional allies have championed would leave a worrying vacuum, especially in the contentious South China Sea.
Trump has said very little about Australia and what he has said has been generally positive. That's hardly the point though. The former Labour Party leader, defence minister, and recently returned ambassador to the United States, Kim Beazley, has been one of Trump's harshest critics,writing widely on the problems for Australia should he win.
Speaking to This Week in Asia from the Perth USAsia Centre at the University of Western Australia, he said: "When you go through Trump's foreign policy what you see is the most profound ignorance of just about every facet of contemporary American engagement and it's really quite confidence-shattering in its approaches to the structure of American alliances. Trump seems scarcely aware of the consequences of his activities."
Those consequences are not just strategic, but economic. Australia's recent prosperity has been driven by Chinese demand for its commodities. That demand has diminished somewhat in recent years – by last year the "boom" driven largely by Western Australia's mining sector was generally agreed to be over. Even so, China is still Australia's biggest market by volume even as it tries to transition from commodities to agricultural products, and services.
Should Trump slap a 45 per cent tariff on Chinese goods the effects are likely to be felt in Australia, as the tariff would not only hit the demand for Chinese-manufactured products, it would drive its economy down, slowing growth and thus its need for Australian commodities.
Beazley said: "Let's say he has an orderly mind and he's thought out all these positions and he does what he says he'll do; there'll be an economic crisis in Asia."
Given the narrative in Australia is that Australia is dependent on the US for its security and on China for its economic growth this is a problem on two major fronts. What does Australia think about the election, and about China and the US more generally?
Firstly, according to a
poll this year by the Lowy Institute
, 77 per cent of Australians favour Hillary Clinton and 59 per cent believe Australia should not engage with the US in any military action should Trump become president. That 77 per cent may seem high but Obama had even higher approval ratings during both of his election campaigns. Also, 45 per cent would like to see Australia distance itself from the US more generally under a President Trump.
Another survey
, by the US Studies Centre at the University of Sydney, found eight out of 10 Australians thought America's best days were "in the past".
Beazley characterises the relationship with the US as Australia's most important by far, both politically and economically, but has said there is essentially a disconnect between what those in Canberra understand: the centrality of the alliance to Australia's security, and what the commentariat and general public believe.
"If you flick the word economy at most Australian commentators they say, 'ahh China important economically, US important strategically'. No. It is US important economically and strategically."
He also thinks the problem of needing to balance China and the US is being overplayed, despite the American military presence and pressure for Freedom of Navigation patrols which
Australia is already conducting
. "The Americans are not interested in getting us to gang up on China, they're interested in us upholding those principles irrespective," he said, pointing to the breadth and depth of the US-China relationship, which often gets ignored in the wider zero-sum hegemonic talk.
Even so, the Trump presidency will raise questions about which country will in future be most important economically and strategically – and about what happens to Australia, cheerleader for the rules, when the rule enforcer turns inwards.
A former foreign correspondent in Asia, Helen Clark is based in Australia