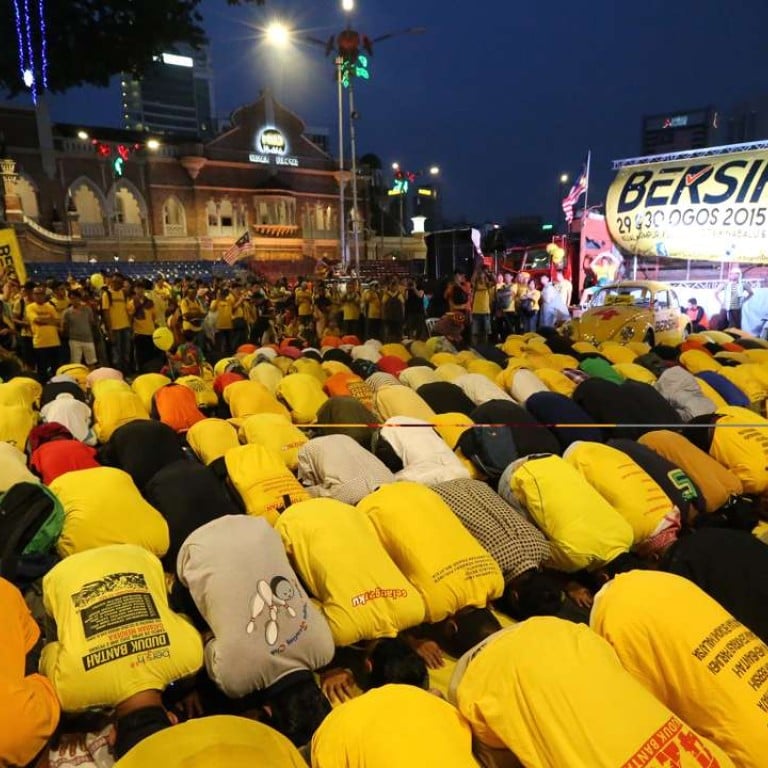 Leaked emails, George Soros and rigged election claims: Malaysia gives U.S. a run for its money
After weathering brutal attacks on its supporters, Malaysia's biggest civil society group, Bersih, has been hit by a scandal that threatens to derail its plans for another mammoth rally in the nation's capital, Kuala Lumpur, on November 19.
In an exposé not unlike the one provoking a storm in the US presidential election campaign, a tranche of hacked emails claimed that Bersih had received money from a foreign foundation helmed by controversial billionaire-philanthropist George Soros.
Local news reports claimed Soros's Open Society Foundations (OSF) was also attempting to influence the country's next election in 2018 through programmes such as voter mobilisation drives.
In the Malaysian public's imagination, Soros was behind the 1997-98 Asian financial crisis, which erased much of the wealth the country had built up after a heady period of growth in the mid-90s.
"Soros is famous for his role in the Asian financial crisis in 1998. Knowing his background, we can conclude he is not one who comes with good intentions," said Wee Ka Siong, a government cabinet minister.
Such a perception of Soros' role in the crisis persists among many in the government, even if former premier Mahathir Mohamad – once a chief backer of such a view –
cleared Soros of blame
in 2006.
So when local media broke the story of the emails, which were hacked from OSF and put online by DC Leaks, the ruling administration and police announced a probe into the allegations.
It's no coincidence that one of the aims of the Bersih rally is to protest against Prime Minister Najib Razak for his alleged role in the multibillion ringgit 1Malaysia Development Berhad (1MDB) financial scandal. Najib has denied any wrongdoing in the affair.
The release of the emails has renewed debate on political funding and comes at a time when the Najib administration is drawing up contentious plans to regulate funding for political parties. Opposition parties have criticised the initiative as it makes anonymous donors vulnerable to political intimidation.
It also raises the question of whether this type of funding is nefarious or immoral in the first place since it's given to pro-democracy and human rights groups and independent media.
Najib's critics believe that the move is aimed at further vilifying and depressing turnout at the November 19 rally, which is happening after the administration announced unpopular budget cuts for public universities, government clinics and a cooking oil subsidy.
"This is nothing but a smear campaign because receiving foreign funding does not break any national laws. It also hypocritical because Najib himself has received money from a foreign source for his political party," said opposition lawmaker Tian Chua.
Najib has admitted receiving US$681 million from a Saudi prince in 2013 as a gift to fund his coalition, Barisan Nasional, in the 2013 general election.
Bersih chairperson Maria Chin Abdullah said the group received only a one-time grant of RM70,000 (HK$130,000) from Soros' Open Society Institute (OSI) between 2010 and 2011.
Since 2011, Bersih, which is primarily an electoral watchdog, had relied on funds from local sources, Maria told news website Free Malaysia Today.
This was confirmed by the OFS in their response to queries from This Week in Asia. The foundation provided small grants to Bersih shortly after it was formed in 2011 but said it does not currently support the group.
"The Open Society Foundations are proud to have supported civil society in Malaysia for 10 years. Claims that the Open Society Foundations funded attempts to overthrow the government in Malaysia are entirely false," it said in an emailed statement to This Week in Asia.
"The Open Society Foundations support justice, accountability and democratic practice around the world and in Malaysia our grant-making to civil society includes efforts to promote public health, foster fair migration policies and encourage the civic and political participation of all Malaysian citizens."
All of the foundations' activities in Malaysia were non-partisan and totalled an average of US$700,000 a year, it said.
The foundation's funds have gone towards voter education, polls monitoring, public surveys and supporting indigenous communities threatened by dam development in the Sarawak region. It also funded efforts to protect and aid migrant workers and their communities.
Watch: Thousands gather to demand Malaysia PM's resignation
Malaysian human rights group Suaram pointed to the administration's own lobbying for money in China as a sign it was practising double standards.
"The government gets huge funds from China so we should ask if there is an agenda that comes with that money," said Suaram executive director Sevan Doraisamy.
The release of the emails coincided with Najib's visit to China, where his administration inked more than RM143 billion worth of infrastructure and defence deals.
"If our own government was serious about human rights and democracy, then our civil society does not have to seek foreign funding," said Sevan.
Sheridan Mahavera is a Kuala Lumpur-based journalist