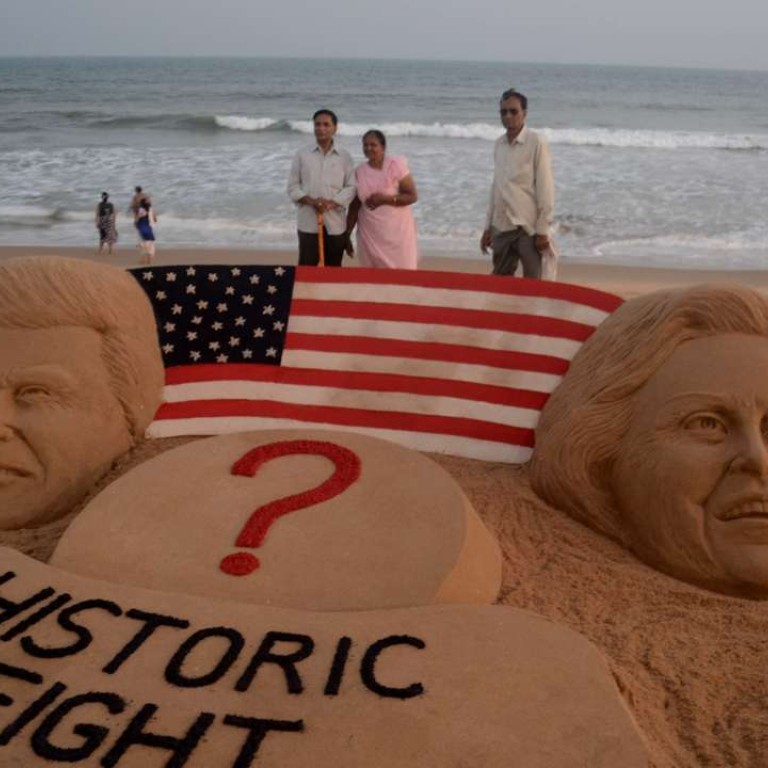 Asia doesn't trust Clinton or Trump: find out why from our exclusive survey
Three in four people in the region would pick Hillary Clinton over Donald Trump as US president, according to our survey. But read the fine print and you might struggle to describe either as a 'winner'
People in Asia clearly favour Hillary Clinton over Donald Trump in the US presidential race, but scratch beneath the surface of a South China Morning Post poll released this weekend, and you get the inkling the preference is more a case of cold hard pragmatism, rather than adulation or even trust.
The survey of 3,614 people in China, Japan, Indonesia, the Philippines, Singapore and South Korea found 76 per cent supported the Democratic nominee, with the controversial Republican Donald Trump scoring 24 per cent (there were only two options). But in China, the scores were more even, with support for Clinton at 61 per cent.
The statistically representative poll, conducted from October 12 to 23, also found three out four people would rather invite the former US Secretary of State home for dinner. Fifty-four per cent said Clinton was better for Asia, 17 per cent said Trump was better, the rest said neither, while 54 per cent said Clinton was better for their own countries, 16 per cent said Trump was better and the rest said neither. Sixty-four per cent said the world would be safer under a Clinton presidency, compared to 33 per cent who said the same of a Trump presidency.
But when asked to select from 17 personal attributes that best described the candidates, only 12 per cent said Clinton was "honest", just three percentage points higher than Trump's score. Respondents were allowed to select as many options as they wanted.
Twenty per cent said Clinton was "believable", marginally higher than the eight per cent who said Trump was believable.
"The appeal of Clinton for Asians is that she represents continuity and dependability," said David Black, the managing director and owner of Singapore-based polling firm Blackbox Research, which the Post commissioned to conduct the survey.
"But it's clear that Asians have not warmed to either candidate at a personal level," Black said.
"This has been one of the dirtiest, edgiest presidential campaigns in recent history and this is reflected in the views held about the candidates as people.
"Given the fact that both candidates have exposed themselves to scandals that have received wide global news coverage, it's hardly surprising that they are not viewed as beacons of virtue."
Other observers who viewed an advance copy of the survey results suggested the low scores of both candidates regarding honesty suggested trust of the US in Asia was ebbing as China gained in stature and Washington politics remain mired in dysfunction.
"It may well not be about the trust levels of the two candidates per se. It could be attributable to a seeping trust deficit in Asia of the United States as a country," said Jonathan Galaviz, chief strategist at the US-based consultancy Global Market Advisors.
"Opinion about the integrity of the two candidates may have come down to sentiment in the region about how genuine the US is in wanting to safeguard the security and economic well-being of the Asia-Pacific," said Galaviz, a long-time observer of US-Asia business relations.
"There is a sense that there is a lot of rhetoric and doubts about how high up Asia is in the overall national interest calculations of the future US administration, whoever leads it," he added.
However, one independent polling expert cautioned against reading too much into the single digit honesty and believability figures for both presidential candidates.
The "relatively small percentages" could be a function of the high number of options given to those polled, said Benjamin Detenber, an associate professor of communication studies at the Nanyang Technological University in Singapore. "I don't think it's a sign of ambivalence," he said.
The survey showed that Clinton's long political experience – including eight years as first lady to President Bill Clinton and eight years as a senator for the state of New York – helped shape public perception of her in Asia.
Forty per cent of those polled identified her as being diplomatic, while 29 per cent said she was well prepared to be president. Twenty-four per cent identified her as being steady and having good policies.
Only 14 per cent said Trump was "diplomatic". The figure was higher in China – 21 per cent.
The personal attributes most often associated with the New York-based businessman were all negative. Forty-three per cent of the people polled thought him "arrogant", while 39 per cent said he was "unpredictable" and 35 per cent said he was "morally unfit" to be president.
Black said this meant Asians were "betting the house on a Clinton win". "It's because [Clinton] is the only thing in the way of a Trump presidency which many see as frightening," he said.
Galaviz, the US commentator, said Asian audiences had only "a small glimpse of Donald Trump… through US media coverage".
"Clinton on the other hand is very much a known quantity in the region because of her position as secretary of state and her multi-decade [experience] in public service," he said.
Across the region, economic issues were seen as more important than the management of international relations and the environment.
Seventy per cent said a Clinton presidency would be better for US trade relations with Asia than a Trump presidency.
"I think part of the reason for that sentiment could be the overriding 'pro-protectionist' theme of Donald Trump's presidency," said Stephen Innes, a senior trader at the New York-based currency trading firm Oanda.
On the flip side, Innes said a Clinton presidency had the potential to hurt Asian trade with the US as well. "A strong win for Hillary could mean her policies to boost economic growth may be brought forward," said Innes.

"This could be done by cranking up fiscal policy which in turn would lead to a wave of US inflation," he said. "This will give support for the US dollar, to the detriment of emerging Asian economies trading with the US."
On geopolitics, 45 per cent said the South China Sea territorial dispute between China and claimants Taiwan, Malaysia, the Philippines, Brunei Indonesia and Vietnam would become 'better' or 'much better' under a Clinton administration compared to that of incumbent Barack Obama. Trump scored 31 per cent on the same measure.
WATCH: Clinton and Trump go head-to-head
Forty-two per cent said Clinton would handle tensions between North and South Korea better than Obama – 30 per cent said the same of Trump. And fifty-one per cent of Japanese and 69 per cent of South Koreans said Trump would worsen tensions in the Korean peninsula.
"While the findings do reveal broad concerns and mistrust of Trump across the region, the South Koreans and Japanese especially appear to be horrified about the prospects of a Trump presidency with respect to security issues," Black said.
The survey also found a significant gap in the perception of China-US relations between China and the rest of Asia.
In China, 33 per cent felt Sino-US relations were excellent. This compared with 17 per cent in Indonesia, eight per cent in the Philippines, seven per cent in Japan, seven per cent in Singapore, and four per cent in South Korea.
"Those in China who see the relations as excellent either like the bellicose confrontational relationship of China to the US and China's apparent gains in support in Southeast Asia, or are resistant to criticising their government," said Bridget Welsh, an Asian politics researcher at the National Taiwan University. It was "more the former than the latter," she added.
On a wide range of policy issues, from tackling cybersecurity to dealing with climate change and handling US visa issues, Clinton trumped the Republican candidate by a wide margin.
Trump, however, obtained 48 per cent support for his ability to deal with transnational terrorism, versus 52 per cent for Clinton. The overall survey had a margin of error of plus or minus 1.5 percentage points.
Observers cautioned that the results – which captured public opinion during the second and third presidential debates in October – may not reflect potential shifts in sentiment following the US Federal Bureau of Investigation's fresh enquiry into Clinton's long-running email controversy.
"The new FBI developments may have an impact on what Asians think of Clinton, and more importantly, it may be something undecided US voters will be thinking about before they vote on November 8," said Las Vegas-based Galaviz.