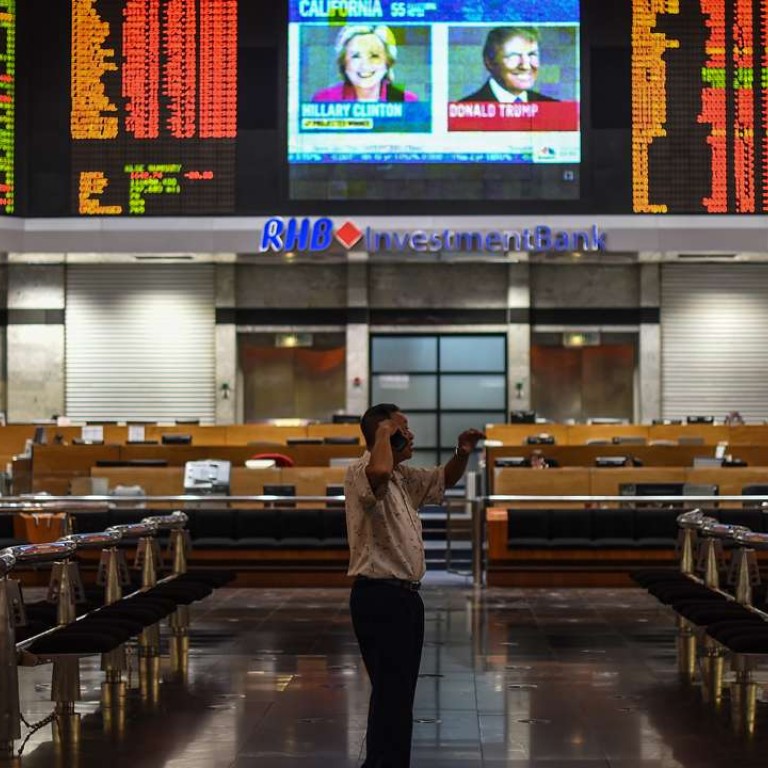 Will Trump win push Malaysia into China's embrace?
Malaysia's stronger ties with China, forged over the past few weeks, will be key as the nation prepares to deal with a United States under President Donald Trump, a man who has disparaged both China and Muslims, analysts say.
Muslims, who make up about 60 per cent of Malaysia's population, are especially worried as the reality TV star has been criticised for tapping into undercurrents of Islamophobia in his campaign for the White House.
Closer relations between this moderate Muslim Southeast Asian nation and its East Asian superpower neighbour will be an important buffer to any uncertainty coming from a Trump administration, analysts said.
Malaysia recently signed RM143 billion (HK$264 billion) worth of deals in infrastructure, e-business development and defence equipment with China, as Prime Minister Najib Razak seeks more foreign investment to shore up flagging revenue from oil and gas.
Foreign policy observers also see China exerting greater influence in the Asean region – which has been embroiled in a territorial dispute with Beijing over the South China Sea – if a Trump-led US abandons President Barack Obama's "pivot to Asia" policy.
Watch: Donald Trump wins White House
They see it as highly unlikely that President Trump will maintain the ties between Malaysia and the US which saw Obama visiting Malaysia twice in eight years and even playing golf with Najib.
But some analysts, such as Dr Chandra Muzaffar, caution against putting too much stock on the hostility towards China that Trump spewed throughout his campaign.
"[Trump] has blamed China for taking away jobs from working class Americans. That is what he says to get votes," said Chandra, of the foreign policy think tank International Movement for a Just World.
"But he is also a businessman and many in the US business establishment view China as a pot of gold. So it's not entirely clear how he will deal with China."
If Trump acted on his China rhetoric, said Malaysian Member of Parliament Charles Santiago, it would see the US withdrawing from its close engagement with the Asian Pacific region over the past eight years under Obama.
President Trump would also probably abandon the Trans-Pacific Partnership Agreement (TPPA), a contentious trade pact crafted by Obama that covers 12 countries in the region including Malaysia.
"Under Obama, individual US leaders had close ties and friends in Asia. I don't think this will continue with Trump.
"Our closer ties with China as a result of 1MDB (1Malaysia Development Berhad) and less emphasis in the region will see China exerting more influence in the region and Malaysia," said Santiago, of the Democratic Action Party (DAP).
Najib – who congratulated Trump – said the real estate mogul had won the presidency by appealing to Americans "who want to see their government more focused on their interests and welfare, and less embroiled in foreign interventions that proved to be against US interests".
Malaysian Muslims hope Trump will dial back his anti-Muslim rhetoric and take a more pragmatic approach in foreign policy especially towards the Middle East and Muslim countries.
"We are not too surprised with the US election result because Islamophobia and the fear of foreigners has been on the rise in the US and also Europe, as seen in Brexit," said Mohamad Raimi Ab Rahim of the influential Muslim Youth Movement.
"Although we respect the result of the US election, we hope that Trump will stop exploiting Islamophobia because if he [continues to exploit it], it increases the fear and hatred towards Muslims all over the world as the US plays a very big role on the world stage."