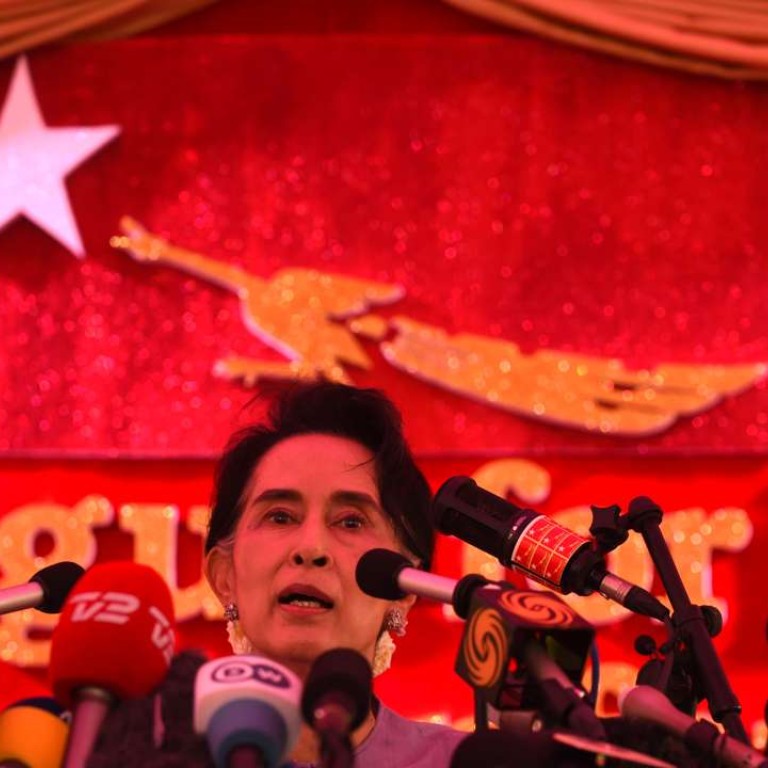 One year on in Myanmar, is Suu Kyi's halo slipping?
Voters danced in the streets when the NLD scored its landslide victory one year ago. Now all many can see is more of the same
A year ago, people were dancing in the streets of Myanmar's main city, Yangon. The votes from the November 8 election were being counted, and it was clear the National League for Democracy (NLD) was going to score a landslide victory. Times had changed since 1990, when the NLD also won by a landslide but the result was ignored by the ruling military. This time, foreign election observers were present and the country was reaching out to the outside – especially Western – world for recognition, thus leaving no room for such shenanigans.
Everyone knew that the NLD's leader, Nobel Peace Prize laureate Aung San Suu Kyi, would not be the new president because the constitution – drafted under military supervision and promulgated after a fraudulent referendum in 2008 – barred anyone married to a foreigner, or whose children were not Myanmese citizens, from becoming head of state. (Suu Kyi's late husband Michael Aris was British and their two sons are British and American citizens).
But a new post, that of state councillor, was created for her, making her the de facto head of the new government that eventually took over in April this year.
Today, disappointments have set in, especially among the country's many ethnic minorities who account for perhaps as much as 30-40 per cent of the population. They had voted for the NLD too, but not necessarily because they supported that party – or even Suu Kyi. For them, as for the majority Burmese, the 2015 election was more of a referendum than a national poll.
WATCH: Millions back Suu Kyi call for Myanmar charter change
The NLD stood for a new order while the military-supported Union Solidarity and Development Party (USDP), even if it had liberalised Myanmar's political landscape and introduced other reforms, represented the old regime. It was a vote for change – and that was what people expected from the new government.
But, what many are seeing is just more of the same. The war in the north against Kachin, Shan and other ethnic rebel forces is continuing unabated. More than 100,000 people have been displaced as the government's forces advance, supported by helicopter gunships, jets and heavy artillery. Peace talks in the new capital, Naypyidaw, in August resulted in little more than a government demand – supported by Suu Kyi – that the ethnic rebels would have to sign a ceasefire agreement, which many of them perceive as surrender, and not, as claimed by the authorities, the beginning of a political dialogue about the country's future. Tension is also high in Rakhine State, which has seen bloody clashes between government forces and Islamic militants.
Nor has the much-expected improvement of the economy materialised to any significant extent. US sanctions were lifted during Suu Kyi's visit to Washington in September, and, when she went to Tokyo this month, the Japanese government pledged US$7.73 billion in aid over a five-year period. But there has been no rush to invest in Myanmar, and the reasons for that are clear.
WATCH: Obama vows to lift Myanmar sanctions
The German company Deutsche Gesellschaft für Internationale Zusammenarbeit, which specialises in international development, acknowledged some improvements in a report dated February 2015, but said that "despite current reforms, the legal framework as well as the financial infrastructure of the banking industry lags behind international standards" and that the system remained "the least developed of all countries in Southeast Asia and cannot adequately fulfil its role as a financial intermediary".
Constant power cuts, poor transport and astronomically high prices for real estate also hamper much-needed development.
It could be argued that expectations were unrealistically high after the NLD's 2015 election victory. The 2008 constitution was drafted to ensure continuity rather than introduce a new democratic system. According to it, the military retains a leading role in "national politics". It appoints the three most important ministers – defence, home affairs and border affairs – as well as a quarter of all members of the country's parliament and local assemblies.
To change important clauses in the constitution requires the vote of more than three quarters of parliamentarians, giving the military what amounts to a veto against any attempt to democratise the present order. And, most important of all, the military remains autonomous and takes orders only from its commander-in-chief, not the government nor any elected body.
Suu Kyi has to play a very delicate balancing game between the people who elected her and the military, and she has gone out of her way to please the generals by talking about how "fond" she is of her "father's army".
Her father, Myanmar's independence hero Aung San, did form the country's first armed forces, but those bore little resemblance to today's Myanmar Army which grew out of entirely different circumstances – the country's civil war – and not the struggle for independence from Britain in the 1940s.
And there is a strong feeling among the ethnic groups that she has gone too far in pleasing the military. "I have become tired of criticising her," says Stella Naw, a young activist from the Kachins, a Christian minority in predominantly Buddhist Myanmar.
"She's controlled by the military and she has managed to lose the support she once enjoyed from the ethnic minorities as well as progressive Burmans."
Some of those "progressive Burmans" liken her to Ma Mya Win, a woman in a famous tale who was kidnapped by a bandit chieftain, and sided with him instead of the police who tried to rescue her. In other words, a Myanmar version of Stockholm syndrome.
She seems closer to the military that kept her under house arrest for 15 years, rather than the people who want an end to military-dominated rule.
Those are harsh judgments, but Suu Kyi's halo is slipping. "We have to start something new, independent of Suu Kyi," says Stella Naw.
A year after the party in the streets of Yangon and elsewhere, a bitter reality is setting in. It was much easier to be the heroine of democracy than to rule a country torn apart for decades by civil war and ethnic and political strife. And the military remains in the driving seat, despite the country having a civilian government for the first time since the early 1960s.
Bertil Lintner is the author of Burma in Revolt: Opium and Insurgency since 1948 and Aung San Suu Kyi and Burma's Unfinished Renaissance