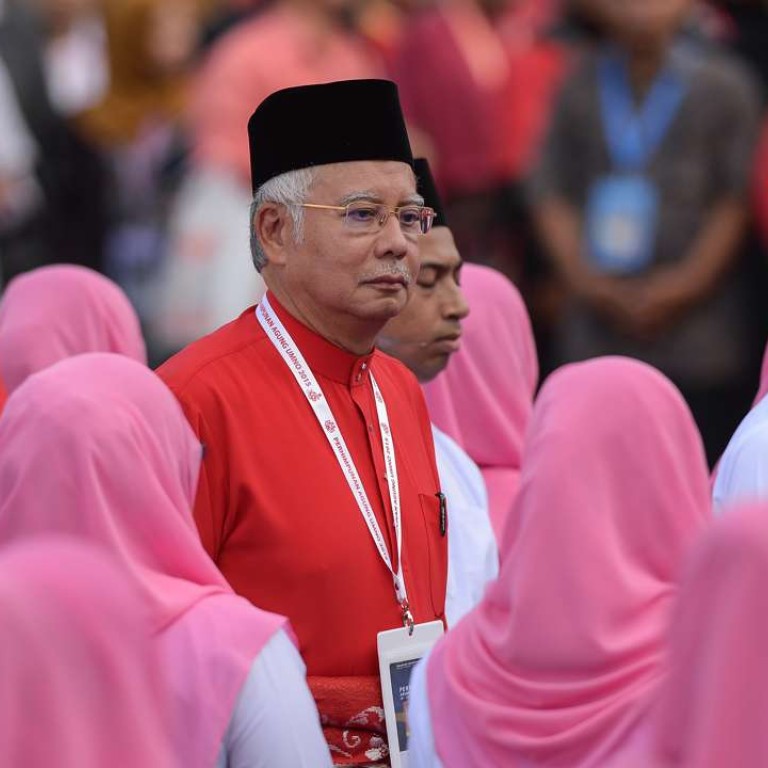 By courting rural Muslims, has Malaysia's opposition found key to winning power for first time in 60 years?
New partnership between Pakatan Harapan and the Parti Pribumi Bersatu Malaysia aimed at courting vital demographic
In a sleepy farming town in Southern Malaysia last month, Malaysia's popular but beleaguered opposition saw encouraging signs that it had found the answer to defeating the Barisan Nasional (national front) coalition that has ruled the country since its independence about 60 years ago.
The opposition coalition Pakatan Harapan (the hope pact) has a new partner, the Parti Pribumi Bersatu Malaysia or PPBM (Malaysian united indigenous party), which they believe is able to capture the rural Malay Muslim vote, a key demographic to winning federal power.
In the 2013 general election, the Barisan Nasional managed to win a simple majority of parliamentary seats and form the government despite losing the popular vote.
This is largely due to electoral constituencies which are biased towards rural seats where the United Malays National Organisation (Umno), the Barisan Nasional's main Malay Muslim party, is still popular.
Pakatan Harapan leaders and activists hope that Barisan Nasional's hold on the rural Malay vote can be broken by the PPBM, which is helmed by former premier Mahathir Mohamad and former deputy prime minister Muhyiddin Yassin, both of whom are ex-Barisan Nasional leaders.
Although hopes are high over plans for a Pakatan Harapan-PPBM electoral pact, there are niggling issues that could threaten its cohesiveness and ultimately its ability to seize the imagination of rural Malays.
The PPBM is made up of ex-leaders of Umno, who left after falling out with Barisan Nasional chairman and Prime Minister Najib Razak over his role in the 1Malaysia Development Berhad (1MDB) financial scandal.
Najib has denied any wrongdoing in the 1MDB affair which has sparked investigations in five countries.
The plan is for Mahathir, who was Umno president for 22 years, and the PPBM to get the rural Malay Muslim vote in the next national elections scheduled for 2018, while Pakatan Harapan secures urban and suburban voters.
"The PPBM gives us [Pakatan Harapan] new strength because they will go out and get the rural Malay vote, which had previously gone to Umno and Barisan Nasional," said Pakatan Harapan grassroots leader Johari Osman.
Osman, from the state of Malacca, was reflecting the sentiments of many of his colleagues who had attended a November 12 convention where Pakatan Harapan and PPBM leaders announced their electoral pact.
Hishammuddin Rais, a long-time civil society activist who has campaigned with Pakatan Harapan parties, said the PPBM was turning out more rural Malay voters for opposition party road shows and programmes.
"Me and long-time Pakatan Harapan leaders are surprised at the new crowd that comes to our rallies," he told This Week in Asia at a road show in the state of Johor.
"They are not typical Pakatan Harapan supporters. We think they are actually Umno members or supporters who come to listen to PPBM leaders," said Hishammuddin of the roadshow by Bersih, an electoral reform coalition.
Bersih road shows and its mammoth rally on November 19 are aimed at fighting for clean elections and for an investigation into 1MDB. Pakatan Harapan and PPBM members have joined them and plan to attend the rally.
Analysts point to two main problems that could blunt the Pakatan Harapan-PPBM coalition's edge.
The first and most critical is whether either the Pakatan Harapan or the PPBM will work with the Pan-Malaysian Islamic Party, or PAS, the country's long-time Islamist party which also has deep networks in the country's rural areas.
PAS is a former ally of Pakatan Harapan but severed ties with it last year. It has said it will go it alone in the national polls. When it was allied with the Pakatan Harapan, PAS was the main party which contested rural seats against Umno.
Ibrahim Suffian, of the think tank Merdeka Centre, said multi-candidate fights between two opposition forces against the Barisan Nasional had historically benefitted the latter.
"When two opposition parties contest against the Barisan Nasional they will split the votes going to the opposition. So the Barisan Nasional captures the winning majority," said Ibrahim.
The second problem is that Pakatan Harapan and the PPBM cannot agree on a candidate for prime minister. Pakatan Harapan has always advocated for jailed opposition leader Anwar Ibrahim while the PPBM has not stated who it wants.
"Let's leave that question alone for now. If we concentrate on things that divide us, we will never unite," said Mahathir when acknowledging the problem at the convention.
Ibrahim said that this second factor was not an issue now but would be as the polls got closer.
Hisomuddin Bakar, of the think tank Ilham Centre, said the PAS factor could be neutralised as long as Pakatan Harapan and the PPBM were unified and committed to presenting a common policy platform to the public.
"In a national election voters will look at which coalition or force can win and form the government. Voters will view a third party that can't form the government as a spoiler – they will be ignored," said Hisomuddin.
Sheridan Mahavera is a journalist based in Kuala Lumpur