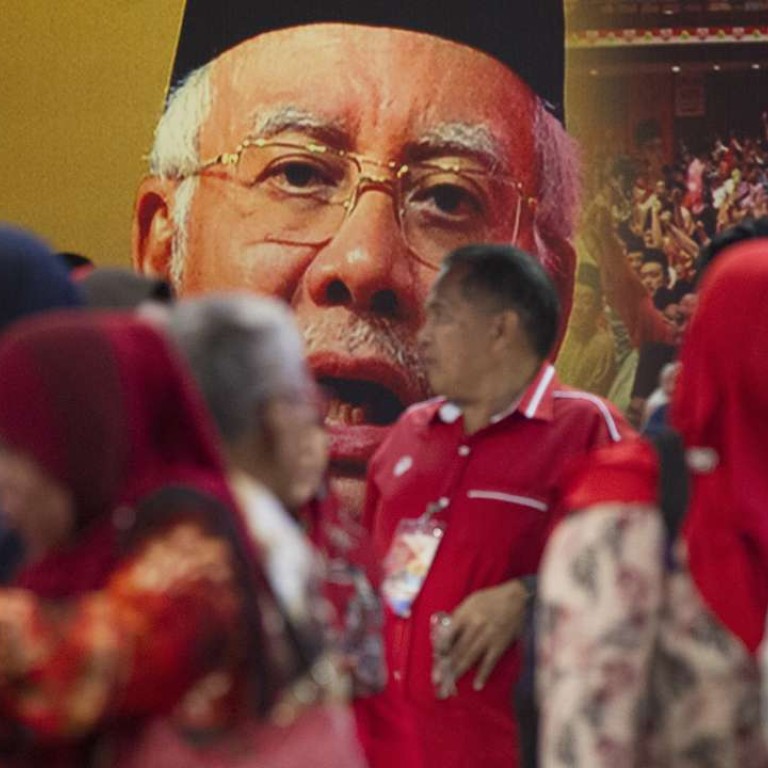 Why Malaysian PM Najib Razak is playing the race card
In attempt to consolidate power, Malaysian leader uses party assembly to paint the opposition – and his former mentor Mahathir – as colluding to end Malay dominance
After a fractious year triggered by the 1MDB scandal, Malaysian Prime Minister Najib Razak this week moved to consolidate his power within Umno by turning his guns on his mentor-turned-nemesis and stoking racial sentiments among the rank and file.
At the Umno (United Malays National Organisation) yearly assembly this week, Najib attempted to show he still had the party's backing, despite being at the centre of the
worldwide graft probe into 1Malaysia Development Berhad
(1MDB) and a very public exodus of party leaders, which included former president Mahathir Mohamad.
During his speech, Najib painted the enemy. He described the next election campaign as an "existential battle" between his pro-Malay party and its allies, and an opposition led by the Democratic Action Party (DAP) – which he characterised as an anti-Muslim and anti-Malay Chinese dominated party. And in an effort to erode any remaining loyalty towards Mahathir, Najib said the former prime minister had been colluding with the DAP and other opposition parties to end Umno and Malay dominance.
Mahathir and former deputy prime minister Muhyiddin Yassin exited Umno in 2015 after both openly criticised Najib's handling of the 1MDB affair and questioned a US$681 million (HK$5.2 billion) deposit into the Prime Minister's personal bank account. Najib maintains that he did nothing wrong and the deposit was a donation from a Saudi prince.
Mahathir, a former Umno president, was once Najib's mentor. Muhyiddin, meanwhile, was Najib's deputy through his rise to the premiership in 2008 until 2015. Since leaving Umno, the pair have formed the Malaysian United Indigenous Party (PPBM) and have flagged a potential electoral pact with the DAP and the Opposition Pakatan Harapan coalition, which pits them against Umno and its National Front allies in the next general election. While not due until mid-2018, the next general election could be called as early as next year.
Mahathir's show of strength and the rise of the PPBM is a serious problem for the Malaysian prime minister. The PPBM has moved to siphon support from disgruntled Umno members and rural ethnic Malays, who have long been the party's core support base.
In his speech, Najib repeatedly stressed the theme of loyalty and obedience, noting that Mahathir himself had also drilled the same values into members during his 22-year presidency. He recounted how he stood by Mahathir through two of the party's biggest crises in 1988 and 1999, when his mentor was forced to deal with his own crop of rebellious leaders.
"Whose support did he not count on, but on us and the party in those years? He used to be a statesman, but now he has betrayed the party," Najib told an audience of more than 2,600.
"I am personally very disappointed. He is working with opposition parties DAP, Amanah and PKR, which he once branded as enemies. This is the pinnacle of treachery to the party, the community and the country."
Najib went on to say the DAP was the leader of the three-party opposition coalition, which is also made up of two Malay-dominated parties.
"If this country falls into the hands of the DAP, which believes in extremist liberalism and dangerous secularism, it is certain that [Malay] rights and privileges that have been defended by Umno will be erased."
Political scientist Professor Sivamurugan Pandian said Najib's emphasis on loyalty and obedience was an important move to unify the party in the wake of last year's divisive assembly. And by propping up the DAP as a bogeyman, Najib stoked racial fears, united disgruntled Umno members around his leadership and diminished whatever influence Mahathir still had over the party.
"To re-focus members, he is going back to Umno's core struggle of fighting for Malays and Islam's survival," said Sivamurugan, of the University of Science, Malaysia.
While Najib's speech may have been effective in fusing Mahathir's image with the DAP's, and may help to slow the siphoning of support from voters in the Malay heartlands of Kedah and Johor, the threat of the PPBM remains very real for Umno insiders.
"They [the PPBM] have support, it might not be much but it's still there because they have followers. So their influence is a worry for us," Umno supreme council member Ibrahim Abu Shah said.
"Although the PPBM says it is an alternative Malay party, we must show voters that they are actually working to bring down the Malays and the country."
Another concern is the possibility of a silent faction of PPBM sympathisers growing within Umno, who are reportedly waiting silently before coming out in support for Mahathir at the most critical time – at the ballot box. Umno youth chief Khairy Jamaluddin warned of this, saying PPBM had told its supporters within Umno to stay put instead of coming out.
Mohd Sabri Alwi, from the state of Terengganu, added to the concern over the PPBM.
"This is the enemy in our midst, which we have to identify, for they are in reality working with the opposition. I call on the party to purge these people from the party."■