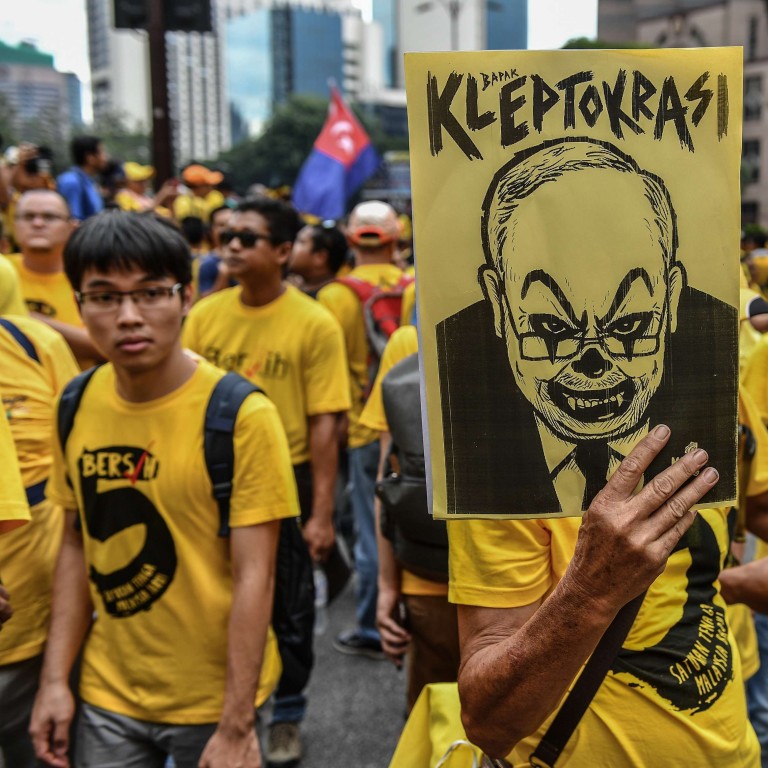 Has China offered to bail out Malaysia's 1MDB? At what cost?
China's economic largesse to Malaysia was back in the spotlight on Wednesday following an apparent renewed effort by Beijing to bail out the Southeast Asian country's beleaguered 1MDB state investment fund.
Political observers say such multibillion-dollar favours are likely to continue unabated as China seeks to bring a key trading partner closer into its strategic orbit and as Prime Minister Najib Razak turns away from the West, where he is accused of running a kleptocracy.
The Financial Times newspaper in a report on Wednesday said China "had been approached" to help 1MDB – embattled by a long-running money laundering scandal linked to Najib – pay off a US$6.5 billion (HK$50.4 billion) debt to an Abu Dhabi state investment arm.
One unnamed source with knowledge of the matter told the newspaper that Malaysia would swap assets in exchange for Chinese financing.
"China is disbursing goodwill around the region…so this is not a surprising move," said Oh Ei Sun, a former top political aide to Najib.
Beijing does not make explicit demands in exchange for such economic favours, but there is an expectation that Malaysia "should know what to do", Oh said.
The new bailout – if confirmed – will be the latest effort by China to rescue 1MDB, which is facing money laundering investigations in multiple jurisdictions including Singapore, Switzerland and the United States. Najib has vehemently denied any wrongdoing and insists the government is cooperating with these probes.
The Swiss Attorney General's Office in October hinted at difficulties in obtaining the help of its Malaysian counterparts as it investigates what it claimed was a "ponzi scheme" run by a 1MDB subsidiary.
A civil lawsuit filed by the US Justice Department said more than US$3.5 billion had been misappropriated from 1MDB, a pet project of Najib launched in 2009. Court cases linked to the scandal are ongoing in Singapore, and the city state's central bank has cracked the whip on lenders that were involved.
China, on the other hand, has stayed clear of any such investigations. Instead, it played the role of white knight late last year as the enormity of 1MDB's debts and allegations of money laundering became public following a series of leaks to the media by whistleblowers.
China General Nuclear Power Corp moved in to buy 1MDB's power unit Edra Global Energy for RM$17 billion (HK$30 billion), while China Railway Engineering Corp bought a stake in a key 1MDB development project in capital Kuala Lumpur for RM$12.4 billion.
And in November, Najib returned from a state visit to China with about US$34 billion worth of economic deals, including Malaysia's first major military purchases from Beijing.
A RM$55 billion deal for Chinese rail companies to develop a rail link between Malaysia's rural east coast states and the capital was also inked.
"Malaysia needs help and no one else in the world has the excess liquidity to throw around than China," said Malaysian politics expert James Chin.
"For Najib who is facing political problems at home, Chinese aid is preferred because they don't really care about good governance when they give out aid," said Chin, director of the Asia Institute at Australia's University of Tasmania.
"In a way, Najib is pointing the middle finger at the Western countries criticising him over corruption allegations…telling them that I can go to China if you don't embrace me."
During his visit to Beijing, Najib penned an editorial in state mouthpiece China Daily slamming "former colonial powers" for "lecturing countries they once exploited on how to conduct their own internal affairs today".
Chong Ja Ian, a political scientist at Singapore's National University of Singapore, said the ongoing court cases in the West were compelling Malaysia to "reduce exposure in the US and Europe".
"That leaves China as the best option for collaboration, especially since Beijing is currently eager to reach out, invest and build relations in the region," he said.
Analysts say Najib is cognizant of the fact that accepting Chinese economic favours means Beijing will expect his country to openly embrace coming closer into its orbit.
Alienating other major powers and over-relying on one patron, however, could be costly.
"This is not a particularly Chinese thing, but like deals and arrangements elsewhere, they sometimes fall through or are not delivered as promised," Chong said.
Ong Kian Ming, a lawmaker of Malaysia's opposition Democratic Action Party, questioned if the latest help rendered to 1MDB – if accurate – would require "the award of large-scale infrastructure projects to a Chinese state-owned enterprise".
"The Malaysian government needs to be fully transparent on the details of this deal…nothing comes for free and the Malaysian taxpayer deserves to know the true cost of the bailout," he said.
One Chinese observer said Beijing too had to exercise caution in its strategic courtship of Southeast Asian countries as it competes with the US for influence in the region.
"In the strategic competition with the US, China intends to use economic means as incentives to stop its neighbours leaning towards the US and being hostile to itself," said Zhang Baohui, a professor at Lingnan University.
"But a big problem is that Beijing sometimes is too obsessed with its own strategic and diplomatic goals to assess and manage the economic risk of such investments, including the lack of good governance and checks and balances," he said.
The Financial Times report on Wednesday coincided with fresh legal developments in the US involving Jho Low, the Malaysian financier linked to Najib identified by the Department of Justice as a key figure of a money laundering scandal.
His family members are seeking to stop the US from seizing US$650 million in real estate and business investments prosecutors claim was acquired with plundered funds, Bloomberg News reported on Tuesday.
Additional reporting by Liu Zhen in Beijing and Amy Chew in Kuala Lumpur