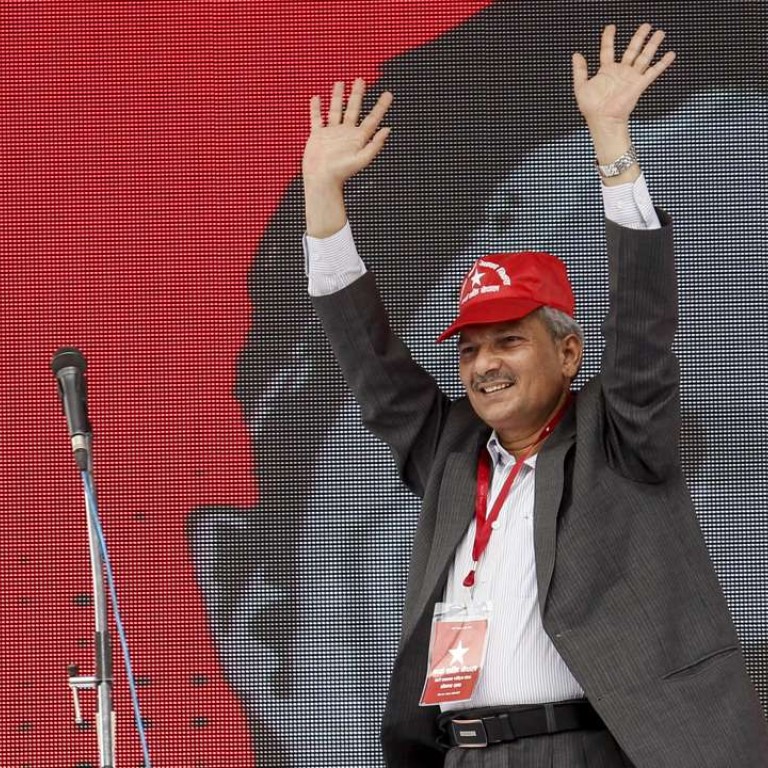 Why did Hong Kong immigration detain Nepal's former leader?
Nepali community says ex-PM's bad experience is typical of an immigration system that discriminates against them – but at least, unlike some, he wasn't asked to dance
For a visiting ex-leader of a friendly state it was perhaps not the grandest of welcomes to Hong Kong.
But the hour-long detention of Nepal's former prime minister Baburam Bhattarai at the Lo Wu immigration checkpoint may shine a light on the experiences common to many of his less distinguished compatriots.
Hong Kong is home to about 30,000 Nepali people, most of them related to the Gurkha soldiers stationed in the city during the British colonial days. But that community by and large sees the city's immigration policies as deeply discriminatory.
Not only are Nepali people unable to get work visas – the Immigration Department stopped granting them in June 2005, regardless of the applicant's expertise or level of education, in a decision that has never been clearly explained – but even those with valid visitor visas complain of unreasonable hassle at the border.
It's tempting for critics to suggest that Bhattarai's experience was a fair representation of the experience of everyday Nepalis, given he was travelling on his ordinary green passport, rather than his red diplomatic one.
"He was coming to Hong Kong to meet the Nepali community after forming a new political party in Nepal and I was waiting for him in Hung Hom," Tamang Prem Chandr, vice-president of the Non-Resident Nepali Association's Hong Kong branch, said. "After some time he still had not come yet. I asked myself, what happened?"
Approached by the immigration officers, Bhattarai had apparently thought he was being shown the way to the bathroom when he suddenly found himself
taken into a custody room.
"He did not feel good about it. He talked to the immigration [officers] and said the Nepalese consulate was waiting for him in Hung Hom, and that he was actually the former prime minister," Tamang said. "Of course he was angry."
When he met members of the Nepali community, Bhattarai likened his experience to something out of apartheid South Africa, Tamang said.
When the ex-PM returned to Nepal, the Kathmandu Post quoted anonymous sources saying he had urged his country's foreign secretary, Shankar Das Bairagi, to follow up on the matter through diplomatic channels and that his request had been met.
But Bhattarai's experience seems almost benign when put against that of others, such as Tamang's brothers.
In February 2015, immigration officers allegedly ordered one of the brothers, Tamang Chandra Bahadur, to dance in front of them to prove he was a professional dancer – and the other brother, Tamang Man Kumar, to define "glucose" to prove he was indeed an assistant lecturer in biochemistry at Nepal's Tribhuvan University. "The immigration officers at the airport asked me many irrelevant questions as soon as we reached the checkpoints," said the lecturer Tamang. "It was really a bad experience for me entering Hong Kong that time. I came to know that they especially target Nepalese and it's a bad policy."
Finding the reasons behind such anecdotal accounts of discrimination isn't easy.
The immigration department declined to comment on individual cases when asked about the experiences of Bhattarai and the Tamang brothers. However, one source claimed Bhattarai had spent only 30 to 40 minutes in the custody room and that officers had not questioned the brothers.
Meanwhile, even in the letters sent to Nepalese to inform them of work visa denials, the department does not explain the reasons behind its decisions.
But Nepal is not the only country to which the restriction applies. Hong Kong also doesn't grant work visas to nationals from Vietnam, Laos, Cuba, Cambodia, North Korea or Afghanistan.
In 2012, the city's border authorities refused entry to some 29,792 visitors of various nationalities. That number climbed to 56,855 last year and from January to October this year about 45,000 had been refused.
An Immigration Department spokesman said: "Our visa policy is subject to review from time to time. Factors to be taken into consideration include the track records of travellers and circumstances of the country or territory. Changes will be introduced if circumstances so warrant."
Immigration officers considered various factors, including whether the visitor had made arrangements to return home, the spokesman said.
Indra Wanem, an organiser at the Far East Overseas Nepalese Association, said he believed the ban on Nepali workers was introduced because some had in the past applied to become refugees in Hong Kong.
But he added: "If you look at the countries on the work visa ban list, they are all developing countries. They have no bargaining powers."
That line of thought was backed up by Kalyan Pokhrel, a lawyer in Nepal who graduated with a master's in human rights law at the University of Hong Kong this year. Due to the ban, Pokhrel himself is unable to return to Hong Kong to work. "That is a kind of discrimination on the basis of colour and nationality... because Hong Kong doesn't discriminate against people from the developed world," he said.
Some feel the discrimination goes deeper, pointing to what they say is negative coverage by a Chinese-language press that plays up crimes committed by Nepali people.
Whether that particular complaint is real or imagined, and whatever the reason for the work visa ban, 20 years since the British handover many Nepali people in Hong Kong nurture a lingering sense they are no longer as welcome as they once were.
"The Gurkhas made a very big contribution to Hong Kong. How come the people have forgotten about that?," asked Tamang. "How come people do not have respect for them now?" ■