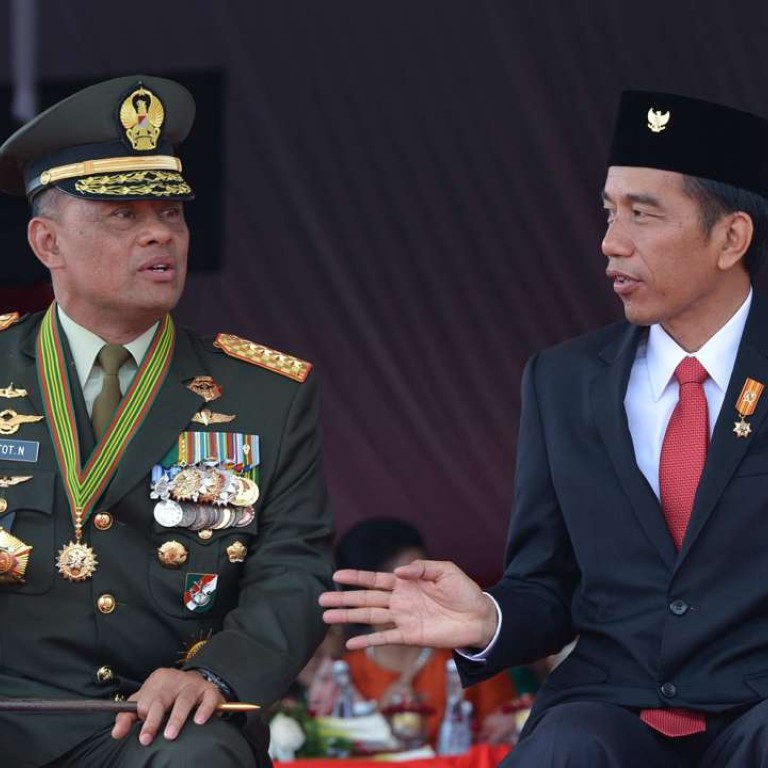 Widodo, his paranoid general and a 'rotting situation' in Indonesia
Like his conspiracy theories, the presidential aspirations of Gatot Nurmantyo, commander of the Indonesian armed forces, might seem laughable. Less so his alleged links to hardline Muslim groups at the centre of protests that have shaken Jakarta
The Indonesian Armed Forces commander General Gatot Nurmantyo is a blowback to another era, a variation on the Cold War warrior who, instead of Reds, sees Americans and Australians under every bed.
He believes US Marines training in northern Australia are there for the eventual takeover of Papua, he suspects some of his own overseas-trained officers may be agents of influence and he thinks foreigners in general are engaged in a proxy war to undermine Indonesia.
The debacle over his recent decision to suspend military cooperation with Australia without, apparently, having consulted his commander-in-chief, also shows he does not necessarily feel beholden to President Joko Widodo. Weeks after Nurmantyo's decision, which had been prompted in part by a complaint over 'offensive' teaching materials used to train Indonesian soldiers in Australia, Political Coordinating Minister Wiranto intervened to say the suspension would apply only to language programmes.
Anywhere else Nurmantyo would have been fired, but Indonesia is not "anywhere else" – even 18 years into democratic rule – and such drastic action has to be weighed carefully against the inevitable political fallout.
Widodo is clearly rattled after two mass demonstrations against the ethnic-Chinese governor of Jakarta, Basuki Purnama, whose blasphemy trial, the president suspects, has become a tool to weaken him ahead of the 2019 presidential elections.
Widodo is the first Indonesian president to come from the rural hinterland and many in the civil and military elite, who have dominated the political landscape for the past five decades, do not necessarily support a populist outsider's bid for a second term.
Like his conspiracy theories, Nurmantyo's widely-reported presidential ambitions would seem almost laughable. But not his alleged links to the hardline Islamic Defenders Front (FPI) and other Muslim groups who have been at the forefront of the protests.
WATCH: Jakarta rally turns violent as Muslim hardliners attack police
Retired generals take the threat of instability seriously. "Playing games with Muslim groups is a result of a rotting situation," says one. "They want to show that the army is still needed and they have no concerns about the problems it creates."
As for the armed forces themselves, academy class affiliations are not a significant factor as they are in some regional armies, and Nurmantyo's support depends on an officer's proximity to the centre of power and the promotional opportunities it offers.
Insiders say when Wiranto – a former armed forces chief himself – wants to pass on a message, he usually calls Army Chief of Staff General Mulyono, a low-key figure who is set to retire in 2019.
If Widodo had stuck to the democratic-era tradition of rotating the top job among the three services, Nurmantyo's predecessor, General Moeldoko, should have been followed in March 2015 by newly-appointed air force commander Air Chief Marshal Agus Supriatna.
But embroiled as he was then in a tussle with Indonesian Democratic Party for Struggle leader Megawati Sukarnoputri over a favoured candidate for the National Police leadership, he clearly felt he needed experience – and the army – on his side.
He got more than he bargained for. Reaching out to the men in green may have had the required effect, but it left him with an old-style general at the head of a command structure that has barely been touched by reform or worldly influences.
That can be blamed to some extent on a US arms embargo, affecting arms purchases and military education, which started with an East Timor churchyard massacre in 1991 and lasted until 2005 when Washington rewarded Indonesia for its success in counterterrorism operations.
Lacking obvious political party support and any understanding of the back seat that the army must take if Indonesia continues along its democratic path, Nurmantyo is likely to follow Moeldoko into obscurity when he steps down in March next year.
It will be four years since he first burst on the scene as the newly-minted chief of the 20,000-strong Army Strategic Reserve (Kostrad), Indonesia's two-division combat force, expressing doubts about the course of what he called an "empty democracy". "Our democracy at the moment is populist and led by forces through means of a vote," he said. "The many are not necessarily right."
It wasn't long before he began what is now a familiar rant about NGOs and mass organisations working for foreign interests as part of a proxy war.
As army chief in the early 2000s, current Defence Minister Ryamizard Ryacudu was equally problematic, openly opposing the 2005 peace agreement with separatist rebels in Aceh and voicing suspicions about Indonesian officers who were being trained abroad – as Nurmantyo is doing now.
The then-chief political minister, Susilo Bambang Yudhoyono, could only seethe over Ryamizard's opposition to his Aceh peace efforts. But when he won the presidency in late 2004, he overlooked the general for his expected promotion to armed forces commander even though he was the most senior officer.
Widodo doesn't have that luxury. Instead, with his own hand-picked General Tito Karnavian now as police chief, his preferred option may be to go after FPI leader Rizieq Shihab, helped by civil organisations levelling hate-speech and blasphemy charges against the hardline firebrand. Some foreign press reports suggest the president reprimanded Nurmantyo at a Cabinet meeting over his recent spat with Australia. But if that fails to rein him in Widodo may be forced to go one step further. His chances in 2019 could depend on it. ■