Former South Korean president Park Geun-hye had long seemed destined for the history books, though Friday's decision by the Constitutional Court to remove her from power will not have been the circumstances her supporters envisaged.
As the dust settles on Chief Justice Lee Jung-mi's ruling that Park's "unconstitutional and illegal actions" had "betrayed the people's trust", her supporters will be left to ponder how the bright politician who began her reign as the nation's first female president in February 2013 could end it little more than four years later as the nation's first president to be removed from office by impeachment.
The chaotic scenes that followed the ruling – at least two protesters have died in clashes between her supporters and opponents in central Seoul – were far from the ones of jubilation that accompanied her historic election.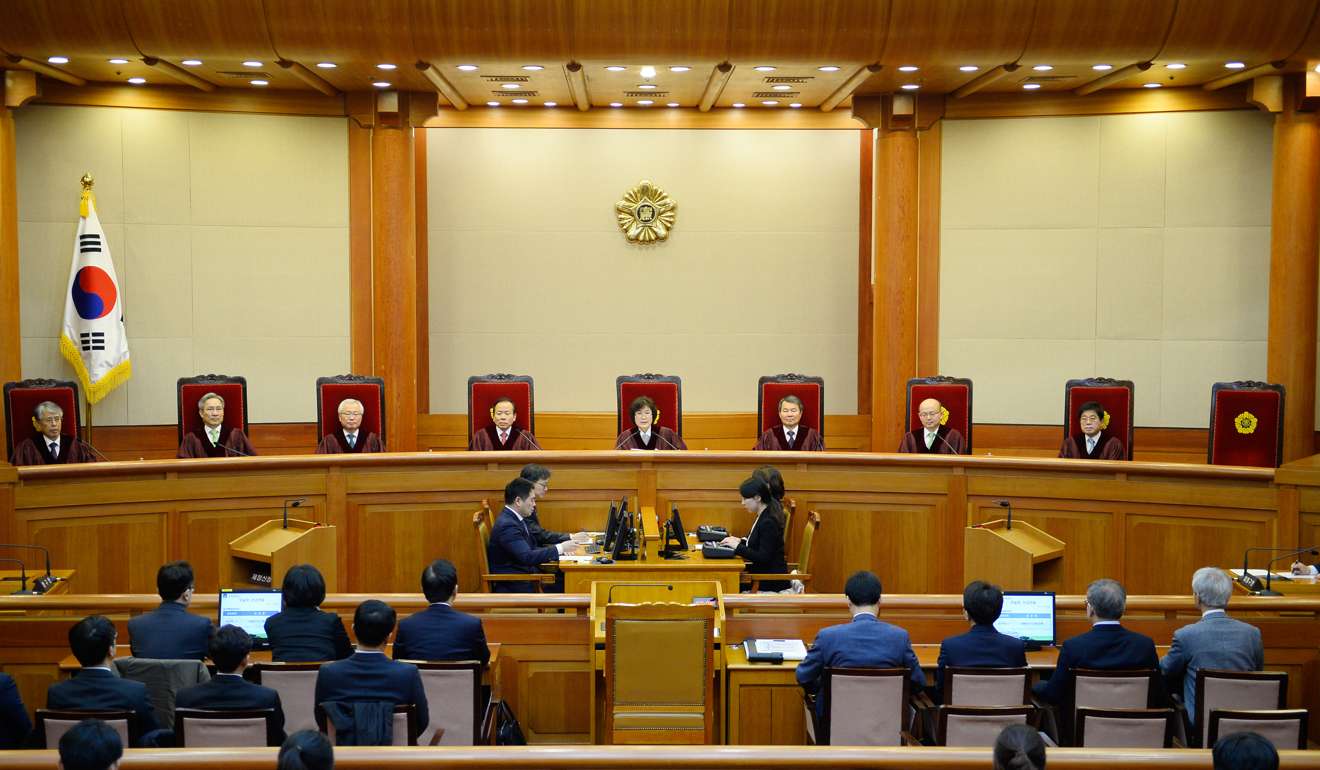 Unlike Hillary Clinton in the United States or Taiwanese President Tsai Ing-wen, Park's gender was not a unique selling point. Indeed, her very womanhood was questioned because she was 62 at the time, unmarried and without children. But the conservative candidate defeated her opponent, Moon Jae-in, with 51.6 per cent of the vote, winning in all areas except Seoul and the southwestern Jeolla region, the nation's progressive stronghold.
Looking back, two factors that contributed greatly to her victory were nostalgia for her father, Park Chung-hee, whose brutal dictatorial rule nevertheless brought Korea unprecedented economic prosperity, and sympathy for Park herself, whose parents were both murdered when she was quite young. This perhaps granted her a place in the Korean imagination analogous to that of Jacqueline Kennedy Onassis.
Despite this good will, signs of trouble emerged early in her presidency.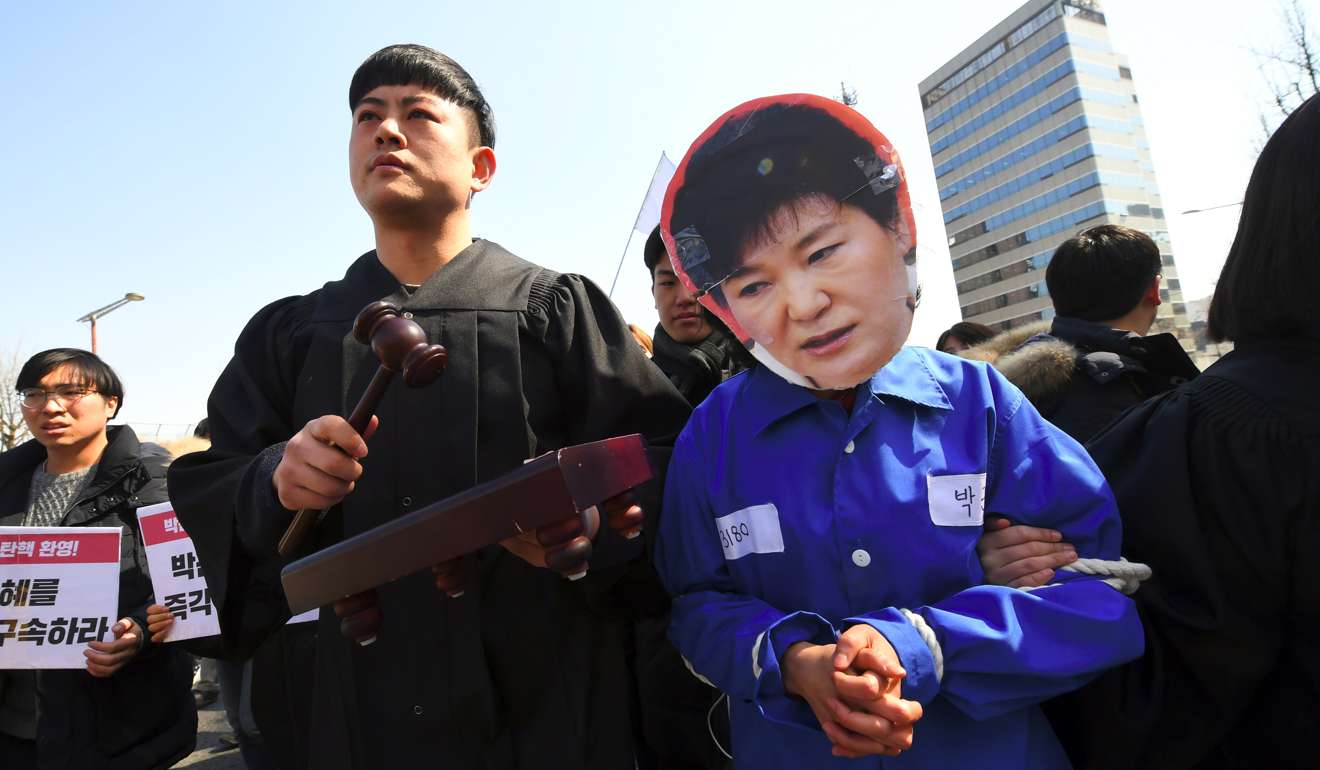 Park had begun promisingly enough, reaffirming ties with the US, promising to build trust with North Korea and signing a free trade agreement with Australia. In her famous Dresden speech in March 2014, she even described a path towards Korean reunification.
But that April, disaster struck when the ferry MV Sewol sank en route from Incheon to Jeju, causing more than 300 deaths, mostly high school students. While much criticism focused on the captain and crew – some of whom are serving time for charges ranging from homicide to negligence – it also turned on the government and media for its disaster response and attempts to downplay government culpability.
For seven hours following the incident, Park's whereabouts were unknown, with some speculating that she spent part of that time receiving Botox injections or having her hair done.
When she appeared, she betrayed her ignorance by asking why the children couldn't be found.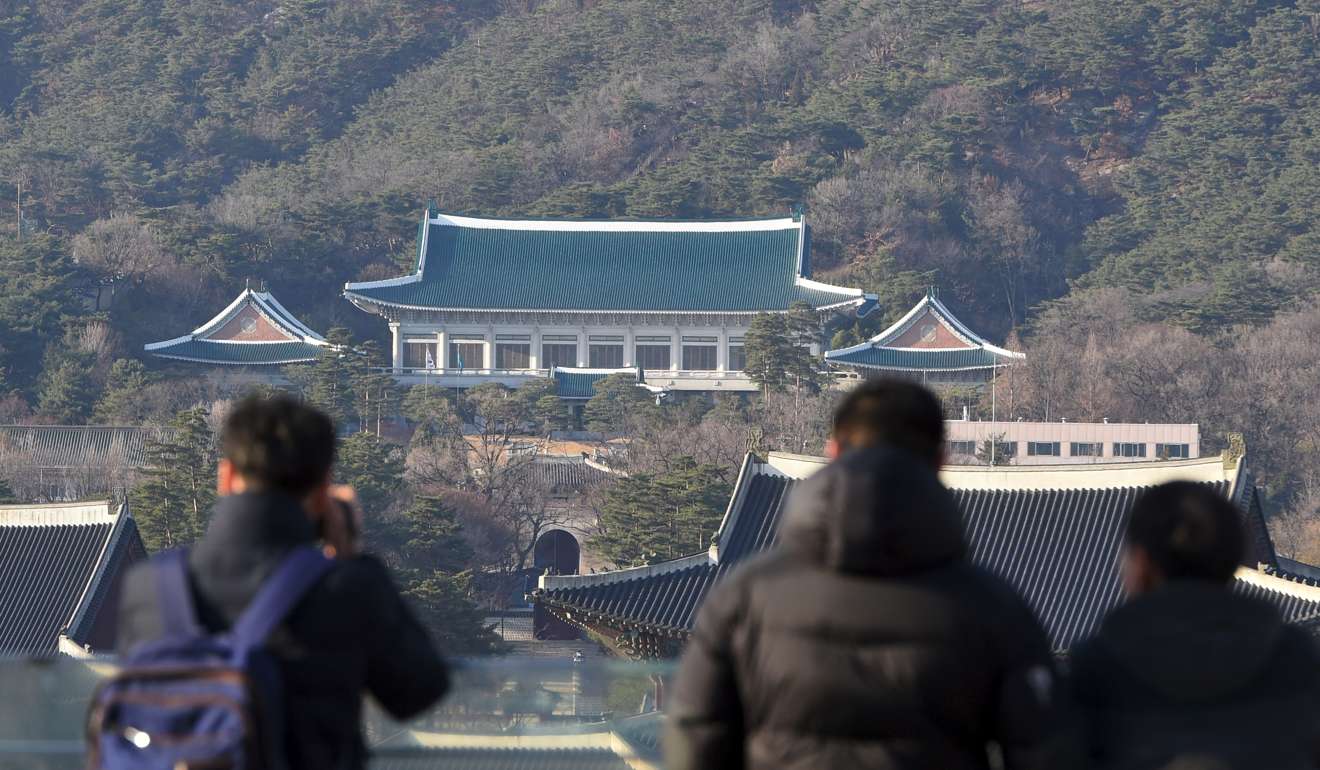 Her approval rating collapsed from above 70 per cent to below 40 per cent in the weeks that followed, and her reputation never recovered. In April 2016, an upheaval in the legislative election left the National Assembly in the hands of her opposition, the Minjoo Party (later renamed the Democratic Party), and opponents began to describe her as a "lame duck" president.
In late 2016, a tablet PC belonging to Park's long-time friend, Choi Soon-sil, was discovered, showing that Park had allowed Choi access to presidential speeches and cabinet meeting notes in advance. Choi had evidently influenced government appointments and rumours spread that Park was a member of a cult founded by Choi's father. An investigation revealed Park had pressured conglomerates to give lavish donations to two foundations run by Choi. Park at first made public apologies and promised to cooperate fully, but when this failed to save her, she withdrew into the presidential Blue House and refused to come out.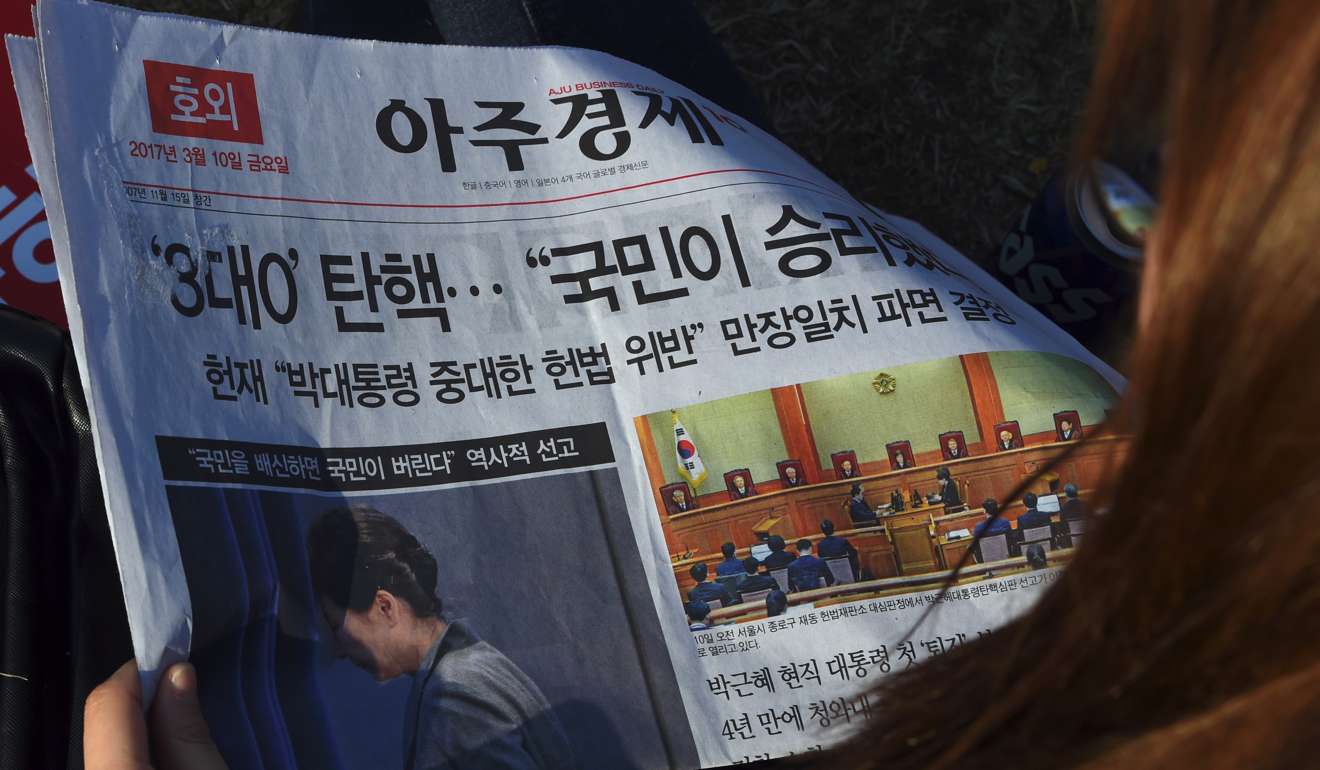 She was subsequently impeached in December and the events that led to this week's court decision were set in motion.
While that decision may be a first for South Korea, it fits a pattern of corruption, failed presidencies and spectacular downfalls.
Its first president, Syngman Rhee, was forced to resign after police killed democracy protesters. The next president, Yun Posun, was removed in a coup by Park Chung-hee, who was assassinated in October 1979 by the head of the Korean Central Intelligence Agency. The next president, Choi Kyu-hah, was removed in a coup by Chun Doo-hwan, who tried to name a successor, Roh Tae-woo. This led to the nation's first real democratic elections, only for Koreans to then elect Roh Tae-woo. Roh served a full five-year term, but was convicted of treason in 1996 on bribery charges.
Kim Young-sam, the nation's next president, pardoned Roh. Kim Dae-jung, who won the Nobel Peace Prize in 2000, served next, followed by Roh Moo-hyun, who killed himself by jumping off a cliff one year after his presidency ended in 2008, as he was being investigated for bribery. He was followed by Lee Myung-bak, who was mired in a slew of corruption scandals of his own, followed by Park Geun-hye.
WATCH: South Korea's Park Geun-hye removed from office
Park's removal will no doubt come as a boon to progressives, and in particular, her old opponent, Moon Jae-in, who is now leading in the polls.
It may also bring about a reversal on issues she had championed, notably the deployment of the US antiballistic missile system known as THAAD. The US began sending components for the system to Seoul this week, following missile tests by North Korea, angering Beijing which responded with unofficial sanctions that included pressuring airlines to cut back on flights between China and South Korea. Beijing fears the system's powerful radar could be used by the United States to spy on China.
Moon Jae-in is also known to be less aggressive when it comes to North Korea, and this could be good news at a time of unprecedented provocations by the North. Apart from the recent missile tests, these provocations have included two nuclear tests last year and last month's assassination of the North Korean leader Kim Jong-un's half-brother at Kuala Lumpur airport.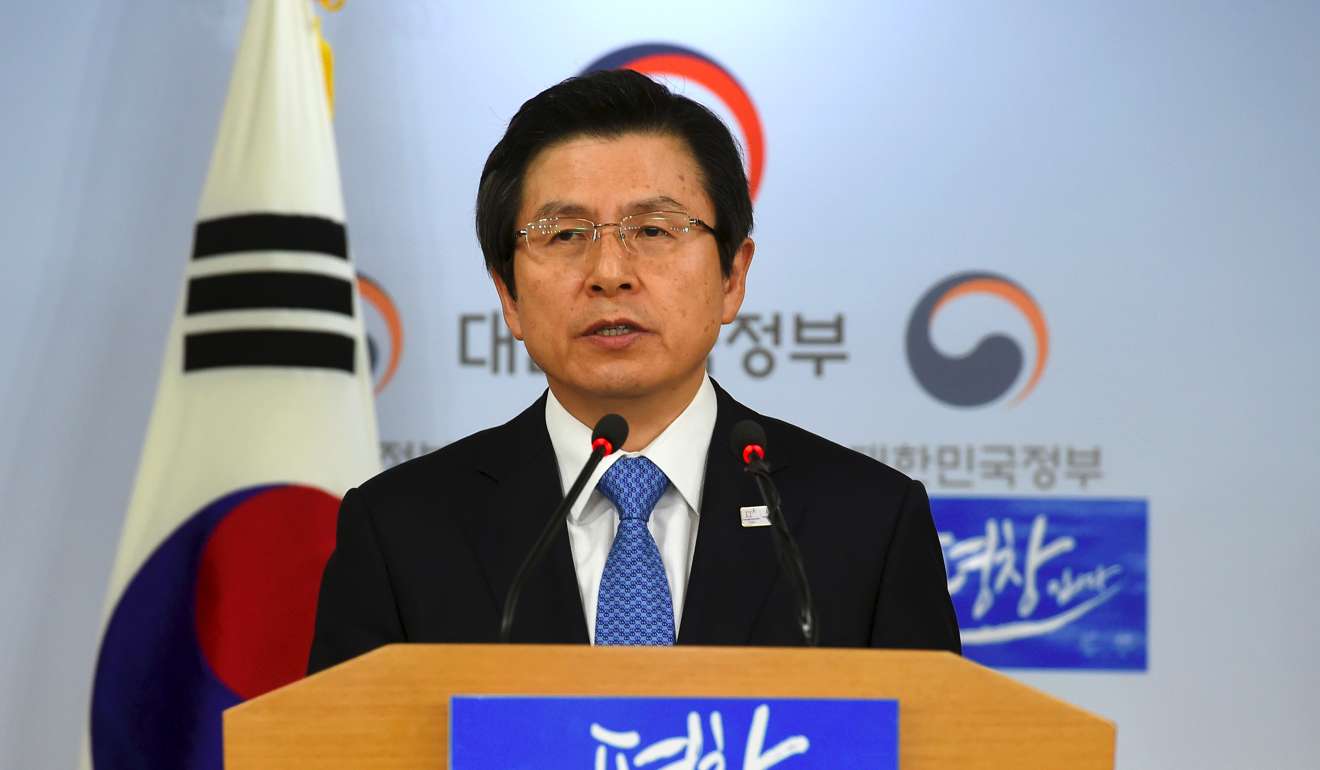 Park herself – now more a Nixon figure than an Onassis – has now lost presidential immunity from criminal prosecution and may soon find herself in court.
As for the nation, a new president must be elected within the next 60 days. Until then, Prime Minister Hwang Kyo-ahn presides as acting president.
Meanwhile, the peaceful rallies that had demanded Park step down, and which became the largest demonstrations in the nation's history in December when up to 2.3 million protesters took to the streets, have intensified following the court's ruling, leading to the death of the two protestors.
Such developments suggest that while Park may have guaranteed her ignominious place in the record books, the saga surrounding her presidency is far from history. ■