A thick fog has descended on Japanese Prime Minister Shinzo Abe, threatening to obscure his route to becoming the country's longest-serving leader, as questions mount over his links to an ultra-nationalist school seemingly stuck in the country's imperialist past.
The crisis rocking Abe's previously unshakeable administration relates to claims his wife, Akie, donated 1 million yen (HK$70,000) to the school in 2015 – claims Abe's critics have seized on to raise doubts over the government's decision to sell the school state-owned land at a near 90 per cent discount.
Abe himself has raised the stakes by pledging to quit as prime minister and lawmaker if either he or his wife are found to have engaged in wrongful dealings with the school operator, Moritomo Gakuen. Akie, meanwhile, who was to have been the honorary principal of the elementary school (which may now be cancelled completely), has severed her ties with it.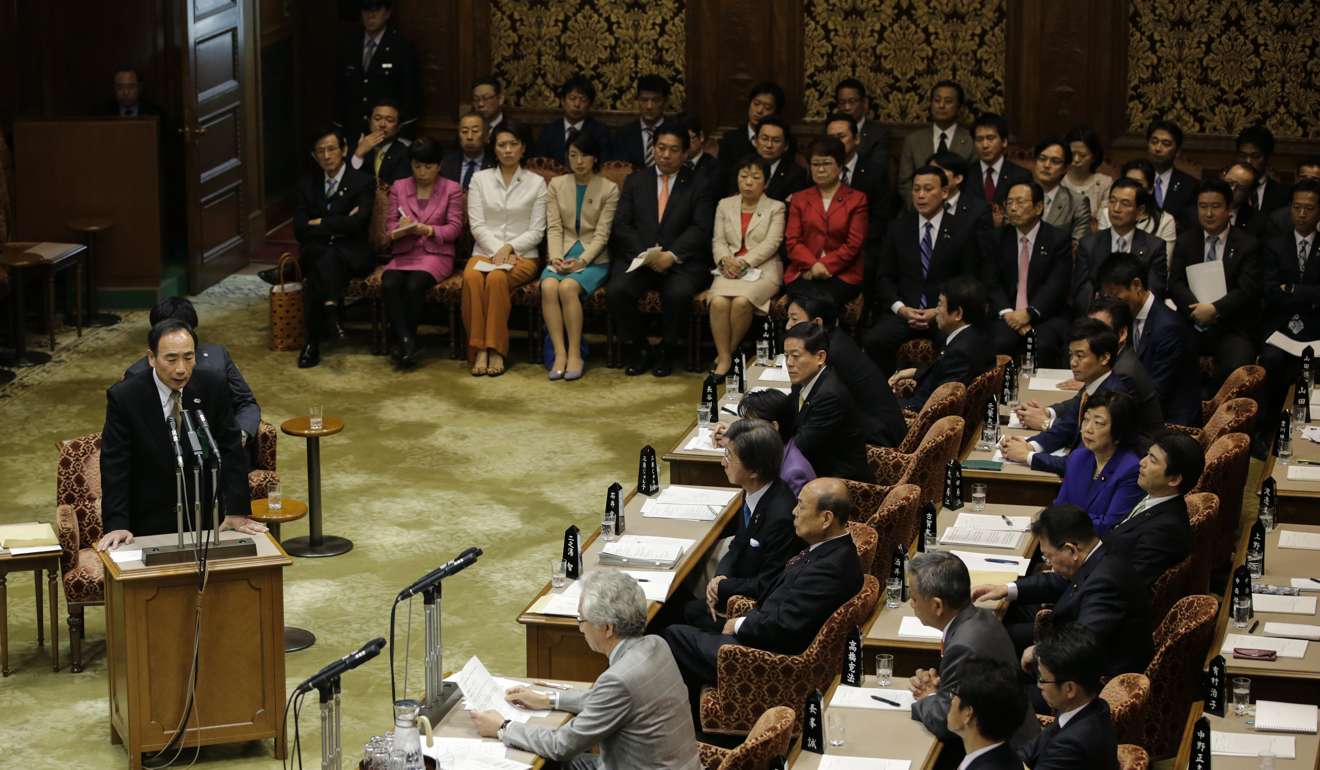 But those responses have failed to quell the critics, putting increasing pressure on Abe, who is 18 months into a second three-year term, to clarify the government's role regarding the school in northern Osaka.
That pressure has grown since the emergence of opinion polls showing Abe's approval rating has sunk from 66 per cent to 56 per cent – the steepest drop since he returned to power in 2012. Perhaps more worrying for Abe is that polls also show about 80 per cent of Japanese are unconvinced by the government's explanation of why it sold the land to Moritomo Gakuen so cheaply.
Those explanations have come in for heavy scepticism after the school chief Yasunori Kagoike hinted in an address to parliament that bureaucrats in the Ministry of Finance had offered to make the deal "convenient" for the school.
Officials say the discount on the 8,770 sq metre plot was to cover clean-up costs, while a cabinet spokesperson has repeatedly denied Kagoike's claims about Ake's donations.
The scandal surrounding the school is particularly problematic for Abe because it shines a less-than-welcome light on both his political allies and his philosophical background.
The birth of the controversial school was made possible when Osaka's prefectural government, led by the Japan Restoration Party – a right-wing, populist party closely linked with Abe – relaxed its approval system in advance, giving the green light to its establishment in an abnormally quick time.
That manoeuvre brought to mind the partnership between Abe and the JRP last year when Abe's ruling coalition fast-tracked legislation to legalise casinos – and the JRP's move in 2014 to recruit Abe as its party head.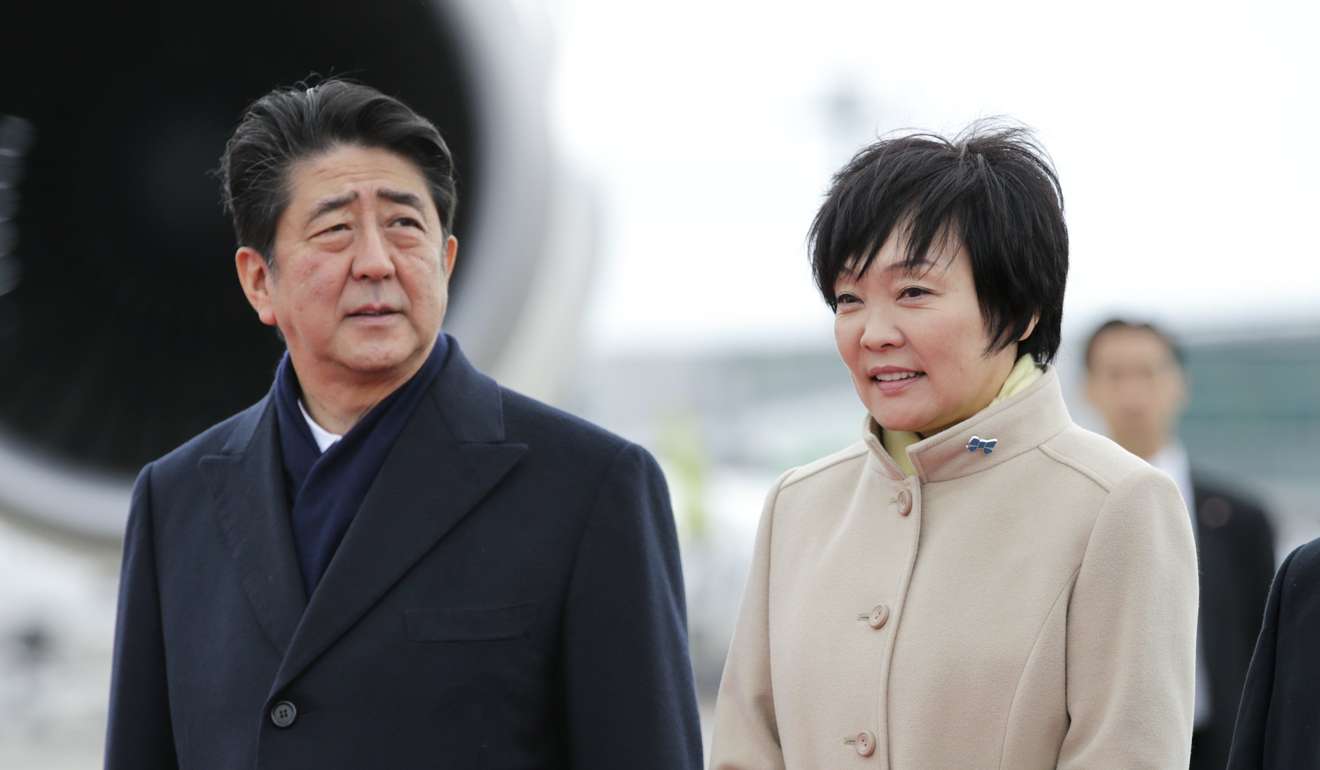 Regardless of the political machinations, the school's anachronistic education system – which requires children to recite a 19th-century imperial decree on education – is what has raised most eyebrows.
Japanese media have discovered video footage of Moritomo Gakuen pupils singing martial songs at a Shinto shrine. Others show children at a sporting event chanting, "Adults should protect the Senkaku Islands [known in China as the Diaoyus], Takeshima [the South Korean-controlled islands of Dok-do] and the Northern Territories", references to various outposts with disputed sovereignty, claimed by Japan and other nations.
Kagoike, the school's head, was a senior member of the Osaka branch of the Japan Conference, the largest nationalist lobby group, which has close ties to Abe's cabinet. Defence minister Tomomi Inada, who Abe wants to succeed him, has also come under fire after admitting that she had, as a lawyer, represented Moritomo Gakuen in court in 2004.
All this has raised more questions than answers for Abe and the quagmire has only deepened with the government's attempts to draw a line under the issue. In sworn testimony at the Diet on Thursday, Kagoike inflamed matters further when he disclosed more links leading to Akie – including a fax regarding the land issues that had been sent by a government employee assigned to Ake.
NOT STEPPING DOWN
Even so, Abe, already among Japan's longest-serving prime ministers, is unlikely to step down anytime soon. This month, his Liberal Democratic Party formally changed its charter to allow presidents a third consecutive three-year term, opening a door for Abe to remain in office until 2021 – a rule change that could pave the way for him to become the country's longest-serving leader.
He also enjoys near unanimous backing from his party's ruling coalition partners Komeito – barring a handful of backbenchers who have reservations about the scandal. These include the LDP's Shigeru Ishiba, who hopes to succeed Abe.
This continued support for Abe is partly because Japan's opposition parties are not seen as a viable alternative. In any case, most key elections are still far off. The LDP's next party presidential race will be in September 2018, and the next general election need only take place before December 2018.
One event that could cause an upset is the upcoming Tokyo municipal elections in July, in which some predict a sweeping victory for popular Governor Yuriko Koike, a potential challenger to Abe. That threat, along with the damage to his right-wing allies, means Abe might be tempted to rethink his political agenda – especially as more details from his wife and bureaucrats are expected to emerge in the coming days. Thus far, the fog is only thickening. ■