The young woman with neat, shoulder-length hair and bookish glasses stands quietly alongside her fellow demonstrators.
She is near the front of dozens of students who have gathered in the early summer heat to march on Hong Kong's Government House amid a brewing political storm that has brought weeks of protests and will one day come to be seen as a key event in the city's political awakening.
Many of those around her appear jovial, looking around and smiling for the cameras with their hand-painted banners. But the young woman looks more serious, her face hard to read as she peers over the shoulders of those in the front row. Is her expression determination, or shyness? Is she driving forward or holding back?
The date is May 11, 1978, and the woman in this photograph is a 20-year-old Carrie Lam Cheng Yuet-ngor. She and her fellow Hong Kong University students are marching to give a petition to the governor in the then-British colony in support of the teachers and pupils at the Precious Blood Golden Jubilee Secondary School. Those pupils themselves are staging a weeks-long sit-in to demand the reinstatement of four expelled "leftist" pupils and the dismissal of their headmistress, who is accused of financial mishandling.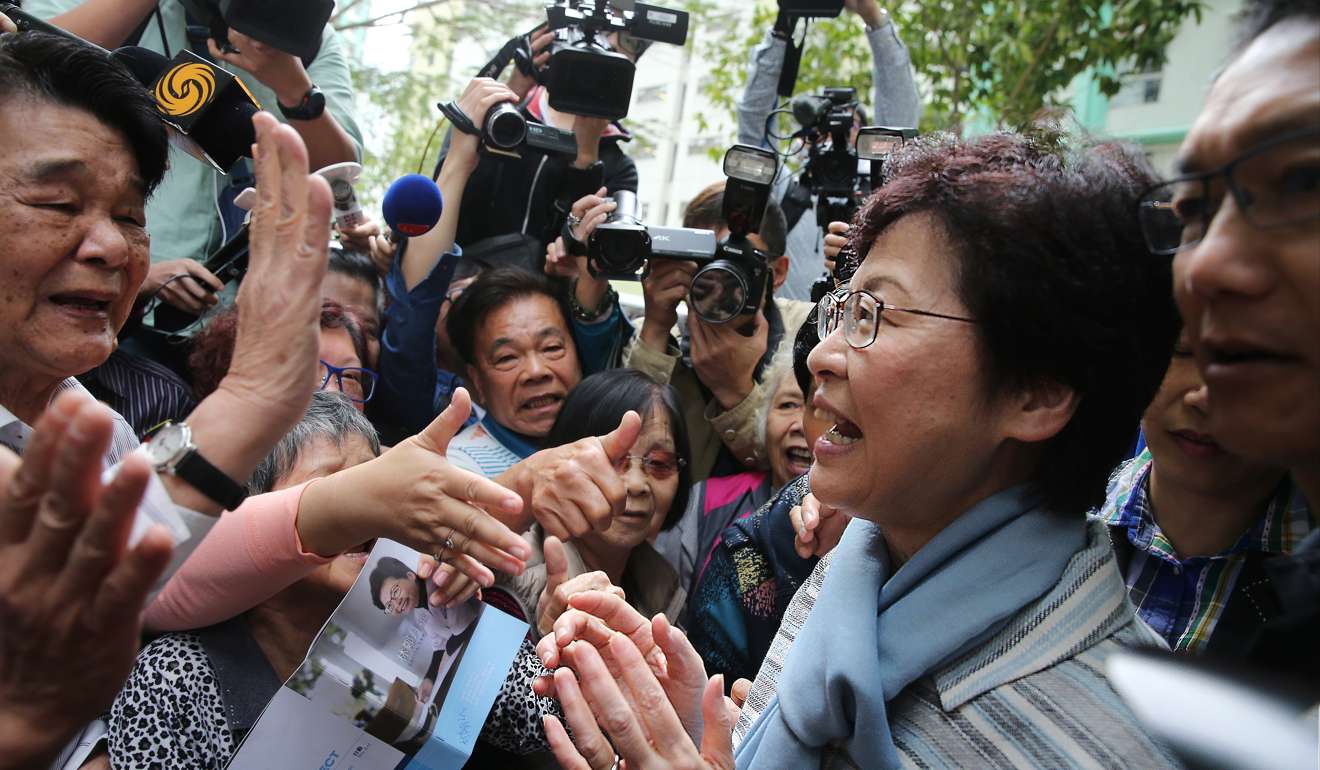 Nearly four decades since that landmark protest, Lam once again has Government House in her sights, but this time with a very different proposition in hand. Barring any 11th-hour scandal – or a last-minute change of heart by Beijing – the once shy young woman who has long since shed her cocoon to become a confident and forceful contender for the post of Hong Kong's Chief Executive – will be declared the city's leader by Sunday afternoon.
WATCH: Chief executive hopeful Carrie Lam says she will resign if she becomes too unpopular
Such an achievement is to be lauded in any city, but perhaps none more so than in Hong Kong, where the route to the top resembles a Byzantine maze in which entrants are required to juggle an uneasy mix of Western democratic ideals and deference to the mainland's communist leaders.
Viewed from afar, the election can seem surprisingly democratic.
On Sunday, an Election Committee made up of 1,194 members, themselves elected by four subsectors broadly representative of society – industry and commerce; professionals; labour, social services and religion; politicians – will determine who becomes the city's chief executive.
But, as detractors point out, the fine print seems to ensure Beijing's preferred candidate always wins. Beijing-loyalists hold a tight grip on more than two-thirds of the 1,200 seats on the Election Committee. Beijing can count on this numerical advantage because these pro-establishment figures directly control some of the groups that make up the subsectors, while it also exerts indirect influence on others, such as the business sectors, which must largely toe the line given their vast interests on the mainland.
This time around, that candidate appears to be Lam. If – as is widely expected – she wins, it is likely to be purely from the backing of the pro-establishment camp; not a single one of the 326 pan-democrats on the committee have voiced an intention to vote for her.
WATCH: Carrie Lam talks to SCMP about her CE bid
Lam is expected to beat the former financial secretary John Tsang Chun-wah – who, polls repeatedly show, is far more popular with the public – and the retired judge Woo Kwok-hing to become the fourth chief executive since Hong Kong's handover to Chinese sovereignty in 1997.
The winner will be formally sworn in on July 1, the 20th anniversary of the handover, in an inauguration likely to be witnessed by President Xi Jinping ( 習近平 ).
Lam would do well to savour the richness of the occasion, as her ensuing five-year term is unlikely to go as smoothly.
From the start, she will be unpopular with some Hongkongers purely because she is seen as Beijing's preferred candidate. Mainland Chinese officials repeatedly showed a clear preference for Lam during her campaign, according to multiple pro-establishment politicians who said Beijing's representatives in the Liaison Office in Hong Kong had been canvassing for her.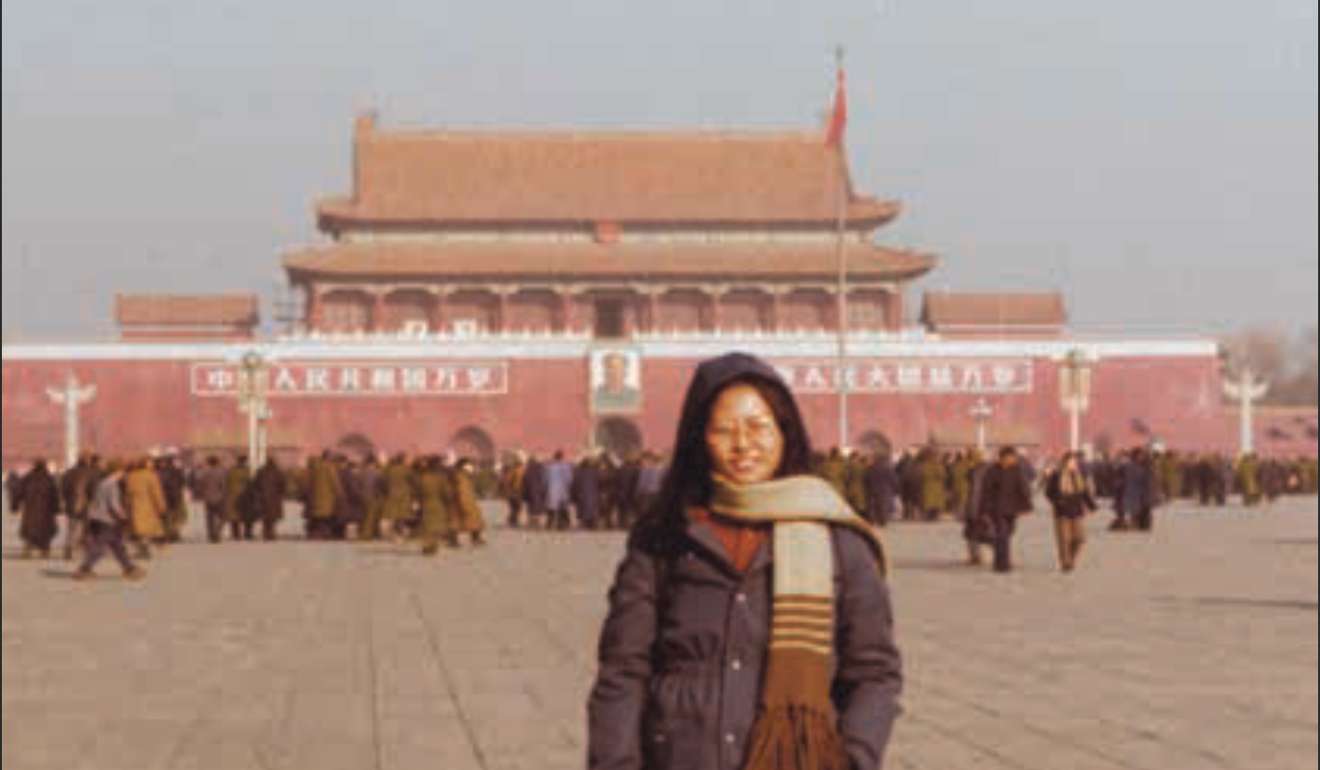 Her biggest challenge will lie in how she handles public demands for universal suffrage – an issue of particular pertinence to Lam for two reasons.
Firstly, there is disappointment surrounding this election. Ten years ago, then chief executive Donald Tsang Yam-kuen persuaded Beijing to agree to allowing the city to elect its leader via universal suffrage in 2017.
Its failure to stick to that promise in its unadulterated form was the direct cause of the Occupy Central protests of 2014 in which student protesters brought the city to a standstill for weeks by blocking roads. (Indeed, in a delicious twist of irony some commentators have even suggested that it was the 1978 protests at the Precious Blood school that created the civic atmosphere in which the Umbrella Movement and Occupy Central could take hold).
WATCH: Carrie Lam enters Hong Kong chief executive race with 579 nominations
Secondly, Lam's five-year term will span the halfway mark in the "one country, two systems" agreement between Beijing and London that was supposed to guarantee Hong Kong's political and economic systems for 50 years after the handover. There's pressure on Lam to show critics that Beijing's respect for this agreement goes beyond mere lip service.
Clearly, Lam can expect a baptism of fire.
"Lam is the product of an unfair and unjust election with heavy handed interference from the Liaison Office. This makes life difficult for her from day one," said Anson Chan Fang On-sang, Hong Kong's first post-handover chief secretary.
"She won't have even a single day of honeymoon with the Hong Kong public. With little credibility to start off with, unless she moves quickly to mend her ways and earn the trust of the community, she will find it difficult to govern Hong Kong effectively.
"Beijing will have to recognise that by foisting upon us a highly unpopular chief executive, they have once again undermined confidence in 'one country, two systems', [Hong Kong's] high degree of autonomy and [the notion of] Hong Kong people ruling Hong Kong," Chan said – referencing Beijing's three promises to the city prior to the handover.
"This just increases Hong Kong people's sense of anger, frustration and futility."
THE WOMAN WE KNEW
In a different era, it might have been thought that Lam's background would make her the perfect choice to address this anger.
After all, those who knew the young Lam say it was the very sense of frustration and futility that Chan mentions that prompted the student activism of Lam's youth – a period that began when as a university freshwoman she joined the Social Sciences Society as the current affairs secretary. "Everyone joining the society at that time had the ideal of doing something to fight social injustice," said Kenneth Yu Ip-kan, who was chairman of the society in 1978. Yu recalled Lam visiting boat dwellers stranded at Yau Ma Tei typhoon shelter and writing "big character posters" on campus – the kind of political declarations or appeals inspired by the Red Guards that were prevalent during the Cultural Revolution.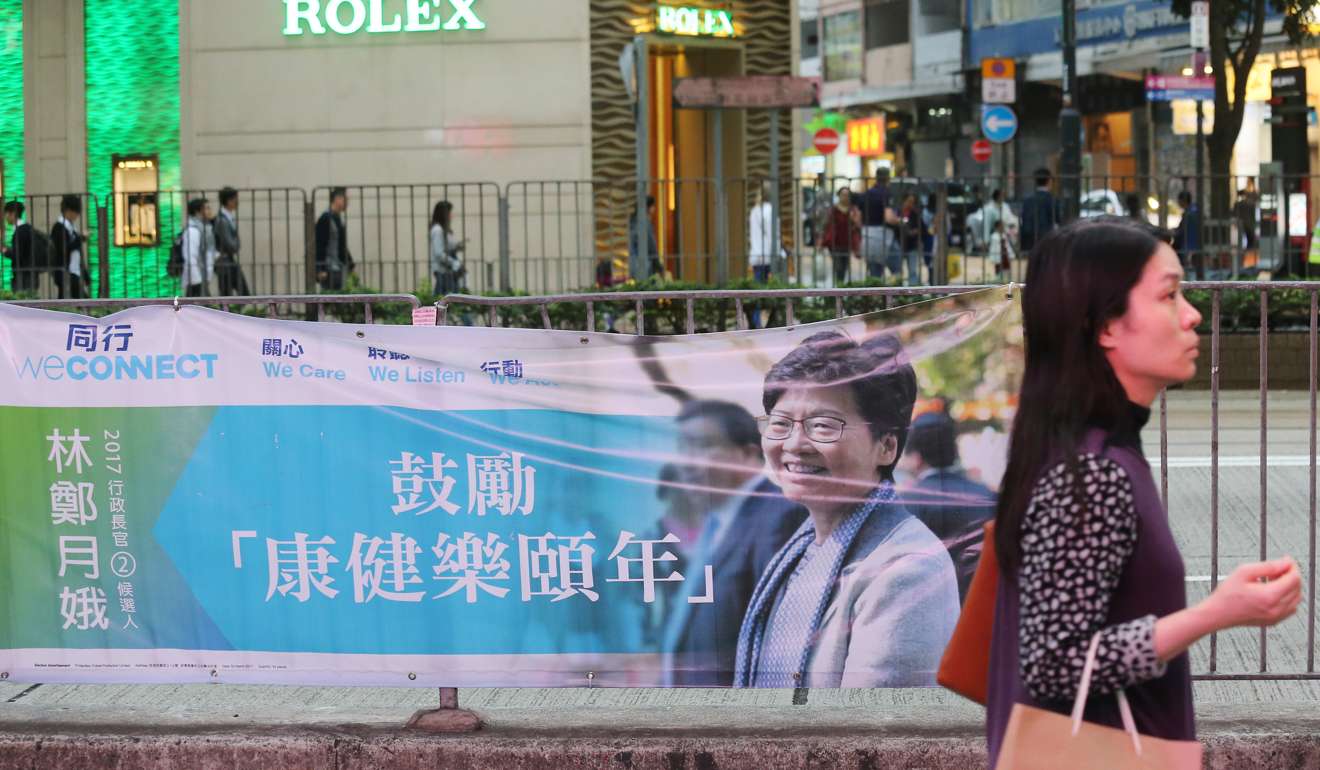 "After the society organised an orientation for newcomers, we charged them HK$1 for each photo, while the cost was like HK$0.93. The difference was negligible but we were accused by someone of corruption.
WATCH: Carrie Lam officially announces candidacy for chief executive
"When someone in our cabinet felt so wronged and quit, Carrie wrote a number of big character posters around the campus to stand up for the aggrieved team member," Yu said.
Wai Chi-kin, the society's vice-chairman at that time, added: "Although she was quiet and she wouldn't stand in front of everyone else, she had that genuine care for society."
Yet despite such apparently fond memories, Wai, who is one of the 326 pan-democrats on the Election Committee, has no intention of voting for his former peer. "She is no longer a hot-blooded teenager. Nor am I. But she is now a high-ranking official. Her behaviour and thinking have changed a lot," Wai said.
If Lam's thinking has changed, so too has that of her supporters. In yet another irony that may say as much about modern day politics as it does about Lam herself, her popularity with the public appears inversely proportional to her political success.
Rolling polls suggest more Hongkongers dislike Lam than like her main rival, Tsang. That would have been unthinkable seven or eight years ago, when she was a superstar development minister, popular enough to stand firm against both indigenous villagers' demands for impunity after skirting building limitations and against conservationists trying to prevent the demolition of the Queen's pier.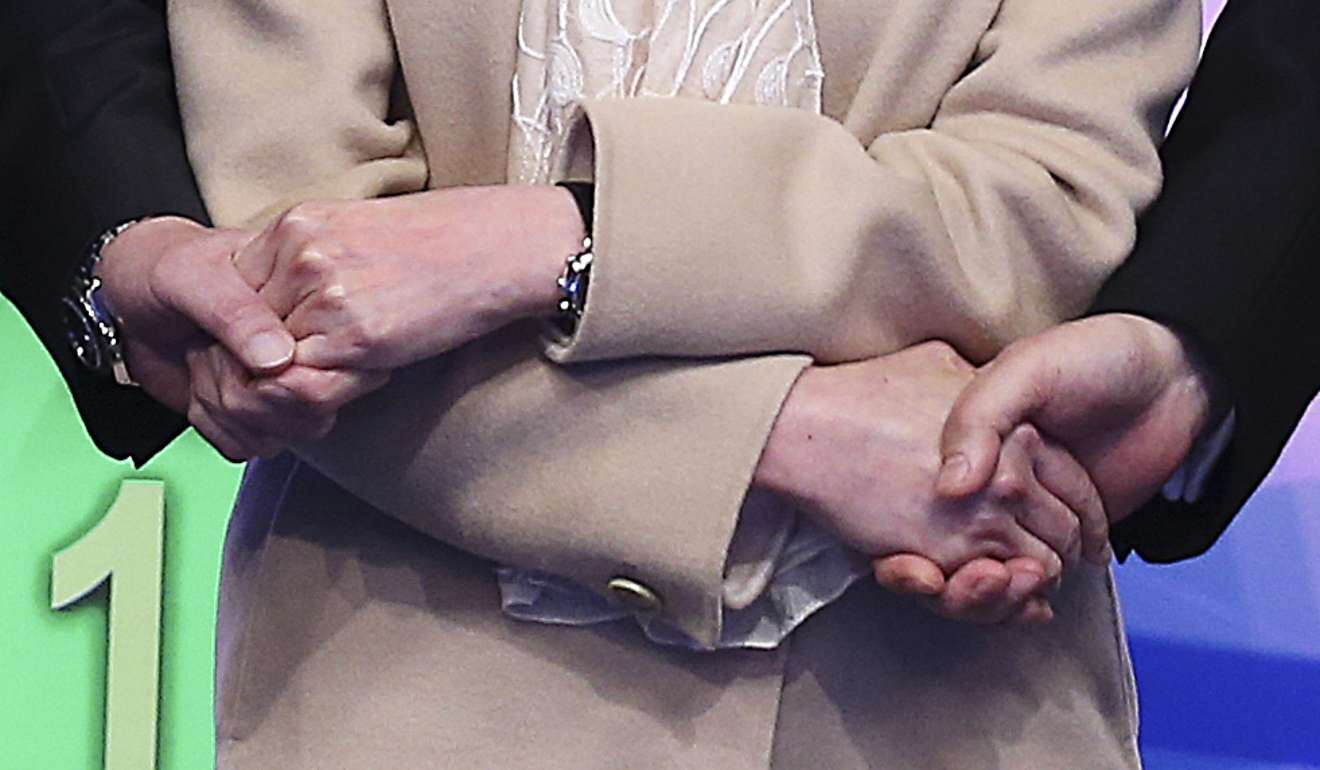 Yet the higher she rises, the lower her popularity falls. The transformation was clearest when she became the city's No 2 official in 2012 – and was handed the hot potato issue of political reform.
Pan-democrats accused her of turning a deaf ear to their demands for full democracy, painting her as a different woman to the Lam they once knew.
"Lam changed from an official willing to listen to one who prides herself on keeping the whole Palace Museum plan under wraps," said Civic Party lawmaker Tanya Chan, referring to Lam's sudden decision to erect a replica of Beijing's Forbidden City in a prime cultural site in West Kowloon – a move that angered local arts groups who felt she had ignored public consultations.
In the corridors of power, those who work closest to her describe a determined, uncompromising figure – the sort of attitudes that may be required of political leaders, but do not make friends easily. Critics have targeted her interpersonal skills, saying she is difficult to work with; the Civil Service Bureau was recently moved to quash suggestions that senior administrative officers were mulling "an exodus" in the case of a Lam victory.
During her campaign, Lam described herself as a workaholic who liked to stay in the office till midnight.
"All she had in mind was work and her way of getting it done," said a source who worked directly under Lam.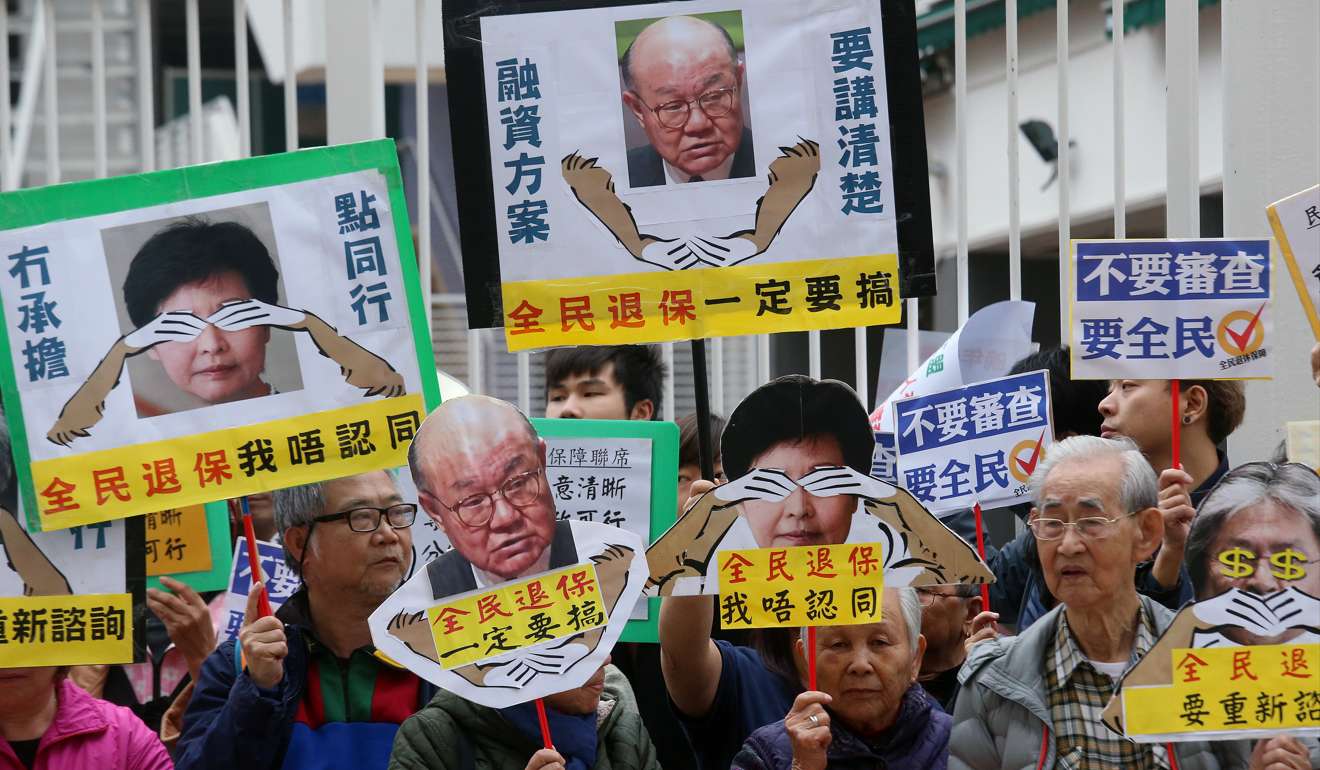 Other officials accuse her of arrogance, while persistent rumours linger that the top civil servant in the development bureau, Raymond Young Lap-moon, left prematurely due to clashes with her. Some have suggested that Young was the author of a letter critical of Lam's decision-making that circulated in the Chinese press, written by a "retired senior civil servant". However, Young told This Week In Asia: "I'd rather stay quiet during this sensitive time ... when people ask if I was the anonymous [official] criticising Carrie, of course that's not me."
Those more sympathetic to Lam note that a certain level of detachment, if not coldness, is required in a job that comes under constant public scrutiny – even if a warm exterior plays well with that same public during the campaign period.
"Character is character. It's something very difficult to change in two, three weeks," said ex-minister Michael Suen Ming-yeung, a former boss of Lam.
Indeed, there remains a trace of that shyness shown by the young protester: until the start of this year Lam had not even created a Facebook account – something that put her at a disadvantage against her rival Tsang, who had mastered the art of social media in galvanising public support.
MAKING OF A LEADER
Popular support, after all, is only the last among Beijing's four criteria for a Hong Kong chief executive – after patriotism, trustworthiness (to Beijing), and capability.
Lam has been clear about her strategy since the start, aligning herself with Beijing-loyalists, property developers and social elites.
Developing the economy and improving livelihoods came top in her agenda, at the expense of political reform – save for a token mention of seeking "a favourable social atmosphere", a suggestion ridiculed by her critics as an anachronism in such a deeply divided society. Such priorities correspond closely to Beijing's preferences, they mutter.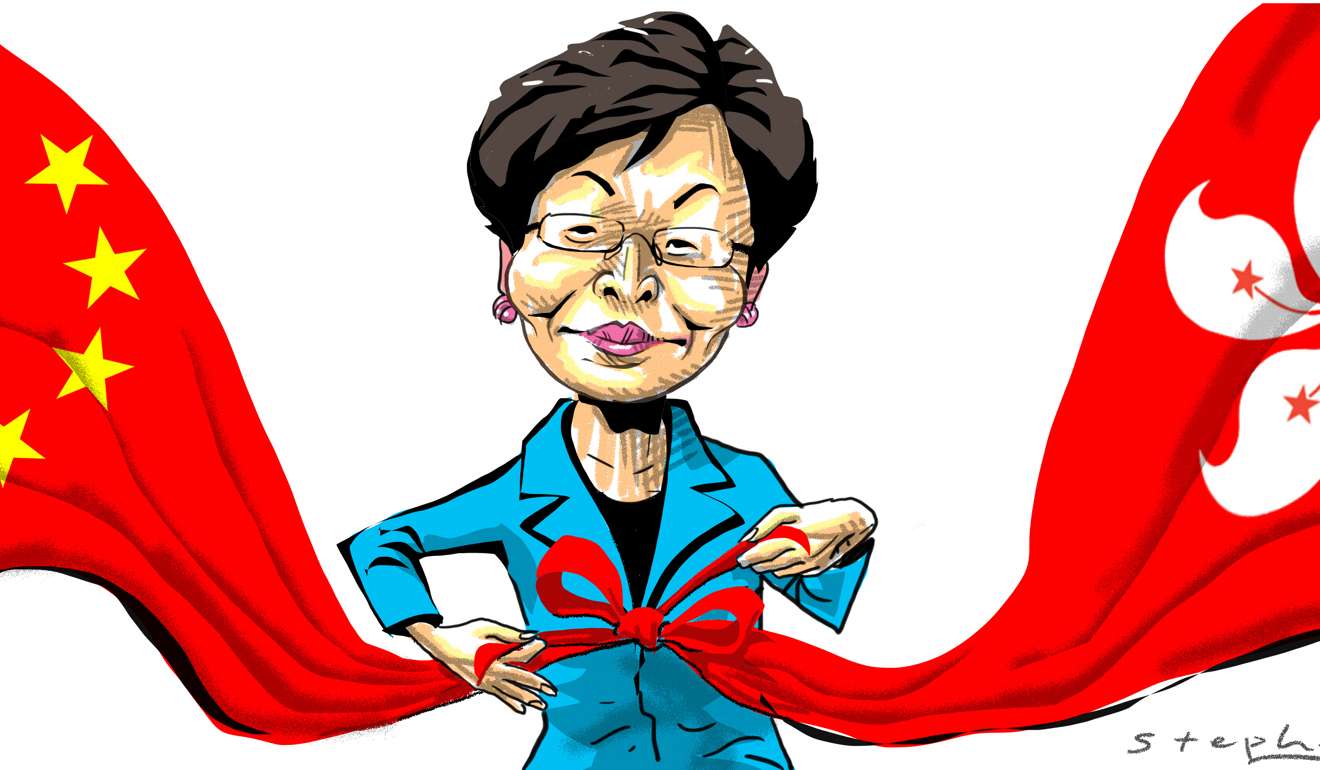 "If Lam wins the election, Beijing would expect her to lead the SAR government in developing the economy, improving people's livelihoods, and mending the divide that has emerged in the city in recent years," said Tian Feilong, associate law professor at Beihang University in Beijing. "Then, if the atmosphere allows, the central government would support the relaunch of political reform based on the '8.31' framework," he added, in a reference to Beijing's rules for the 2017 election it laid down on August 31, 2014.
That framework envisaged a form of universal suffrage for the 2017 general election in which the Election Committee, rather than electing the chief executive directly, would screen candidates before they went to a vote by the general public. Candidates would need the approval of half the 1,200 members to run.
Despite the nod to universal suffrage, the framework was unpopular with critics who said it would be as open to Beijing's influence as the previous system. Following the Occupy Central protests against the framework, Beijing refused to budge, leading to the proposal being voted down by Hong Kong's Legislative Council.
IN SAFE HANDS?
For Beijing, Lam represents the safe choice as she has always supported China's election framework.
That has made her anathema to the pan-democrats, who have opposed the framework since 2014.
Her rival, Tsang, has tried to make political capital out of this, saying in debates that he understood why Lam had refrained from a clear commitment on political reform: "Because she failed it once already; and there was Occupy Central."
WATCH: Joshua Wong confronts Carrie Lam over election reform proposal
Quite how far any chief executive might be able to influence Beijing in this regard remains a moot point. With Xi widely seen as the toughest Chinese leader since Deng Xiaoping (鄧小平), many question how much leeway Hong Kong will have in developing its democracy.
"The real question continues to be how long can the communist leaders in China actively thwart aspirations toward a more open and participatory political system at home," said Stephen Young, who was the United States' consul-general to Hong Kong from 2010 to 2013, and a self-confessed "real fan" of Lam.
"So long as they continue in this vein, the Chinese government will not stop looking suspiciously at the aspirations of the Hong Kong people and their Western supporters. Whoever emerges as the next chief executive will be a pawn to Beijing's fears and suspicions of a more pluralistic political system in Hong Kong."
When Hong Kong returned to Chinese rule nearly 20 years ago, Beijing had hoped that the "one country, two systems" model would one day apply to Taiwan. That ambition has faded over time, as the formula has come repeatedly under strain.
Critics say the National People's Congress has been all too ready to "issue interpretations" of the city's mini-constitution – effectively changing it. Last year, it decided the fate of two young pro-independence lawmakers who had slurred their oaths when taking office in Hong Kong's Legislative Council. While the lawmakers' actions had created one scandal, the NPC's decision to weigh in while the city's courts were still judging the matter created a second when it led to the lawmakers' dismissal.
WATCH: Hong Kong Chief Secretary Carrie Lam resigns
And Beijing has often appeared to respect "one country, two systems" only when it suits. Two years ago the apparent abduction of a group of Hong Kong booksellers – whose shops sold works critical of the Communist Party leadership – caused further ructions when they reappeared in the custody of mainland law enforcement agencies.
Such events have left many questioning Beijing's dedication to the principle it agreed to 20 years ago.
"China needed Hong Kong much more back then than it does now, at least in terms of trade and investment," said Young, the diplomat. "The sad fact is that the implicit promise to Hong Kong citizens of Deng's 'one country, two systems' back when Beijing was negotiating with London the return of the colony into the arms of the motherland, has now become quite hollow in the view of most objective observers."
That leaves Lam with a mountain to climb if she is to rebuild the next generation's trust in the city; to engender the same kind of civic passion in them that she showed alongside her fellow students all those years ago.
But it is not an impossible task, and there is optimism to be found even among Lam's many critics.
Standing next to Lam on that steamy day in 1978 was another youthful idealist whose civic awareness would one day lead him, too, into the world of politics.
The young Cheung Man-Kwong, now a stalwart of the Democratic Party, the largest pro-democracy party in Hong Kong's legislature, could not have imagined at the time that the young woman with neat hair and bookish glasses would one day rise to lead the city.
And while Cheung says he will not be voting for his former peer, Lam's presence at the march gives him a dash of hope. "She was once a university student activist with ideals," said Cheung. "As long as she keeps that pure heart inside her – and understands the youngsters, listens to them, and accepts their demands wherever possible – she can turn the next generation into a force for positive development."
Whether Lam the 59-year-old is prepared for that task, is hard to know. Equally hard to know – perhaps even for Lam herself – is whether somewhere deep inside her that 20-year-old idealist who marched on Government House lives on, ready to take her place in the front line; driving forward, not holding back. ■
Additional reporting by Tony Cheung