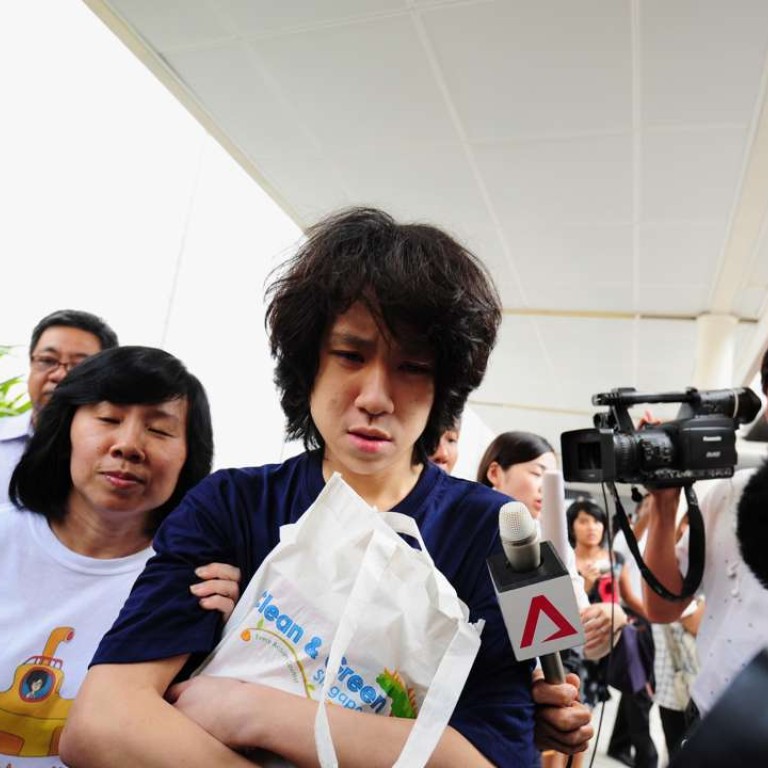 Teenage Singaporean blogger Amos Yee granted asylum in U.S.
The 18-year-old is immediately eligible for release, after being held in a detention facility in Chicago since December 16
Singaporean teenage blogger Amos Yee has been granted asylum in the United States, his lawyer said Saturday.
"On March 24, 2017, the Honorable Immigration Judge Samuel B. Cole granted Amos Yee's asylum application," Sandra Grossman, Yee's pro-bono lawyer in the US, said in a statement.
"Judge Cole concluded that the Singapore government persecuted Yee on account of his political opinion, and that Yee is deserving of asylum as a matter of discretion."
Yee, who has been in US immigration detention for more than 90 days, is now immediately eligible for release.
"He was very pleased with the outcome and pleasantly surprised. He will hopefully be released on Monday," Grossman told This Week in Asia.
Yee served two separate jail terms in Singapore for offences related to his commentary.
He served 53 days of jail time in 2015 and three weeks in 2016 for denigrating religion and insulting the country's late founding father Lee Kuan Yew.
The teenager blogger earlier said he was seeking asylum in the US because it seemed the punishment was aimed at curbing his dissenting views on the long-ruling People's Action Party.
Those claims have been rebuffed by government officials who say Yee was convicted for breaking the law.
"I think this is a major embarrassment for the government, that all along claimed Amos' persecution was not political," Kenneth Jeyaretnam, an opposition politician who gave testimony supporting Yee's asylum, said.
Jeyaretnam said the decision "may create waves in Singapore. It may show Singaporeans that there's nothing to be afraid about. The Singapore government is a paper tiger. We don't have to swallow the brainwashing that is constantly put out".
Phil Robertson, campaign group Human Rights Watch's deputy Asia director, lauded the US judge's asylum decision: "There was never any doubt that Amos Yee is the quintessential political dissident, escaping from the sort of a pressure cooker environment that city-state Singapore excels in devising for dissidents who challenge its prerogatives.
"It's clear the Singapore government saw Amos Yee as the proverbial nail sticking up that had to be hammered down."
Singapore's Ministry of Home Affairs issued a statement on Saturday in which it quoted Yee's remarks against Muslims and Christians and noted Yee had pleaded guilty to charges against him.
"Yee had engaged in hate speech against Christians and Muslims," the ministry said. "The US adopts a different standard, and allows such hate speech under the rubric of freedom of speech.
"It is the prerogative of the US to take in such people who engage in hate speech. There are many more such people, around the world, who deliberately engage in hate speech, and who may be prosecuted. Some of them will no doubt take note of the US approach, and consider applying for asylum in the US."
The US Department of Homeland Security had opposed Yee's asylum application, saying the Singapore government had legitimately prosecuted Yee.
The PAP has long defended imposing certain restrictions on the freedom of speech in the Southeast Asian city state, measures it says are necessary in a multi-ethnic and multi-religious society.
In the statement, Yee's lawyer lauded the move by the US judge.
"The right to free speech is sacred, even when such speech is considered offensive. The decision timely underscores the vital need for an independent judiciary in a functioning democracy," she said.
"It further affirms our country's leadership in defending the basic human right of all people to freely express themselves."
Additional reporting by Associated Press, Agence France-Presse, Reuters
This article appeared in the South China Morning Post print edition as: US judge grants asylum to Singaporean teen blogger