At about 9pm on Sunday, four mini buses, the kind commonly used for public transport in Jakarta, slunk into the Ruko Kokan Permata Complex in Kelapa Gading, in the north of the city. The convoy then wound its way past the Playboy Sensation Funtasty massage parlour and trundled by the blacked out windows of the Delta Massage Health Club – both, in effect, brothels for "straight" men – before making two right turns to stop at Block B, units 15-16. There, a dozen or so plain-clothes police officers jumped out of the buses and stormed the front entrance of the unassuming putty coloured building. Inside, a gay sex party, complete with strippers and about 140 naked men, was in full swing.
"I think they are deviant," said Ade Dwi, a soft-spoken young contractor working across the street on a renovation project when the raid occurred. As he tied a metre-wide roll of sketches to the side of his scooter, he seemed uncomfortable discussing the events of that night. "I'm embarrassed I have to work near that place."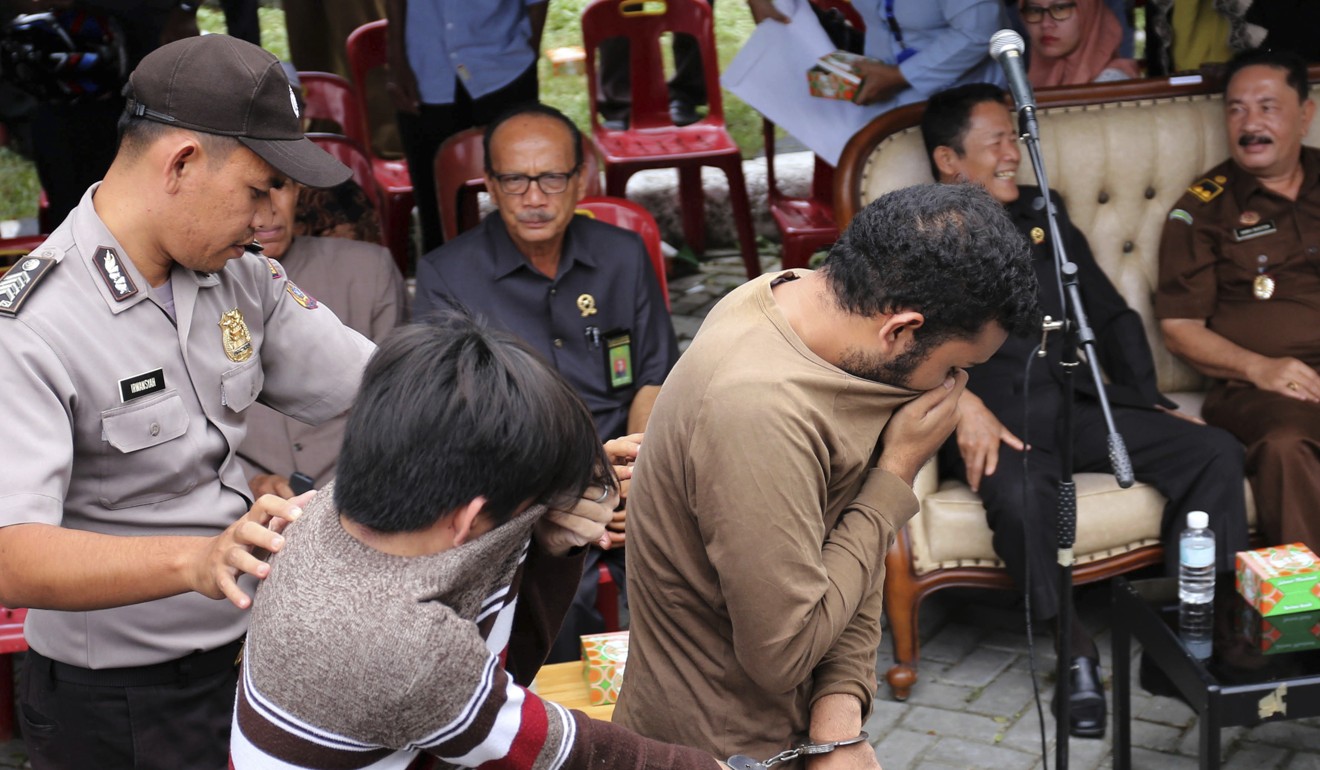 "That place" is Atlantis Gym, a gay sauna in a working class residential district that is ground zero in the latest convulsion of homophobia to hit Indonesia. On Tuesday, its ultraconservative province of Aceh flexed its two-year-old sharia-based criminal code to claim the dubious honour of being host to Asia's first public caning of gay men outside Iran.
Homophobia crested when the two men, in their early 20s, received 83 lashes of the cane for having gay sex. Footage showed hundreds roaring with approval as each of the men were beaten in front of a sea of smartphones recording the event.
Seemingly spurred on by the attention given to the event, police in West Java, the country's most populous province, announced a plan on Tuesday for a task force to investigate LGBT (lesbian, gay, bisexual, transgender) activity.
"I hope there are no followers in West Java, no gay or LGBT lifestyle or tradition," West Java police chief Anton Charliyan said. "If there's anyone following it, they will face the law and heavy social sanctions. They will not be accepted in society."
The anti-gay hysteria in Indonesia stands in sharp contrast to the scenes in Taiwan, which this week became the first jurisdiction in Asia to recognise same sex marriage.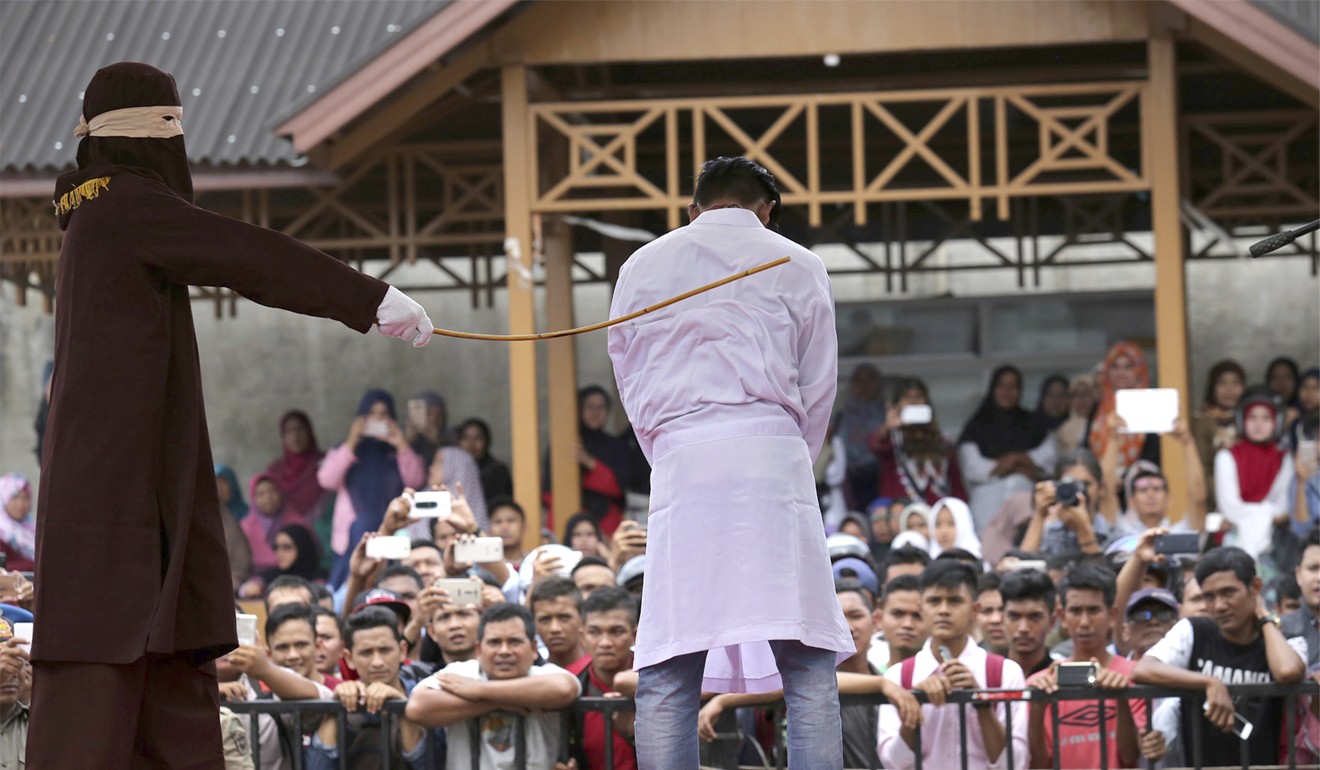 Until recently, Indonesia, with its 225 million Muslims, stood apart in the Islamic world as a relatively tolerant juggernaut. Activists worry that may no longer be true. Further sharia-inspired laws in the country's more conservative localities seem likely. Activists fear a nationwide ban on homosexuality could be on the cards. "Everything is moving that way, yes," said Yuli Rustinawati, the chairwoman of LGBT rights group Arus Pelangi.
Indonesia's Aceh was granted autonomy as part of its 2005 agreement to end its long running independence struggle. In 2015, the province, which sits at the northernmost tip of Sumatra adopted a sharia-based criminal code which also bans extramarital sex, alcohol and makes headscarves compulsory for women.
News of police busting up gay gatherings is a staple of Indonesian media. This month, police arrested 14 men in Surabaya for allegedly violating the country's vague anti-pornography laws during a sex party at a hotel. The police forced the accused to have HIV tests, later posting the results. Last year police detained 13 men for a sex party in the Kalibata district in South Jakarta, on the request of Islamic vigilantes. The men were released but not before being paraded in front of television cameras.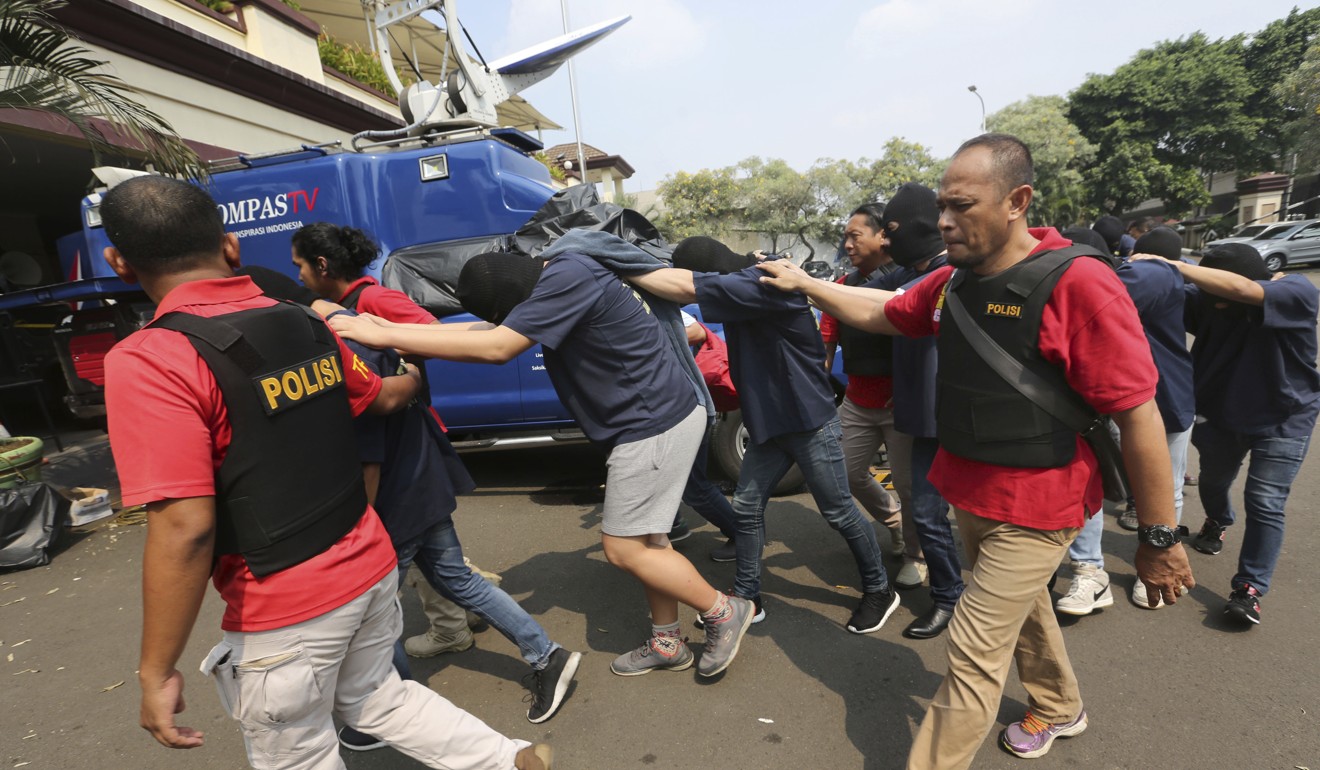 "The police increasingly want to be seen as the guardians of the country's morality," said Ricky Gunawan director of LBH Masyarakat, a non-profit law firm defending the men detained in both of the Jakarta raids. "That is not their job. They are violating the human rights of these men, who have done nothing wrong."
To be sure, other countries have anti-gay laws. India and Singapore retain British colonial laws against homosexual sex and punish violators with prison. Brunei's 2014 sharia code metes out death by stoning for homosexuals, though the punishment is yet to be used.
But in Indonesia the environment has become particularly toxic. Last year senior government officials called for a ban on LGBT groups on university campuses and even likened the spread of gay rights in Indonesia to a "nuclear bomb detonating in Jakarta".
Last May, an outfit called the Family Love Alliance petitioned the Constitutional Court to ban homosexual acts between consenting adults. While the court, which is still considering the case, can't make new laws, it can amend existing ones, said Helen Pausacker, deputy director of the Centre for Indonesian Law, Islam and Society at the University of Melbourne.
"Currently, the Criminal Code only prohibits gay sex with a minor – it would be possible for the court to recommend deleting the reference to 'minor'," Pausacker said. "The decision could go either way."
Todung Mulya Lubis, a lawyer with the Jakarta firm LSM, thinks the court will ban homosexual acts. Lubis, who has argued nearly a dozen cases before the Constitutional Court since 2004, said judges in Indonesia tended to echo popular sentiments when handing down verdicts. Most, according to Lubis, see gay people as depraved and not entitled to legal protection. "In all likelihood the court will ban it," Lubis said. "For them it is 'human rights minus LGBT'."
With its economic heft in Association of Southeast Asian Nations and moral clout as one of the region's few true democracies, Indonesia's views matter. The hope was that under Joko Widodo, who included LGBT rights in his manifesto when he was campaigning for president in 2014, Indonesia might become a bright spot in a dark place for gay rights. That hasn't happened. Asean still hasn't included LGBT rights in its Human Rights Mechanism and almost certainly won't for some time. Last week, Singapore announced that it would ban foreigners from attending Pink Dot festivities – the city state's version of a gay pride parade.
Even so, Taiwan's ruling to recognise same sex marriage, and Vietnam's decision last year to lift its ban on the unions, will go some way to balance out the bad news further south, said veteran Indonesian gay rights campaigner Dede Oetomo. "Taiwan is a vision of the future. It will be a while for Indonesia to get there." ■