South Korean President Moon Jae-in may have expressed shock this week that more THAAD components had already arrived in the country, but critics say he is simply putting on a show for Beijing and Pyongyang.
Beijing has been levying unofficial sanctions on South Korea ever since Seoul's decision last July to deploy the US antiballistic missile system, known in full as the Terminal High Area Altitude Defence. Beijing opposes the system's deployment in South Korea because it fears its powerful radar could be used by the United States to spy on China.
"We have no choice but to see this as the United States targeting China," Guo Rui, international relations expert at Jilin University, said on May 31 at a Korea-China peace forum on the Korean island of Jeju. "THAAD is pulling China and Korea apart."
Moon's statement is in line with recent attempts by Seoul to improve relations with Pyongyang, which critics say have been too conciliatory. On May 29, North Korea conducted its ninth missile test this year and third test since Moon took office, but Moon did not attend the National Security Council meeting the following day. Instead, he called Japanese Prime Minister Shinzo Abe to say dialogue was still possible with North Korea, then expressed his dismay at the arrival of the THAAD components. According to the US and Seoul, THAAD has been deployed in the South to counter potential North Korean missile attacks.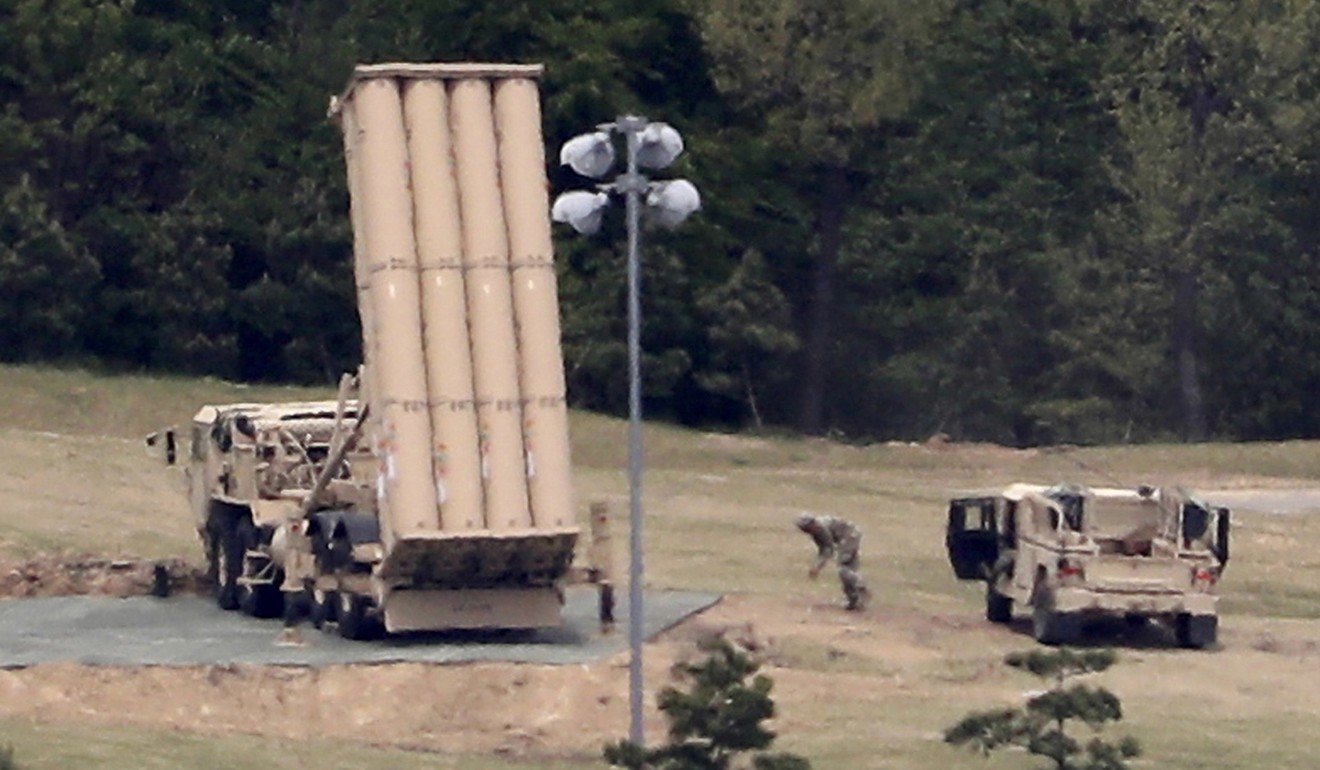 Yoon Young-chan, head of the National Security Agency, gave a briefing on May 30 in which he said Moon was "very shocked" to learn that, in addition to the two operational THAAD launchers in Seongju, North Gyeongsang, four more had already been brought into the country. Yoon added that Moon had instructed the government to investigate the matter and determine whether the four launchers were actually brought in and why this information was not disclosed to the public.
THAAD is manufactured by the US company Lockheed Martin. One THAAD battery consists of an AN/TPY-2 radar, which is used to detect incoming ballistic missiles, 48 missiles, which are used to knock targets out of the air with kinetic rather than explosive energy, and six launcher vehicles, used to transport and fire the missiles.
"The information was not included in official reports," Yun Bee, professor of political science and diplomacy at Sungkyunkwan University, told This Week in Asia. "And there was no transition period for the government to get informed about what was going on. Essential information about how many THAAD launchers were installed was not exactly given. Anyway, the president has a right to be informed about what is going on there. And the defence office probably omitted this, maybe by mistake, or some people suspect maybe it was intended."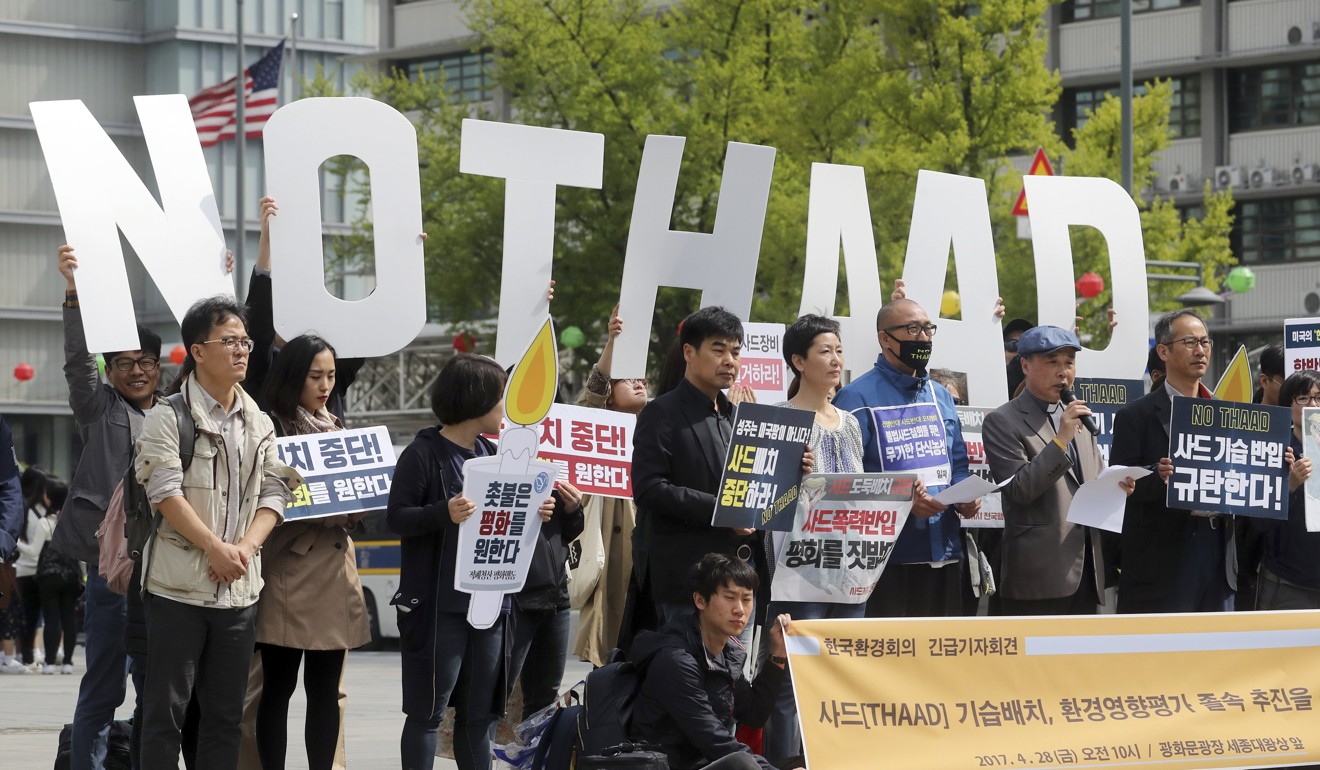 On March 6, two THAAD launchers arrived at Osan Air Base in Pyongtaek, 65km south of Seoul. The radar arrived ten days later, and by the end of April, the battery was in Seongju and operational. On May 2, a US defence official said the system had only "initial intercept capability", because not all its parts had arrived.
During his presidential campaign, Moon opposed the decision to deploy THAAD, calling it "hasty," but as the race wore on, his position softened. In April, he said South Korea could move ahead with the installation if North Korean provocations continued, which is exactly what has happened. Now, his objection is that he wasn't told about the additional four launchers, but since all THAAD batteries have six launchers, sceptics say it's difficult to imagine how Moon could be surprised to learn that four more would be arriving.
WATCH: US deploys THAAD missile defence system to South Korea
Critics say this amounts to little more than posturing on the president's part, in order to please his base supporters, who oppose the deployment outright, as well as Beijing and Pyongyang. Others fear this is the first step towards having THAAD withdrawn.
"The deployment of the battery was decided by the US-ROK agreement before the Moon Jae-in administration," Oh Shin-hwan, spokesman for the Bareun Party, wrote in an essay posted on the party's website on May 31. "It consists of one radar, six launchers and 48 missiles. There are currently only two launchers at the Seongju Golf Club, so it's natural that four more would be deployed." Oh added: "Above all, on April 26, prominent media reports noted that six THAAD launchers were brought into the country."
He also said that if Moon wasn't aware of these facts, or didn't think to ask the Ministry of National Defence for such information, then this only proved him to be incompetent in terms of security. Oh concluded that the investigation Moon had decided to launch into the matter was likely to be welcomed only by pro-North supporters and Kim Jong-un himself. ■