The feuding children of Singapore's late independence leader Lee Kuan Yew were on Sunday battling to seize the narrative in their public squabble over the patriarch's legacy, as his eldest son Prime Minister Lee Hsien Loong readied for a parliamentary debate over the abuse of power accusations by his siblings.
The Premier's brother Lee Hsien Yang launched a fresh social media broadside on Sunday morning in a bid to make his case again before the highly anticipated legislative sitting on Monday at 11am. It came less than a day after he posted an impassioned three-page statement explaining why he was speaking up, after many had asked aloud if there were deeper reasons prompting his sister and him to take their fight into the open.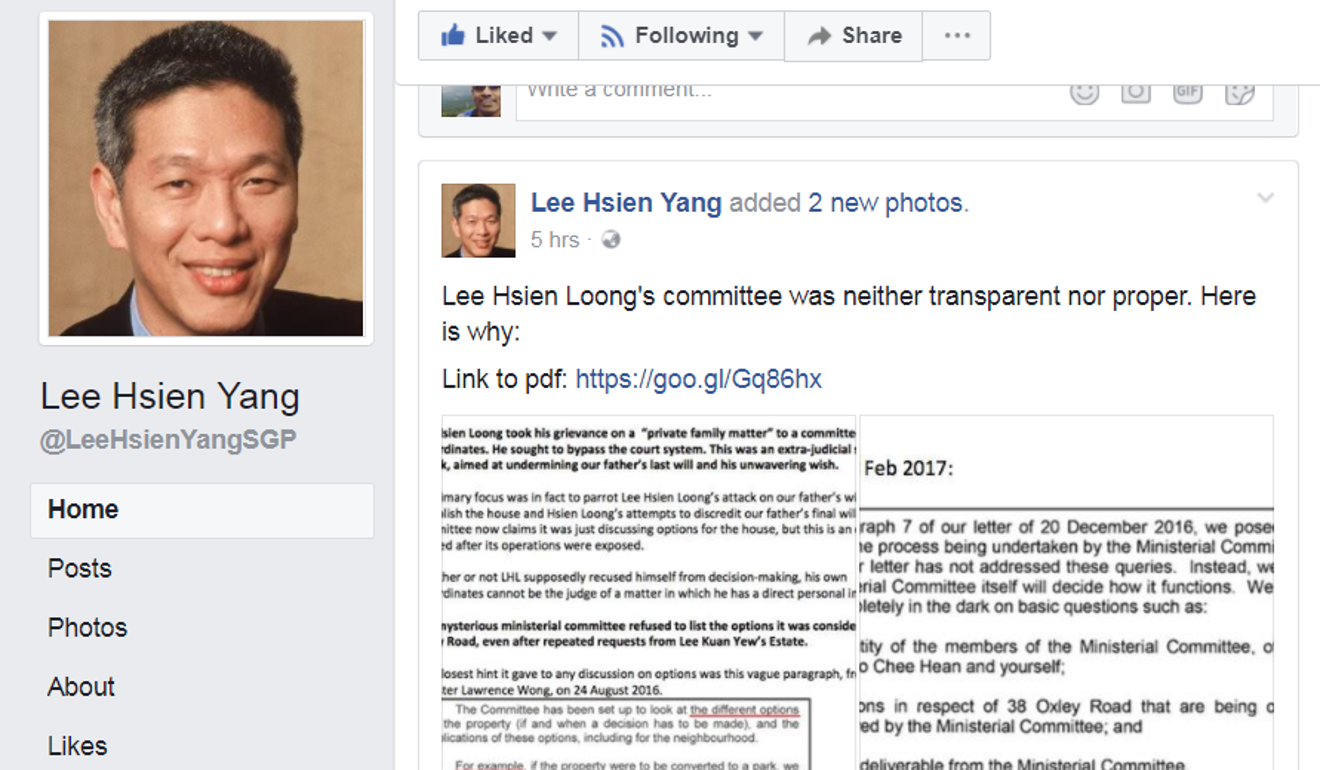 Over the weekend, a poll released in Singapore showed nearly eight out of 10 Singaporeans felt that the saga had hurt the Lion City's international standing.
In the new Facebook post – the two siblings' 40th since going public on June 14 – Lee Hsien Yang slammed Lee Hsien Loong for orchestrating an "extrajudicial secret attack" with the help of his ministerial colleagues in order to browbeat him and their sister.
'Worse than the Kardashians': Lee Kuan Yew family feud turns ugly
At the heart of the bitter dispute being played out on social media is the fate of the near-century old family bungalow at 38 Oxley Road, which Lee Kuan Yew called home for seven decades.
Premier Lee and his government have said Lee Hsien Yang and Lee Wei Ling's accusations about the setting up of a "secret ministerial committee" to block them from demolishing the house is baseless. The younger siblings are the trustees and executors of the estate, and want confirmation that they will be allowed to go ahead with the demolition, a key demand Lee Kuan Yew included in his final will.
Sons, mothers, money and memory: theories about the Lee Kuan Yew family feud
The prime minister has recused himself from government decisions over the home, and has publicly stated that in his private capacity, he hoped for his father's final wish to be honoured.
PRIME MINISTER AND DEPUTY TO FACE QUESTIONS
Deputy Prime Minister Teo Chee Hean said the siblings had misunderstood the four-man ministerial committee's intent – which was simply to gather facts to facilitate a future decision on the house. Because of the bungalow's heritage value, the government has previously said it was unlikely to allow it to be redeveloped into high intensity residential or office complexes if it were to be demolished.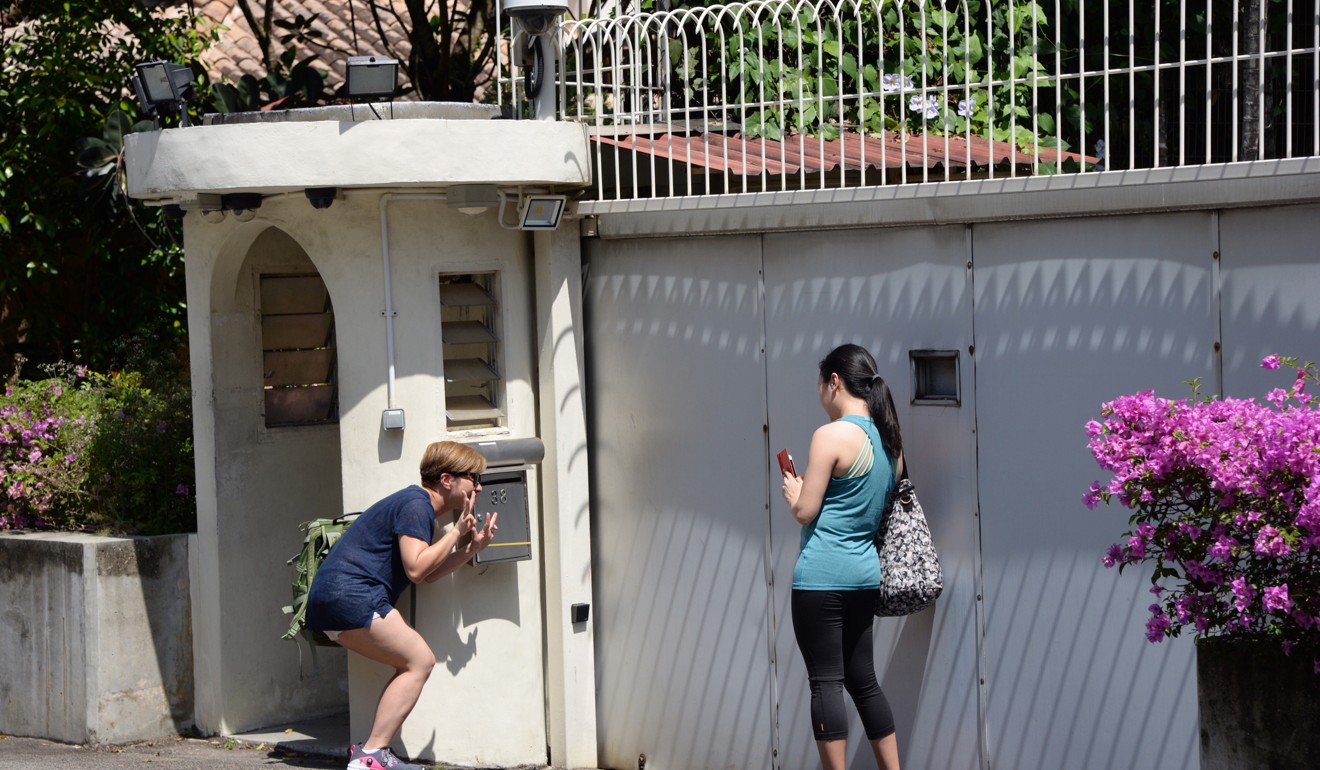 Teo and his boss will speak on the matter on Monday, and have lifted the parliamentary whip of their People's Action Party (PAP). This means its lawmakers – who hold 83 out of 89 elected seats – can grill the premier and deputy premier without worrying about overstepping party lines.
In his Sunday morning missive, Lee Hsien Yang once again dismissed the two leaders' explanations.
"Lee Hsien Loong took his grievance on a 'private family matter' to a committee of his subordinates," wrote the former military general.
Why the Lee Kuan Yew family feud is a metaphor for Singapore
"This was an extrajudicial secret attack, aimed at undermining our father's last will and his unwavering wish."
In his earlier post on Saturday afternoon, he stressed he had no ulterior motive in taking the feud public, other than to carry out his father's final wishes.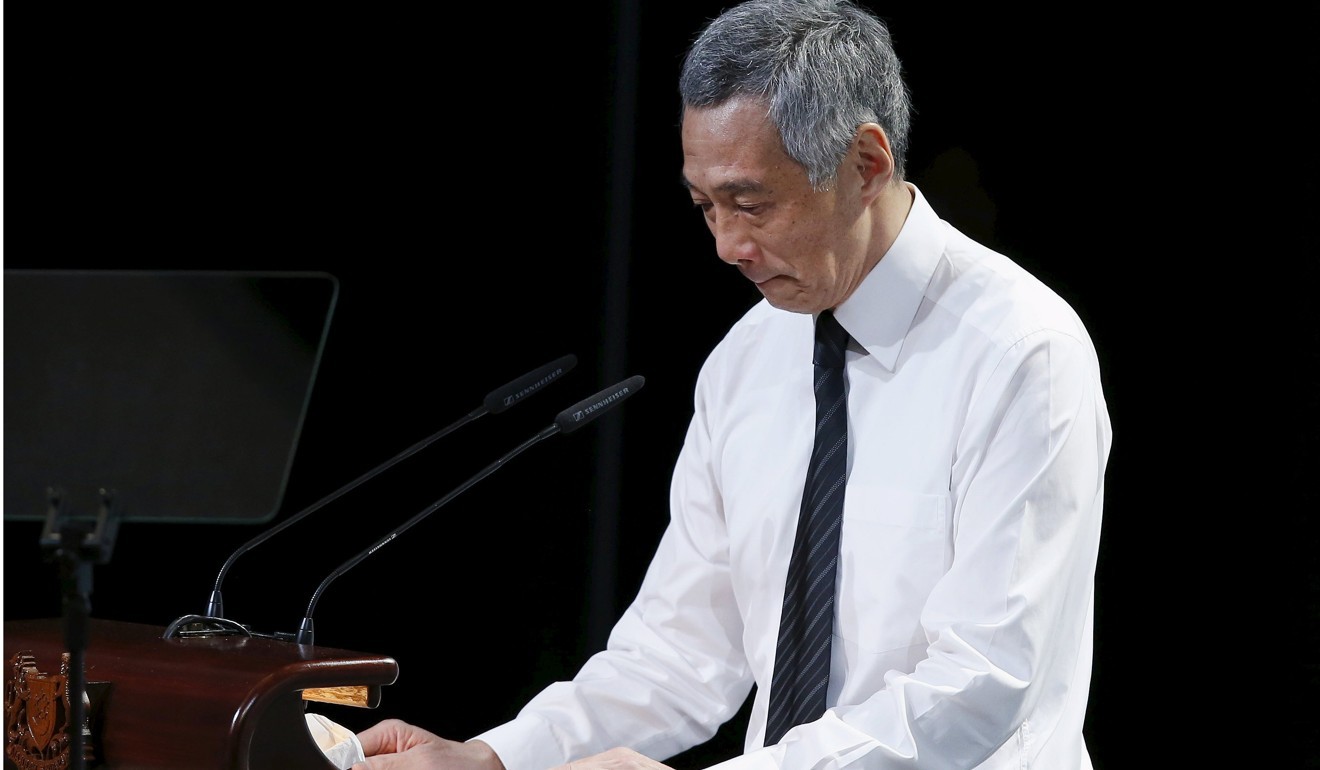 Some, including one of Lee's ministers, had suggested that Lee Hsien Yang's insistence on the demolition may be underpinned by a wish to cash in by redeveloping the property into a luxury condominium. Lee Hsien Yang said he had no such wish – pointing out that he would need both government and neighbours' approval to do so.
He wrote: "It would have been easy to keep my head down – why risk public outcry, suffer campaigns of character assassination, or even exile? But doing the right thing is rarely easy."
The 60-year-old said he and his sister had been "pushed into a corner" by their eldest brother, and they had been forced into utilising social media to do battle as "I have neither brigades of staff nor teams to back me up".
The two back-to-back posts elicited no direct reaction from Premier Lee.
The leader had earlier signalled he was disengaging from the near-daily social media snipes from his siblings until the parliament sitting on Monday. But that did not stop one of his junior officials from firing a missive.
In a Facebook post late on Saturday night, Chee Hong Tat said the late statesman would have been grieved by how the family tussle was hurting the country's international reputation.
"If my former Boss were still around, I think he would want everyone to put Singapore as the priority and stop all the quarrelling and finger pointing," wrote Chee, a junior information and health minister who had served as a top aide to Lee Kuan Yew.
POLL SHOWS DIVIDED OPINION
The last ditch exchange of fire before the parliament sitting came as a poll of 949 Singaporeans conducted by the independent polling firm Blackbox Research showed the issue was being closely tracked in the Lion City. Some 70 per cent of those polled said they were following the saga closely.
Almost half, 49 per cent, said they supported the demolition of 38 Oxley Road; 27 per cent said they did not support such action; and 23 per cent said they did not know what the best cause of action was.
Of seven options, 23 per cent said a "new independent inquiry" was the best way to settle the feud, while 22 per cent said the dispute should be settled in the courts. Some 12 per cent said the ministerial committee was the best way to deal with the matter.
A history lesson for Lee Kuan Yew's feuding offspring from the war of the eight princes in first-century China
One fifth, or 20 per cent, said they felt the allegations the premier abused his powers were "likely true"; 15 per cent said they were "likely false"; while 40 per cent said they needed more proof. Nearly one-third said the public feud in a clan widely considered Singapore's "first family" would hurt the city state "a lot", while 51 per cent said it would cause "a little" damage. Some 12 per cent said it would not cause any damage.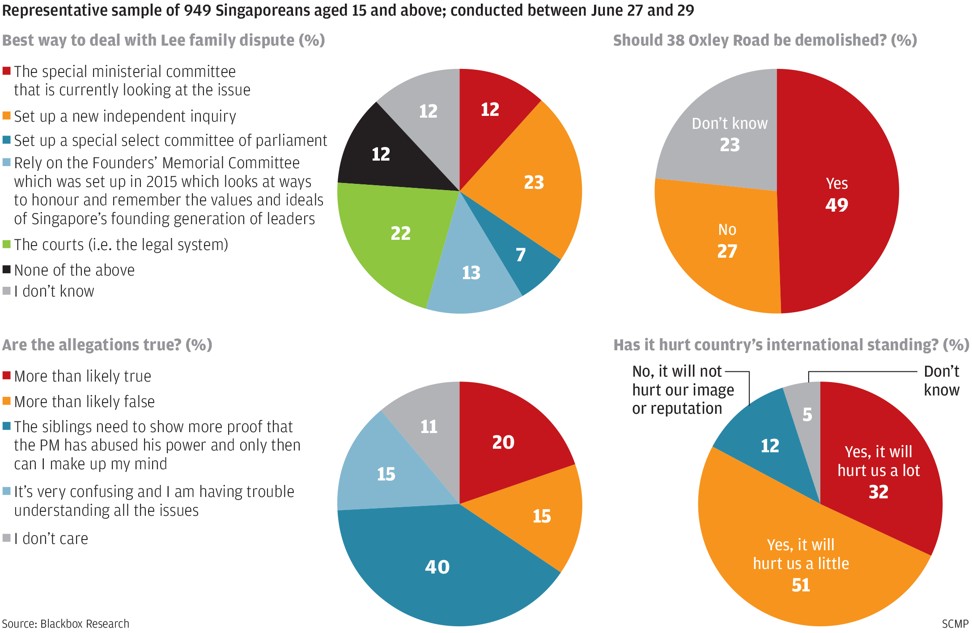 Some 43 per cent said the saga would have "some impact" on the next general election, while 20 per cent said it would have a "big impact". A total of 22 per cent felt it would not have much impact or any impact at all in the next polls due in 2021, while 11 per cent said it was too early to tell. The PAP, co-founded by Lee Kuan Yew, has governed Singapore uninterrupted since 1959, and held a parliamentary supermajority since 1968.