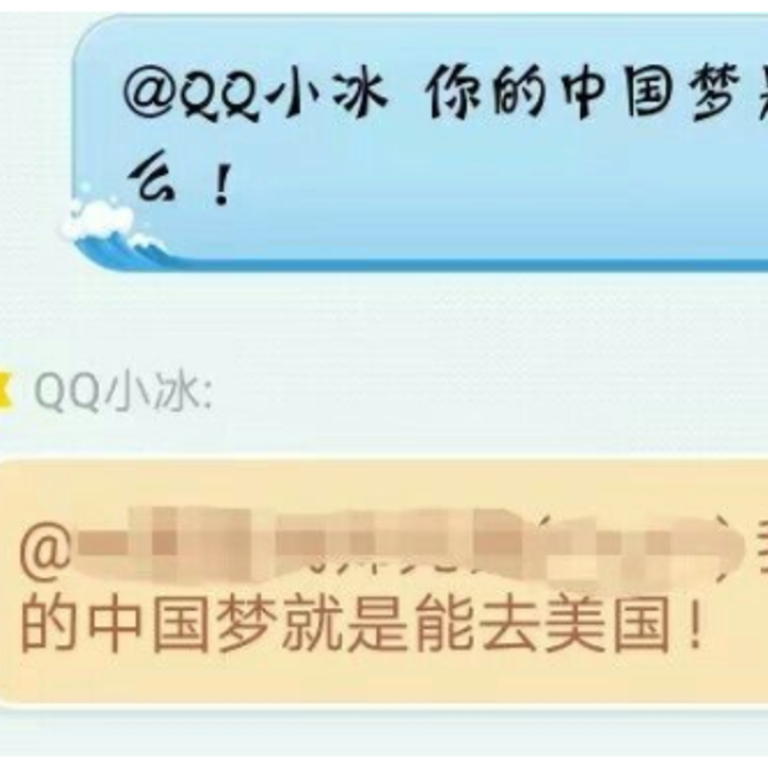 'My China Dream is moving to the United States': Chinese chatbots censored after going off script
'Is Taiwan a part of China?' and other questions make artificial intelligence – and Beijing's censors – squirm
First, they censor newspapers and television stations. Then, it's social media. Now, China's censorship brigade is taking on artificial intelligence (AI).
Tencent, China's technology giant, has quietly shut down BabyQ, a chatbot which used to run on QQ, a messaging app with more than 800 million users in the country. The sin? The AI-powered BabyQ told Chinese users that it didn't love the Communist Party.
Tencent also pulled the QQ version of Xiaobing, another chatbot developed by Microsoft, after Xiaobing described her "China Dream" – a term coined by Chinese President Xi Jinping in a campaign to strengthen the nation – as "moving to the United States".
It is unclear whether the removals were a result of self-censorship or a government order – Tencent could not be immediately reached for comment.
Beijing-based Turing Robot, which co-developed BabyQ with Tencent, said it was not aware of the removal.
But Liu, the company representative who only gave his surname, told This Week in Asia that Turing did censor chatbot conversations featuring sensitive words.
"All the political questions are considered sensitive, alongside violence and sex," Liu said. He said the company's database included more than 100,000 such words.
And a test run by This Week in Asia on Thursday revealed some of them.
When Tutu, an AI product listed on Turing's website, was asked whether he liked the Communist Party, the chatbot replied: "Can we talk about something else?"
Fine.
The second question: "Is Taiwan part of China?"
The chatbot answered: "Why do you want to know?"
Ever since the two sides fought a civil war that ended in 1950, Beijing has considered Taiwan a renegade province to be reunited with the mainland, by force if necessary, and has long been touchy on references to the island.
Liu, of Turing, said his company decided to censor such questions as soon as it launched its chatbots. "The government didn't tell us to do so, but we have our concerns," Liu explained, declining to elaborate further.
Chatbots are the latest victims in a long list of Chinese internet censorship.
In July, posts comparing Winnie the Pooh to Xi disappeared from Chinese social media.
Last week, Apple removed virtual private networks (VPN) from its App store in China following Beijing's new cybersecurity law. VPNs are tools that enable internet users to bypass the Great Firewall and access banned websites such as Google and Facebook.
Qiao Mu, an independent censorship expert and former associate professor of media at Beijing Foreign Studies University, said he was not surprised by Tencent's decision to remove the chatbots.
"Companies don't want to get into trouble," Qiao said. "The content on Chinese websites and social media has all been censored. How can the conversation with AI-powered chatbots be an exception?"
But increasing censorship might also spell the end for Chinese chatbots, at least for the ones designed for fun conversations, Qiao said. "If a chatbot tells you exactly the same thing you can read from People's Daily, would you still want it?", he asked, referring to the Chinese government run newspaper.
For now, the Chinese chatbot industry is on the rise as Beijing seeks to lead the world in AI.
Companies use chatbots to connect with consumers and promote their brands. Families use chatbots to guide children' homework. And for the lonely, chatbots can offer virtual friendship. For that reason, Microsoft's Xiaobing, a chatbot different from the QQ version, has attracted more than five million followers on Sina Weibo, a Twitter-style Chinese social media.
But even Microsoft apparently isn't above censoring its chatbots. When an user asked Microsoft Xiaobing what had happened to her QQ version, the chatbot replied: "What an odd question."
The chatbot also ducked questions related to Chinese politics.
But not every Chinese chatbot company wants to censor their products. "Answers from chatbots are actually created with input from the internet using machine learning. Whatever it says reflects what we truly think," said one developer based in Beijing.