When Taro Kono was named as Japan's new foreign minister on August 3, advocates of a closer relationship with China were delighted – but conservatives winced at the appointment.
Kono is the son of Yohei Kono, a former foreign minister and deputy prime minister, and there were many who assumed he would follow in the political footsteps of his liberal-minded father and reach out to Beijing and Seoul.
Foreign media clearly made the same assumption, with the internet version of the China News Service pointing to his father's more liberal convictions, as demonstrated by the statement issued in his name when he was chief cabinet secretary in 1993 – in which the Japanese government admitted the military was involved in the use of "comfort women" before and during the second world war.
The wire service said Kono's politics were "different from the more hawkish views" of Prime Minister Shinzo Abe.
South Korea's Yonhap News concurred that the new foreign minister was cut from different cloth, pointing out that Kono had in the past criticised Abe for paying his respects at Tokyo's Yasukuni Shrine, the last resting place of millions of Japanese killed in war, including 14 Class-A war criminals.
Many on the right of Japan still despise his father Yohei Kono for what they see as kowtowing to the nation's hectoring neighbours and feared the worst when his son took over the ministry.
"I was worried," admitted Yoichi Shimada, a professor of international relations at Fukui Prefectural University. "His father was one of the most appeasement-minded foreign ministers in the history of Japan and Taro Kono has in the past criticised Abe for going to Yasukuni Shrine to pay his respects," he said. "So conservatives believed we had good reason to be concerned."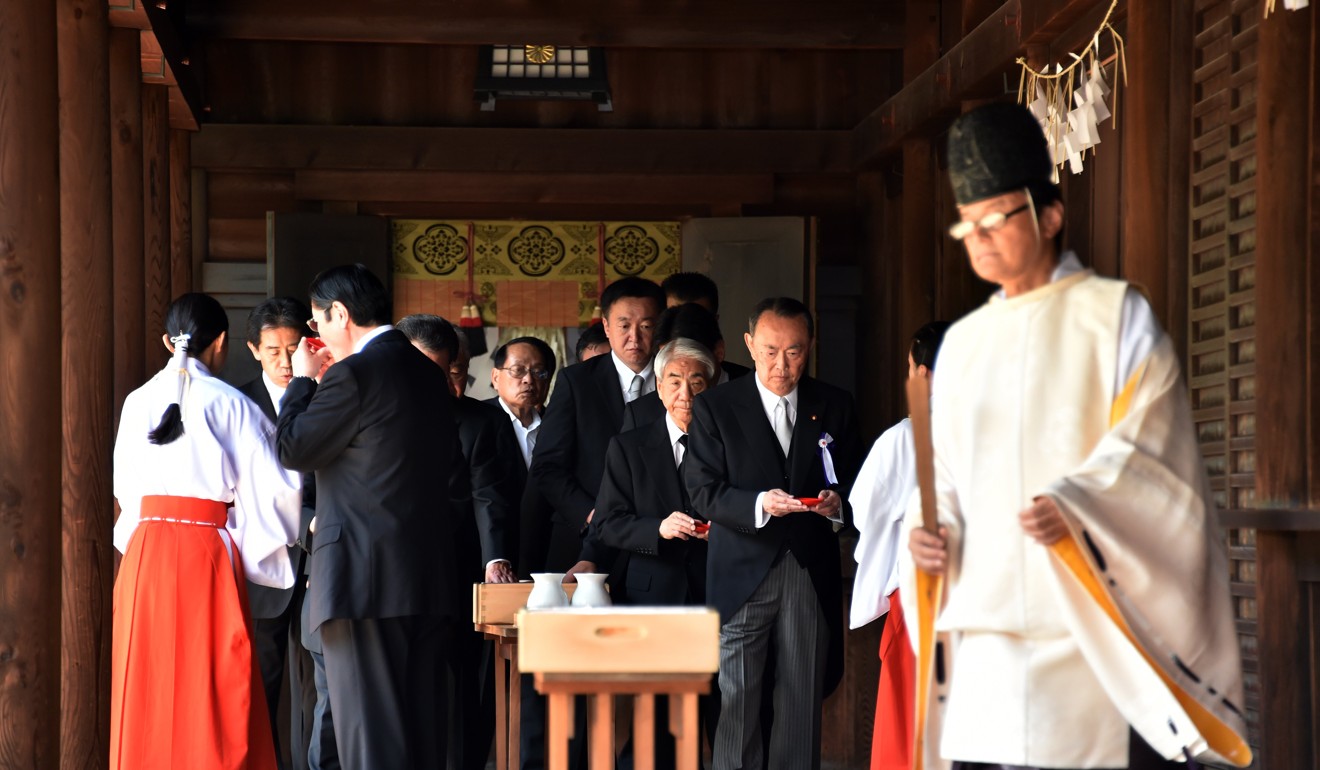 It was suggested in some quarters that Abe had deliberately selected a foreign minister who might be more palatable to Beijing and that the government was looking to build bridges wherever it could to calm frayed nerves brought on by a seemingly unrelenting series of scandals.
Abe has seen the popularity of his administration plummet in recent months, from more than 50 per cent at the turn of the year to 35.8 per cent immediately before his recent cabinet reshuffle. That change in personnel saw his popularity bounce back to slightly above 44 per cent, but analysts say his support is fickle.
Even before Kono's appointment, there were other signs that Abe was looking to ease tensions with Beijing. Abe, for example, spoke with Chinese President Xi Jinping ( 習近平 ) on the fringes of the recent Group of 20 summit in Hamburg and expressed his intention to take part in Beijing's ambitious Belt and Road economic plan, a significant concession from a government that has previously distanced itself from Chinese economic and development initiatives.
Events at the Association of Southeast Asian Nations summit in Manila earlier this month, however, have suggested that Kono is taking a significantly stronger line towards China than anticipated.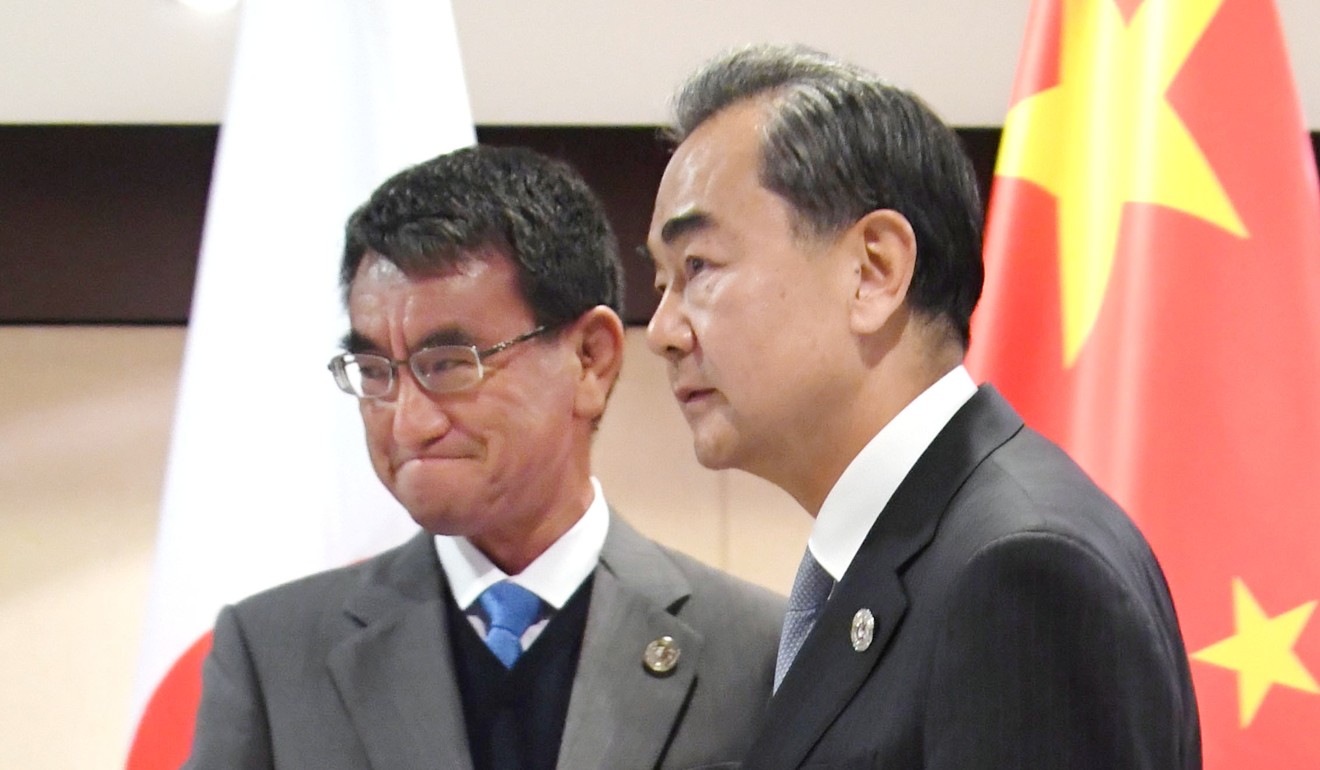 Wang Yi ( 王毅 ), the Chinese foreign minister and a former ambassador to Tokyo, immediately criticised recent comments by Kono regarding the South China Sea, in which he called for the region to be demilitarised.
"Frankly speaking, we were disappointed to hear your comments," Wang reportedly told Kono. "I hope you will value the accurate conclusions that your father derived."
Unbowed, Kono shot back, saying China needs to "learn how to behave as a big power".
Asked about the exchange later, Kono said: "We have to speak up [to China] whenever we should."
Analysts have praised the new Japanese foreign minister for demonstrating with a couple of words that he has no intention of being a pushover and that maybe Tokyo had not watered down its stance towards Beijing as much as had been believed.
"Wang spoke dismissively and Kono's reply shows that he clearly got the better of the exchange," said Jeff Kingston, director of Asian Studies at the Japan campus of Temple University
"Kono scored high points internationally on his debut, just a couple of days after his appointment, and he went over very well – with the exception of with the Chinese, of course," he added.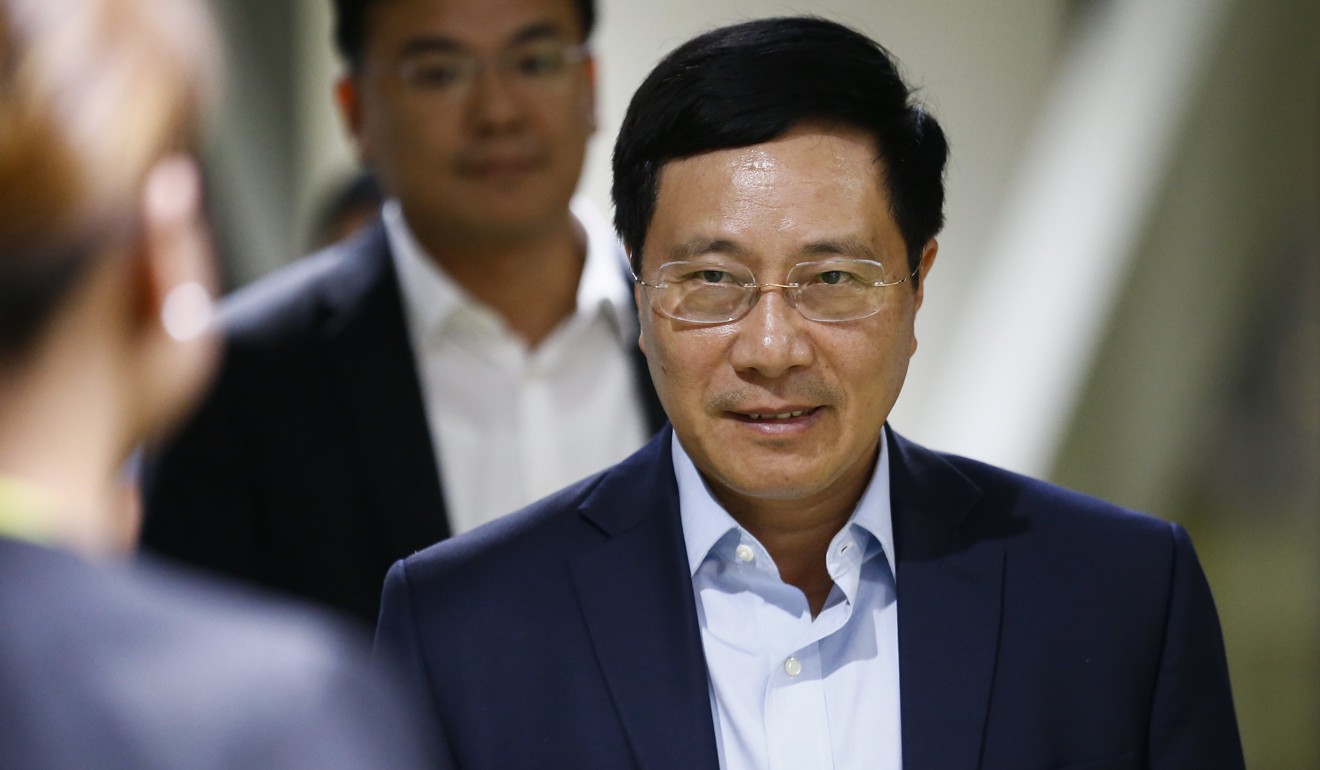 That assessment was backed up by the comments of Pham Binh Minh, the Vietnamese foreign minister, who praised Kono for standing up to China.
Japan's conservative press has raved about his performance – clearly judging him as holding great promise. The Yomiuri newspaper, a firm supporter of the Liberal Democratic Party and Abe's administration, said in an editorial that Kono "made his presence felt on his first overseas trip" and that he "distinguished himself on several occasions". Not least in his put-down of Wang Yi. It said conservatives would continue to encourage Kono "to graduate from the role of 'heretic' in political circles by becoming aware of the gravity of his responsibilities as foreign minister".
That conclusion hints that there are still some doubts over whether the new foreign minister will stick to the LDP's conservative guns.
"He has shown that at least he is better than his father," said Shimada. "But I do not think he was Abe's first choice for foreign minister." Still, he said, only time would tell whether Kono would be soft on the one country that Japanese sense poses the biggest threat to their long-term security and prosperity. ■