Myanmar's de facto leader Aung San Suu Kyi on Tuesday condemned all "human rights violations" that may have occurred in the counter insurgency campaign that has forced hundreds of thousands of Rohingya Muslims to flee their homes for neighbouring Bangladesh, but refrained from criticising the influential military's scorched earth tactics.
The democracy icon's comments in a nationally televised address in Naypyidaw came amid stinging international criticism that she has become an apologist for the military's brutal treatment of the Rohingya in the northwestern Rakhine region, in order to placate the sentiments of her supporters in the Buddhist majority country. Rights observers immediately slammed Tuesday's 30-minute speech as being high on soaring rhetoric and low on detail.
"We are concerned to hear the number of Muslims fleeing to Bangladesh," she said in the address in English to diplomats, journalists and other international observers.
The address was made in lieu of her appearance at the UN General Assembly this week, which she cancelled as the crisis at home escalated dramatically.
"We have never been soft on human rights in this country. Our government has emerged as a body committed to human rights," the 71-year-old said.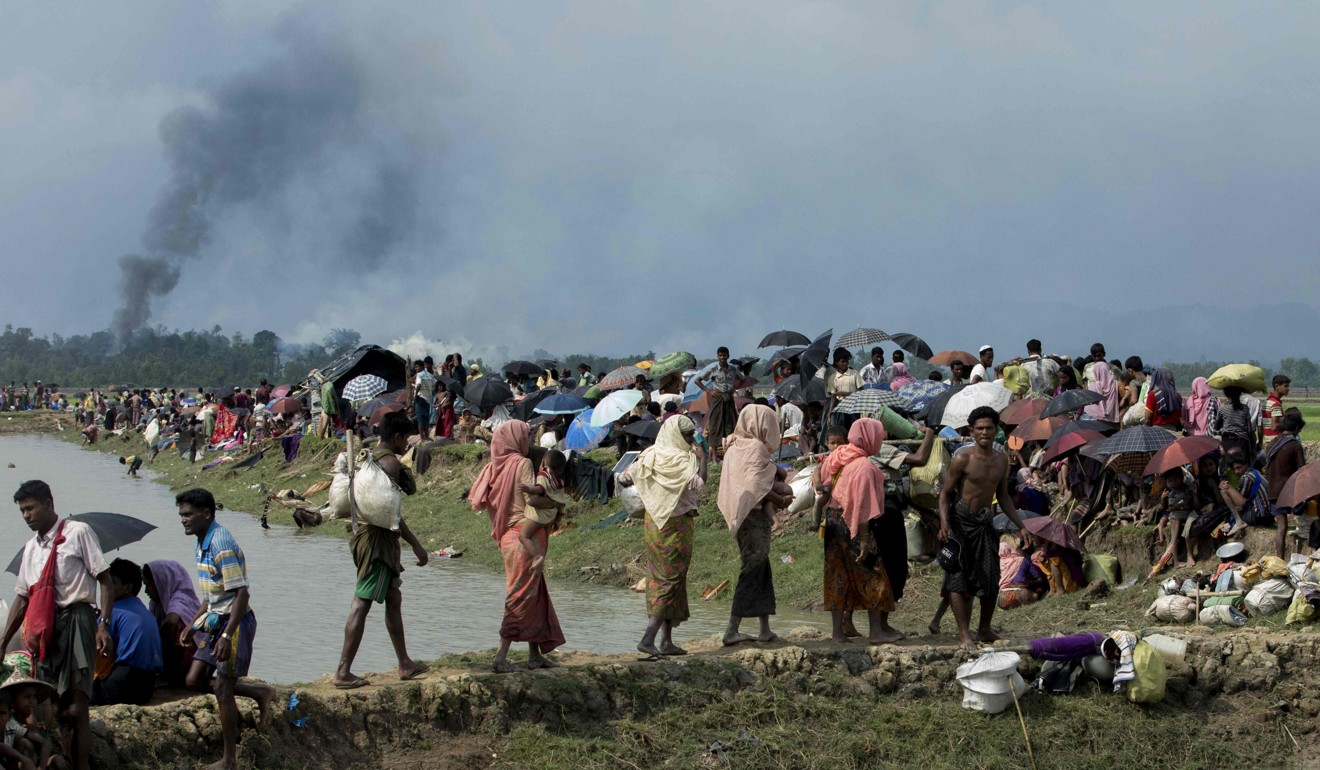 She added: "It is not the intention of the Myanmar government to apportion blame or to abdicate responsibility. We condemn all human rights violations and unlawful violence. "
Suu Kyi, who holds the title of state counsellor, said the government was ready to verify the status of the 410,000 refugees who had fled to Bangladesh, but gave no assurances that all of them could return.
Plight of Myanmar's Rohingya: militant Islam's next rallying call?
The 1.1 million Rohingya who live in Rakhine are officially viewed as interlopers from neighbouring Bangladesh. Dhaka, too, refuses to consider them citizens, leaving them stateless.
The latest bout of violence – a military retaliation to a series of attacks by pro-Rohingya insurgents in August – has seen over a third of the minority group flee to the Cox Bazar area in Bangladesh, which borders the northwestern reaches of Rakhine. Sixty per cent of the refugees are children. Thirty-thousand Rakhine Buddhists and Hindus have also been displaced by the violence.
Attacking Aung San Suu Kyi won't save the Rohingya – she is still the best hope for Myanmar
Observers say the military's response to the low-level insurgency is out of proportion.
Suu Kyi's speech did not mention the military's actions, or its commander in chief, Min Aung Hlaing.
She said she was refraining from discussing "allegations and counter allegations" as that would deepen animosities and perpetuate the violence.
She added that the country did not fear international scrutiny, and urged the diplomats present to visit the troubled area to ascertain facts for themselves.
Here's the one man in Myanmar who can end Rohingya misery
She said the government wanted to find out why some Rohingya villagers were fleeing while others were staying put, adding that some 50 per cent of villages remained intact. "We want to find out why this exodus is happening," she said.
Magnus Fiskesjo, a Southeast Asia expert at Cornell University, said the military was using the latest insurgent attacks "as pretext to unleash an orchestrated ethnic cleansing campaign, burning villages, killing and intimidating Rohingya civilians."
"The goal is evidently to expel or eliminate this long-resident people, now scapegoated as illegal immigrants," he said.
If she does not reverse the situation now, then I think the tragedy will be absolutely horrible
Suu Kyi, Myanmar's political prisoner-turned-national leader, has little leverage over the military, which remains the single most influential institution in the country following the end of junta rule.
The UN secretary general Antonio Guterres over the weekend had said Suu Kyi's speech was the "last chance" to halt the military offensive.
"If she does not reverse the situation now, then I think the tragedy will be absolutely horrible, and unfortunately then I don't see how this can be reversed in the future," Guterres told the BBC.
This Week in Asia takes you through three key issues raised by Suu Kyi in her address, dubbed by one Myanmar watcher as "the most important speech she has ever given".
WHOSE FAULT?
In her speech, Suu Kyi did not waver from the military's narrative that put blame for the violence squarely on the insurgent group Arakan Rohingya Salvation Army (ARSA). She said the security forces were exercising "all due restraint" in dealing with the insurgency group.
She also continued her practice of not using the term Rohingya. She has previously said doing so "went against the national reconciliation process".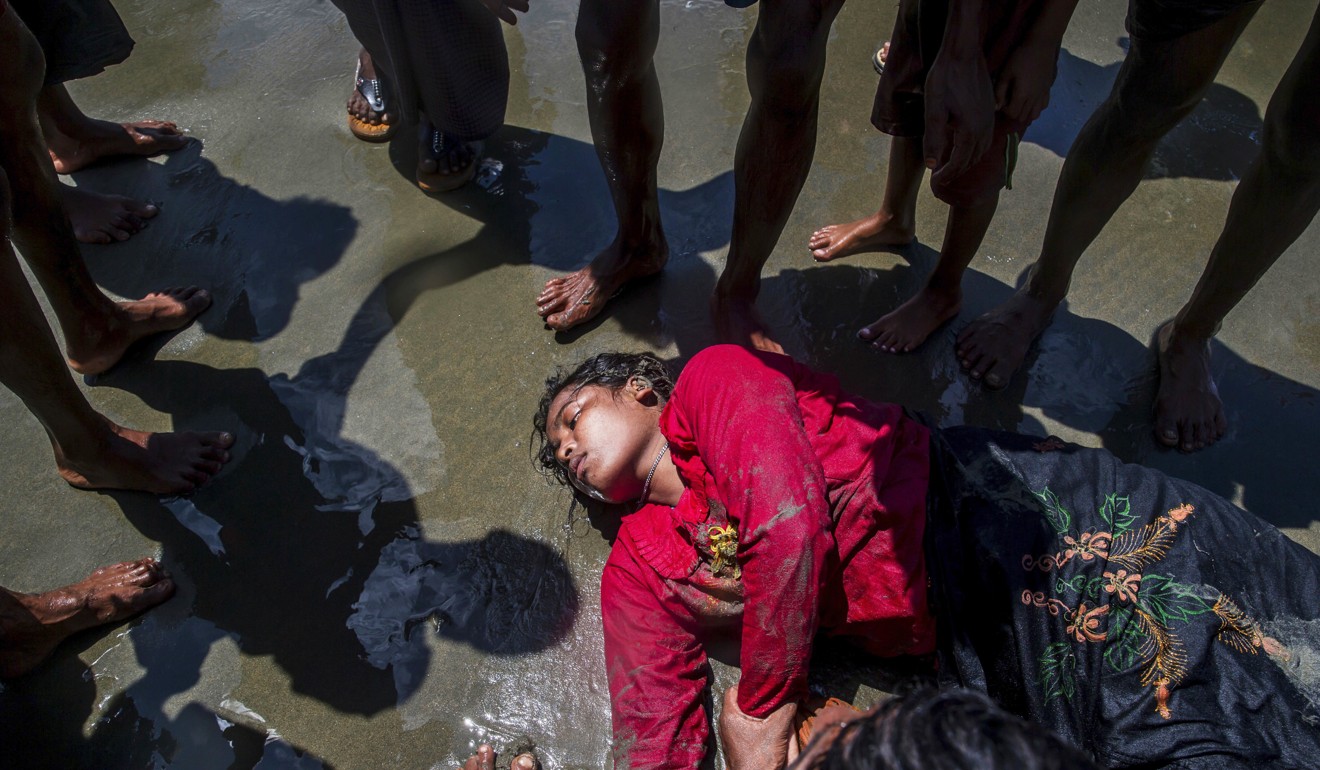 This position, rights activists say, completely neglects the fact that the Rohingya – deemed the world's largest stateless minority – have lived under apartheid like conditions for decades. The group has largely eschewed violence.
The UN has condemned ARSA's violent acts, but also says the military's counter insurgency "clearance operations" can be conducted with far more restraint.
Satellite imagery, heat data, photographs, videos and eye witness accounts point towards the military's complicity in torching villagers' homes in the latest bout of violence.
Top Myanmar general defends military's 'clearance operations' as 400,000 Rohingya flee bloodshed
Rakhine Buddhists meanwhile are said to be assisting the military in burning Rohingya villages.
Suu Kyi's sympathisers say the strident criticism she has faced neglects the fact that popular sentiment in Myanmar – even among many pro-democracy activists – is against the acceptance of the Rohingya as an official ethnic group. "We don't want Myanmar to be a nation divided by religious beliefs or ethnicity... we all have the right to our diverse identities," Suu Kyi said in her speech.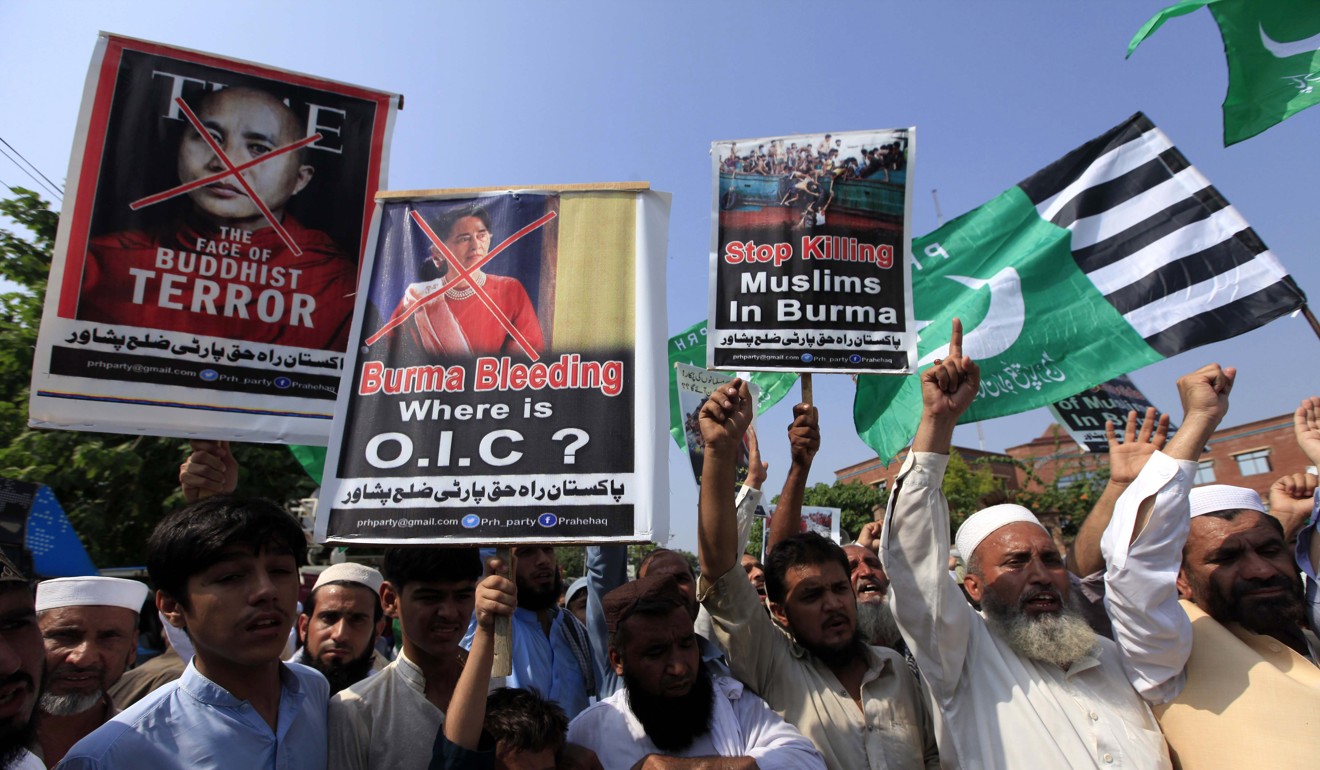 The 71-year-old has previously hit out at the flak she has faced over her stance on the minority group. Critics "ask me questions [about the situation in Rakhine] and I would answer them, and people would say I said nothing," she told the BBC in March. "Simply because I didn't make a kind of statement which they thought I should make, which is to condemn one community or the other."
KOFI ANNAN PANEL
Suu Kyi said the government would expedite efforts to implement recommendations made by a high level panel led by former UN chief Kofi Annan.
She said the government would first implement measures that could be put in place "in a short period of time". She did not give a time frame or specify which measures would be implemented first.
New diplomatic missions signal Chinese support for Myanmar amid Rohingya crisis
Annan last year was appointed by Suu Kyi to head a year-long commission tasked with studying the decades-old ethnic strife between the Rohingya and the Rakhine Buddhists, and subsequently advise on solutions that would heal the divisions. On August 24, the commission submitted its recommendations.
Among its recommendations, the panel advised the government to end forced segregation of Rohingya Muslims and Rakhine Buddhists, allow unfettered humanitarian access into the troubled zone, address the statelessness of the Rohingya, and end restrictions on the group's freedom of movement. Suu Kyi's office said immediately after the report's release that the government would "set out a full road map for implementation".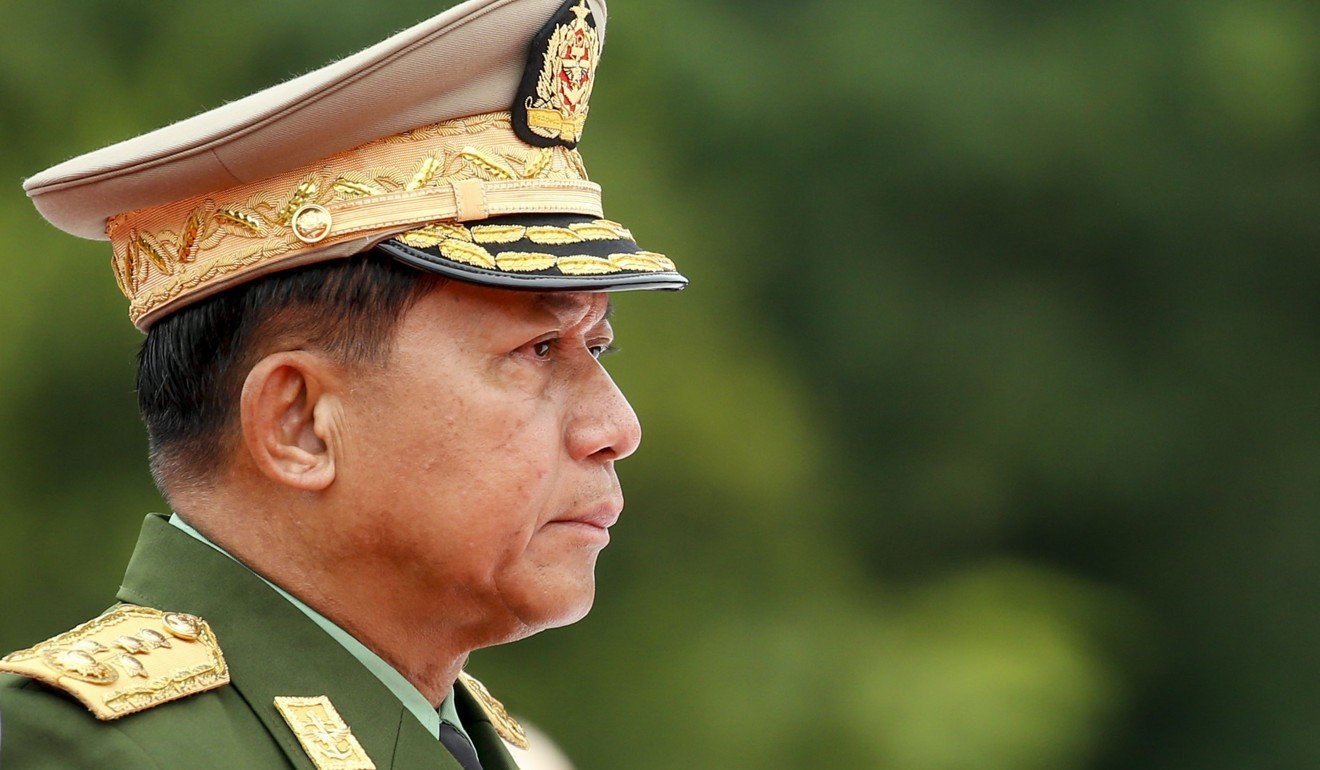 But military chief Min Aung Hlaing's response was less enthusiastic. The general said the report contained "some factual flaws and deficiencies".
The latest string of ARSA attacks took place hours after the commission released its report.
DEALING WITH INTERNATIONAL PRESSURE
Suu Kyi's speech coincided with the annual United Nations General Assembly in New York. The Rohingya crisis is expected to be a key talking point at the meeting. On Monday, British foreign minister Boris Johnson chaired a meeting on ways to resolve the crisis.
After the meeting Johnson said there was a consensus about the need for an immediate halt to the violence, but provided little details on how the international community was going to facilitate such a cessation of hostilities.
US demands a stop to Myanmar's 'unacceptable' violence against Rohingya Muslims
Myanmar's national security adviser Thaung Tun, who attended the meeting, said he gave assurances that all refugees would get access to humanitarian aid, without discrimination. "That is one of things we agreed on," he said. Rights groups have been lobbying for a UN General Assembly resolution condemning the violence, as well as a UN Security Council resolution that would impose sanctions and an arms embargo on the military.
This is unlikely to happen. Myanmar has said it was in talks with China and Russia – both veto wielding members of the Security Council – to block any attempt to censure the country.
Myanmar's Southeast Asian neighbours meanwhile have been undertaking subtle efforts to lean on Myanmar.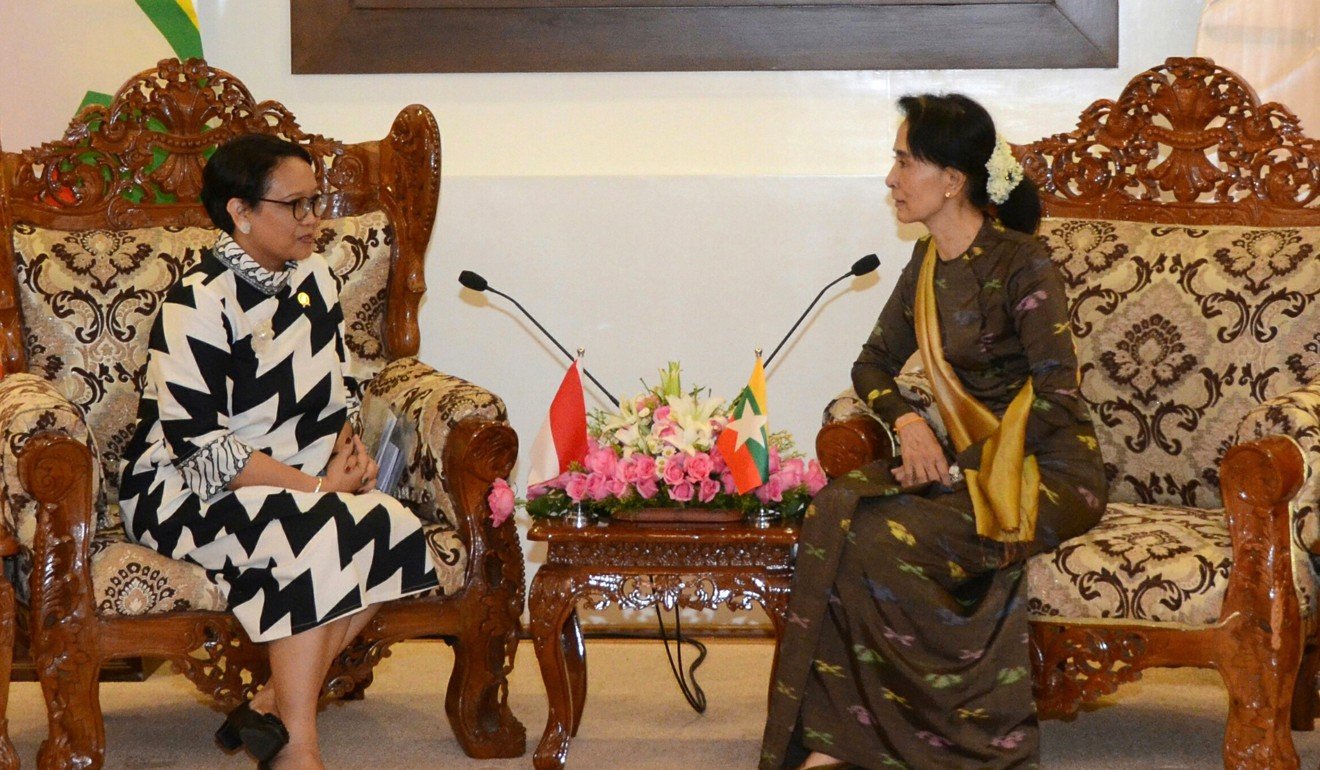 Soon after fighting broke out in August, Indonesian President Joko Widodo despatched his foreign minister Retno Marsudi to hold private talks with Suu Kyi, Kofi Annan, as well as officials in Dhaka.
Singapore – one of Myanmar's few friends during junta rule – is also weighing in. The city state's foreign minister Vivian Balakrishnan flew to Yangon to meet Suu Kyi last week.
Trevor Wilson, an Australia-based Rohingya expert, said the international community "stand condemned for declining to take meaningful action on behalf of a population of a million people that is stateless and, apparently, friendless".
Why the Rohingya? Myanmar's ethnic cleansing is driven by an irrational fear of Muslims becoming the majority
"This is not a situation that calls for anyone to be blamed...governments should stop being hypocritical but should instead work together meaningfully," he said.
Suu Kyi ended her address on Tuesday by urging the international community "to help us to achieve the ends... that are desirable not just for this country but for countries all over the world."
"It is by cooperating that our world can go forward. Attacking each other with words, weapons or even with emotions will not help us. Hate and fear are the main scourges of our world."