"Johor" literally means "precious jewel" in Arabic, and now more than ever the name created by spice traders centuries ago appears fitting for the southern Malaysian state bordering Singapore.
As the days wind down to the country's May 9 general election, the state – Malaysia's second most populous and its third richest – has emerged as a front line in the battle for power between Prime Minister Najib Razak and his one-time mentor Mahathir Mohamad.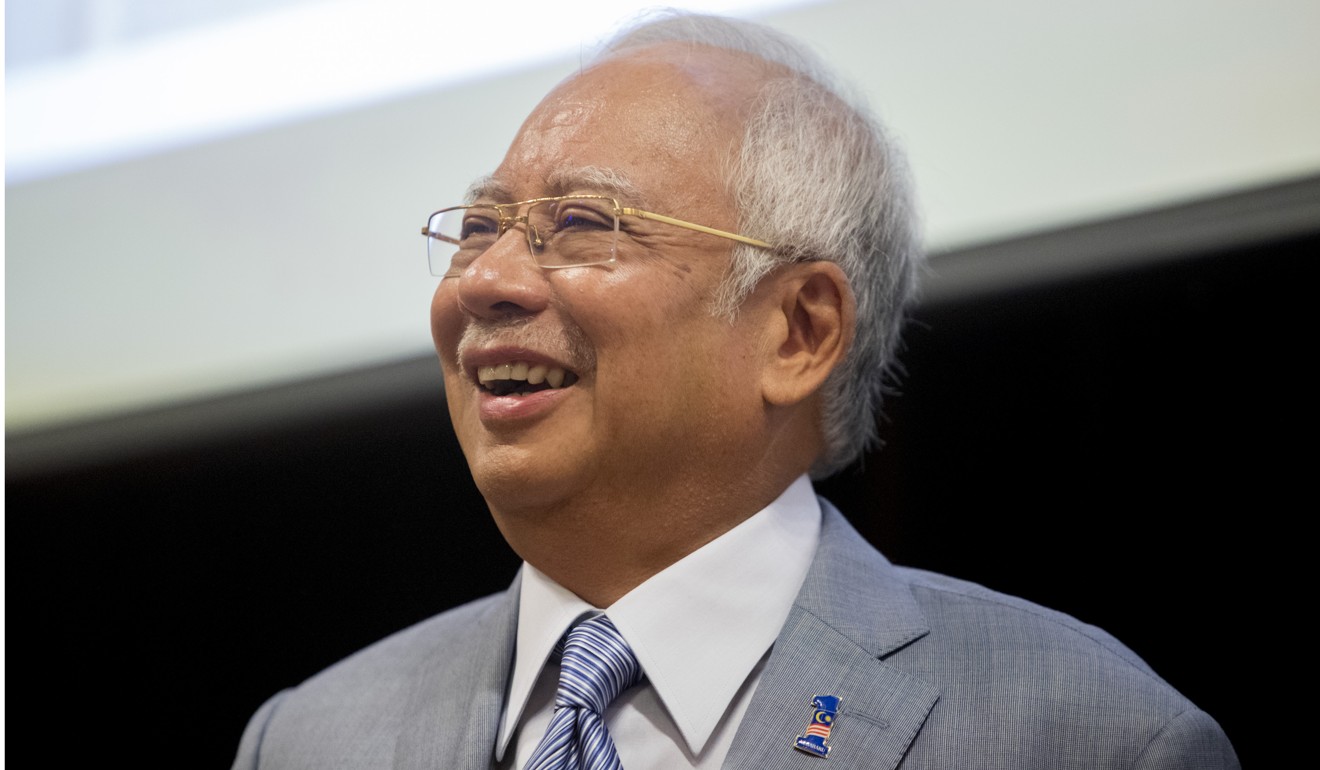 The United Malay National Organisation (Umno), the linchpin of Najib's ruling Barisan Nasional coalition, is adamant that its birthplace of Johor remains a hardened fortress, but the opposition is hopeful that a "Malay tsunami" will hand it Umno's crown jewel – and federal power.
Also fuelling their ambitions are expectations that hundreds of thousands of Johor residents living and working in Singapore – many crossing the causeway because of higher wages – will return home in droves to vote against the Barisan Nasional.
Deep antipathy against Mahathir by the state's revered constitutional monarch, however, threatens to dampen the winds of change, observers say.
Johor holds 26 parliamentary seats; only the semi-autonomous Bornean state of Sarawak has a higher representation in the national legislature of 222 seats.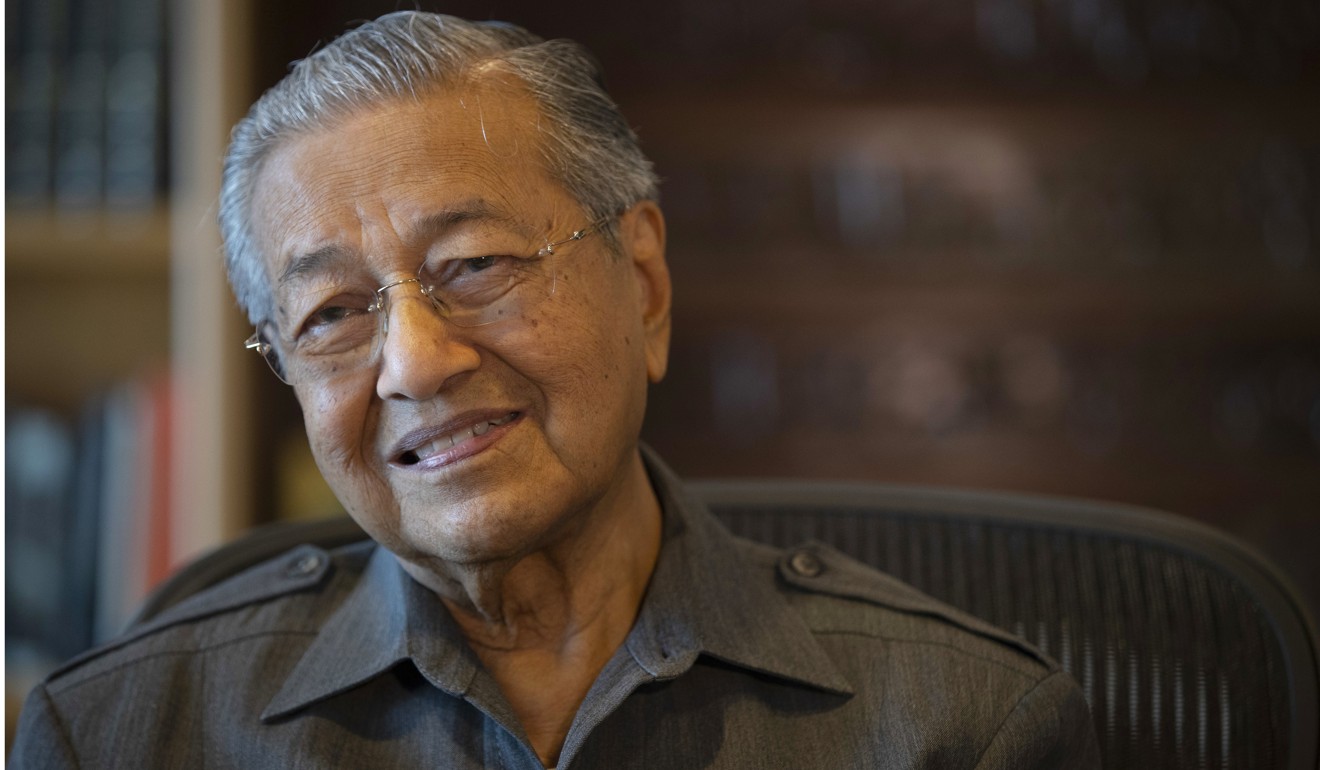 Before parliament was dissolved on April 7, the Barisan Nasional held 20 of the 26 seats, with Mahathir's Pakatan Harapan coalition holding the rest. In the state assembly, the ruling coalition holds 37 of 56 seats.
Observers say the stakes in the battle for Johor are higher than in previous polls because of the billions of dollars of foreign investment that has poured into the state in recent years.
Once caricatured as a grimy, crime-infested province that best illustrated the gulf between underdeveloped Malaysia and wealthy Singapore, Johor's physical complexion has been upended by glitzy new property projects, many linked to cash-rich Chinese investors.
Johor's average growth rate from 2011 to 2016 was 5.9 per cent, higher than the national figure of 5.1 per cent.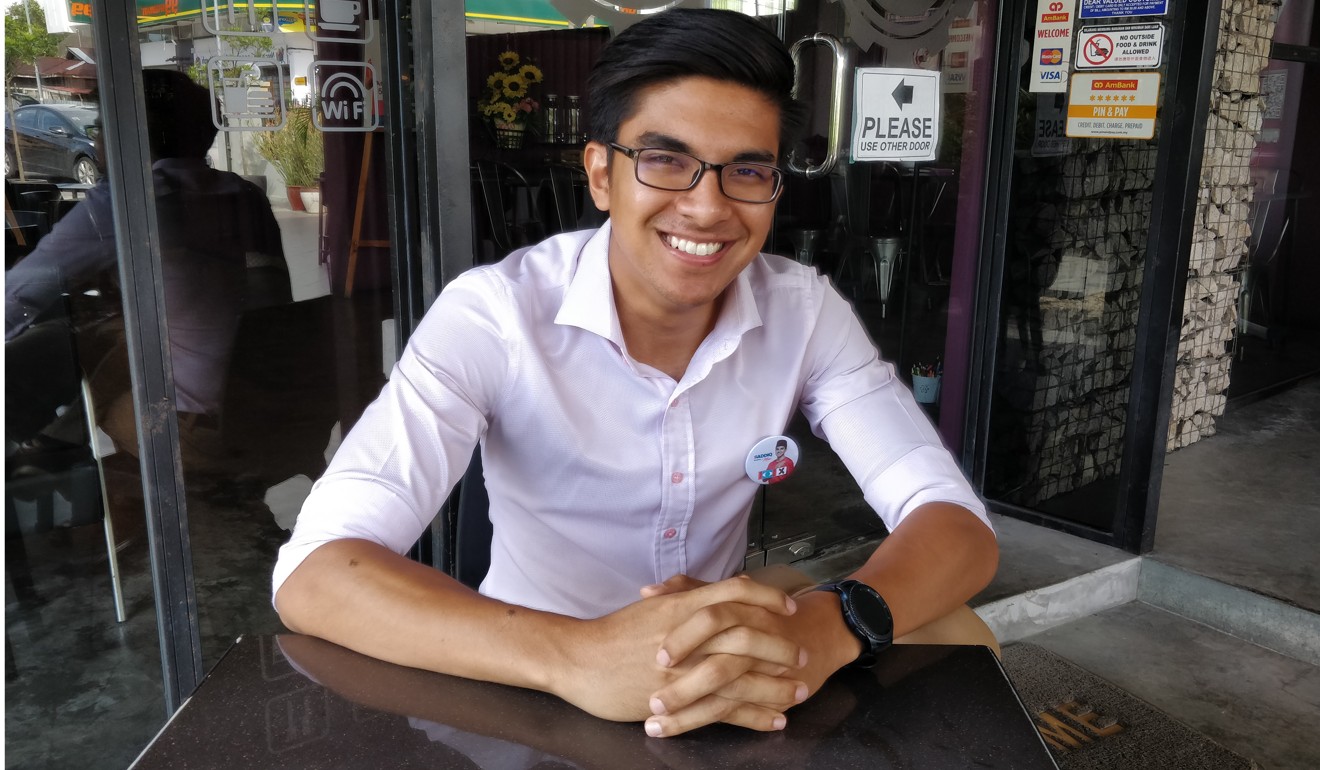 "We are taking this battle very seriously. If we unlock Johor, we unlock the federal government," Syed Saddiq Syed Abdul Rahman, a close aide to Mahathir and a Pakatan Harapan candidate in Johor, told This Week in Asia.
"When we go into the kampongs [villages] people say prices have gone up, wages haven't gone up … we think Malay support will swing our way this time," the 25-year-old said in the town of Muar, which he is contesting. The various property projects, meanwhile, also fuel public anger as they are beyond the budgets of most middle-income Johor residents, he said.
The loquacious youth leader, known nationally for his debating prowess, is among the high-profile figures who joined the Malay-only Umno breakaway party Mahathir formed in 2016 in protest over Najib's alleged involvement in the 1MDB corruption scandal.
Also in the ranks of the Parti Bribumi Bersatu Malaysia (Bersatu) is Muhyiddin Yassin, the country's former deputy premier who was sacked by Najib in 2016 for publicly criticising his boss over the scandal.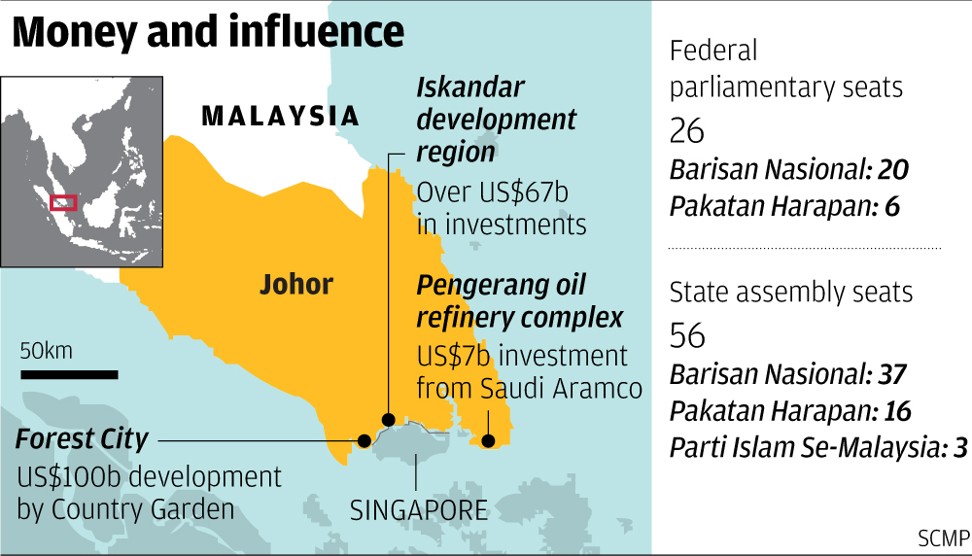 Pakatan Harapan's hope is that Johor can be wrested away with Bersatu pulling in Malay votes and the influential Chinese-based Democratic Action Party (DAP) retaining Chinese support it garnered in the last vote in 2013. "Other than cost of living, the other major factor [supporting the opposition] is the fact that there is no longer a Malay vacuum in Johor with people like Muhyiddin," Syed Saddiq said.
Barisan Nasional leaders say such comments show the opposition is out of touch. Nur Jazlan Mohamed, a deputy minister and one of Barisan Nasional's high-profile Johor leaders, said Pakatan Harapan was "going to be disappointed" if they counted on high turnout and overwhelming Chinese support. "Chinese support for them has receded … Some Malays will vote for the opposition this time but definitely not a tsunami to overcome the loss of Chinese votes," Nur Jazlan said.
On the ground, most of more than a dozen people who spoke to This Week in Asia in Johor – in its capital Johor Bahru, Muar and the district of Johor Jaya – were leaning towards Barisan Nasional. The consensus was that cost of living was the top issue. Saddiq dismissed such pro-establishment reactions, suggesting voters might fear publicly revealing support for the opposition, but would act differently at the ballot box.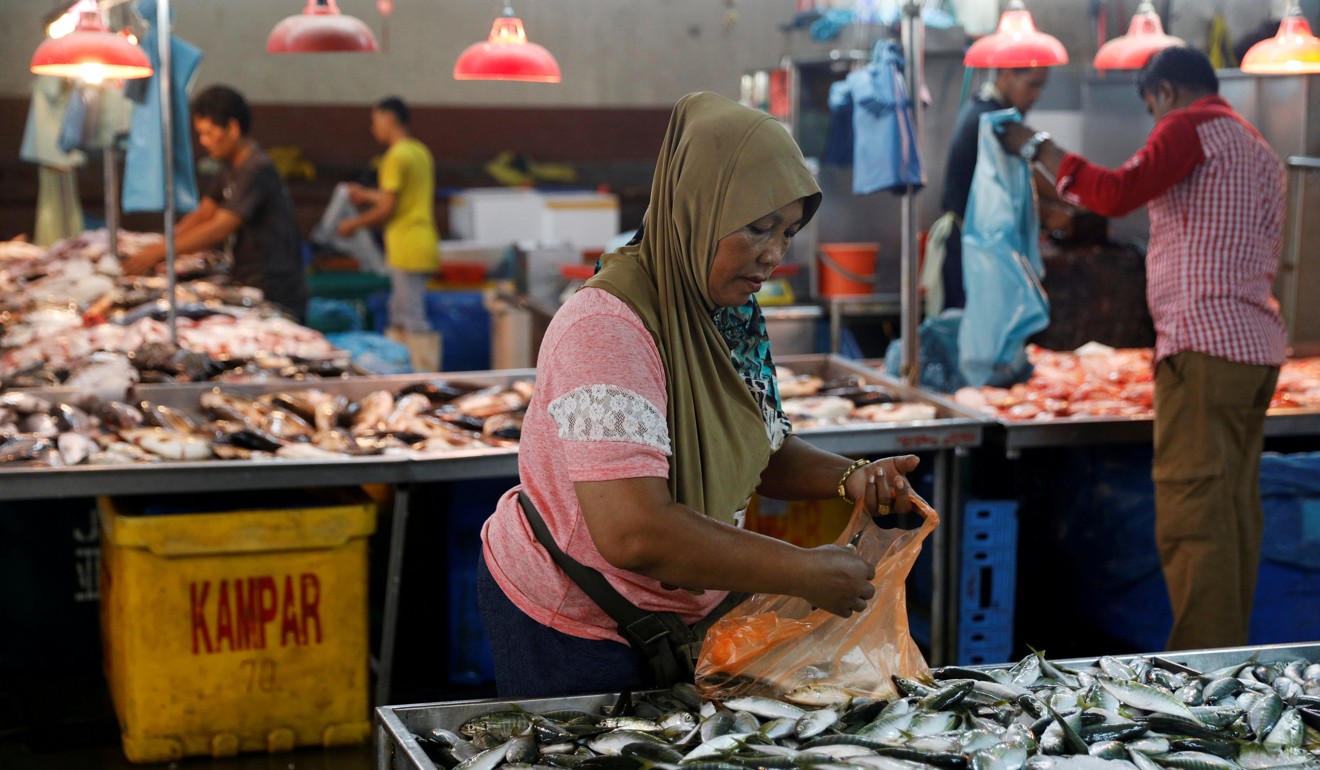 Independent observers, however, are less bullish about a major swing in Johor towards the opposition.
For one, Johor Malays are "conventionally Umno supporters" owing to the party's roots there, said political scientist Wong Chin Huat of the Penang Institute.
Umno's late founder Onn Jaafar was from Johor. Other party stalwarts include his son Hussein Onn, the country's third premier, and grandson Hishammuddin Hussein, the current defence minister.
Malaysian politics researcher Awang Azman Awang Pawi said it was likely there was a "sense of unease" among Malays over abandoning Umno because the party, which has governed since independence in 1957, is responsible for instituting pro-Malay affirmative action policies. "Malays want Malay rights to be protected … they are less assured that Pakatan Harapan will defend affirmative action," the University of Malaya professor said.
Other analysts say there is one other major non-political player that can sway the vote in Johor: the state's influential monarchy. "The sultan is very much a major factor and that is very uniquely, distinctly Johor," said veteran Malaysian elections observer Bridget Welsh.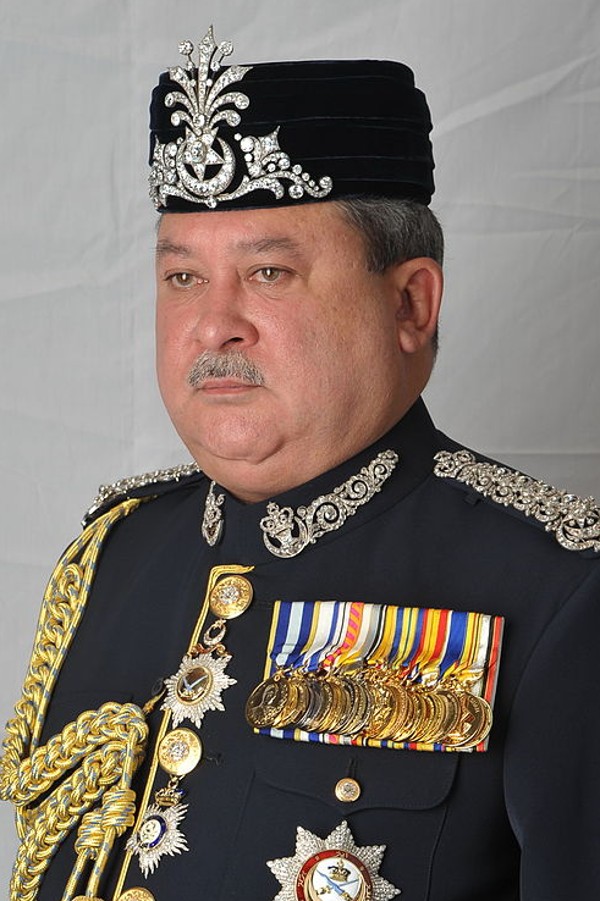 Under the constitution, Sultan Ibrahim Ismail must stay above the political fray, but that has not stopped the monarch from voicing his disdain for Mahathir. The animosity stretches back to the 92-year-old's turn as premier from 1981 to 2003, during which he instituted changes to laws that clipped the wings of the sultans.
The sultan and his eldest son, the crown prince Ismail Idris, are deeply revered in Johor. Earlier this month the crown prince wrote a lengthy Facebook post urging Johor residents not to be "easily fooled by a forked-tongued individual" – a veiled dig at Mahathir. The reaction to the post was mixed, with many urging Ismail to stay above the political fray.
Awang Azman said "the palace is seen to have sentiment and support towards [Umno]" despite efforts made to be neutral.
Syed Saddiq, the opposition youth chief, said his attention was currently on the "real kingmakers", returning voters from places like Singapore, Hong Kong and Australia.
As for the palace, he acknowledged "they have valid concerns and it's not like we want to wage war with them. Even when we disagree we disagree politely ... it's about forming a cordial relationship so that we can move forward together." ■