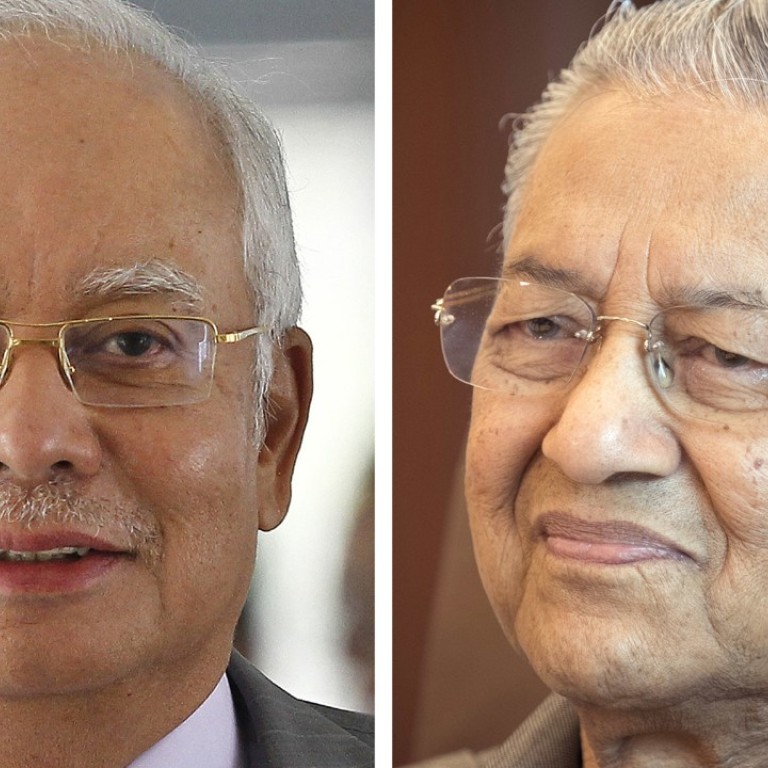 Neck and neck: Najib vs Mahathir puts Malaysia election on razor edge
Voting begins in tightest race in decades, following pledges by Prime Minister Najib Razak of holidays, tax waivers and road toll free days – deemed 'bribes' by opposition chief Mahathir Mohamad
Voting has begun in 
Malaysia's ­closest general election
in decades. And, with citizens wrestling with a choice between a ruling coalition led by tainted Prime Minister Najib Razak or strongman former premier Mahathir Mohamad, analysts are predicting an outcome that could go down to the wire.
Predictions are that an upset in Wednesday's vote is possible, but a respectable think-tank's eleventh-hour forecast on Tuesday was that the ruling coalition would prevail, even as it loses the popular vote for the second time.
Polling stations opened at 8am and long lines were seen in locations in the capital, Kuala Lumpur, and other cities, as voters dipped their fingers in purple ink to cast their ballots. A festive atmosphere enveloped some schools where voting took place.
Late on Tuesday night, Najib and Mahathir delivered their final rallying calls to voters "live" and simultaneously.
The 65-year-old incumbent, who is fighting his second general election today as prime minister – the first since the 
1MDB financial scandal
engulfed the country's politics in 2015 – spoke from Pekan in Pahang state, where he is defending the parliamentary seat he has held since he was 23. 
Speaking for more than 30 minutes, the premier announced a fresh set of incentives to be implemented if his ruling Barisan Nasional (BN) coalition emerged victorious.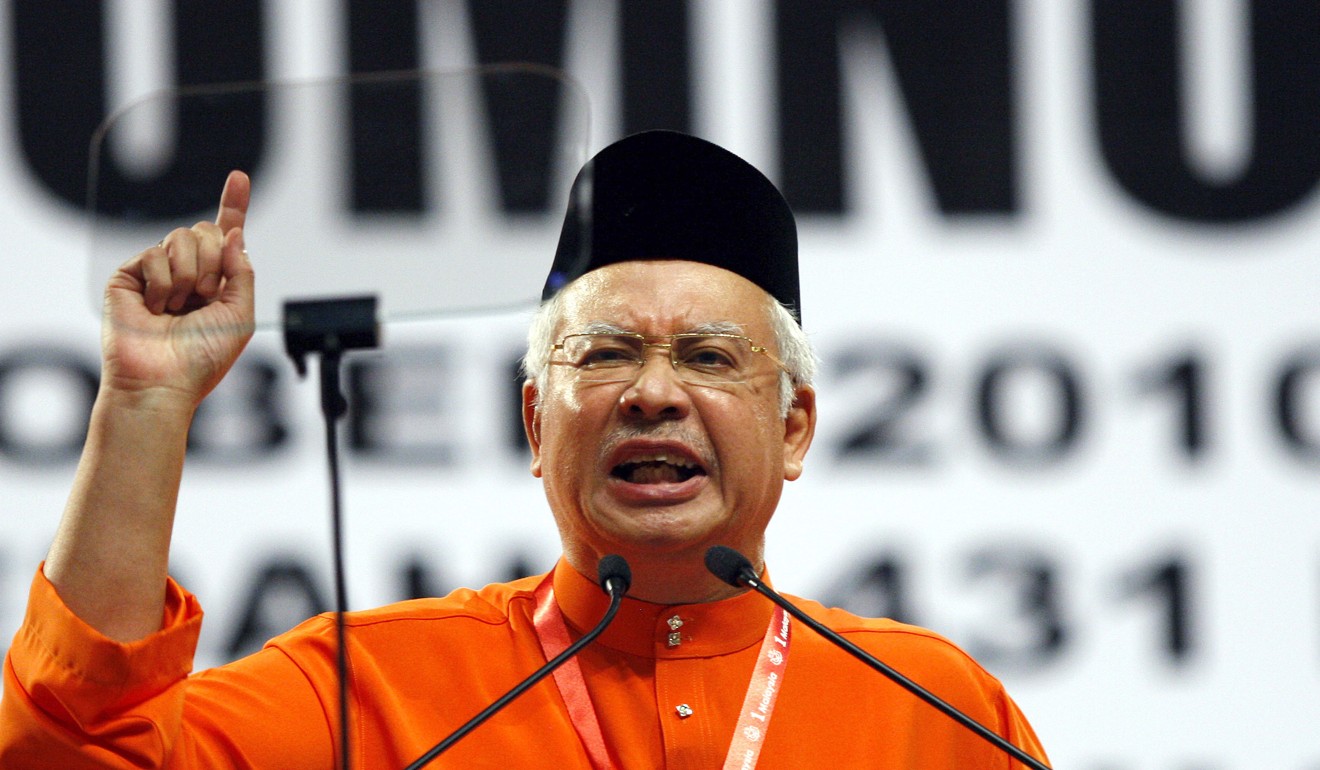 This included public holidays next Monday and Tuesday, a blanket income tax waiver for all Malaysians under the age of 26, and a total of five road-toll-free days before and after the Eid al-Fitr holiday on June 15. 
While that speech was beamed live on state television, Mahathir, 92, used Facebook Live to reach the country's 15 ­million voters from the resort island of Langkawi, from where he is hoping to make a stunning comeback to the apex of power 15 years after he stepped down as prime minister. 
Mahathir used his speech to urge voters not to be taken in by Najib's financial incentives. 
"Bribes will not last. In a short time, the money used to bribe us will be used up. Do not be willing to sacrifice our nation simply because of a small amount of money," the veteran politician said. At its peak, his speech was viewed by some 200,000 people. 
Their last-minute appeals came as projections by the country's leading polling firm suggested that Najib was on course to prevail in the battle for federal power. 
However, figures released on Tuesday evening by the Merdeka Centre for Opinion Research projected the long ruling BN coalition's share of the popular vote would drop to 37.3 per cent from 47.4 per cent in the 2013 election.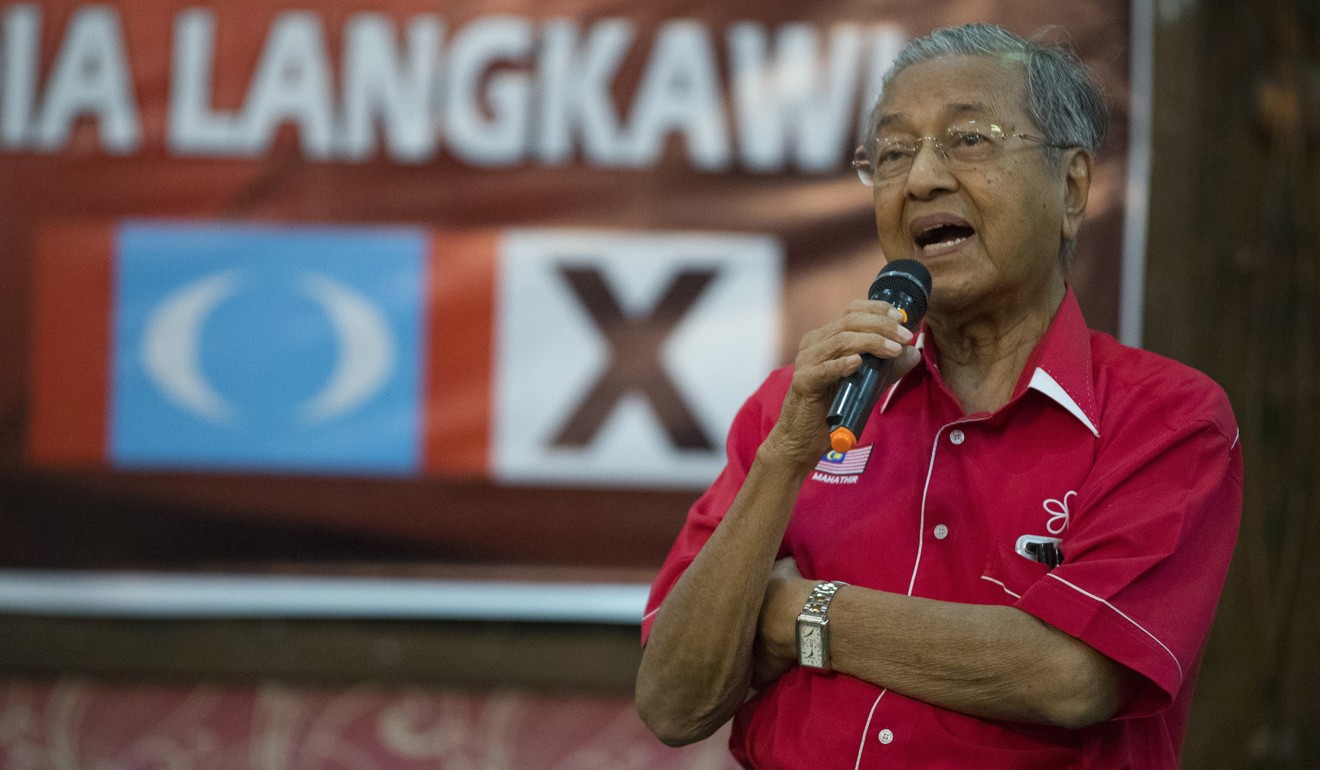 The projections, derived from a multistage poll conducted on peninsula Malaysia between April 28 and noon on Tuesday, suggested Mahathir's Pakatan Harapan would take 43.4 per cent of the popular vote, with the hardline Islamist party Parti Islam Se-Malaysia (PAS) taking 19.3 per cent. 
The polling firm projected 100 "safe seats" for BN and 83 for Pakatan Harapan. Thirty-seven seats were categorised as "toss up" seats – 112 parliamentary seats are needed for either side to take federal power.
"The high number of marginal seats implies that voter turnout will be a critical factor in determining the outcome of many seats on election day," the firm said. 
Malaysia's first-past-the-post electoral system came under scrutiny ahead of the polls because of the opposition's allegations of malapportionment and gerrymandering. 
A total of 222 parliament seats and 505 state assembly seats are at stake in Wednesday's vote, with some 2,333 candidates – including independents – battling to represent the country of 31 million people. 
With Mahathir's defection and an unprecedented number of "national issues" at stake in the Wednesday vote, University of Malaya politics professor Awang Azman Awang Pawi said it was "fair to call this election the country's most competitive election ever". 
Asrul Hadi Abdullah Sani, a Kuala Lumpur-based analyst with BowerGroup Asia said economic issues were the "main factor" during campaigning, with the Najib-Mahathir battle "providing the gunpowder". 
Hours before polling booths opened, both sides engaged in frenetic campaigning. 
Najib, in a statement released late on Monday, slammed what he deemed an election "fought in unfortunate circumstances". 
He accused Mahathir's coalition of engaging in a "tsunami of fitnah [lies]" during campaigning and questioned the former leader's unusual alliance with former foes. 
Wrote Najib: "Imagine the country in their hands: a group of people who have spent their entire lives attacking each other, who still cannot agree on the most basic of policies, and whose only reason for coming together is to selfishly gain power for themselves." 
With his own seat of Pekan widely viewed as impenetrable, Najib has criss-crossed the country of 13 states. Along with peninsula Malaysia, he has spent time in the semi-autonomous Borneo states of Sabah and Sarawak, long considered the "fixed deposit" vote banks but now with rumblings that Sabah may be in play.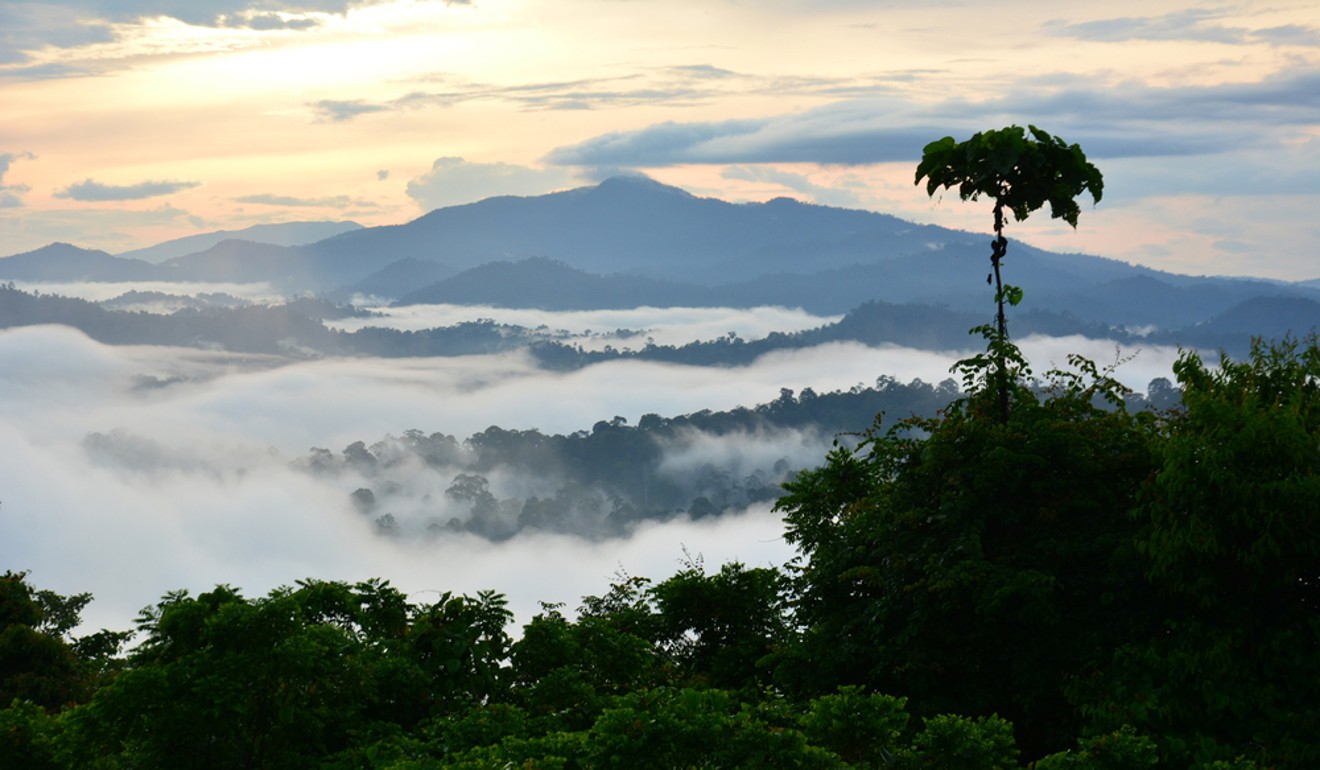 On the campaign stump, the leader took the twin tracks of promising millions of dollars of fresh incentives and warning voters that a vote for Mahathir's opposition Pakatan Harapan could mean the bloc's Chinese-centric Democratic Action Party (DAP) would run the country instead of BN's main party, the United Malay National Organisation (Umno). 
Campaigning by Mahathir and his allies has been equally intense, with thousands descending at their rallies in urban centres like Johor Baru, Melaka, Kuala Lumpur, Penang and Kota Kinabalu. 
Apart from these events, the opposition fanned out to the country's rural areas in a bid to win over Malay farmers linked to the Federal Land Development Authority (Felda) – viewed by many as a reliable vote bank for Najib's camp.
The action packed electioneering effort appeared to take a toll on 92-year-old Mahathir by last weekend.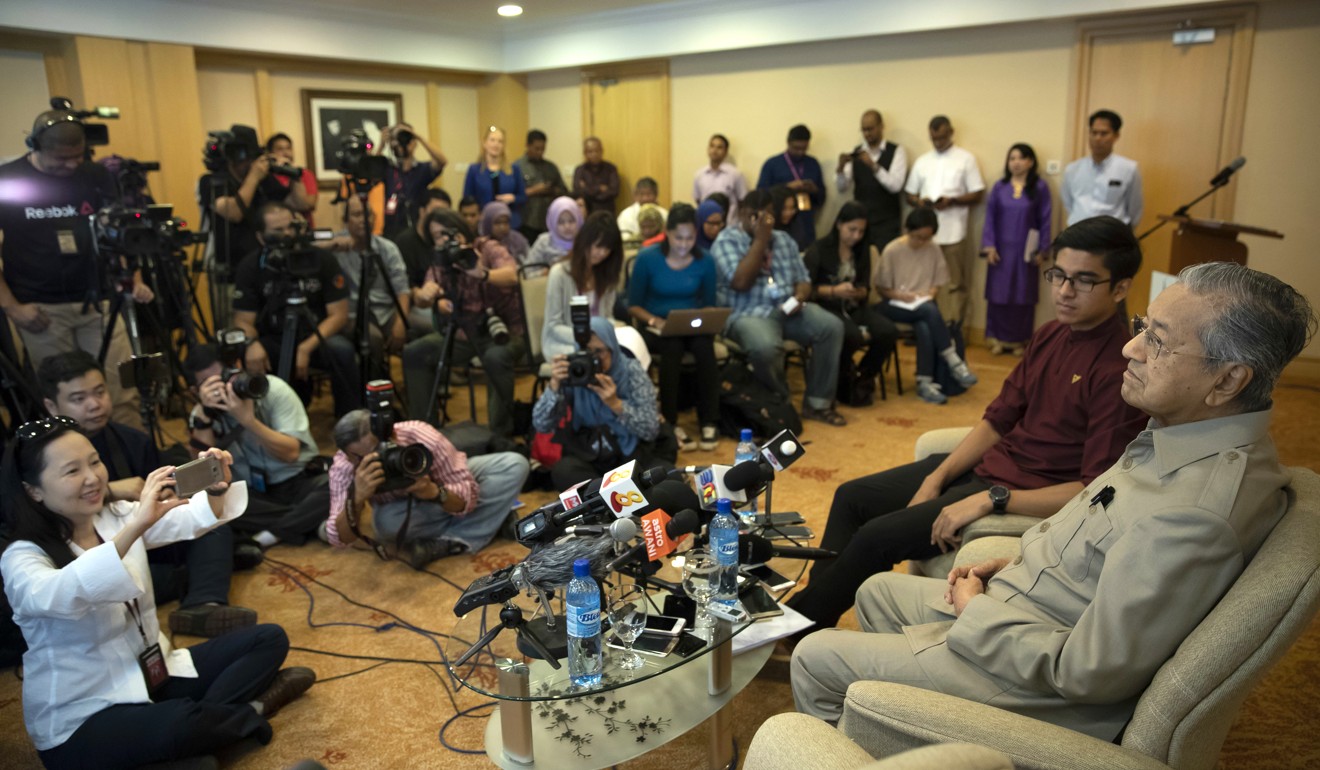 At an election rally in the district of Hulu Kelang in the state of Selangor on Sunday, the opposition chief spoke for just 18 minutes before apologising for cutting short his speech due to a cold. 
The leader's speeches – laced with his trademark wryness and acerbic attacks against Najib – have been lapped up by opposition-leaning urbanites who gave him the biggest headaches when he was the BN leader and premier from 1981 to 2003. 
Rising cost of living, grumbling over the six per cent goods and service tax (GST) and an imbalance in development funding between the country's various states have all been major talking points. 
Mahathir has promised to abolish the GST within 100 days of coming to power, even though the tax accounts for some 18.3 per cent of the country's 240 billion ringgit (US$60 billion) revenue.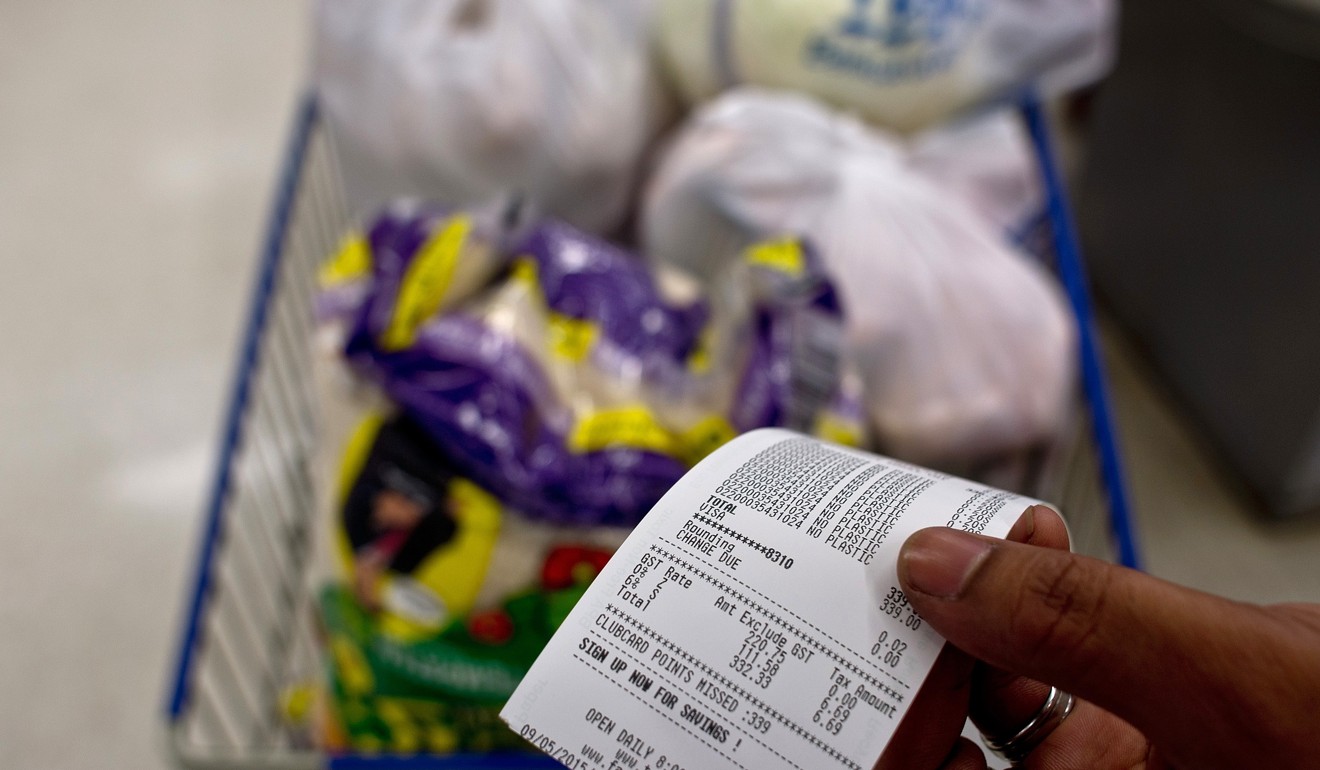 In his statement, Najib said implementing the GST was the "hardest decision" he had taken since coming to power. He said the tax's implementation in 2015 was necessary to prevent the oil-producing economy from entering a recession following a plunge in crude prices. 
Economic issues aside, the election was predestined to be cast as an epic showdown between the country's two biggest political titans the moment Mahathir announced his re-entry into active politics. 
In 2009, six years after handing over power to then premier Abdullah Badawi, Mahathir orchestrated a campaign to oust his successor – whom he claimed was too laid-back to be a national leader. 
Enter Najib, the eldest son of the country's revered second prime minister Abdul Razak. In a country where the ruling elite traverses generations and connections are a currency, the older Razak was ironically the very leader who had shepherded Mahathir back into the main ruling party's fold in the 1970s, jump-starting his ascent after the trained medical doctor had languished for some years in the political wilderness. 
While analysts continue to speculate over the real reason Mahathir decided to wage a gargantuan political battle in his twilight years, the nonagenarian says the reason is self apparent.
Mahathir said he crossed the Rubicon – including allying with arch-rival Anwar Ibrahim, the jailed opposition leader – because of a singular objective of removing a "kleptocratic" Najib from power. 
In a statement on Tuesday, Anwar, who is serving a second stint in prison for sodomy (he insists charges were trumped up each time), urged voters to support Mahathir "to fix the rot facing the country". 
"Mahathir has proven his determination to the cause, accepted his past limitations, apologised and sacrificed his time and energy for the people and country," said Anwar, a former deputy premier who was jailed for six years soon after being sacked by Mahathir in 1998. 
Soon after his release from his first prison stint in 2004, Anwar corralled the previously disparate opposition into a unified force that issued stinging blows to BN in the 2008 and 2013 elections. 
He is due for release in June, after being jailed again in 2015, under Najib's watch. 
Mahathir's defection from Umno came soon after Najib sacked four senior ministers in his cabinet for criticising him over his alleged involvement in the 1MDB financial scandal – charges the premier denies. 
In campaign speeches Mahathir admits that he was a "dictator", but adds that he never was a "thief" or "traitor" like Najib.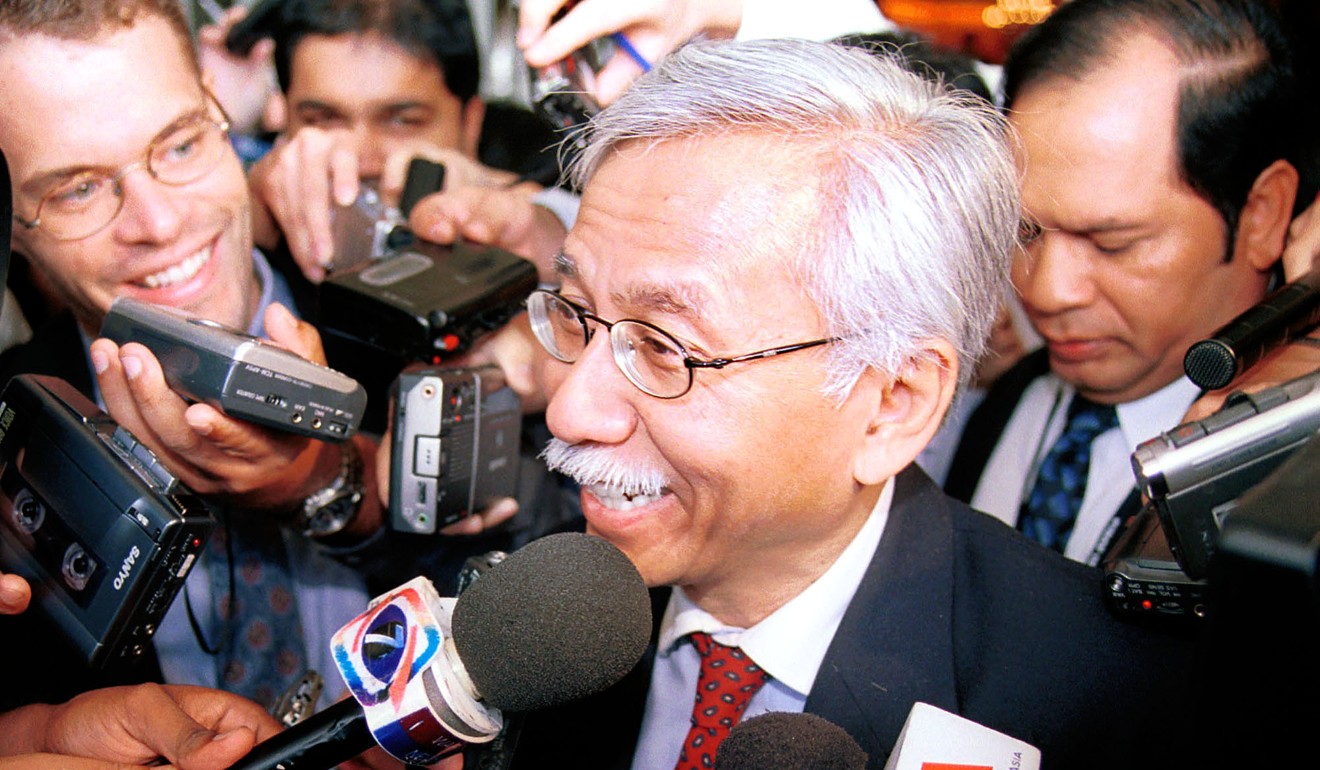 Former finance minister Daim Zainuddin, Mahathir's one-time right hand man, said he decided to openly campaign for his old boss after deciding that "enough is enough". 
"I decided to come out because once they [Najib's camp] don't respect the law, there is no rule of law in this country, then how are you going to govern?," he asked This Week in Asia.
The 80-year-old and two other Mahathir-era Umno grandees were sacked by the party last weekend for coming out in support of Pakatan Harapan. 
In his blog post on Monday, the premier urged Malaysians to "not be fooled" by his one-time mentor. 
"The truth is he is trying to use his former allies, just as they are trying to use him. Their hypocrisy is breathtaking," Najib wrote. 
Najib said his economic track record spoke for itself, referencing the 2.7 million jobs created since he came to power in 2009. The country's gross national income has increased by 50 per cent during the same period. 
His lengthy post also highlighted measures he implemented for youth, women and rural communities. 
He said: "You don't hear a lot about some of these programmes, and the opposition will never mention them. But the people know the efforts BN and my government has been making on their behalf."
Awang Azman, a long time observer of the country's politics, said he sensed calm in the BN camp. He said BN was unfazed by the large crowds Mahathir's election rallies had garnered.
The politics professor said: "The BN's strength is not in pulling in large crowds to election rallies. It's in house-to-house campaigning."
In the urban centres, the mood is decidedly different. 
This article appeared in the South China Morning Post print edition as: Najib, Mahathir issue final call to voters