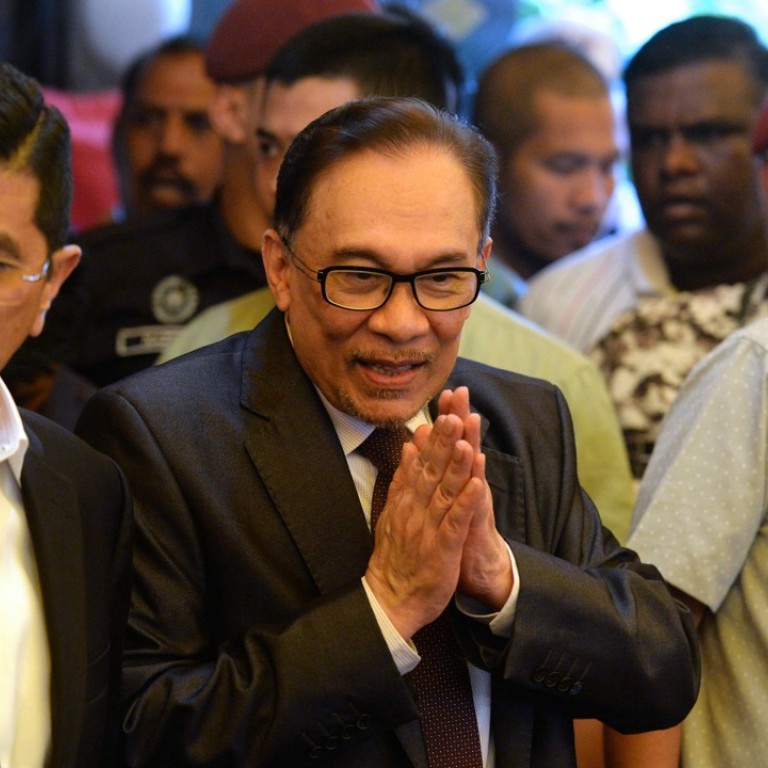 'Now I have freed him,' says Malaysia's Mahathir as Anwar walks
From prison to the palace: reformist icon expected to take over from new Prime Minister within the next two years talks of a 'new dawn for Malaysia' following royal pardon
Anwar Ibrahim, the Malaysian political veteran who helped build the Pakatan Harapan coalition that swept to power in elections last week, has been freed after being jailed during the tenure of the scandal-haunted deposed premier Najib Razak.
The 70-year-old, who was granted a full pardon by the country's King Muhammad V. Anwar, had been serving a five year jail term – his second prison sentence in two decades – for a sodomy conviction he says was trumped up.
PM MAHATHIR: 'I FREED ANWAR'
"In the past it was said that I put him in prison. Now I have freed him," Prime Minister Mahathir Mohamad said in a press conference on Wednesday afternoon, after Anwar's release.
Anwar was Mahathir's deputy premier during his first stint as prime minister, before he was sacked in 1998 and later imprisoned for sodomy and corruption.
Anwar maintains that, like his latest conviction, that prison sentence was a result of trumped up charges to remove him from frontline politics.
Anwar on Wednesday said he had forgiven Mahathir, 92, adding that it was the current premier who helped facilitate his release.
Mahathir reiterated Anwar's comments earlier that there were no immediate plans for the younger leader to join the cabinet following his release from prison.
"He is not a member of government, therefore his role will be in the party," Mahathir said, referring to the ruling Pakatan Harapan coalition of which Anwar's Parti Keadilan Rakyat (People's Justice Party) is the biggest party.
In an earlier press conference Anwar said his immediate plan was to go on a lecture circuit in leading universities around the world to spread the message of moderate Islam.
The premier meanwhile gave an update on investigations into the 1MDB corruption scandal, which his defeated predecessor Najib Razak is allegedly linked to.
Mahathir said officials are now seeking to recover funds from the government investment arm that are in Singapore, Switzerland, the United States and Luxembourg.
Najib, his wife Rosmah Mansor and senior officials including the former attorney general, anti-corruption chief and treasury chief have been barred from leaving the country while investigations are ongoing.
Najib has denied accusations he funnelled money from the fund into his personal accounts, claiming instead that the US$700 million found in those accounts were "donations" from a Saudi monarch.
Mahathir said the government is committed to repaying any debt linked to the fund – whose losses at one point amounted to 42 billion Malaysian ringgit (US$10.6 billion).
"We have to... if it implicates the government, the government has to pay," Mahathir said when asked if the government would honour 1MDB's debts.
ANWAR IBRAHIM SPEAKS AT A PRESS CONFERENCE
In a press conference in his house just after 2pm, a jubilant Anwar Ibrahim thanked Prime Minister Mahathir Mohamad, his one-time nemesis, for facilitating the royal pardon that led to his freedom.
"I have gone from prison to the palace," Anwar said in Malay, referring to his earlier audience with King Muhammad V.
He said his conviction was the result of "lies and the wrong use of power".
"In my case we appealed that there was a miscarriage of justice, there was a travesty of justice ... the entire conviction is erased," he said. "Now there is a new dawn for Malaysia." he added.
He said he would give Mahathir and his wife, Wan Azizah Wan Ismail, the deputy prime minister, full support to carry out the newly elected Pakatan Harapan's reform agenda.
"My position is to give [Mahathir] all the support... I don't think I would want to be seen to be hasty to demand or insist on any time frame," he said.
He said for now he was first going to go on a lecture circuit in leading universities the world around to spread the message of moderate Islam.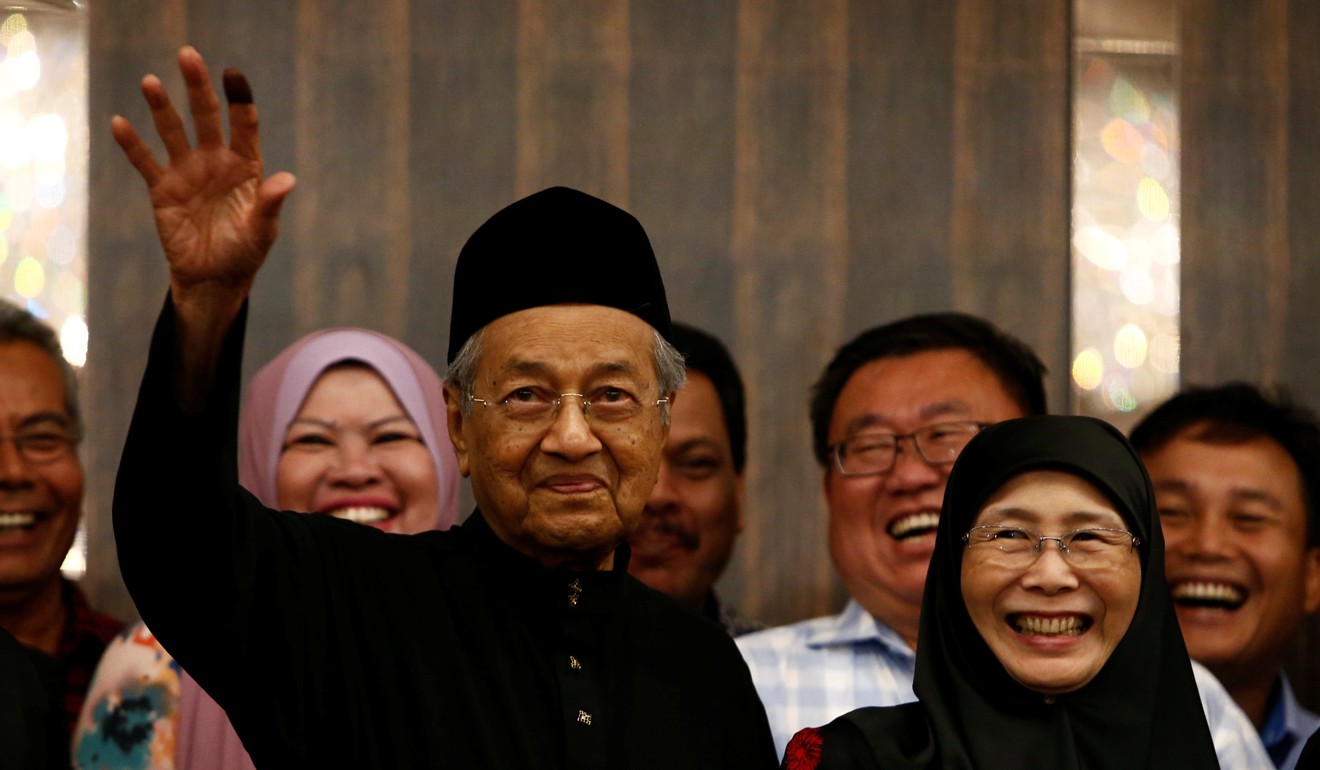 He said he had received calls of congratulation from international leaders including the former US vice-president Al Gore, and Turkish President Recep Tayyip Erdogan.
On whether he had forgiven Mahathir, his former boss with whom he has a testy relationship, Anwar said: "I have forgiven him, it's been a long time already ... He has proven himself. He has struggled and worked indefatigably hard. He has supported the reform agenda. He has facilitated my release. Why would I harbour malice towards him?"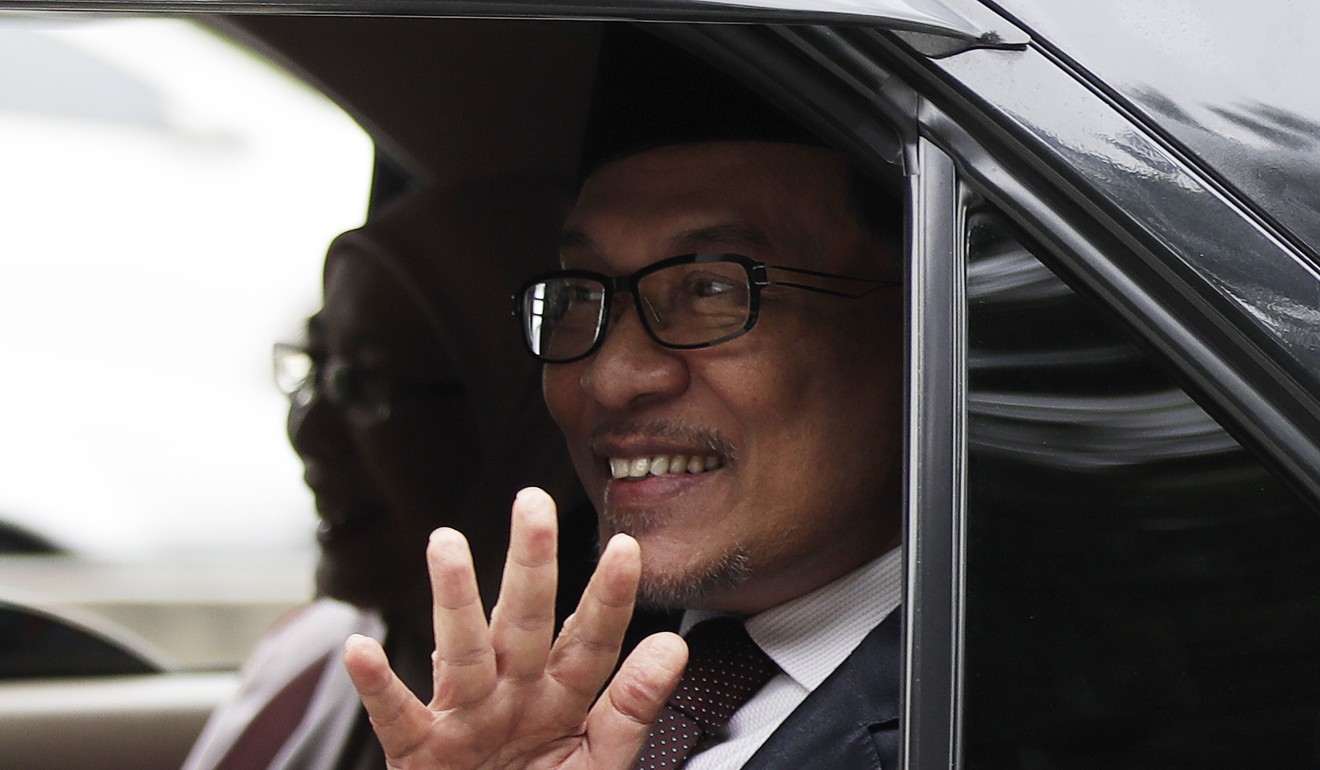 Mahathir sacked Anwar as his deputy in 1998, during his first stint in power. Anwar was later sent to prison on sodomy and corruption charges until 2004.
His latest stint came as a result of another sodomy conviction in 2015, during the tenure of the just-deposed premier Najib.
Anwar insists he was a prisoner of conscience, and that charges were trumped up on both occasions.
Asked about Chinese investments, Anwar said like Mahathir he was not "against Chinese investment".
"But we are concerned about the manner some of the deals were made," Anwar said.
ANWAR IBRAHIM FREED
Anwar, 70, walked out of a rehabilitation hospital where he was recuperating from a shoulder surgery just after 11.29am on Wednesday.
Dressed in a dark suit, a beaming Anwar gave the thumbs up sign to the assembled crowds and appeared ready to deliver a few remarks, but was ushered into a car amid an intense media scrum.
He was accompanied by his wife Wan Azizah and his daughter Nurul Izzah Anwar, an MP.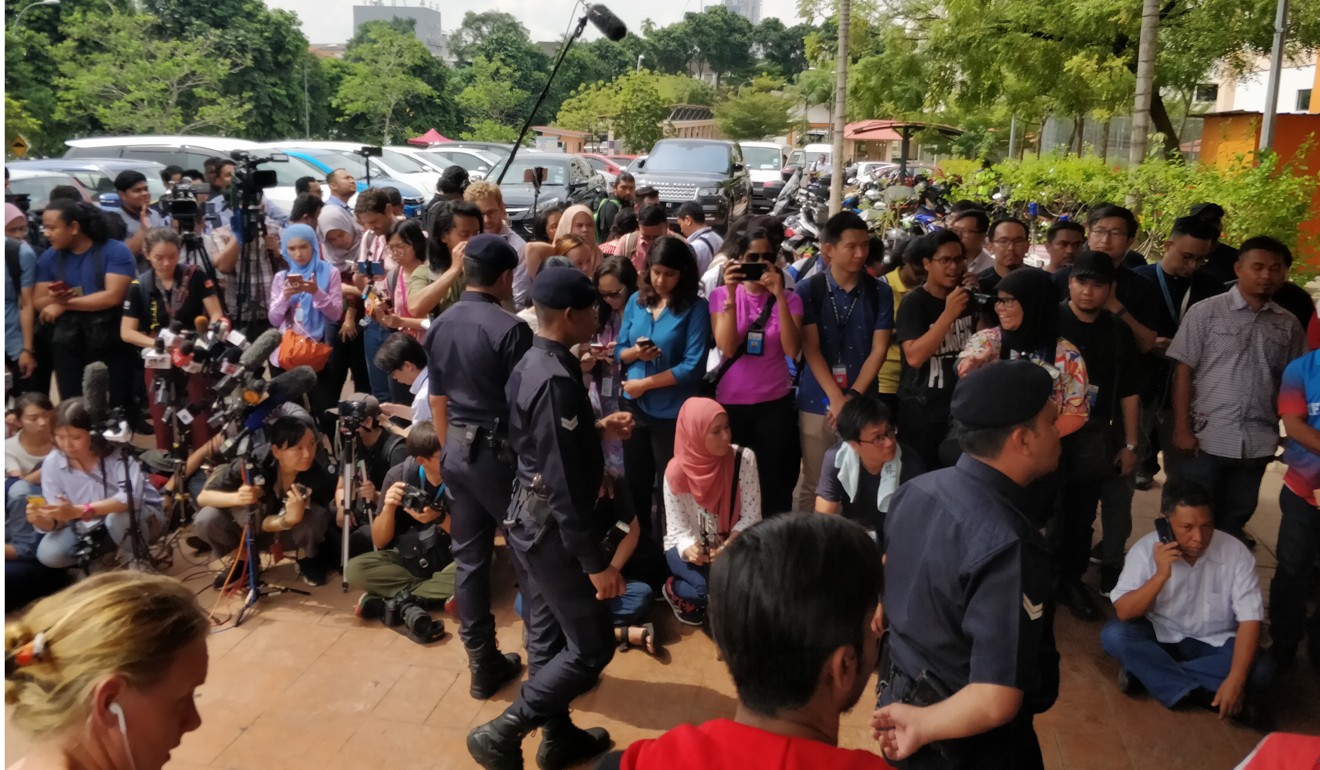 He was released after the country's constitutional king Muhammad V granted him a full pardon.
Anwar met the king in the national palace in Kuala Lumpur immediately after his release.
Pakatan Harapan leaders had asked the monarch for the pardon last week.
The coalition has promised that the newly elected prime minister, Mahathir, Anwar's mentor-turned-rival-turned-ally, will hand over power to his one-time protégé within two years.
Mohamad Suhaimi, one of hundreds of jubilant Anwar supporters who lined the streets outside the hospital, told This Week in Asia he "couldn't wait for Anwar to be prime minister".
The charismatic orator's large urban base was also out in full force at the gates of the national palace, holding flags of the leader's Parti Keadilan Rakyat (National Justice Party, or PKR) – Pakatan Harapan's biggest party.
Anwar is scheduled to hold a press conference in his house at 4.30pm, and will speak at a rally in the district of Petaling Jaya near Kuala Lumpur at 10pm.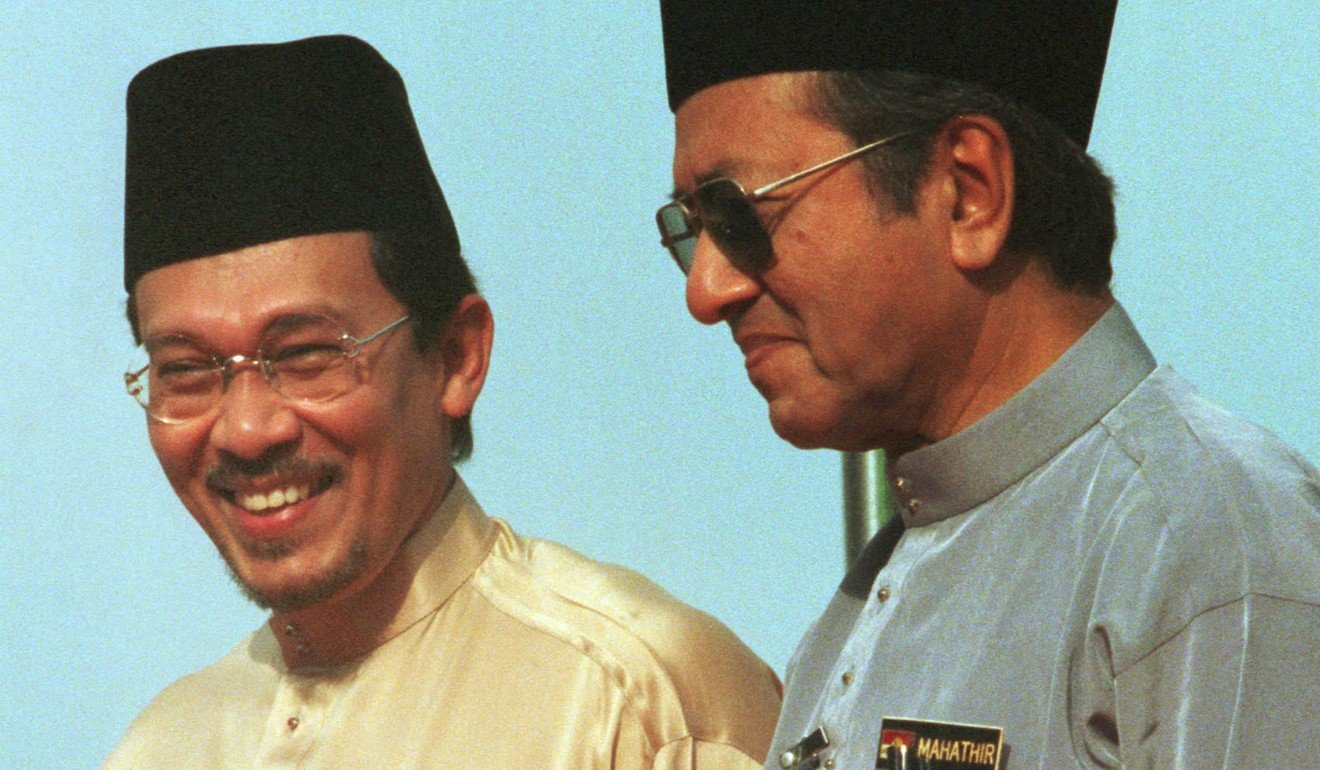 Anwar's release on Wednesday caps a tumultuous two decades in which the opposition icon endured two spells in jail after falling out with two different prime ministers.
Anwar had been serving as Mahathir's deputy during the veteran politician's first stint as prime minister when he was suddenly sacked in 1998, and later jailed for sodomy and corruption.
At the time Mahathir had said he needed to remove Anwar because he was "not fit for office" – though Anwar has always maintained that the charge was spurious and that Mahathir felt threatened at his popularity with the masses.
Upon his release in 2004, Anwar galvanised the "Reformasi" movement against the Barisan Nasional coalition that Mahathir was then leading – and that Anwar himself had helped start before going to jail.
The movement provided a much-needed boost for the languishing opposition, which Anwar fashioned into a potent force. Pakatan Harapan's predecessor, Pakatan Rakyat, dealt heavy blows to Barisan Nasional in the 2008 and 2013 elections.
While still in prison Anwar embraced Mahathir's decision to quit Barisan Nasional and join Pakatan Harapan in 2016.
Mahathir crossed aisles because he felt it was untenable to support Najib as premier following widespread allegations of his involvement in the
1MDB financial scandal
.
On the eve of last week's election, Anwar urged supporters to back Mahathir, who had brought him into government in the 1980s.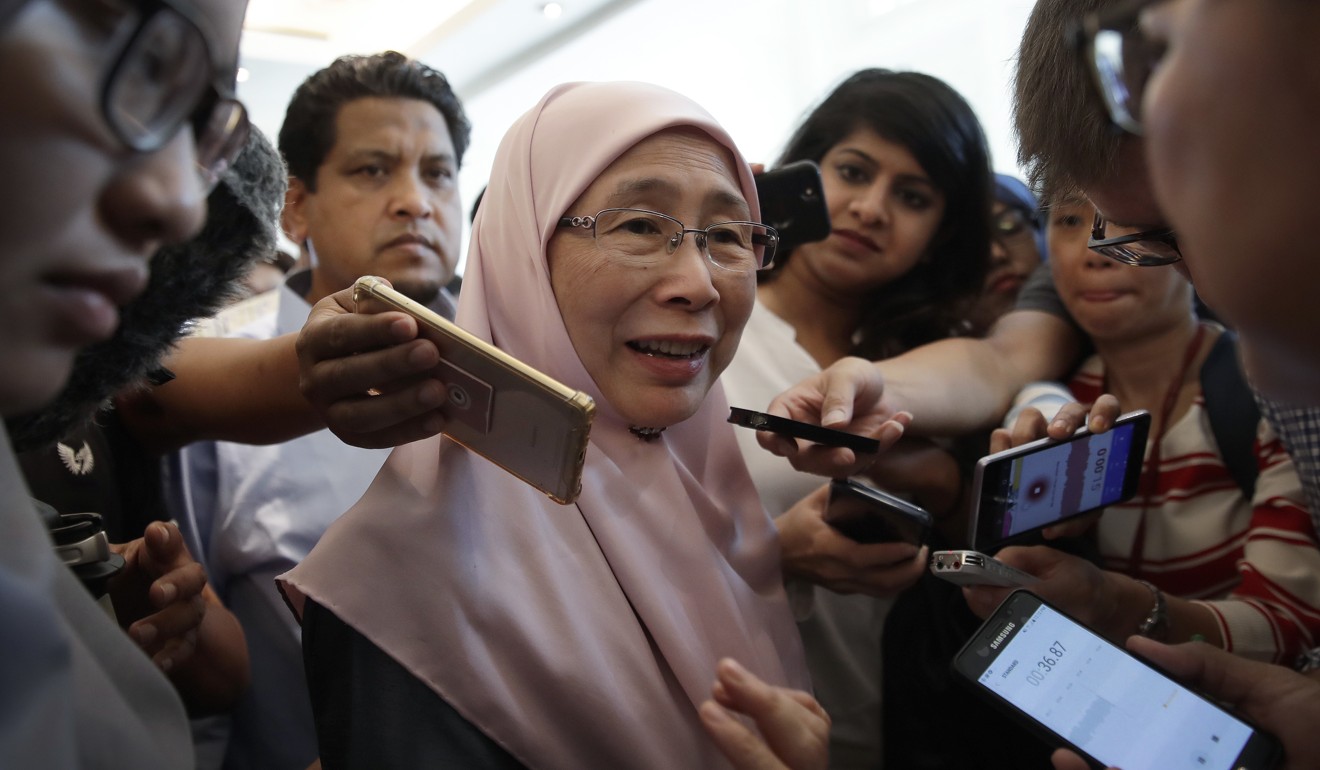 Anwar was a firebrand Islamist student activist before his entry into politics, and had served 20 months in jail in the 1970s after being detained without trial for his activism.
Later in his political life, he preached moderate Islam and democratisation.
"Mahathir has proven his tenacity, accepted his past limitations, apologised and sacrificed his time and energy to raise the dignity of the people," Anwar wrote to his supporters on May 8. "I urge you all to join the people's movement to demand change."